I'm Norbert Szász, 24 years old photographer from Hungary, Europe. I was born and still living in Budapest, the capital city of Hungary. We have a really small bike market but there are a lot of really good riders. We don't have big mountains and bike parks either, but there are a lot of (il)legal dirt and freeride spots in Hungary. In 2008 I decided to make my own online magazine, called StandMagazin, because we didn't have an extreme mountain bike magazine or website in those days. It was an online, digital magazine for two years but it got amazing feedback, then I decided to go out with free printed issues as well. From 2010 the magazine has run really well, riders love it, and we are trying to get as big as we can. Of course I wouldn't be able to do it if I didn't take photos. The design of the printed magazine is really important for me. Fortunately at the beginning of the printed mag I met a really skillful and amazing graphic designer named Medox. He took the mag to the next level with his splendid designs. Thanks buddy! By the way my dream has come true, I have my own printed freeride magazine that's the one and only in Hungary. I'm so stoked! If you want you can check out all our issues in digital format on our website:
www.standmagazin.com
Enjoy!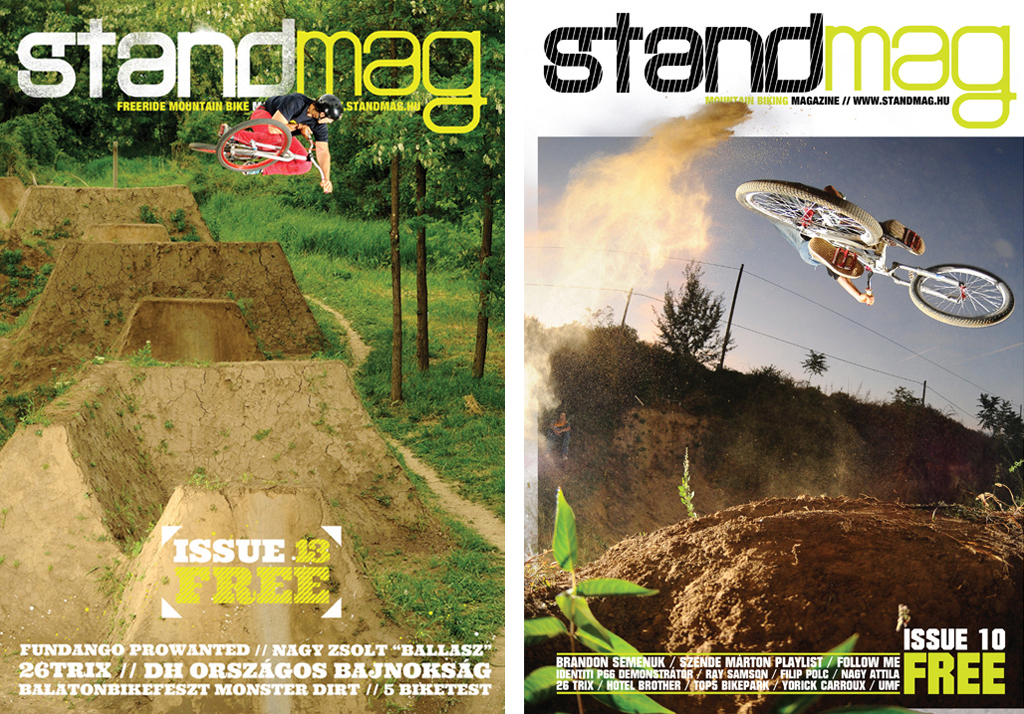 By and large I have taken photos for six years. My first photo was taken with my father's cheap camera. Probably I took my first pics at our local dirt track. I remember I bought various supplementary lenses for the camera, for example a fisheye, and I got a flash with slave too. Now when I look back I can't image how hard it was to take a good photo with that equipment. Good old days, life goes on really fast... I shot for two years with this camera and then one day I got a basic Nikon SLR for Christmas from my parents. Since then I've become wrapped up in photography and tried to take better and better photos. I have never gone to photography school, but I have tried training myself continuously up until now. I'm a fanatic magazine collector and I like books as well and I always look at a lot of action sports photo galleries on the net.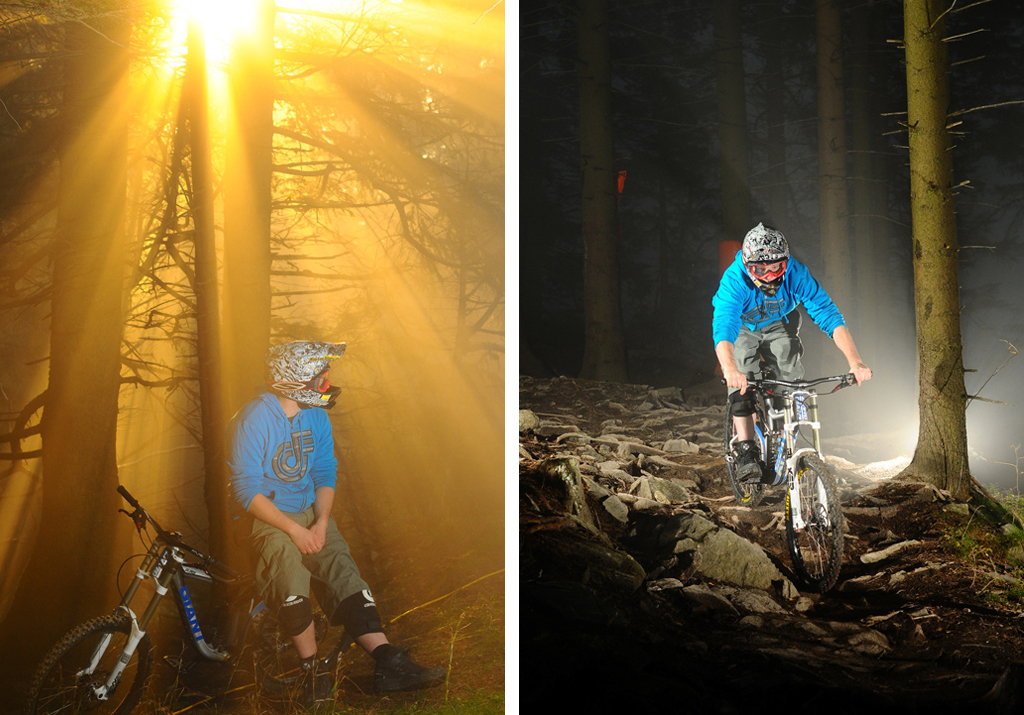 I have been shooting only Mountain Bike since the beginning. As I ride myself it caught me and became my obsession. It's around me every day and I get a really big inspiration from it. A lot of people think that mtb photography is really easy, but I think they haven't seen a really good one yet. I think it is really hard to shoot a great mtb photo because you need perfect light, riders, location, tricks, moments and a bunch of other things. You have to work a lot for the right shot.
Otherwise I've gotten a lot of things from Mountain Biking. It takes me great places all over the world and I meet good people. Thx MTB!
Of course, I have been riding my bike more than ten years. Since then I have been involved in action sports photography more seriously so I ride less than I did before and I haven't learned any new tricks. This year finally my big dream came true and I have my own downhill/freeride bike, a Mondraker Summum that I really love. In the future I would like to ride more than I did this year and learn some new tricks as well.
Sometimes I shoot some bmx, snowboard and other stuff. Rarely it's good to shoot some other things than mtb.
I will take my degree soon in the tourism industry at a university. But I don't want to work in the field of tourism. I work as an online content editor for one of the biggest Hungarian extreme sports media groups, called Offline. And of course I do my own business with my magazine. I am trying to make my way as a freelance photographer. I hope these jobs will be running well in the future for a long time.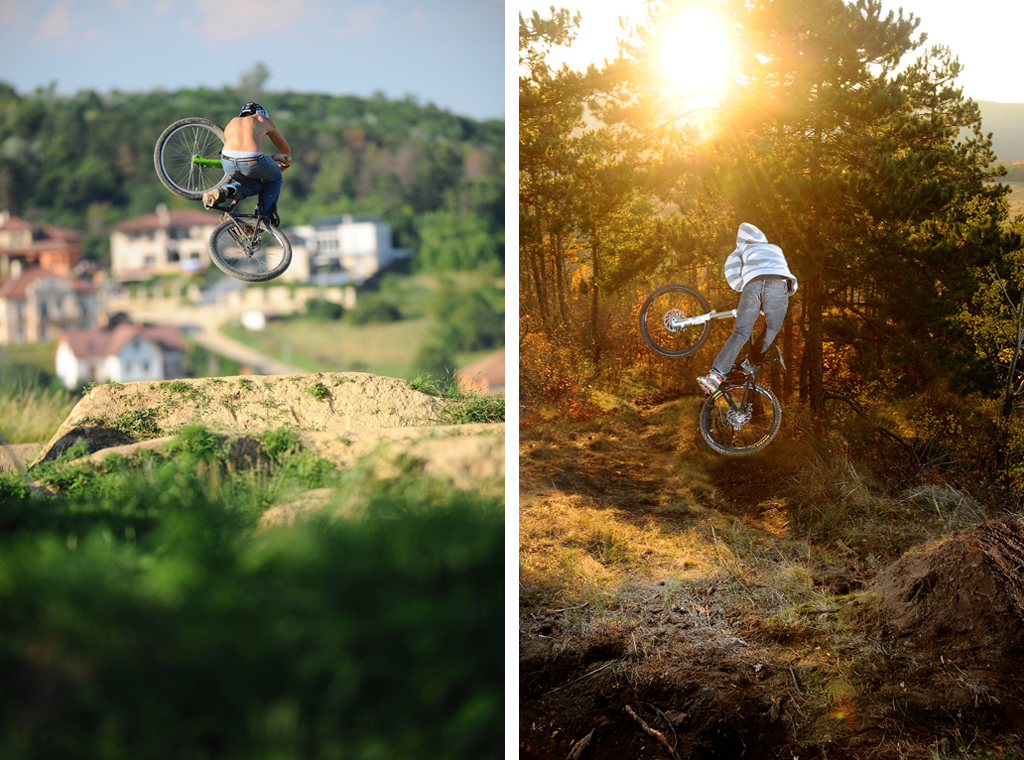 I don't have one. I like to shoot at dirt events and downhill as well. And I'm keen on roaming on the mountain with my friends and looking for some new spots to shoot. The secret spots are the most amazing, we always look for and dig new ones.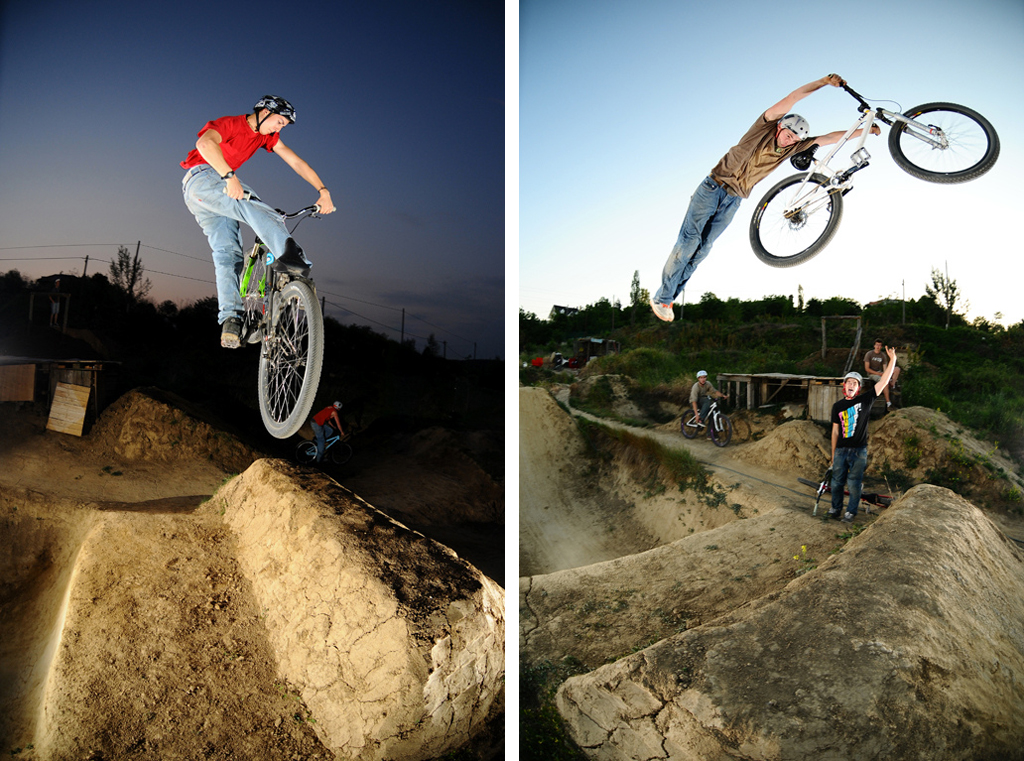 I use only Nikon! My currently setup is: Nikon D300 body. (Sometimes I borrow a D700 or D3 body from Nikon Hungary) Lenses: Nikon 180mm, Nikon 50mm, Nikon 85mm, Nikon 10.5mm, Nikon 18-70mm. I'm planning to buy one more body because I need it for events.
Pocket Wizards, cables, 3x Nikon SB26 flashes, Alien Bees B1600 big studio flash, tripods, Burton and LowePro bags. I swear on fixed lenses. I think they have a better quality than the zoom ones. I was shown this by Daniel Kralik. Naturally it is harder to shoot with them because you can't zoom, but you get used to it quickly. And I would like to shoot more images with natural light in the future.
2011 was a really great year for me. I must say it was a milestone in my career. It's due to Tarek Rasouli and the Rasoulution crew that I got a chance to shoot some of the biggest European mountain bike dirt events like 26Trix, Vienna Air King and White Style as an official event photographer. That gave me a big boost for which I would like to say really big thanks to them! They take events to the next level, they organize events of an amazing quality. I hope we can continue to work together in the future! This year I shot covers for UK's Dirt Mag, German 6undzwanzigMag, and Hungarian StandMagazin. I also made photos for advertisements for Mondraker, Oakley, TSG, Fundango Clothing and for some other companies. Ohh and I took some intro photos for USA's Decline Mag as well! I roughly tried to publish pictures in mtb magazines all over the world. But I shot some non-mtb events for Monster Energy this year as well. I always try to sell pictures for magazines, companies after the shootings. It is always a big game!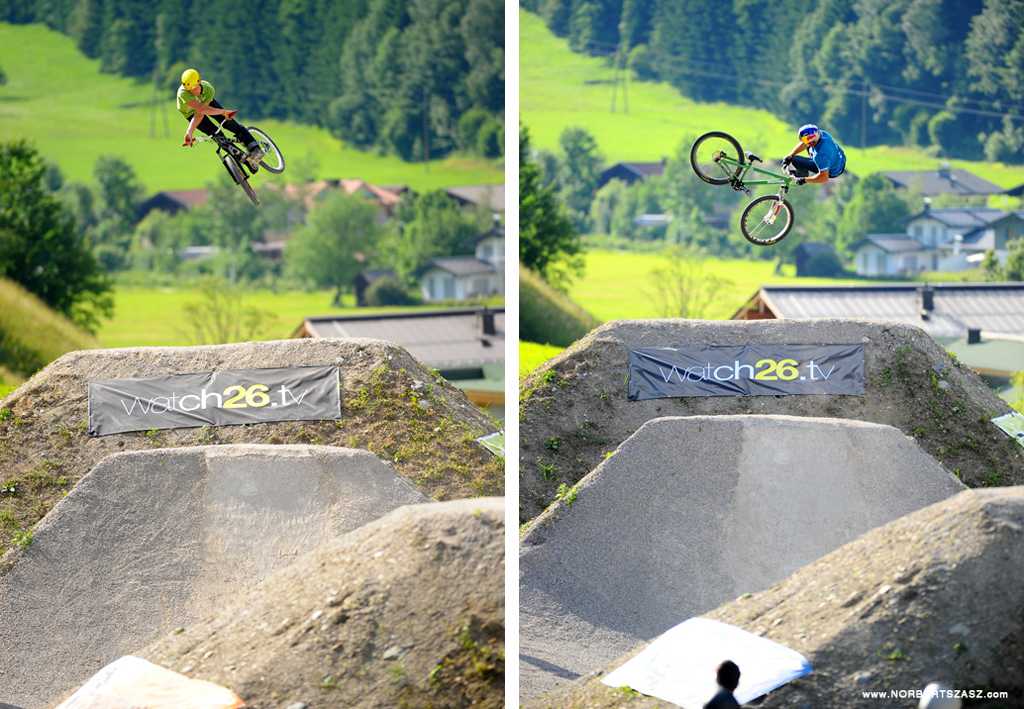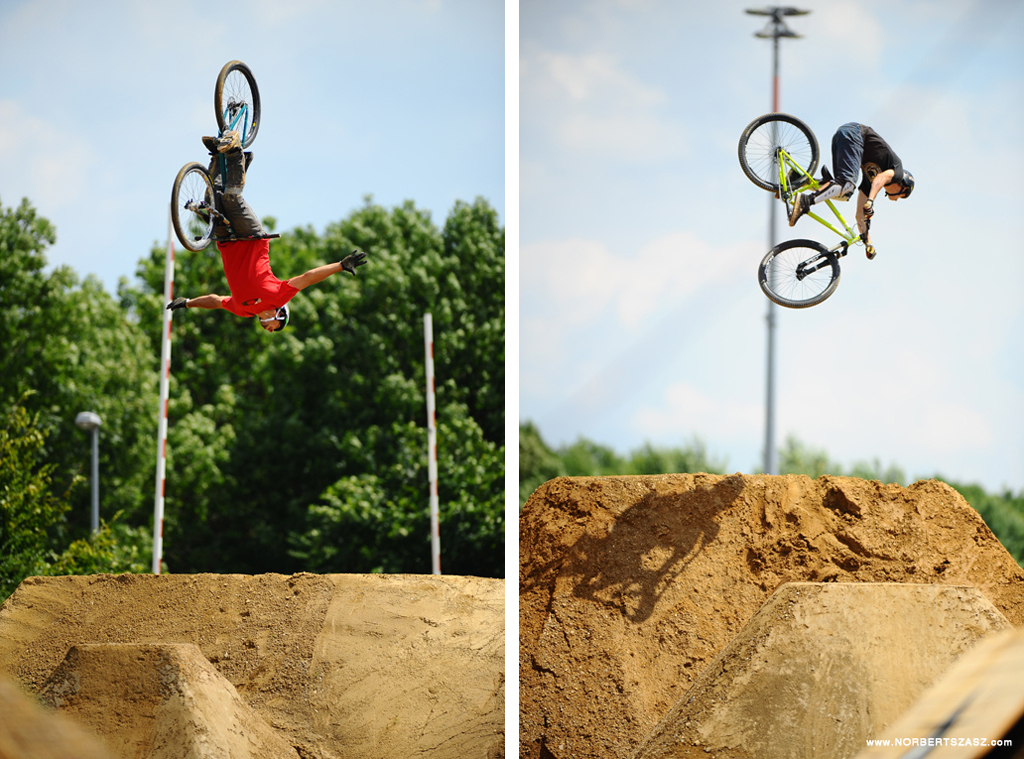 In the future I would like to take more and more rad mtb photos. And I will carry the news of the Hungarian riders because I think they need more attention in the international bike scene. Imagine, the Hungarian Attila Liszi was 40th at the World Champs in Champery and he is still a young rider. As I mentioned we haven't got big hills and bike parks in Hungary, so I think that is a really respectable result! Go Hungarians!
On the other side I get a really big inspiration from following photographers: the Spanish Sebas Romero, who is an insane guy for sure, the Hungarian Daniel Králik and the Italian Ale Di Lullo! I would like to go to Whistler and the USA because I have never been there. Maybe this is one of my new dreams!
StandMagazin goes big!
Rest in Peace our brother, Szabó András "Bro"! We will never forget! Run The Game!
Thanks to Pinkbike for this chance!
Check out my fresh website:
www.norbertszasz.com
---
Past Photographer Interviews: