Norco

was one of the first high-profile Northwestern brand to commit to 27.5-inch wheels, with its aluminum-framed 140-millimeter-travel Sight being the most popular model in its 'Killer Bee' range. For 2014, Norco steps it up with a beautiful carbon fiber chassis that duplicates the sharp-handling frame geometry and 140-millimeter-travel, four-bar rear suspension of the original aluminum-framed Sight. The Sight LE Carbon chassis is beautifully designed, well appointed, and it bristles with the kind of details that bear witness to the depth of Norco's off-road experience.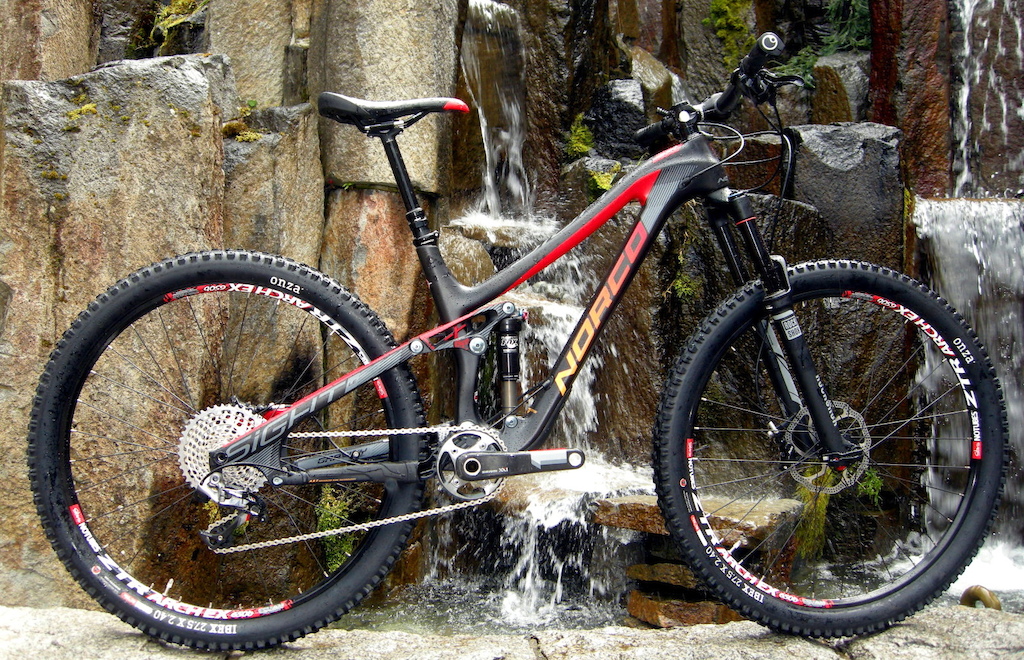 Norco's Sight LE Carbon features the same frame numbers as the 2013 model - dressed in a carbon fiber chassis that may be the best looking in its class and has a claimed weight near 25 pounds. Its 67.5-degree head angle is tuned to make the 27.5-inch wheels feel at home on technical trails of the Pacific Northwest.


Norco designed the Sight Carbon frame to take a punishment, with large-diameter frame members for stiffness. This is most evident in the rear suspension, where the seat-stays and its Horst-Link-type dropouts are larger than life. A molded down tube protector guards against rock strikes, and a similarly stout, molded chainstay protector ensures that any chain slap that gets past the bike's SRAM XX1 type-2 clutch derailleur will be silenced. The chain stay/swingarm of the Sight LE is aluminum, presumably to reduce manufacturing costs as well as to increase the strength and durability of that critical component. Pivot points at the dropouts are clevis-type journals with double sets of sealed ball bearings, and the swingarm and rocker bearings are secured with expanding collets to eliminate noise and free play.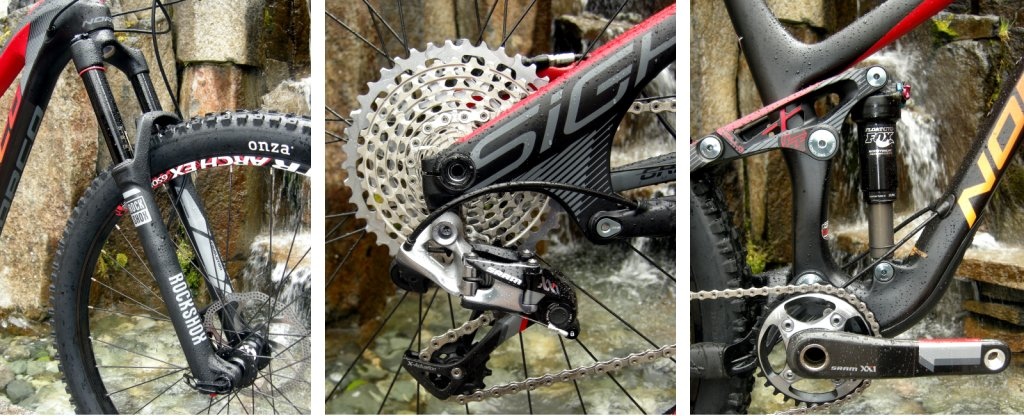 RockShox Revelation RCT3 fork mirrors the smooth ans stable performance of the sensational 2014 Pike. Norco retains its four-bar Horst-Link suspension system - which is time proven to deliver the best balance between pedaling efficiency and bump control. The hidden advantage of single-chainring drivetrains is that the swingarm pivot can be located in the optimal position for pedaling and suspension performance - not a compromise between three sprocket diameters.
Like its predecessor, the Sight LE Carbon features a Syntace 142/12 millimeter X-12 through-axle and break-away derailleur hanger. Cable routing, with the exception of the rear brake hose, is internal and there are tidy rubber seals at each entry and exit point. You will not find any Zip ties on the Sight LE. Instead, there are screw-down guides where additional retention is necessary. Invisible, but quite important is Norco's Gravity Tune geometry - where the front-centers and chainstay lengths
change proportionally
between frame sizes to maintain similar weight-balance and handling properties for all riders. Sizes offered are small, medium, large and X-large. The top-of-the-line Sight LE Carbon costs $6999,while its most affordable sibling runs $4035 USD.
Norco's component selection for the Sight Carbon is showcased around a SRAM XX1 drivetrain and while he Sight LE has an ISCG-05 chainguide mount, there is no provision for a front derailleur of any type. Wheels roll on Stan's Tubeless, AM-width ZTR Arch EX rims and Onza Ibex 2.4-inch tires. Rear suspension is damped by a Fox Float CTD shock, while up front, Norco chose a RockShox Revelation RCT3 fork. Brakes are four-piston Truvativ X0 Trail items, paired with 180-millimeter rotors. The cockpit features a RockShox Reverb Stealth dropper post on one end and a Carbon Race Face Sixc handlebar and stem on the other. All accounted for, there are few if any components on the 2014 Sight LE Carbon that we could imagine upgrading for its intended purpose.
---
Norco Bigfoot
Norco sold every Bigfoot it had forecast to make less than ten minutes after its dealer presentation. Laugh, joke, or vomit if you will, but there is no ignoring the attraction of riding an extra month as Winter sets in and Spring awaits; exploring sandy trails in the Southwest's canyonlands, or simply riding an unsuspended mountain bike almost anywhere you choose, simply for the fun of it.
Must Read This Week