by Todd Schumlick
Hello again pinkbike.com readers. The following is Part 2 of the column I have named "Built For Success." If you haven't read Part 1 you can find it
here
. Ok, here we go...
Currently I am traveling with the national motocross athletes I assist, including the PerformX Motocross Race Team riders, as we approach round 3 of a 9 round series. In about 2 weeks I'll be breaking away from the motocross series, and jumping in with the national and World Cup downhill athletes (Steve Smith, Miranda Miller, and Tyler Alison) I assist, including the PerformX Downhill Team riders (Remi Gauvin and Kyle Sangers). What is my "job" at this time of year? Well now that all the off-season training is now behind us, I guess I wear a few hats. As a "trainer" (a weird label to me), I am assisting the athletes with on-season fitness maintenance, including strength/therapeutic training, cardiovascular and yoga/stretching. There's also the nutritional and mental development support, both very important at this time of the year.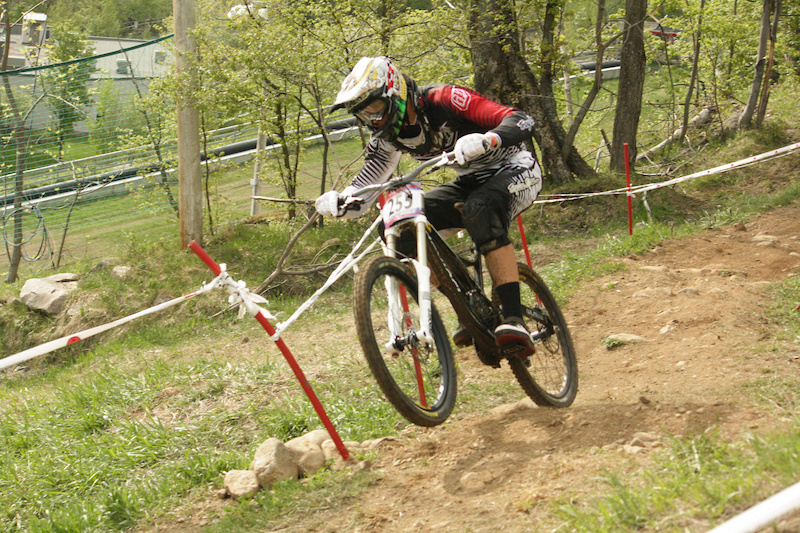 PerformX athlete Kyle Sangers aboard his Devinci Wilson on his way to victory in Junior Expert DH. Kyle finished on top of the podium in the first Canada Cup of 2011 and a impressive 15th in the pro category at the US Open DH, as well as 7th in the Giant Slalom against some of the world's best.
As a "coach," I am assisting the athletes with riding position (biomechanics), breathing, visualization, and mental focus. All both in practice and competition. Then there is the planning and organization of training, practice, traveling and racing. Without it, there is often chaos. Not a healthy environment for an athlete to be around. So I guess I'm a "planner" as well. It probably all sounds fairly militant, but we do make time for some fun, and relaxation. As you can imagine, all this can be a bit of a balancing act so I try and assist each athlete in finding that proper balance. Where does this put me? During the week, either at home in Pemberton, BC, or on the road. Weekends, usually at the races. Some of the athletes and I spend the entire week together, others I only see during the weekends at the events. It comes down to logistics, budget and where I am needed most. Now I won't bore you with all the details of being a team owner of a motocross and downhill team to boot…but I will say it's a fairly full schedule!
I must add, the mental part is probably the most critical area where I can assist my athletes right now, as it always surrounds them/us. It can properly align attitude, emotion and mental focus. I also find the mental side of things the most dynamic, rewarding, and in-depth part of my work with athletes. It's a vast area of untapped potential. It also challenges me, which is important in my own development. I am not a professional sports psychologist, nor would I call myself an expert in the field. I would find it a stretch for anyone would call themselves an "expert" in the field. In my humble opinion, again, it's just too vast. Besides the study I've done, I would like to think I've got a decent amount of hands-on experience and practice thanks to my 12 plus years of assisting world-class athletes.
Now am I trying to say everyone needs to hire a "trainer," "coach," and/or "planner" like me? Not at all. I hope to never be arrogant enough to believe I have all the knowledge and skills to be right for every athlete. I often say it's like picking the best restaurant. It's hard to say which is best? Some like Asian, some like Italian and some are vegetarians. Often it is the same with choosing your approach to athletic development. There are many different personalities, values, approaches, etc. It's very organic. Also, some athletes may work better independently, leading their own way.
PerformX athletes, from left: Shawn Maffenbeier (top Canadian MX pro), Tyler Alison, Remi Gauvin (PerformX DH Team rider), Kyle Sanger (PerformX DH Team rider), Miranda Miller and PerformX owner Todd Schumlick.
So how does all this relate to Part 1 of "Built For Success" where I said I would expand on setting goals, and what you should know before making such a commitment? I guess you could say none of us know for sure if our approach to athletic development is best, but we must have confidence and believe in something. For such reason, I have confidence and believe in what I do. I am hoping what I've outline above gives you a better idea of what has commonly worked with the athletes I've assisted. So I guess this is what I was alluding to when I said, "what you should know before making such a commitment." No matter what approach, it's going to be a lot of work. It's not going to be easy. If you are the type of person who's waiting on the lottery, looking for the quick fix, and dreams of the pot of gold at the end of the rainbow…my advice is probably the "wrong restaurant." If you enjoy the challenges in life, are rewarded by the process and know the journey is often greater than the destination…I will due my best to provide some advice with these columns.
So maybe I've completed these columns slightly out of order, and now one could go back and better use the long-term and short-term goal setting outline I provided in Part 1. Hopefully the above is somewhat insightful, and right or wrong, has you thinking about your approach and pursuit.
If any questions, feel free to contact me at
todd@performxracing.com
Until next time..
Todd Schumlick
PerformX