California Dreaming: DVO Test Sessions

VALENCIA, CA - A cold front was fast approaching the Pacific Northwest, and with a week of freezing temperatures in the forecast the timing couldn't have been better to take a trip down to California for a visit with DVO Suspension. The purpose of the trip was to put some miles on the company's highly anticipated Emerald fork and Jade rear shock, as well as to see where their innovative suspension designs are born. The company's headquarters are located in a small industrial park thirty miles north of Los Angeles, and while the actual manufacturing takes place in Taiwan, the bulk of the design work and testing takes place in this modest two story warehouse space.

A large, open workshop takes up the majority of the downstairs, with all the tools necessary to assemble and disassemble a fork or shock, and the latest models of various downhill bikes fill the workshop's corners, test sleds for DVO's new products. There's a suspension dyno connected to a laptop computer tucked up against one wall, a tool DVO uses to push their suspension products to the limit, monitoring factors like rebound, compression, and operating temperature. While the first floor is dominated by the workshop, the heart of the operation is upstairs, in a small office space that houses the workstations where ideas are converted into 3D computer drawings. A floor-to-ceiling whiteboard covers one entire wall, filled with hand drawn charts and drawings, a giant sketch pad of ideas, some that will never see the light of day, and others that are nearing production.





Most of the DVO crew previously worked at Marzocchi, and the years of shared experiences makes for a comfortable work environment, with plenty of good natured heckling filling the days. Spend 40 hours a week with someone for more than a decade and you'll know exactly how to push their buttons, and these guys don't hold back. It's all in good fun though, and there's a palpable sense of camaraderie; everyone is working hard towards a common goal - to produce the best suspension products possible. The pervading attitude is reminiscent of a time when men tinkered in garages trying to build rockets to take them to the moon, and while DVO's goals may not be quite as lofty, they're still aiming high. The difference is that with over 80 years of combined suspension experience amongst them, their goals seem much more attainable than building a homemade spacecraft.

Once our tour of the DVO headquarters was complete, it was time to get the Pinkbike test rig outfitted with an Emerald fork and Jade shock before hitting the trails. DVO's suspension technician, Ronnie Dilan, and Tom Rogers, the developer of the Jade, got to work installing and setting up the anodized green components on our GT Fury.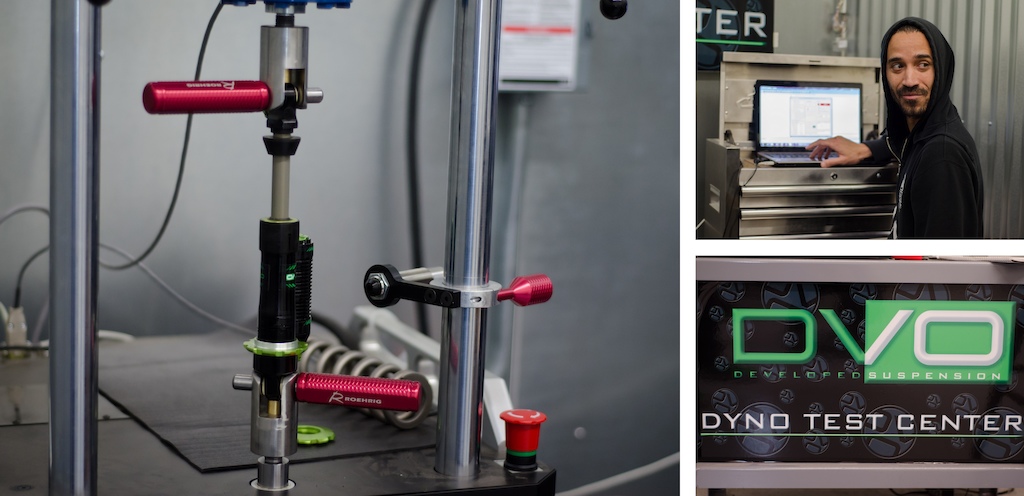 A 3D printer allows DVO to quickly bring drawings to life, printing out scale or full size replicas of everything from fork dropouts to fenders. Ronnie Dilan mans the suspension dyno, a tool that allows suspension companies to quickly gather data about a fork or shock's performance under a variety of conditions.
---
Suspension Setup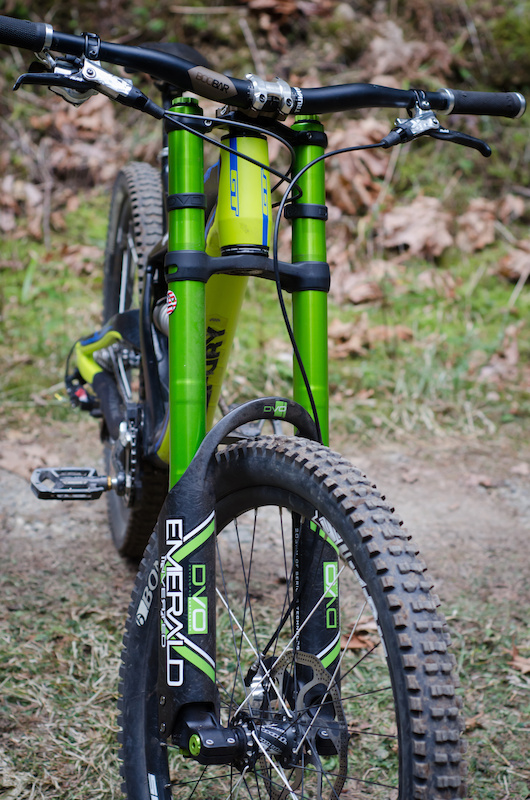 DVO Emerald Details
• Intended use: DH racing
• Travel: 200mm
• Air spring
• Carbon Torsion Arch (CTA)
• OTT Adjuster - allows the negative spring to be externally tuned, improving initial sensitivity
• Damping: twin tube open bath, adjustable high and low speed compression, dynamic rebound adjust
• Upper legs: 7000 series alloy, 42mm externally tapered
• Stanchions: 36mm hard anodized PTFE coated
• Weight without CTA: 2950 grams, CTA: 300 grams
• MSRP: $2200 USD
The Emerald's features are similar to what you would expect to find on a fork of this caliber – independently adjustable high and low speed compression damping, adjustable rebound, adjustable air pressure, and a unique feature that DVO calls Off The Top (OTT). OTT adjusts the amount of preload on the fork's coil negative spring, which changes the initial feel of the fork. Want your fork to be as plush as a down comforter, but then be firm enough later on in the stroke to handle the biggest hits? OTT makes this possible, giving riders a simple but effective way to adjust the fork's small bump sensitivity without affecting the rest of the shock's stroke.
We began our test runs with the air pressure set correctly for our body weight, the rebound set to our personal preference, and the compression settings wide open, a good starting point to begin figuring out the optimum set up. After each run we would assess what we were feeling on the trail, and adjust the fork and shock accordingly, whether that meant adding more compression, more sensitivity via the OTT setting, or changing the rebound speed. It might sound tedious, but it's an excellent way to really get a feel for the difference each setting makes on the trail.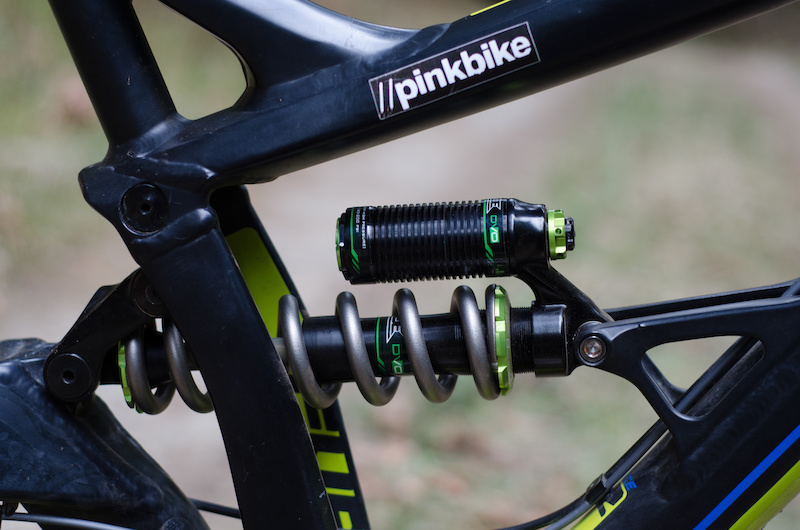 DVO Jade Details
• Intended use: DH racing
• Adjustments: high speed compression, low speed compression, rebound,
• Cooling fins on reservoir designed to aid with heat dissipation
• Internal bladder instead of IFP
• Loader style compression circuit
• Sizes: 10.5 x 3.5, 9.5 x 3, 8.75 x 2.75, 8.5 x 2.5, 7.875 x 2.25
• Weight: 425g (
damper only
)
• MSRP: TBD
Instead of using an Internal Floating Piston (IFP), DVO chose to use a bladder in the coil-sprung Jade rear shock, a design intended to reduce any potential initial stiction, which helps improve small bump sensitivity. The bladder is filled with
between 160-200 pounds of air via a Shrader valve located on one end of the reservoir. High and low speed compression along with rebound damping are all externally adjustable, and further tuning is possible by altering the shim stack located inside the reservoir.
Besides the external dials, the Emerald and the Jade's reliance on shim stacks is a music to a suspension tuner's ears The use of shims to control oil flow and affect damping isn't new, but the ease with which riders can access and change the shim stack on the Emerald without any oil loss makes custom tuning much less daunting. We spent time in the DVO workshop creating a few custom shim stacks that we'll be experimenting with for our long term test of the Emerald. The configuration that is currently shipping in the Emerald is the same setup that Cedric Gracia ran at the Fort William World Cup, so it's not as if riders will need to go diving into their fork right away to get top-tier performance, but it's nice to know that it's an option, and DVO is more than willing to work with riders to help them achieve the feeling they want from their suspension.
---
First Ride:


DVO Emerald & Jade
Our test sessions took place on trails in the Simi Valley, which has the dubious distinction of once being the home of Charles Manson, as well as bordering the San Fernando Valley, the so-called 'Porn Capitol of the World' due to the number of adult films produced there, providing employment for the fallen Hollywood starlets who didn't quite have what it takes for mainstream success. It might not be on the top of most mountain bikers' list of vacation destinations, but it does contain several trails that turned out to be excellent suspension testing grounds.
The trail where most most of our test runs took place used to be a road for stagecoaches in the late 1800s, but as time passed the dirt surface washed away, leaving an incredibly rocky path with multiple holes and drop offs just waiting to grab a front wheel and fling an unsuspecting rider over the bars. Imagine riding down a giant rumpled bedsheet made of rock, or a set of petrified moto whoops and you'll start to get the picture. It's also short enough to do multiple laps, which made it easy to try different fork and shock settings to figure out what worked best.


Each lap we took consisted mainly of trying to keep Bryson Martin Jr. in our sights while dealing with the constant onslaught of awkward rock bumps and lumps that filled the trail. Matching Bryson Jr.'s pace wasn't easy, but the Emerald and Jade certainly weren't holding us back, and they gobbled up everything that was tossed their way. Even on a trail that's about as tooth rattling and bone jarring as it gets, we were able to maintain our speed, and end up safely at the bottom without any arm pump or hand fatigue. The Emerald deals with successive impacts extremely well, and it never felt like it was packing up, even on sections of trail with multiple hard hits in a row. The small bump sensitivity of the Emerald is incredible, and is especially helpful on loose, off camber sections of trail, with the fork providing enough traction to avoid skidding out on the marbley surface. The Off The Top negative spring preload deserves partial credit for this sensitivity - it's a feature that makes a significant difference, and one that we can see using often to match the fork to the terrain. For instance, on a smoother, jump filled trail, something like Whistler's A-Line, backing off the OTT would make the initial portion of the fork's travel feel firmer, perfect for getting the most pop off the lip of a jump. On the other hand, for rougher trails, particularly those with extended sections of braking bumps, it would make sense to dial in the OTT to help take the edge off the repeated impacts.

We didn't notice any undue flexing from the fork, even when pushing it hard into sharp corners or through lumpy rock gardens. We'll need more time on it, and a wider variety of terrain, to come to a more definitive conclusion, but the fork didn't exhibit any performance traits that would prevent us from diving right into the gnarliest terrain without a second thought.

The Jade rear shock was trouble free as well, offering a supple, controlled stroke without any fading. Again, we'll want to take it on some longer runs to see how it deals with heat build up, but our first impressions are very positive. One of the test tracks had a decent sized drop with a landing that had seen better days – what was once a dirt transition now had shark fins of rock poking up through it - but the Jade took it in stride, with no harsh bottom out despite the less-than-smooth landing. We did end up altering the shim stack slightly to allow for a quicker rebound speed – the stock setting was a little slower than we prefer, but this is likely related to our lighter than average rider weight. Getting to the shim stack in the Jade is a little more involved than swapping shims on the Emerald, but it's still doable by any home mechanic with a moderate amount of mechanical know-how. No special tools are required to disassemble the shock, which makes diving into it that much less of a hassle.




Issues

On our second day of testing we noticed oil accumulating on the Emerald's right stanchion. It wasn't a massive amount, but it was enough to warrant further investigation. Plus, pulling the fork apart would give us a chance to see the steps involved in performing an oil change. One of the benefits of the Emerald's inverted design is that it's possible to remove each leg individually – it's not necessary to pull the whole fork off the bike. Once the leg was disassembled the culprit behind the leak became apparent – the lip of the oil seal had gotten folded over during assembly, creating an opening for oil to escape through. We installed a new oil seal, poured in the 320cc of oil that the damper leg requires, and closed everything back up. Performing this service took well under an hour, and only changing the oil could easily be accomplished in less than 30 minutes.

In addition to giving us a chance to perform an oil and seal service, this was also a chance to see how DVO handled errors that occurred during assembly. The calm, collected attitude we'd already noticed remained unchanged – there wasn't any blame or trying to pass the buck, just a quick discussion between Bryson Martin and Ronnie Dilan about updating the Standard Operating Procedure (SOP) at the factory, and that was it. Adding another step to the assembly process will make this much less likely to happen, and it's something that can be quickly accomplished due to DVO's close ties to their facility in Taiwan.


What's Next For DVO?
Now that production of the Emerald and Jade is underway, what's the next jewel in the DVO line? According to Bryson Martin, it will be the
Diamond
, a single crown, 140-160mm all-mountain / enduro fork that will use technology derived from the Emerald, but with a sealed cartridge system and a non-inverted design. Available for all wheel sizes, the Diamond is intended to go head to head with the top forks currently on the market, and is expected to be available by early summer. After that? An air sprung rear shock is in the works, along with the possibility of an inverted single crown fork further down the line. DVO is working on creating their own carbon fiber production facility in Taiwan, and we wouldn't be surprised to see more carbon make its way into future offerings. Remember the titanium collet clamping system that the prototype Emeralds had? As it turned out, that design ended up working a little too well – the collet provided plenty of clamping force, but the problem was getting it to release its grip on the aluminum tube. Could this design make its way into production, but with carbon tubes instead of aluminum? We'll just have to wait and see.
Pinkbike's Take:
| | |
| --- | --- |
| | We came away from our visit with DVO thoroughly impressed, and not just with the Emerald and the Jade, but with the overall attitude and vibe that was present during our time in California. It wasn't an act either - we've spent enough hours with shady marketers to be able to see through the smokescreens of hype that can occasionally arise in the bike industry, and there was no trickery taking place at DVO. Their upfront attitude and dedication is what stood out the most, and the lean business model that DVO is working off of allows them to rapidly make revisions and constantly improve their offerings. So, are the Emerald and the Jade one hundred percent perfect? We'll say that we were highly impressed with what we experienced during our time on them, but we wouldn't go so far as to make that claim, and there were a few tiny details that could be improved. Still, the strong performance of both the fork and shock combined with their tuneability and ease of service certainly makes them top contenders in the race for suspension dominance. Keep in mind that our time on the Emerald and Jade shouldn't be considered a comprehensive review, but something closer to a first date. We brought the fork and shock back with us to the Pacific Northwest, and we'll be putting them to the test on the steep, muddy trails in our backyard. Stay tuned for the final results of how this relationship ends up. - Mike Kazimer |
www.dvosuspension.com
Must Read This Week