Camelbak's H.A.W.G. NV has enough room to carry everything you need for a full day bike adventure.
Camelbak H.A.W.G. NV Details:
- Capacity: 854 cubic inches / 14L + 3L reservoir
- Weight: 2.62 pounds
- Integrated rain cover
- 100oz Antidote bladder
- Got Your Bak Lifetime Guarantee
- MSRP: $150 USD
Camelbak's product offerings have expanded exponentially since their beginnings in the late 1980s, when company founder Michael Eidson put an IV bag into a sock and ran the tubing over his shoulder, creating the first hydration pack. Now, their lineup includes packs for nearly any outdoor activity imaginable, from cycling to skiing, as well as a line of tactical packs designed for military use. We tested the 2013 H.A.W.G. NV, a pack intended for multi-hour mountain bike rides. Weighing in at 2lbs 6 oz., and available in black and red, the H.A.W.G. retails for $150 USD.
Details
The H.A.W.G. can hold up to 14 liters of gear in its seemingly endless array of gear-swallowing compartments, in addition to the 3 liter capacity of the included Antidote reservoir. The reservoir is housed in its own zippered compartment, where the cap slides into a small holster to prevent it from slipping down as the liquid level decreases. The large main compartment has plenty of room for extra layers – a rain jacket will easily fit, with room to spare. This compartment also has a divider that can be closed with a drawstring to help keep the pack organized when it's stuffed to capacity. Between the main compartment and the outer pump/tool pockets is an overflow storage storage pouch with elasticized side panels. A XC helmet will fit in here, or more layers. A helmet can also be attached to the H.A.W.G. by using the plastic hooks found on either side of the pack.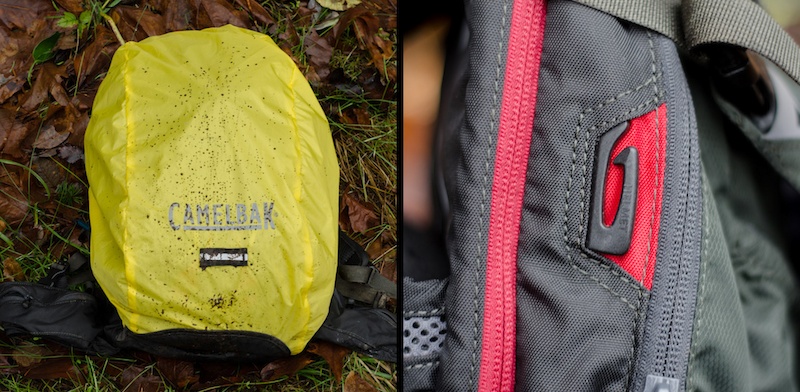 An easily deployed rain cover keeps the pack dry during inclement weather. The H.A.W.G. also includes a plastic hook on each side to carry a half-shell helmet.
There are two outer pockets for tools and accessories; one of them has an elastic loop to hold a pump, while the other has a key holder and several smaller pockets to hold multi-tools, tire levers, energy bars, etc... A fleece lined pocket is located on the top of the pack to hold sunglasses or electronic gadgets. For those who ride no matter the weather, the pack also features a built in, bright yellow rain cover, which is stored in a zippered pocket at the base of the pack when not in use.

The uniquely shaped Integrated Ventilation (NV) back panels are designed to keep air flowing freely over a rider's back.
For 2013, the pack's back panel configuration has been altered, and now features four articulating panels designed to improve airflow over the back in order to keep the wearer as sweat-free as possible. This design is where the NV acronym in the pack's name comes from – it stands for Integrated Ventilation. The shoulder straps are attached to a plastic D-ring that allows them to move closer together or further apart, giving them the ability to accommodate different torso widths. The sternum strap can also be slid up or down depending on the rider's preference. A wide waist belt, with zippered pockets on each side, keeps the pack stable and provides additional storage room.
A roomy main pocket has plenty of room for extra layers, and includes a drawstring pouch to help keep items separated. The BPA-free Antidote reservoir holds 100 ounces of water and has a new cap design that is easier to open and close than previous versions.
The H.A.W.G.'s Antidote reservoir is light years ahead of the original IV bag it's derived from. It includes a Quick Link system that makes detaching the hose from the reservoir a simple procedure, as well as a wide, easy to open cap that allows for trouble-free filling and cleaning. There are two plastic pieces on each side of the cap that can be rotated to keep the reservoir open when it's hanging upside down to dry. The bite valve itself has a locking feature to eliminate any potential leakage during transport.
Performance
We went on numerous multi-hour journeys with the H.A.W.G. stuffed full of all the essentials needed for winter riding in the Pacific Northwest – a rain jacket, extra gloves, and goggles all easily fit into the pack. The H.A.W.G handled heavy loads well – it felt balanced, and the NV back panel system prevented any awkwardly shaped items from poking us in the back. Even when riding on rough, uneven terrain, the pack stayed put, remaining centered on our backs without any shifting or swaying.
The H.A.W.G. is well constructed - despite repeatedly filling the pack to its full capacity, we didn't experience any zipper failures or seam blowouts. Our favorite feature, one that riders who reside in drier climates may not have as much need for, was the rain cover. The cover saw plenty of use, as most of our rides took place on rainy winter days. It was easy to use, and fit the pack well, without any excess flapping around. Plus, the bright yellow color added a splash of brightness to the dull grey days. Even after riding in the pouring rain for over two hours the pack remained dry, which was much appreciated the next day when we headed out for another ride and didn't need to shoulder a soggy, saturated pack.
Issues
The NV back panels didn't seem to be any cooler than other designs on the market. Granted, our testing took place in cooler weather, but we still found ourselves at the top of long climbs with a pack-shaped sweat mark on our jerseys. If anything, the back panels were uncomfortable at times. The top of the lowest panel sat right above the top of our shorts, and the fabric, while undoubtedly chosen for its durability, would chafe after a few hours in the saddle. The back panels were most noticeable during long, slow, seated climbs where our body position remained relatively stationary. The rigidity of the panels made it so they didn't conform to the contours of our backs as well as they could have.
The zippers for the two tool and accessory pockets do not extend the full length of the pocket, which can make it hard to access items that have fallen to the bottom. Rather than two separated pockets we would have preferred one larger pocket with longer zippers that would let it open all the way. Flat tires and trail side repairs are never much fun, and struggling to find where your tire lever or multi-tool is hiding can make them even less so.
Pinkbike's take:
| | |
| --- | --- |
| | The Camelbak H.A.W.G.'s ability to carry large loads without complaint, as well as its integrated rain cover, make it a pack that could prove a worthy companion on epic rides. The reservoir is also one of the best available, providing leak-free access to water that tastes as it should, like water, not plastic. However, we would like to see the back panel configuration altered to be more comfortable for those long days in the saddle. The rest of the pack is well executed, from the multitude of pockets to the simple yet effective helmet carrying system, yet when a ride extends from daybreak to sunset, comfort is the most important feature of any pack. Of course, the way a pack fits will vary from rider to rider, so we'd recommend trying on the H.A.W.G. at your local bike shop to assess the NV back panels for yourself. - Mike Kazimer |
www.camelbak.com