Thanks for all questions, that's all for now! The staff at Cane Creek are heading home
Pinkbike and Cane Creek
partnered up to launch the first episode of 'Ask Us Anything' - a live question-and-answer session that links bike industry manufacturers to you so that you can get the story directly from the source. This is no limp-wrist link to some Joe Blow in Customer Service who agreed to skip lunch. Ask Us Anything offers a rare opportunity to communicate with the suspension tuner, product engineer and marketing hack who actually created the product or service that you are asking about. For one day only, everyone at Cane Creek will drop what they are doing to personally explain anything that relates to the products that they make.
---
Introducing the Cane Creek Cast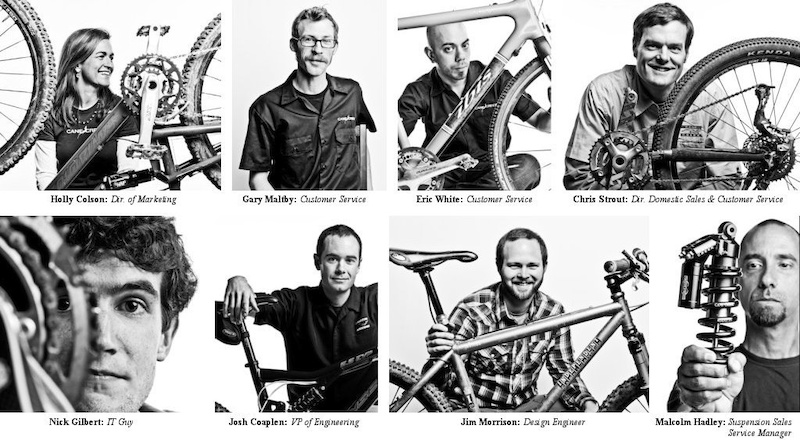 ---
How 'Ask Us Anything' Works
Type your question into the 'Comments' box at the bottom of this page and Cane Creek's staff will answer it directly below. Feel free to direct your question to a specific person. Every question and answer will be published for all to see, so you may want to scan previous comments to see if the information that you seek has already been posted.
Helpful tips
:
• Try to stay on point. Ask one question at a time and follow your question with a brief context about the situation, so that the folks at Cane Creek can give you a specific reply. For example: if your question is about a headset fit-up issue, include the brand and model of the frame and also of the fork. If your question is about suspension tuning, then follow up with information about your bike, your riding style, your previous setup and your weight.
• Try to keep your questions to about 200 words or less
• Ask Us Anything is a service to PB readers who are seeking helpful information, not a forum to broadcast opinions or grievances. If you do have a negative issue that you want to ask about, no worries, just keep your complaint relevant and in the context of a question so that it can be addressed in a productive manner.
• Use the comment propping to upvote questions you care about, and downvote the bad.

Who better to help you wade through the hundreds of headset combinations available, or answer your questions about dialing in the Double Barrel than the people who design, repair and sell them?
About Cane Creek:
Cane Creek is an employee-owned company of 35 people in Fletcher, North Carolina, who ride what we make. Our goal is to foster, develop, and provide innovative solutions that enhance the cycling experience and make them the very best that they can be. This reflects what is truly important to us as an organization. This could mean better performance, enhanced features, superior quality and durability, proprietary tools and programs that enhance the rider experience, or excellent customer service. At the end of the day, you can expect the best from us.
Everyday help at Cane Creek can be found here.