It hasn't exactly been a secret that Cane Creek has been working hard on an air sprung version of their much lauded Double Barrel coil shock, a damper that is regarded by many as the best of the best when it comes to performance and tuning options. With the DBair, Cane Creek wanted to create a shock that is not just lighter than the original coil version, but is especially suited to bikes that perform best when fitted with an air shock - bikes that use a flat or even falling leverage ratio for example. They also wanted to carry over all of the DBcoil's immense tuning range, including its low and high speed compression and rebound adjustments that allow the user to set the shock up as they see fit. On top of the damping and air spring adjustments Cane Creek also allows you to alter the volume of the air canister, effectively changing the spring curve, by adding or removing spacers. All told, the DBair looks to be the most tuneable, air sprung shock available.
Cane Creek DBair Details:
• Air sprung
• Adjustments: low speed compression and rebound, high speed compression and rebound, air pressure and air can volume
• Twin-tube damping
• Auto adjust negative air spring
• Rotatable air can for best fit on different frames
• Weight: 530 grams (
8.5" x 2.5"
)
• Availability: January 2012
• MSRP: TBD (
similar to Double Barrel coil
)
DBair lengths available:
• 190 x 50mm
• 200 x 50mm
• 200 x 57mm
• 215 x 63mm
• 222 x 63mm
• 222 x 70mm
• 240 x 76mm
• 267 x 90mm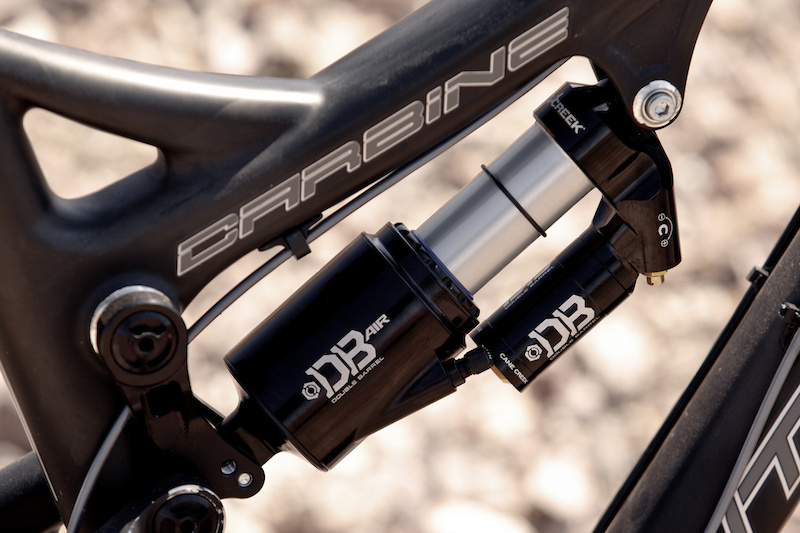 The DBair is shown here on Intense's new 5.5" travel carbon fiber Carbine trail bike, but the shock will be available in many different sizes to fit a variety of models, including the 9.5" and 10.5" eye-to-eye length shocks that are common on downhill bikes. As with the original Double Barrel, the DBair's tuning range is wide enough to allow riders to dial in nearly any feel that they are looking for from the air sprung shock by adjusting the low and high speed compression and rebound, but Cane Creek adds another element with adjustable air can volume as well. By using a strap wrench to remove the air can and either adding or removing spacers you can control the ramp up at the end of the stroke - add spacers for more ramp up and bottom out resistance, or remove them for a linear feel. The air can is also rotatable to allow the schrader air valve to sit in the correct orientation on different bikes, allowing you easier access when the time comes to adjust your spring rate.
| | |
| --- | --- |
| | We wanted to keep the tuneability and traits that people came to know with the Double Barrel Coil and put them into an air shock - Devon Sullivan, Cane Creek suspension design engineer |
While the DBair will no doubt see plenty of action on all-mountain and trail bikes, Cane Creek chose to not outfit the shock with a lockout or pedal assist lever of any kind, something that may put off some riders, but they were clear in stating that the DBair is intended for aggressive riders who generally leave their suspension open to deal with the terrain. Interestingly, there was some hinting that we may yet see another air sprung model that does include a pedal assist feature, and we're willing to bet that it will come on an in-line damper intended for lighter duty use and without a piggyback.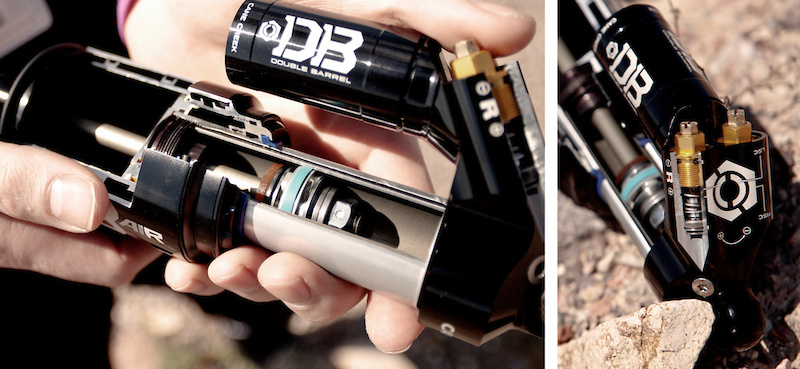 The cutaway shown above is a prototype version of the DBair that uses slightly different hardware, but it gives us a look into the damper's inner workings. If you look closely you can see small gap between the main shaft and inner tube that gives the layout its twin-tube name. This allows the oil to circulate throughout the damper far more than a more standard layout allows, helping to keep the feel consistent despite rising temperatures due to prolonged use.
Riding impressions:
Cane Creek mounted their new DBair shock onto Intense's new Carbine trail bike in order for me to get some early impressions of the air sprung shock's performance. While the hour long ride certainly doesn't qualify as a true test, especially considering the venue's unfamiliar terrain, it did provide me a chance to put together a first impression of what the shock has on offer. Cane Creek's suspension design engineer Devon Sullivan said that they have gone to great lengths to reduce the amount of friction that is usually associated with air sprung shocks, caused by the added number of seals that a coil sprung damper doesn't require, and I'd have to say that they have been successful. The DBair is incredibly sensitive at the top of its stroke, more or less on par with a many coil shocks, which is astounding when you consider the amount of seal contact area that it has compared to its coil sprung brother.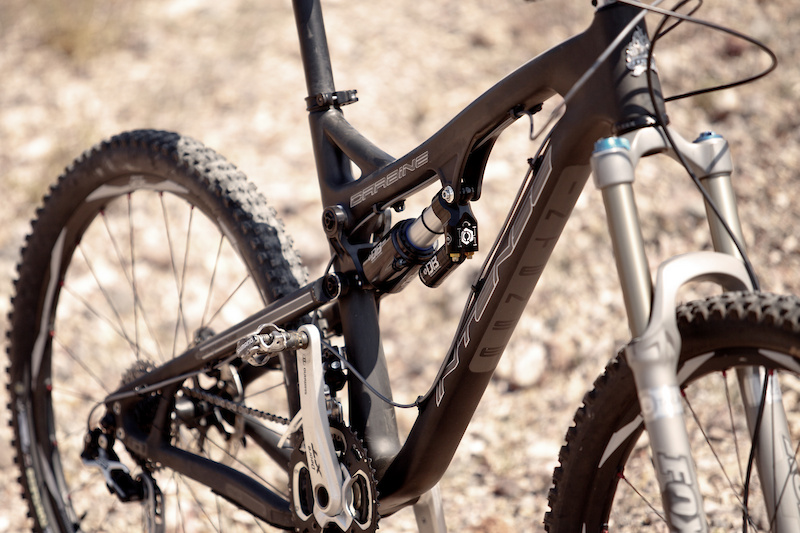 That slippery feel did wonders to erase much of Bootleg Canyon's notoriously rocky trail chatter, closely mimicking the feel of a coil sprung shock, but the middle and latter parts of the stroke didn't suffer as a result, something that can occur when you are tuning an air spring for sensitivity. In other words, the DBair didn't tend to use excess amounts of its stroke as you might expect such an active air shock to do, but rather the bike sat calmly into its travel. While I would have liked to get into tuning the DBair's many adjustments, there simply wasn't enough time to fiddle too much. The new DBair uses the same adjustments as the Double Barrel coil, a shock that we're intimately familiar with at Pinkbike, so we have no doubt that its tuning range will allow users to dial in the feel that they are looking for on the majority of bikes.
The limited time that we spent on the DBair showed us that it has the potential to be a game changer, but we'll need more time on it before passing judgement. One thing is for certain though, trail and all-mountain riders are in for a treat if Cane Creek can translate the coil sprung Double Barrel's performance to the lighter DBair, not to mention downhillers who are looking to shed some weight from their bike. Stay tuned for a full review as Pinkbike will be among the first to put the DBair through a proper test.
Visit the
Cane Creek website
to see their entire lineup.