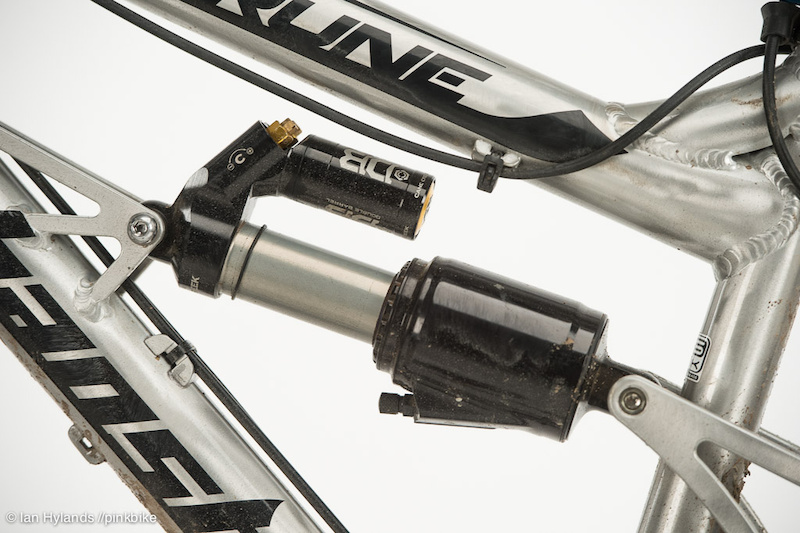 We tested the Cane Creek DBair on a 2013 Banshee Rune with 160mm of travel, a combination that proved to be extremely capable.
Cane Creek DBair details:
- Intended use: trail/all-mountain/DH
- Air sprung
- Adjustments: low-speed compression and rebound, high-speed compression and rebound, air pressure, air can volume
- Twin Tube damper
- Auto adjust negative air spring
- Rotatable air can for best fit on different frames
- Weight: 530 grams (
8.5'' x 2.5''
)
- MSRP $650 USD
Twin Tube Damper
The DBair utilizes a Twin Tube damper, which is the same layout as found within the coil-sprung Double Barrel shock, with four independent external adjustments for low-speed compression, low-speed rebound, and high-speed compression and rebound. These adjustments are possible due to the constant oil circulation as the shock is compressed. The compression stage pushes oil up through the piggyback bridge, through the one-way compression orifice and poppet valve, then through the rebound check valve next door. The oil continues its path by next flowing through a small gap between the inner and outer damper bodies (
this is where the Twin Tube moniker comes from
) to end up back behind the compression piston. Oil flow takes place in the exact opposite manner during the shock's rebound phase, with the difference being that the oil passes though the rebound orifice and poppet valve to provide damping, then the compression check valve before returning to the front of the piston.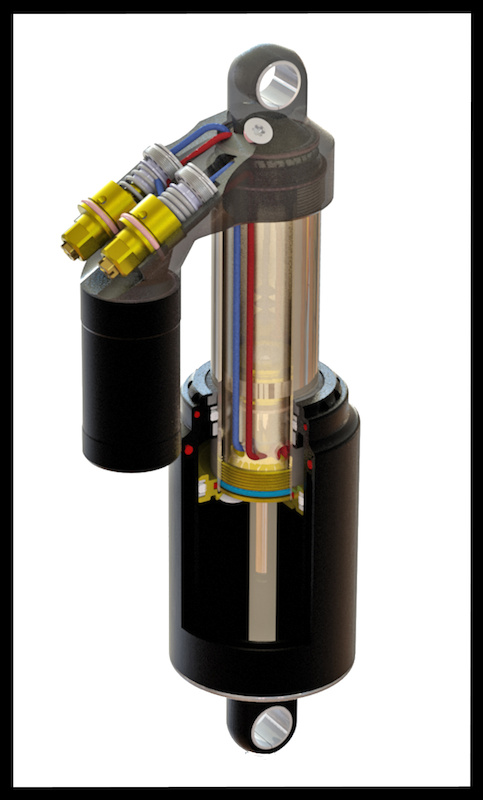 The blue line shows the oil path during compression, the red during rebound.
The Twin Tube layout means that some damper adjustments that would require a more traditional shock to be disassembled and re-shimmed can be performed on the Double Barrel by simply turning one of the external adjusters to attain similar results. The technology, which originated with the suspension gurus at Ohlins, is so effective that versions of the Double Barrel are used in some forms of auto racing. And while the DBair's four damper adjustments may seem intimidating at first, it is key to remember that one of the most popular air shocks on the market, the FOX DHX Air 5.0, offers close to the same number of dials (
albeit with different functions
). Factor in the very helpful setup guide and base settings provided by Cane Creek, as well as the
private forum
on their website for Double Barrel owners that lets you ask them questions directly, while also picking up tips and hints from other Double Barrel owners, and the fog of mystery surrounding the shock should lift for pretty much everyone.
DBair vs. DBcoil
While the DBair features the same external damper adjustments as its heavier coil-sprung brother, there are some very important internal differences that are necessary due to how an air-sprung shock ramps up through its stroke. One of the major changes between the coil and air shock is the rebound piston, with a solid piston employed within the DBair that prevents oil flow on the rebound stroke compared to the ported version used on the coil shock. The changes don't end there, though, with Cane Creek's Josh Coaplen explaining to us that they also utilize
"different spring rates in the high speed
valve poppet springs, different orifice sizes in the low speed damping jets, and a different annular area between the twin tubes." It is fair to say that Cane Creek did not simply drop an air can onto the coil-sprung Double Barrel and called it a day.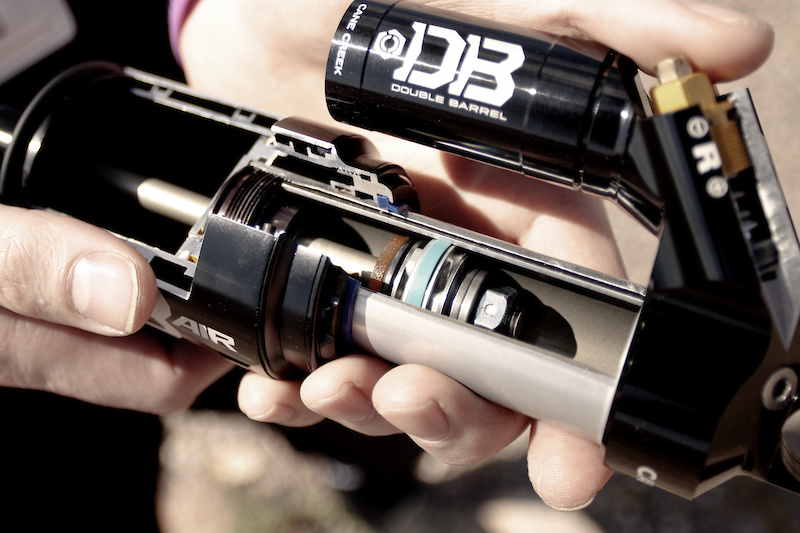 A look inside of the DBair. Note the small gap between the outer stanchion and inner tube that allows the damping oil to circulate.
The difference in spring performance characteristics between a coil and air sprung shock also mean that some bikes are not suited to how the DBair (
or any other air shock
) operates. For instance, a bike that employs an aggressively rising-rate rear suspension layout may be best suited to a coil spring's linear rate and could have trouble attaining full travel due to how an air spring ramps up in rate as it is compressed. Our test shock was fitted with Cane Creek's new high-volume air can that helps produce a flatter spring curve (
the Banshee Rune we tested it on uses a relatively progressive rear suspension rate
), but there are some bikes that won't perform at their best with the DBair regardless.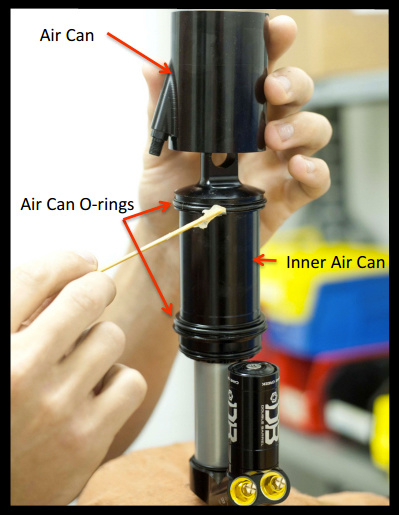 A strap wrench allows users to remove the air an for
maintenance or to fit a volume reducing spacer.
The opposite can also be true, of course, and it is always best to determine if a coil or air shock makes the most sense for you and your bike before shelling out any money.

As with any air-sprung shock, the DBair offers an infinite tuning rage that allows users to adjust the spring rate by as little as a few PSI at a time while searching for their ideal setup. Have you found your preferred air pressure, but want a bit more ramp-up at the end of the stroke? Removing the shock's air can with a strap wrench allows volume-reducing spacers to be fitted, an alteration that leaves the shock's initial stroke largely unaffected while providing more bottom out protection. Going this route may let a rider get away with running slightly less air pressure than they would normally run, or it could be just the ticket for an aggressive or large rider whose bike employs a falling rate suspension design that would benefit from some ramping at the end of its travel.

The air can is also able to be rotated by 360° to allow ideal access to the air valve on as many bikes as possible, and simple air seal maintenance can also be performed without having to send the shock to a service center.
The DBair's Adjustments Explained
•
Low-speed compression
With all four damper adjustments, 'speed' refers to the shaft speed of the of the shock during compression and rebound, not the speed that the bike is traveling at, and turning an adjuster inwards applies more damping while turning it out allows for less. Low-speed compression (
LSC
) moments include, among other things: the rear suspension compressing under braking, the rider moving forward, backwards, and up and down while cornering and pedalling, as well as chain forces acting on the bike's suspension. Landing a jump or drop smoothly onto a proper transition can also considered a low-speed compression because the relatively gentle impact compresses the suspension slower than if you cased the jump or landed flat past the transition. LSC damping can be used to tune a bike's pedalling abilities, but too much can and will make the suspension feel harsh at the top of its stroke. This is adjusted by turning the smaller inner compression dial on the DBair.
•
High-speed compression
As you likely guessed, a high-speed compression (
HSC
) moment involves fast shock shaft speeds. A HSC instant is any time your suspension reacts to a fast and hard impact, with the wheel needing to move up and out of the way quickly. Think of an abrupt square-edged hit and you'll get the idea, although smaller trail irregularities such as roots and rocks can also act on the shock's HSC circuit - anything that forces the shock shaft to compress quickly. Overshoot that last jump and land harshly in the flat? That is a HSC moment. Too little HSC damping and you may find that the shock bottoms too often, but too much and you could either not use enough of the bike's travel or feel a harsh spiking sensation on impact.
•
Low-speed rebound
As the most common type of damper adjustment, the large majority of shocks on the market feature a single rebound dial that controls the amount of low-speed rebound (
LSR
). After spring rate, most riders will find that LSR has the most obvious effect on how suspension behaves simply because it is the most noticeable while compressing the bike by hand and letting it return - a lot of LSR will result in the the suspension returning obviously slower than if the LSR dial was dialed most of the way out. Much like low-speed compression, LSR can be used to keep the bike settled and stuck to the ground, thereby increasing traction because the tires are in contact with the ground much more than if there was little or no LSR damping control. Too much LSR and you'll find that the bike will want to stay grounded and make it hard to unweight the bike over rough sections, or even not allow for enough 'pop' to clear a jump.
•
High-speed rebound
Hard and fast impacts such as casing a jump or landing to flat are controlled by the shock's high-speed compression circuit, but that is only half of the battle because the shock now needs to return from deep in its stroke in a controlled manner. This is where the DBair's high-speed rebound (
HSR
) comes into play. Increasing the amount of HSR on the shock will allow it to return slower from a large impact, resulting in more control as the rider recovers from the impact. Riding in the Red Bull Rampage? Or maybe just out sessioning a large drop? HSR is your friend that will give you control
after
the initial impact and the shock rebounds. Too much HSR and you might discover that the bike feels harsh on continuously rough terrain but, interestingly, this isn't always a compression issue - the shock can rebound so slowly that it doesn't extend in time to absorb the next hit, meaning that it has less travel to use. Enough impacts in a row and the shock could be near-bottomed despite the hits not being hard enough to use all of the bike's travel, although the trail has to be incredibly rough and fast for such a thing to happen.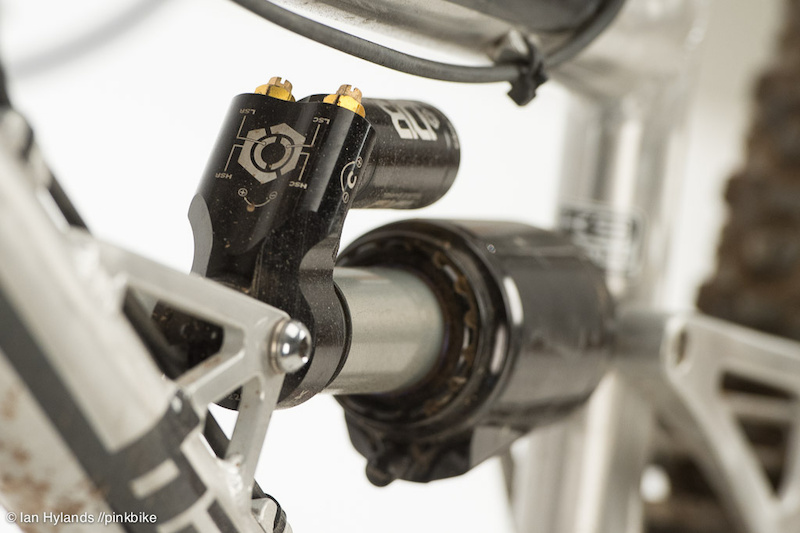 The DBair's adjusters are labeled clearly but you will need to use the supplied tool to make changes.
Performance
Dialed In

First of all, it has to be said that the DBair is mind-blowingly impressive when run with the base settings recommended by Cane Creek, although this isn't surprising given that the man behind Banshee's KS Link suspension layout, Keith Scott, worked closely with Cane Creek during the bike's development phase. "

Banshee and Cane Creek were in the admirable position of having time to implement changes as determined from product testing,

" explains Cane Creek's Josh Coaplen.

"Keith kept Cane Creek in the loop as he iterated through tweaks in the kinematics to ensure things mapped well onto the shock properties.

" That research still needed to be backed up with real-world testing, though, which was the next step in the collaboration.

"This work culminated with a joint testing session in Whistler where data was collected on four bike models and analyzed for optimizing the setups across multiple platforms, with various riders of varying abilities and riding styles.

" The results of this close working relationship are not only different base settings for the both low and high-speed compression and rebound than what you'll find recommended for other bikes, but also a new high-volume air can that better suits the Rune's progressive leverage ratio. Does all of the above mean that the DBair's suggested settings are the best for you? Not at all. All of us as riders approach a trail differently, be it more pumping and popping, spending extra time at that one massive jump, or pretending that your favorite local trail is a race run, so there is a good chance that many riders will benefit from a turn or two of adjustment depending on what they are looking for.

Making Adjustments

The Double Barrel's four independent adjustments offer such a wide tuning range that it is entirely possible to create a package that performs poorly, although that very approach is key to understanding the effect that each dial has on the shock's performance. Confused? If you plan on experimenting outside of the base settings provided by Cane Creek, it will help to repeat a short section of trail at the extremes of each setting in order to not only know the consequences each dial has on performance, but also to grasp how you

don't

want the shock to perform. Reading up on the adjustments only gives you part of the story, and the quick hour that we spent re-doing the same rough section of trail with each dial set to its two furthermost positions gave us a far better grasp of how the DBair works. Cane Creek's

Tuning Field Guide

also provides some great direction during the adjustment phase.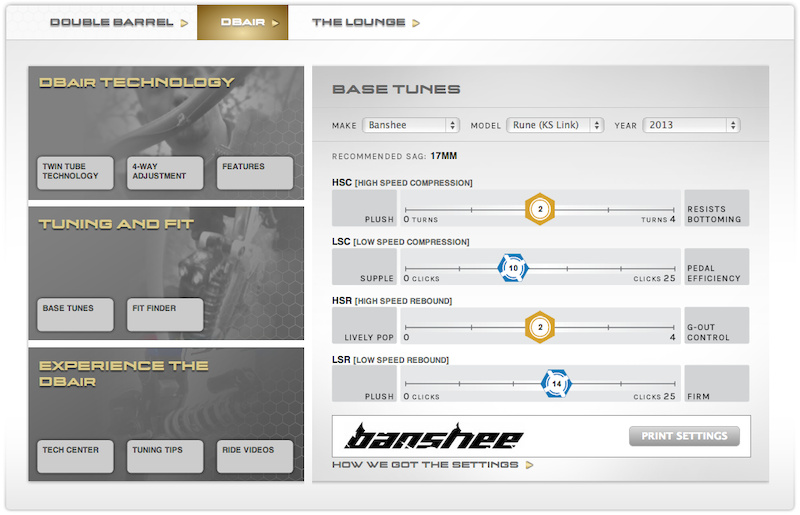 Not sure where to start? Cane Creek offers plenty of information on their website, including handy base settings for many bikes.
Effective Tuning
After first spending some saddle time with the DBair at its recommended base settings, we waded into the tuning aspect by experimenting with the shock's two low-speed adjustments (
controlled via the two smaller hex adjusters
), as those have the most noticeable result on how the shock reacts. Our DBair test shock was fitted to Banshee's new 160mm travel Rune, a bike that pedals relatively well to begin with, but we were still able to use the shock's low-speed compression dial to balance the Rune's pedalling and small bump compliance. The Rune accelerated fairly well, even with the LSC backed completely out, but it was plainly evident that there was a noticeable amount of suspension movement from our body English, especially on climbs that required an out of the saddle effort. Turning the LSC completely in resulted in a bike that felt like a portly cross-country rig rather than a 160mm travel all-mountain bike, but the other side to that extreme was an overly rough ride that transmitted too much feedback through the bike. As a result, traction was also limited as the rear tire tended to chatter over the ground. Cane Creek's recommended setting of ten clicks from fully out (
there are a twenty five clicks total
) proved to be a nice middle ground between the two extremes, although we settled on twelve clicks because of the extra support it added when riding aggressively. This not only provided slightly stiffer suspension to push against, thereby letting us get a little more 'pop' when we needed it, it also made for a firmer pedalling ride that we appreciated given that the Rune was ridden on an earn-your-turns basis. We could see ourselves backing it out a few clicks to improve traction in loose or muddy conditions, which goes to show just how much of an effect DBair's adjustments actually have on the bike's performance.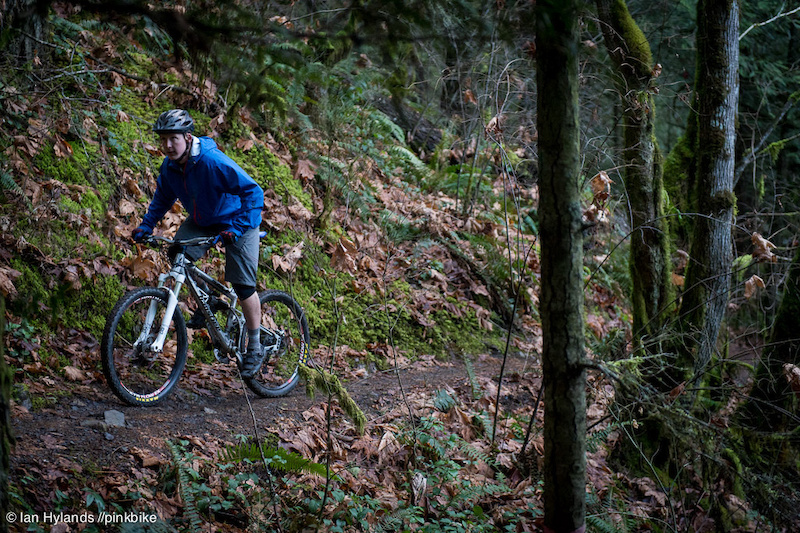 The shock's low-speed compression adjuster had a massive effect on how the bike climbed, especially during out of the saddle efforts.
Up next was the DBair's low-speed rebound, which we found ourselves adding a few more clicks to than what was suggested in the base settings. While we expected this change to be detrimental to the bike's playfulness, the Rune was just as eager to leave the ground as it was before we started tinkering (
possibly due to the added LSC damping
), but with the added benefit of a calmer ride that wanted to stay level and composed regardless of if the bike was being pointed through the worst that the trail had to offer. We also ending up bleeding 5 PSI from the shock's air can after making changes to the damper settings, but this didn't require bumping up the level of high-speed compression to prevent bottoming as the two turns (
of a possible four
) of HSC did well to keep the bike from using its travel too quickly. Keeping in mind that we were running 35% sag at the time, and that the shock's O-ring was telling us that yes, that landing to flat was using all of the bike's travel despite not being able to feel any bottoming through the bike, Cane Creek proved to be spot on with their recommendation. We came to the very same conclusion about the shock's two turns of high-speed rebound - there was no reason to deviate from the stock setting.
All-Around Performer
While all of the above may sound like a lot of work to a rider who may not even check their tire pressure that often, it produced what we can only describe as the most capable air shock we've ever ridden, and we'd even go so far as to say that the DBair and 160mm travel Banshee Rune combo is a step ahead of pretty much any coil-sprung bike of similar size that we've spent time on. It goes about its job in an incredibly efficient manner, remaining all but invisible until you stop after a particularly rough section of trail and realize what just happened - that is, exactly nothing. No 'moments' and no feeling of the rear end doing anything that it shouldn't be, just all-around supreme calmness. The smallest of impacts are erased in a way that would have you expecting the shock to suffer at the opposite end of the spectrum, but we didn't record a single instance of hard bottoming during our time on it, even with the shock slightly under-pressurized by a few PSI. And that is really where the DBair stands out against the competition: while others seem to always sacrifice performance in one realm to gain in another, the DBair manages to shine everywhere.
The DBair shines especially bright on small and mid-sized impacts, helping to keep the rear tire glued to the ground for maximum traction.
It is only after riding the same trail back-to-back to compare the DBair to the competition that you begin to realize just how composed the shock is when the going gets rough. Sharp impacts that activate the shock's high-speed circuit are muted more than on anything else we've used, with less of a spike being left over to upset the rider and bike, and there feels to be less of a tendency to pitch the bike forward as a result. It is how the shock behaves on the small to mid-sized bumps - in other words, the large majority of any trail - that gives it the clear advantage over other options. There is a sensation of improved traction due to how well the rear tire is able to stay in contact with the ground and follow the contours, a feeling that is akin to running an ultra-tacky compound tire set to the optimum air pressure for every inch of the trail. It simply offers a more planted ride than can be found elsewhere.
Issues
The DBair is an impressive piece of technology, but it isn't perfect. With such an incredible range of adjustment, we often found ourselves wishing the DBair came equipped with tool-free adjustment dials that would make tuning it a bit quicker. We'll admit, because we jumped into the tuning phase early and found settings that we liked, we were far less likely to tinker after a few weeks of time with the DBair under us, but finger-friendly dials would make those early days of adjusting a bit more convenient, not to mention go a long ways to further encourage riders to seek out settings that they prefer. "
With the availability of easy high-frequency knob spinning comes a higher chance that the tuning process will lack rigor,
" Cane Creek's Josh Coaplen told us. "
The double edge sword of providing enough tuning range to really allow 'rider based tuning' is that there is some sub-optimal space in the tuning range as well.
'' What Josh is getting at is that tool-free knobs will increase the chance of a rider arriving at damper settings that don't suit their bike but that need to be available in order for the shock to work well on other frame designs. Cane Creek also admits that adding dials large enough in diameter to turn with fingers would increase the size of the shock's footprint, something that they really don't want to do given that the DBair is already a very tight fit on many bikes.
Cane Creek has said in the past that they see the DBair as an ideal shock for the 150/160mm travel all-mountain bike platform and that they don't feel a pedal assist (
picture the ProPedal lever on a FOX shock
) would suit the shock's intentions. While we certainly aren't fans of extra levers to be fiddling with while on the move, such a feature would mean that the DBair could be better utilized on bikes with poor pedalling characteristics, not to mention that riders who face long access road climbs to reach their descents would likely make use of it often. Having said that, we wouldn't be surprised if Cane Creek is quietly working away on a lighter version of the DBair that incorporates this very function and is intended to compete head-to-head with FOX's popular RP23 shock.
Pinkbike's take:
| | |
| --- | --- |
| | We could rattle on and on about the DBair's massive tuning range, or talk about the ingenious Twin Tube damper layout and its obvious benefits until your eyes glaze over and you decide to buy a rigid fatbike, but it's much easier to say that, without a doubt, Cane Creek have the best performing air shock on the market bar none. Our only concerns revolve around the need to use a tool to make damping adjustments, and how we would like to see a pedal-assist lever, neither of which are related to the shock's out-and-out performance. But what about all those adjustments, you ask? Unlike what we've read elsewhere, we don't believe that the shock's "complexity" should be a barrier to anyone considering a DBair for their bike. After all, Cane Creek offer a wealth of knowledge on their website, including recommended settings for every adjustment and a private forum where you can ask Cane Creek tuning questions one on one, so there really isn't much of an excuse to be intimidated by it. It is by no means inexpensive, but the bottom line is that the DBair offers more control, more adjustability, and more performance than any other shock on the market. - Mike Levy |
www.canecreek.com
Follow Mike Levy on Twitter:
MikeLevyPB