REVIEWED
Cannondale
TRIGGER 29 Carbon 1

WORDS
Mike Levy
PHOTOS
Colin Meagher
With 130mm of rear wheel travel via a radical pull shock that can be dialled down to just 80mm with the push of a remote, and its single sided, carbon fiber Lefty fork, Cannondale's Trigger 29 Carbon 1 doesn't exactly blend into today's mid-travel bike market. Regardless of its on-trail manners, there's no doubt that its appearance is bound to be a polarizing factor among riders, and its $8,120 USD price tag will likely have the same effect as well. And while the entry point for the Trigger platform starts at a more reasonable $3,470 USD for the base model, there is no mistaking that the 29 Carbon 1 tested here is Cannondale's no-apologies entry into the most ruthless and competitive bike category out there. Is the bike's novel approach to suspension and frame design enough to have it rise to the top of an already impressive field of contenders?

• Intended use: trail/all-mountain/enduro
• Wheel size: 29"
• Rear wheel travel: 80 - 130mm (via remote)
• Lefty SuperMax Carbon fork w/ 130mm of travel
• FOX DYAD RT2 pull shock
• Carbon fiber front and rear triangles
• SRAM XX1/XO1 drivetrain w/ Si cranks
• Mavic Crossmax ST 29 wheels
• Weight: 26.4 lb (lrg, w/o pedals)
• MSRP $8,120 USD
Different for Different's Sake?
The fact that there are some clear leaders in the world of mid-travel bikes, and also some clear duds, proves that assembling a dialled trail bike might be more difficult than convincing a bunch of fashion conscious riders to try out hip bags on their next ride. So, why would Cannondale make things even harder on themselves by taking such an unorthodox approach to the challenge? After all, the Trigger's Zero Pivot rear end, DYAD pull shock, and Lefty fork are sure to alienate the more closed minded of us out there, aren't they? ''
We have always been an engineering-driven company, rather than a marketing driven company. If we see a way to improve something, we do it and worry about how to sell it later,
'' Murray Washburn, Cannondale's Global Director of Product Marketing, explained to us. ''
We are great at thinking about things differently and coming up with new, surprising ways to make bikes better, but we pretty much suck at telling people about it. This approach is both our biggest strength and our greatest weakness.
'' Coming up with ideas that are new to the mountain bike world and then putting them into practice is one thing that Cannondale has done extensively throughout their existence but, as Washburn admits, it's also something that has surely cost them sales as well.
A skeptical mind might assume that a single sided fork (isn't it a prong, then?) would never be up to the task, a valid concern if you're not familiar with the principles behind it, regardless of the car sitting outside of your house having all four of its wheels held on by one side, while others maintain that shocks should push, not pull.Yet both the Trigger and Jekyll platforms that make up Cannondale's 'OverMountain' range of do-it-all bikes employ their proprietary DYAD pull shocks that have been designed in conjunction with FOX. Cannondale clearly believes in both the Lefty concept - it's been around for many years now - as well as the idea of integrated, exclusive suspension components, but that strategy must offer advantages to the average rider for them to be accepted en masse because being different for different's sake isn't enough when the accepted norm performs to such a high level.
The Trigger's Suspension Explained
Lefty SuperMax Carbon PBR:
Pull up to the trailhead with the Trigger and you'll no doubt have strangers wandering over to ask if you've forgotten the other side of your fork at home, something that gets old fast once you've spent a good amount of time on the bike. Jokes aside, there are some very sound theories behind the Lefty that, as we'll talk about more later on, allow it to be both more torsionally rigid and more active. The key to the fork's performance is its 36mm diameter square stanchion tube that rides on four strips of captured roller bearings, thereby letting the lower tube roll in and out of the 46mm carbon fiber upper tube rather than slide on bushings, all of which is a layout that offers enough strength and rigidity that Cannondale is able to go to a single-sided design. Remember, using a standard, round stanchion would allow the leg to spin around in the upper tube - a conventional fork's rigidity depends on its axle, fork arch, and there being a proper amount of material elsewhere, and while some of those still count for points with the Lefty, it's the fork's square stanchion tube that delivers the required stiffness. Each bearing strip is sandwiched in thin steel races to prevent the bearings from wearing into the aluminum leg as they roll, and the newer Lefty forks also utilize a round profile to the exposed lower section of the stanchion that allows Cannondale to use more traditional sealing system as opposed to their older setup that depended on a rubber boot to keep grime at bay. Another important update is the much lower profile top cap that won't interfere with the handlebar if a rider wants to install a shorter stem (
we used a 60mm for the majority of our time on the bike
), a blessing for anyone who plans to get a bit rowdy on the Trigger.
The fork's air spring is adjusted via a Schrader valve at the bottom of the leg, while a large red dial atop the leg controls rebound speeds. The PB in PBR stands for push-button, a reference to the blue button at the center of the rebound dial (
that's the R in PBR
) that can be pushed to instantly add compression damping to the fork, although it is more of a ''soft lockout'' that still allows for some movement instead of a traditional lockout. All told, the 130mm travel Lefty weighs in around the same as many other high-end forks in the same travel bracket - 1850 grams/4.07lb - but remember that Cannondale says it's ''
as stiff and strong as most dual-crown DH forks, yet lighter than most all-mountain forks,
'' a hefty claim if we've ever heard one. Can it be true?
Zero Pivot:
While there is quite a bit to talk about when it comes to the Trigger's rear suspension, the bike does use a somewhat traditional single pivot and rocker link arrangement to control its adjustable 80 - 130mm travel rear end. Instead of the rocker link pushing on the shock like you see elsewhere, however, it pulls up on it. Just as up front, Cannondale has gone with carbon fiber all around, with the entire rear end, including the rocker link, being manufactured with the same material. This has allowed them to forgo using a bearing pivot at the axle, with their 'Zero Pivot' flexing stays doing the work instead. Engineered flex is nothing new for Cannondale - the theory as been in use by them since 2002 - and it's one that they claim offers more lateral rigidity and less weight. ''
It saves a significant chunk of weight, almost a quarter pound out of the swingarm and, thanks to ways we can control deflection via layup, it actually increases stiffness over a bearing system,
'' Washburn told us. He also used the example of the wings of a large airliner, designed to flex huge amounts during flight, as the same theory applied on a much larger scale.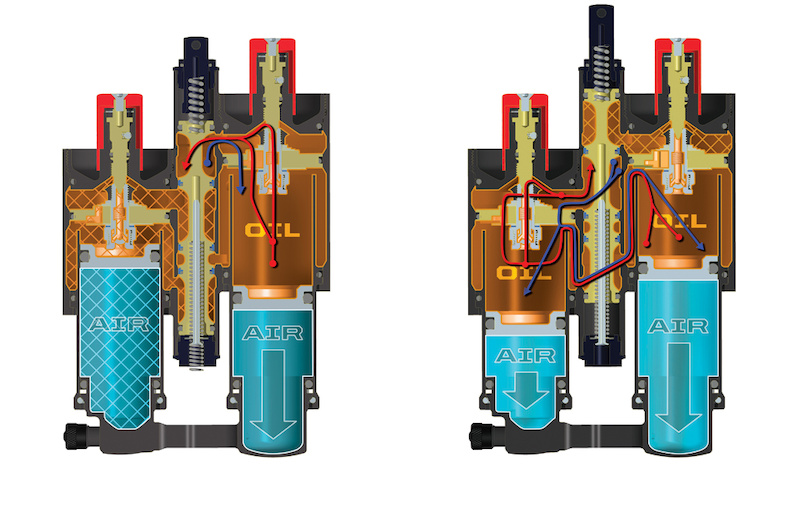 FOX DYAD RT2 shock:
The heart of the Trigger's suspension is its proprietary FOX DYAD RT2 pull shock which, while being quite complicated compared to a standard unit, is essentially two shocks combined into one. Proponents of the K.I.S.S. theory will be likely be shaking their head at the oil flow diagram of the DYAD shown to the right, but it is important to note that the pull shock's design is from the minds at FOX, not some unproven or lesser known suspension manufacturer. Regardless, it's an intricate piece of technology that acts as a short-travel shock with a small air volume when required, and a long-travel shock with a bigger volume when called upon, with both travel modes employing their own dedicated damping circuit that has been designed specifically for the travel.
''It utilizes two separate positive air chambers (one big and one small), a shared negative air chamber, and two independent damping circuits,
'' explains Washburn.
''
DYAD's unique in that, rather than moving a damping piston through an oil bath like a traditional shock, the DYAD instead acts like an oil pump, pumping the oil from one side of the shock to the other through the one of the two dedicated damping circuits. Each of the positive air chambers has its own floating piston that separates the oil volume from the air, while the pull-shock piston serves as both the primary oil piston and the negative air spring piston. Oil flow is controlled by something called a spool valve, which moves up or down when you flip the handlebar mounted lever, opening and closing two different oil paths.
''


The other part of the the story is the shock's air spring, or springs rather. In 'FLOW' mode (130mm of travel) the two positive air chambers are connected to create a single high-volume air spring that Cannondale says is able to mimic how a coil feels. Changing to the 'ELEVATE' mode (80mm of travel) shuts off the passage connecting the two chambers, thereby creating a single small-volume air spring that significantly ramps up the bike's spring rate. Moving between the two travel modes also effects the bike's geometry, with a lower ride height and slacker head angle due to the extra sag in the FLOW mode, while a steeper head angle and higher bottom bracket height is on tap due to less sag when the ELEVATE mode has been selected.


All of the above is controlled with a handlebar remote that looks decidedly un-advanced in that it resembles a thumb shifter, although it has actually had a considerable amount of thought put into it. ''
Having almost eaten shit when trying to activate an on-top-of-the-bar thumb lever to drop a seat post on a descent by having my hand slip off the front of the bar,
'' Steve Extance, Cannondale's chief Headshok/Lefty engineer told us, ''
I knew that it was important to maintain a decent grip on the bar when getting into FLOW mode, but activating ELEVATE mode is much more forgiving.
'' Extance's old school looking lever allows for exactly that, with a button on the very end of the thumb lever that can be simply nudged with the side of your finger/knuckle in order to switch the Trigger back to its long-travel setting. There is also the DYAD shock's stiff spool valve return spring to keep in mind, something that can be easily overcome by using the leverage enhancing, thumb operated remote.
Specifications
Release Date
2014
Price
$8120
Travel
80/130mm
Rear Shock
FOX DYAD RT2 DUAL SHOCK, 130/80MM, W/REMOTE LEVER
Fork
LEFTY SUPERMAX CARBON PBR 130 29, W/ HYBRID NEEDLE BEARING TECH, 60MM OFFSET
Headset
CANNONDALE HEADSHOK SI
Cassette
SRAM X01, 10-42, 11-SPEED
Crankarms
CANNONDALE HOLLOWGRAM SI, BB30, XX1 30T
Bottom Bracket
CANNONDALE PRESSFIT30, FSA BEARINGS
Rear Derailleur
SRAM XX1
Chain
SRAM XX1
Shifter Pods
SRAM X01 11 SPEED
Handlebar
CANNONDALE C1 RISER, CARBON, 740X15MM
Stem
CANNONDALE C1, 1.5", 31.8, 5 DEG.
Grips
CANNONDALE DUAL LOCKING GRIPS
Brakes
MAGURA MT6
Wheelset
MAVIC CROSSMAX ST 29
Tires
SCHWALBE HANS DAMPF SNAKESKIN TRAILSTAR, 29X2.35", TUBELESS READY
Seat
WTB VOLT NICRO SL
Seatpost
ROCKSHOX REVERB STEALTH
---
First impressions / setup:
Say what you will about the appearance of its Lefty fork and unusual looking DYAD shock, but we're of the mind that Cannondale has assembled one hell of a good looking bike, although it's certainly bound to cause those not fond of its unconventional image to be a bit vocal about their feelings. We prefer to think of it as having uncommon beauty, however, much like how you might look at an attractive foreign model and think, ''
yeah, I totally would.
'' Well, we totally would with the Trigger.
While the bike's novel looks will have people staring, those who throw a leg over it will also likely remark that it has an equally large presence when in the saddle. We've been spending plenty of time aboard some ground hugging test bikes recently that have the Trigger feeling as if could easily ride
over
them and their pilot without much trouble - it feels a bit more like sitting on the roof of a sports car rather than deep in its driver seat. That sort of sensation doesn't often play out well in the heat of battle, but it's important to reserve judgement until wheels get put on dirt. As we find ourselves doing so often, a shorter 60mm stem and wider handlebar were bolted in place after the first few trail-dates, although we won't harp on about these changes as they don't seem out of place relative to the bike's 130mm of travel and expected use. Another thing that doesn't seem out of place in the slightest is the DYAD shock's clever ''thumb shifter'' remote. Slide it right up close to the grip and you'll find that it's extremely easy to push when you want to limit rear wheel travel to the 80mm ELEVATE setting, and even easier to operate when it comes time to pop back into the long travel FLOW mode - simply use the side of your pointer finger to hit the grey release button to do so. The operation feels natural enough that it makes us wonder what the hell everyone else is doing with their remotes.
There's no getting around the Trigger's involved suspension setup, a routine that is more complicated than you'll find of a more traditional bike. Cannondale supplies recommend pressure figures for both the Lefty fork and the DYAD shock, and although they said that we'd need to use their own high-pressure shock pump (
supplied with the bike
) to adjust the latter, we managed just fine with a standard pump while running it at the recommended pressure for our 170 pound weight. Trigger owners will also need to adjust rebound speeds for the 130mm and 80mm travel settings separately via the two clearly labelled red dials, and we ended up preferring a much slower return rate for the shorter mode (
we'll explain why later in the review
). Riding the bike a few times with the stock air pressures out back revealed that it felt just a touch harsh, as well as offering a higher ride height than we would prefer, so we dropped 10 PSI and ended up feeling much better about everything. After talking to Cannondale about it, they apparently agree and are planning on releasing a revised pressure chart for the bike. It was a different story up front, with us going up in pressure slightly, likely due to how unprepared we were for the Lefty's impossibly smooth and active stroke. The setup process certainly did take longer than what we're used to but technophiles will likely enjoy the exercise, and those less inclined are advised that it's well worth the effort.
| | |
| --- | --- |
| | We prefer to think of it as having uncommon beauty, much like how you look at an attractive foreign model and think, ''yeah, I totally would.'' Well, we totally would with the Trigger. |
Climbing/acceleration:
While many longer travel all-mountain machines seem to be excused of their so-so climbing abilities as long as they shine on the way back down, there really is no pardoning a 130mm travel bike that ascends poorly, is there? Thankfully, the Trigger doesn't need to justify any climbing deficiencies because it manages to get to the top of mountains quite efficiently, even without taking advantage of the travel-reducing ELEVATE mode. In fact, we nearly always left the bike's rear suspension set to full open when on any type of singletrack, smooth or rough, despite how quick and easy it is to use the clever DYAD remote. Glassy, featureless gravel road climbing might have been the only time that we felt the need to give the thumb lever a push, but that wasn't the case when it comes to the bike's Lefty fork that is so active, so eager to suck up the smallest of ripples in the ground, and therefore also so keen to move in its travel when out of the saddle. We've not often championed fork lock-outs, but out of the saddle efforts aboard the Trigger when on gravel roads or doubletrack are aided when you reach for that climbing aid.
If it sounds like we're complaining about a fork being
too
active, we should clarify that the pluses of such supple travel far outweigh the desire to reach for its firming push-button option, and that it really only became noticeable when throwing one's weight around in standing efforts. The feature does its job well, though, firming up the Lefty enough to silence its liquid-like movement but not so much that it can't mute the hole or rock that you didn't see coming.
Stiffening up the fork while simultaneously running the back end at 80mm transforms the Trigger into something close to a cross-country race rig (
although the meaty Hans Dampf tires mask that somewhat
), but we need to ask if the DYAD shock's multiple personalities make sense for the average rider. The answer will likely come down to how competitive you see yourself, and we're not just talking about racing in the truest sense of the word, but even if you like to make a habit of trying to out-sprint or drop your friends on climbs, or if you aren't ashamed in the slightest to go KOM hunting. If that sounds like you, then you'll likely make more use out of the DYAD's two functions than a rider who is simply happy to set their motor to idle when the ride starts to gain in elevation.
Technical riding:
As we talked about earlier, the Trigger has a big feel to it compared to other 29ers of the same 'large' size designation, although Cannondale has been able to mask that to a great extent by creating handling that comes across sharper than the advertised 69° head angle figure would have you believe. It might feel as if the Trigger's rear end is still working its way through that last switchback, but the bike's on-the-nose steering will have you squaring up your line sooner than you think is possible, thereby allowing you to have the bike move through some pretty technical terrain at a good clip. Take a proactive approach - steer the bike with certainty rather than let it float where it wants to go - and you'll get through pretty much any slow speed brawls that a trail is going to throw at you. Ride reactive and off the back, though, and you simply won't be able to take advantage of the its traction and ability to punch and kick its way past the worst of the worst. And it's that take-charge attitude that will allow you to carry good momentum, which is key with the Trigger because its tall-ish feeling position translates to less confidence as the speeds dip lower and lower, forcing the rider to rely more on balance than the bike's own desire to stay upright. This is especially noticeable in the sort of moments when speeds drop close to zero and it's do or don't, with the don't part meaning a guaranteed get-off. Once we realized that, we pointed the Trigger through some hairball portions of trail while in Sedona without a second thought, but it wasn't until we gained that confidence that we felt comfortable doing so.
That pointy feeling handling mentioned above is also present when climbing technical walls, with the Trigger a force to be reckoned with when rider skill makes the difference between success and failure - the bike really does allow a committed and technically gifted rider to get up some serious pitches. We're putting this fact down to two points: there is oodles and oodles of traction on tap; and that sharp and exacting steering allows you to take full advantage of all of it. We also find ourselves backtracking with our thoughts a bit at this point in the review, because although the Trigger feels a touch limousine-long at some moments, it also comes across as feeling as nimble as anything when a bit of dancing is required to get up and over something. In fact, it was the only bike out of twenty top-end machines on hand that managed to scramble up one particularly tricky bit of trail that we began referring to as the ''waterfall'' due to the short trail only offering a one-way ticket down and not back up. Those tacky Schwalbe Hans Dampf tires certainly help matters at such times, allowing you to depend on them a bit more than you might with a less aggressive tire that can't claw up steps and loose dirt in the same way. We gravitated towards a much slower rebound speed for the DYAD's short travel mode as well, something that is possible thanks to the separate rebound control for each setting. This seemed to help keep the bike glued to the ground, further enhancing its abilities.
| | |
| --- | --- |
| | If there's one thing to take away here it's that the Trigger might feel tall and long at first, but it is far more capable than we originally gave it credit for. Actually, it has become one of our favourite technical ascenders once we realized how it wants to be ridden, and we're betting that many other riders will feel the same once they've given it a good amount of time on the trail. Although it's not a bike that one feels immediately at home on, it will reward riders that take the time to learn how to get the most out of it. |
Downhill:
The 130mm travel Trigger was certainly one of the most anticipated test bikes in recent memory, something that was largely due to the bike's radical suspension that had everyone asking questions. How can the Lefty compare to the best from FOX and RockShox? Will its DYAD shock perform when pushing hard on Sedona's ultra rocky trails? How will the Zero Pivot design hold up? The Trigger certainly had some answering to do, and three weeks of saddle time in Sedona was able to tell us a lot about the unconventional bike, with the most notable talking points coming courtesy of the Lefty. Here's the thing: it is so torsionally rigid that it makes other forks of similar travel feel as if they've gone back to quick release axles and 28mm stanchion tubes. That sort of rigidity goes beyond the common descriptors that we'd usually insert at this point, and contributes to a direct front end feel that simply has no peers when talking about trail bikes. There is more, though, because the Lefty's roller bearing design offers a ride that is ridiculously supple and active at all points in its travel. This is especially noticeable when hard on the brakes, either into a corner or over rough ground, with the fork able to absorb chop like no other. It does feel as if it could use some added low-speed compression damping to help hold it up, though, but this suspicion might simply be down to us not being used to the ultra active stroke. An external low-speed compression adjustment would be great addition to the fork, thereby giving us another tool to dial-in our preferred setup, but we settled on bumping up the fork's air spring a touch above the recommended setting and ended up being happy with its performance from there.


And what of that crazy shock out back? Well, it turns out that it feels very much like any inline, air sprung shock of similar stroke, and we mean that in a good way. The Trigger's back end doesn't feel overly forgiving, especially when compared to what is happening up front, but it is surely par for the course when talking about the performance of 130mm travel bikes. We're talking mainly about smaller impacts that had us wishing for a slightly more tolerant stroke from the DYAD, with it feeling a touch harsh on compression despite us settling on running a bit less air than Cannondale recommends. It was surprisingly invisible everywhere else, though, and it wasn't long past the initial setup stages that we completely forgot we had anything unusual under us.

The Trigger is a bike that took more setup time than we've come to expect relative to today's set-and-forget rigs, but the bike absolutely rails once you've nailed your setup. For us, that meant a slightly stiffer spring rate up front, combined with a slightly softer spring rate out back that allowed the bike to ride a touch lower and handle exactly how we were looking for. The Lefty's excellent capabilities, along with the grippy tires and swap to a shorter stem and wider handlebar, left us with total confidence in the Trigger's front end. Lean on it hard and it'll be there for you, with no pushing or washing out, something that we certainly can't say about the other bikes that we rode on Sedona's sometimes sandy trails, and also a trait that was greatly appreciated as the speeds picked up. Don't expect downhill bike-like performance, obviously, but it plainly makes other front ends feel a bit wishy washy about whether they're going to do as you ask. Factor in the bike's big footprint and you have a machine that can be railed harder than the very large majority of other 130mm platforms out there, although it is also a bike that seemed to want to stay closer to the ground than some of the competition. Playful it might not be, but it will get you from point A to B in a hell of a hurry.


Technical Report
• The Trigger's Magura MT6 brakes proved to be quite polarizing among those who spent time on the bike. On one hand, they offer a degree of modulation and control that many other brake manufacturers can only dream of, a trait that makes them a good choice for anyone who often rides in loose or wet conditions. The flip side to that is that they felt down on power compared to those aforementioned stoppers, enough so that we had to adjust our riding style accordingly. All is not lost, though, as the high-end MT6's, with their 'Carbotecture SL' master cylinder, can be hopped up by simply swapping out the stock organic brake pads for a set of aftermarket sintered units. Trust us when we say that you won't regret doing so.
• If you've read any of our reviews of bikes that come stock with Schwalbe's Hans Dampf tires you'll know that we're big fans of the ultra-predictable rubber that seems to be able to excel nearly anywhere. Fortunately, the folks at Cannondale also feel the same, choosing to spec the Trigger with the gucci version of the German brand's best tire. Entering the applicable marketing names here that might cause some eye rolling - Snakeskin (
additional sidewall protection
), TrailStar (
multiple rubber compound tread
), and Tubeless Ready - but the bottom line is that these are among the best tires that money can buy, and the fact that they shine on terrain that varies from the loam, slick roots, and wet trails of our B.C. home to the rocky and marbly trails found in Sedona, Arizona, proves this point. They're not perfect, though, as they seem to have the lifespan similar to that of a fruit fly. Performance isn't free, is it?
• With a UST certified bead and sealed rim bed, we love how the Trigger's Mavic Crossmax ST 29 wheelset can be tubeless'd easier than installing standard tires and tubes on some other wheelsets on the market. And while their burly looking rims and Zircal bladed spokes makes them appear to be a touch portly (
even with their low spoke count
) the 1620 gram weight for the set is extremely light this side of carbon rims, with even more weight saved by the ability to forgo rim strips and tubes. Having praised them, we certainly could do without the rear wheel's bearing preload ring backing off multiple times during testing, even if it was more of an annoyance that could be sorted out quickly rather than a serious issue.
• With its remote controlled DYAD shock and RockShox Reverb seat post, the Trigger could easily sport a rat's nest of cables like found on some other bikes with more than the usual on the handlebar. That isn't the case, though, with Cannondale using external but smartly routed cables that blend into the frame's lines so well that it would be easy to make the mistake from a distance of thinking it has internal routing all around. Its Reverb Stealth does use internal housing, of course, which goes a long way towards the sleek look, and sturdy hose guides on the underside of the down tube hold lines for the rear brake and shift, and the Reverb seat post.
• The XX1 and X01 single ring drivetrain components aren't anything out of the ordinary for a bike in the Trigger's chic price range, but the aluminum HollowGram Si cranks most certainly are. Cannondale says that the hollow forged arms sport an impressive stiffness to weight ratio, but we couldn't discern that while on a 130mm travel bike with 2.35" tires. They also emitted quite the creaking noise right out of the box, a reasonably annoying thing on a bike that costs $8,120 USD, but also something that we were able to fix by sliding them out and applying new grease and fresh Loc-Tite where required.
Pinkbike's take:
Mountain bikers aren't the most open minded bunch when it comes to out of the box thinking, a fact that that is going to go against the Trigger, a bike that doesn't exactly toe the line when it comes to accepted norms. That's a bit of a shame, because Cannondale is doing some impressive things here. Those with more liberal views (and deep pockets) will be getting a machine that, while having its own drawbacks like any bike, really does offer some performance advantages, especially when talking suspension. There's no doubt that Trigger owners are guaranteed some funny looks at the trailhead, but then they're also guaranteed some big smiles of their own.

- Mike Levy
www.cannondale.com
Must Read This Week