Characters 7: Tara Llanes - The Warrior
How strange the earthquake must have seemed to them, here where they lived so safely always! They thought such a dreadful thing could happen to others, but not to them. That is the way!



-William Dean Howells, 'A Sleep and a Forgetting'
---
| | |
| --- | --- |
| | The spinal cord is a long, thin, tubular bundle of nervous tissue and support cells that extends from the brain. The brain and spinal cord together make up the central nervous system; the spinal cord is basically the voice of the brain. If you break a wrist, the bones can heal. If you tear a ligament, surgery can fix you up. If you badly damage your spinal cord, your body will never work properly again. The brutal truth of life is that it can change in an instant, one moment you never wanted or expected. In the blink of an eye it can happen. By riding our bikes at high speeds down narrow trails, over jumps, and off drops, we open ourselves to a potential world of pain. But we all say it's worth it. We hear stories of people who have become paralyzed and although we feel sympathetic, we largely shut our minds off to the possibility of it happening to us. We don't do this to be ignorant jerks, but more in an act of preserving sanity. The devastation of paralysis is something we block out, jerk our thoughts away from. It is a very common thing to hear people comment that if they ever became paralyzed they would want to be shot. Loss is incredibly hard to deal with. It tears away from us all the things that cannot be torn. Once something is done, it's done. But there is beauty in the blackest of moments, because if we are strong enough, we all have access to a light that has the power to block out the dark side. In this volume of Characters we hear from a woman who has been thrown into an athletes' worst nightmare... and has clawed her way out into the light of day. She personifies the word strength. Thank you Tara Llanes, for giving us insight into your experience. -Riley McIntosh |
---
My accident was on September 1, 2007. I can only guess as to what time it was exactly but I'm guessing about 2:00 p.m. I was 30 years old. The first two people I remember getting to me were Bryn Atkinson and the guy that used to help build and design our courses. I'm completely forgetting his name and I feel like an ass because he's such a sweetheart of a guy. Those were the two people I remember getting to me first. I just remember laying there in the hot sun, looking at Bryn, holding his hand telling him: ''I want to walk again... I want to ride my bike again. Tell me I'm going to ride my bike again?"

The first aid crew was there pretty quickly after and as soon as they were there they started asking the standard questions. "Can you feel this? Can you feel that? What day is it? Blah Blah." The interesting thing is that I think I hit my head pretty good in that crash but I don't think they ever checked my head. They concentrated on my neck and back which was fine by me but six years post accident and my memory is still shot.


I was born in West Covina, California, which is in Los Angeles, but I grew up mainly in Brea, California from 5 years old until I was 18. Brea is in Orange County but it's backed up into some hills so I was lucky to be able to ride from my house to some trails in Chino Hills State Park. One of the trails that I loved going to the most was called the Fullerton Loop. The Fullerton Loop is what I would describe as a mountain bike urban assault. Trust me if you don't know where you're going you WILL get lost. Maybe that's one of the things I loved about it, the fact that I knew exactly where to go and felt like part of the group.
My dad passed away when I was 4 years old. His name was Tobias Eugene Llanes. I am an only child so it's pretty much my Mom and I and I'd say we're pretty tight. My Mom was an only child and she always wanted more than one child but then my dad passed away and my Mom never re-married.
I started racing BMX when I was about 11 or 12 years old. There is a BMX track that I used to see all the time when driving on the freeway. I got my start at the Orange "Y" BMX track in Orange, California.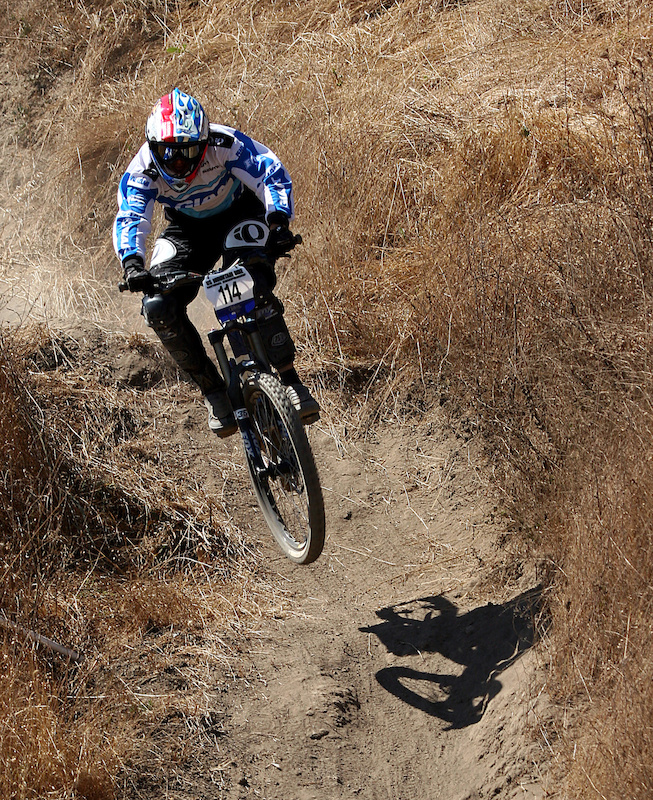 | | |
| --- | --- |
| | I started racing mountain bikes at the age of 16 or 17. I worked at Sport Chalet when I was a senior in high school. Only a handful of people know this but when I was racing for Rotec I was also working for them. Rotec at the time was owned by a guy that made parts for airplanes so in between race weekends I would go home and have to do deliveries picking up and receiving parts. -Tara Llanes |