Crankbrothers Mallet Mk3 and Mallet DH Pedals
Personally, I've long been a fan of the Crankbrothers mechanism design which creates a very natural feeling pedal. Of the reliability and the serviceability; less so. The early iterations of the Mallet were functional, if flawed, and to say anything less of them would be to seriously shirk away from the truth. Minimal sealing was sufficient in arid climates but meant frequent re-greasing to avoid problems with bearing seizures and axle corrosion in wetter climates. The axles were a weak spot too with a sharp reduction just near the inner bush, creating a weak spot, and leading to more-regular-than-you'd-like failures. As a result it's fair to say that Crankbrothers enter this test with some way to go in convincing a sceptical audience of the Mallet's touted improvement in longevity.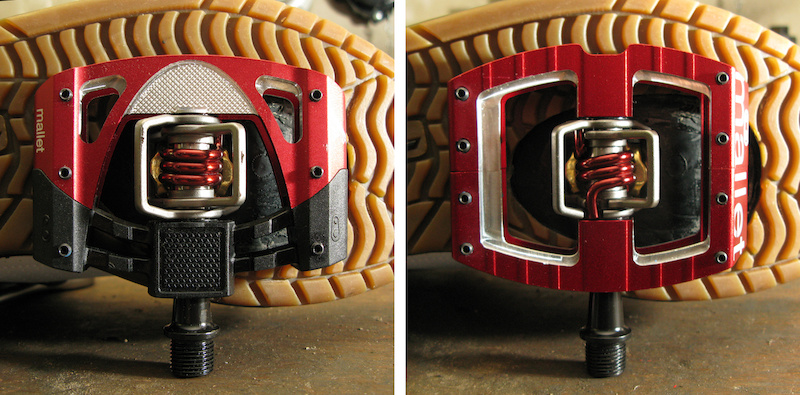 Clipped into a size-40 O'Neal DH shoe for comparison, the wider, sturdier platform of the Mallet DH pedal on the right is quite obvious. The lighter, more trail-oriented Mallet Mk3 on the left is better suited to traditional XC shoe designs.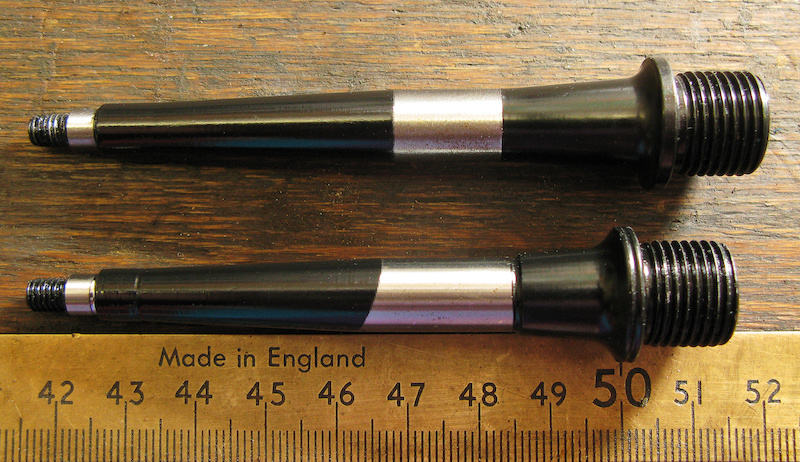 Stronger shafts are long in coming, and the DH axle is five millimeters longer to work with flat-sole downhill shoes.
---
Mallet Mk3
Most noticeable between the earlier Mallet pedal and the Mk3 iteration, is the two-piece body, five millimeters narrower than earlier pedals. Formed from an aluminium outer half and a polycarbonate composite inner, the two-piece design allows for easier servicing and lighter weight. However, the most important changes lie underneath the skin in the form of much-improved sealing and revised (read stronger) axle. This is what's otherwise known as
A Very Good Thing
for it wasn't uncommon to bend or snap the previous versions, and there was no escaping that sealing definitely wasn't really up to the task. At 440 grams per pair they're also lighter. In place of the original stamped-steel 'wings' (the spring-bars which form the retention mechanism of the pedal) the Mk3 mech uses investment-cast steel wings, and an inboard needle bearing replaces the old plain bushing. These have proven to be very tough, with numerous rock strikes to their name and no damage to show.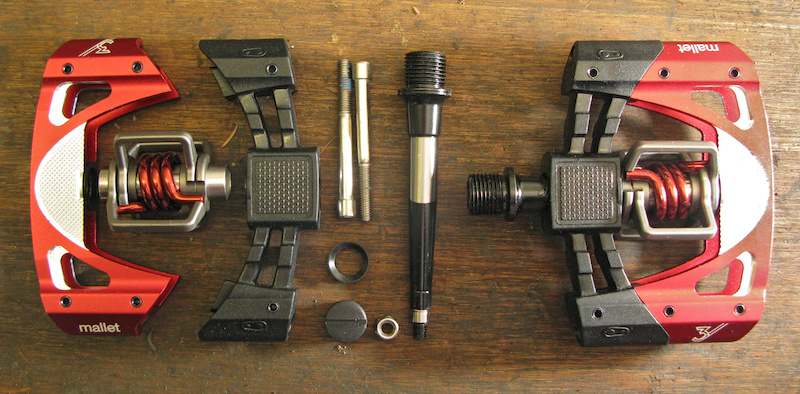 Mallet Mk3 Features:
• Polycarbonate composite and aluminium two piece body
• Available in three models; '1', '2' and '3' (featured)
• '1' and '2' feature stamped steel wings and bush/bearing combination
• '3' features investment cast steel wings and needle roller bearing/cartridge bearing combination
• 12 grub screws per pedal for traction
• New forged scm435 chromoly steel axle
• 435grams per pair (actual 440g)
On Trail: Mallet Mk3
Now for some comparison: The Mallet 3 has been in our possession since March and in that time has raced Enduro, DH and both the Megavalanche and Mountain of Hell. We've abused the bike in the mud, crashed numerous times, smashed them into rocks and generally abused them. We've re-greased them since they turned up but aside from that, there haven't been any reliability issues to write home about - a surprise, but one which is very welcome. With the amount of pressure washing that's been going on this summer, having only had to open them up once is good going. Bearings elsewhere on the bike, having taken a similar pounding, already been long since replaced. Two niggles we found on the pedal, however, did trouble us. The first of which, was the plastic end cap that is too easily damaged when removing it. The second, we found over previous versions, was of course the narrower body already mentioned, the five millimeters lost had a greater impact than we'd have expected. With XC type shoes it isn't noticeable as the sole on them is itself narrow, but with a larger gravity shoe, such as the O'Neal Torque we've been running, you could feel the shoe moving around when you loaded the outer edge of the pedal. It's not a deal breaker but it's certainly distracting when really cranking on and took away from the improvements elsewhere on the pedal. For trail riding it's perfect, but for serious downhill, it's not perfect.
---
Mallet DH
Crankbrothers' Mallet DH pedal was developed as a result of feedback from gravity riders who found the pedal body of the second-gen Mallet to be too narrow for proper foot support when using wide skate-style shoes, such as those from O'Neal used in this review. With shoes of this style, the outer edge of the sole would feel like it was folding over the pedal when leaning into turns. Crankbrothers' designers widened the body of the pedal and while the new Mallet DH shares similar features to the original, the actual design is all new. Utilizing two-piece construction, the current-generation pedals have better sealing and a revised axle. Compared to the standard pedal, the DH axle is five millimeters longer, which gives increased clearance to the crank arm when running bulky gravity influenced shoes. Although the outer body of the DH pedal only sees an extra five millimeters of platform on the outer edge, this represents a near 50-percent improvement in surface area and a real increase in support.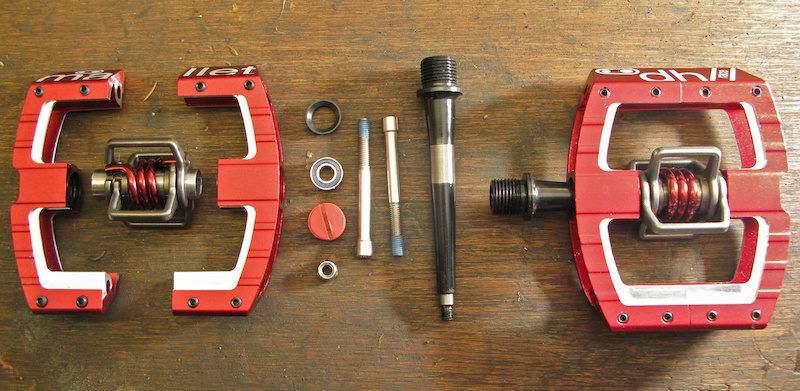 Mallet DH Features:
• New two piece extruded and machined-aluminium body, 5mm wider than standard Mallet
• One model, set a little above existing Mallet 3
• Investment cast steel wings & needle roller bearing/cartridge bearing combination
• 16 grub screws per pedal for traction
• New forged scm435 chromoly steel axle, 5mm longer for added clearance and Q-factor
• 480g per pair
On Trail: Mallet DH
Which of course takes us to introduction of the Mallet DH, the pedal designed to cater for the exact wishes of their sponsored riders, but should suit any gravity or trail riders who ride hard and want all the platform they can get. Impressions are of a pedal which ups the game for riding more technical terrain. Foot stability is markedly improved when clipped in and an the added advantage of the wider body is space for more traction pins, which is useful when riding a section unclipped should the need arise. The pins can be screwed in or out to suit rider preference. Mud clearance is class leading and the investment-cast wings are so far proving to be significantly tougher than the pressed alternatives on the lesser pedals in the stable. Despite some fairly hefty rock strikes on both these and the 3, neither pedals are showing signs of damage. Exit and engagement is slightly stiffer than with the 3. This comes as a result of altered springs between the wings and while we prefer the softer 3 action for trail riding, the DH feels perfect for the more aggressive riding style generally adopted for anything gravity related.
---
Pinkbike's Take:
| | |
| --- | --- |
| | Despite a sceptical audience, Crankbrothers probably deserve some slack for both of these pedals. Sealing is now on a par with Shimano, if not perhaps slightly better, and the reliability issues of old appear to have been banished to history. This is of course no less than you would expect for an up-market product, but it's encouraging nonetheless. The release and exit feel remains either reason to love or reason to hate, the exit remaining less harsh than some. The float offered is also less rattly than with some other pedals although mercifully present to not only save ankles but allow for some fluidity in your movement on the bike. Combined with the release action, it creates a very natural motion and one which we like a lot. Also liked a lot is the ability to clip in backwards, or on the upstroke of pedaling, which is great for racing because you don't need to compromise pedal position to enable entry into the mechanism. If it were our own money being spent, then we'd probably opt to use the DH across all our bikes, thanks to the nature of our local terrain, but if you ride trail or use narrower shoes, then the standard Mallet 3 is likely to appeal. - Alasdair MacLennan |
---