| | |
| --- | --- |
| | There's nothing better in the world than a little bit of scared to get you doing the right thing. Fear can make you faster, smarter, stronger, absolutely. - Laird Hamilton |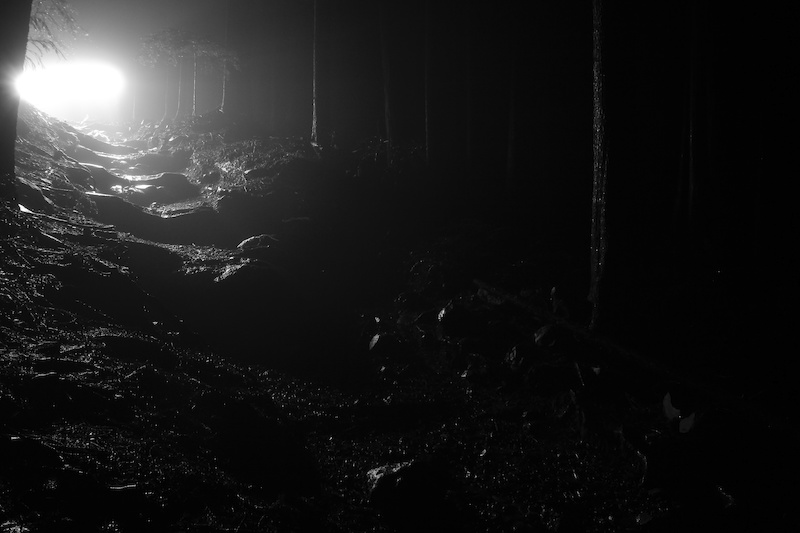 Deep in the woods the moon casts long shadows against the forest floor. Trees seem to come alive, as if they've just stepped off the set of The Wizard of Oz. Something inside me makes my heart beat just a little bit faster as my eyes dart back and forth across the blackened woods. I turn off my headlamp for the hike up because – why tamper with something so perfect? The dark woods whisper a silent invitation, and I fall prey to their beckoning.
It wasn't too long ago when I thought riding at night was just for the crazies. I would see photos of Tippie riding the Shore in the pitch black and wonder why anyone would find that fun. It seemed like nothing but pure terror and discomfort to me, and I'm not even afraid of the dark. Then, I saw
this video
(ffwd to 4:07) and it changed everything. I was inspired. I gathered up everything I needed to get my night shred on: some lights, the darkness, and a buddy. We would both be popping our night riding cherries. The excitement was palpable.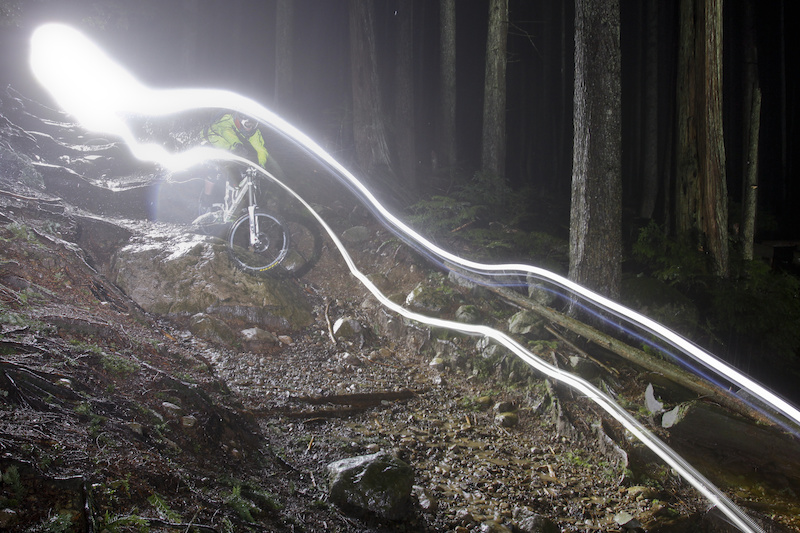 We started out on some simple trails. Call it XCish, with a tendency toward downhill. I was lucky enough to borrow one of Niterider's premiere lights. I felt like I had the light from a train strapped to my bars. Suddenly, these seemingly mundane trails took on a whole new feel in the dark. They were alive with surprises. Those little two foot drops felt like sending the canyon gap at Rampage. Shadows chased me in and out of corners. Branches from the massive cedar trees ushered me on as I darted in and out of their canopy. I found myself giggling uncontrollably. We both were. It was a massive endorphin rush. Best of all, I didn't want it to end. I was addicted. That night changed my winter. No longer would I wallow in the short days. Instead, I embraced them.
It's become somewhat of a Monday night tradition. I stare at my clock at work all day long and wait for it to read 5pm. As soon as it ticks past, I jump out of my chair, grab my pack, and sprint out of the building. The traffic in downtown Seattle is absolutely heinous at rush hour, but I know what awaits me on the other side: luscious – and likely super slippery – downhill trails. While I started out learning to navigate the night on the local XC trails, I find that the real giddy feelings come from attacking the steeper lines.
After meeting up with my Monday night crew, we change in the cold, and often wet and windy parking lot by the glow of our headlamps. Constantly griping about the temperature and how tired and hungry we are, we know that the uphill slog will be capped off by hoots and hollers and probably some really funny crashes. That's the thing about night riding. It's just so easy to get buck wild and lose control. That root that you normally hop over during the day grows spikes and tentacles in the dark and reaches up to slap your wheel when you try to hop over it. That berm that is pure roosty delight in the sunshine, somehow takes on the form of a square. Nothing is easy.
I'm not crazy. These things happen in the dark. The trees grow eyes and the wind whispers your name and the ferns reach and grab at your legs the entire way down the trail. Your imagination comes alive. Recently I decided to forgo company all together and head out to do DH in the dark solo with my dog, Roscoe. I figured if I was really going to dedicate myself to the night, I had to be comfortable if I was completely alone.
I parked my Subaru and began to get ready. Normally I'd change and get ready outside of the car, but if you've ever been to this zone, it can feel like a meth den at night. Being alone I decided to hang out in my locked car until I absolutely had to get out. Once in the cool air, Roscoe and I quickly began ascending the fire road. All I could hear was the crunch of the gravel under my tires and my creaky bottom bracket. I confess to being freaked out…at first. There are bears and cougars in these woods. I've seen them both. Perhaps it wasn't the smartest idea to go alone, but I wanted to ride, and wasn't going to let my fear stop me. Instead, I let it push me.
Moving at a good pace, I began to feel comfortable and drink in the cold air. I noticed things in the dark that I'd never noticed in the daytime. What seemed like an impenetrable forest now had city lights poking through its dense body. Once at the top, I hit play on my iPod speaker. The familiar sounds of Modest Mouse filled the air and we were off. We railed familiar berms and sessioned our way down my favorite lap. Roscoe even hit some pretty big doubles. No crashes. No bears. No blood. Just me, Roscoe, mud, and a big ass grin on my face. Mission accomplished.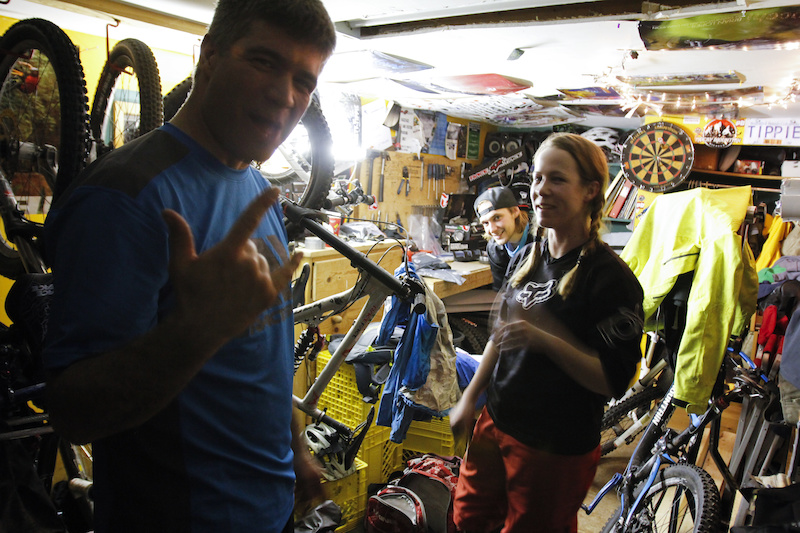 The calm before the storm.
I felt like I'd gained a special badge or had been invited into a special club after my solo ride, but there was still one more level of crazy I wanted to achieve. Going back to my original thoughts on night riding, I figured if I was going to do it right, I needed to do a ride on Vancouver's North Shore with Brett Tippie. Once we had the logistics figured out and the date approached, I watched the weather forecasts hoping for some decent news. Instead we got the exact opposite. Flood warnings, heavy rains, and dense fog were predicted. It was the perfect storm for a night out on some of the world's most coveted trails. I was into it.
My buddy Jay Trautman and I met up with Tippie and our photographer friend, James Healey at the base of Mt. Seymour. The rain was coming down in droves. The fog was so thick you could practically hold it in your hands. James was concerned about the conditions for shooting stills, not to mention the fact that his gear was going to get soaked. All I could do was grin ear to ear, because this was actually going to happen. We piled into the shuttle truck, and with some ninja trickery, got past the ranger who was hesitant to let us up the mountain.
Standing at the top of Incline, I remembered Sam Hill and Thomas Vanderham absolutely sending it down this trail in Follow Me. It looked hairy in that video, and yet here we were about to drop into it with nothing but the glow on our headlamps to show us the way. I began to notice a pattern. The crazier something seemed, the more apt I was to want to try it. Tippie, on his infamous glow-in-the-dark Rocky frame, dropped in first with James testing out the shots in the rain. Watching him fly down his home trails was nothing short of impressive. He sent the last rock drop and ended it in a fat moto skid, followed by his signature Tippie laugh. Jay and I stood watching, said nothing, but knew exactly what the other was thinking. This was rad. This was why we made this trip. On James' cue, we switched on our lights and dropped in.
Faster and faster we careened down the steady progression of rocks and logs. Hopping from one ledge to another and being pelted in the face by rain while getting splashed from the rushing water below made for sensory overload. I found myself screaming in total euphoria and laughing the entire way down. James' long exposure settings caught our light trails in crazy formations. We arrived at the bottom of the section to high fives and an insane amount of stoke. My face hurt from smiling so much. I stared back up at the section and nodded to no one in particular. This was it. This was the culmination of all of those other nights, rides, crashes, fearful moments, and failed lights.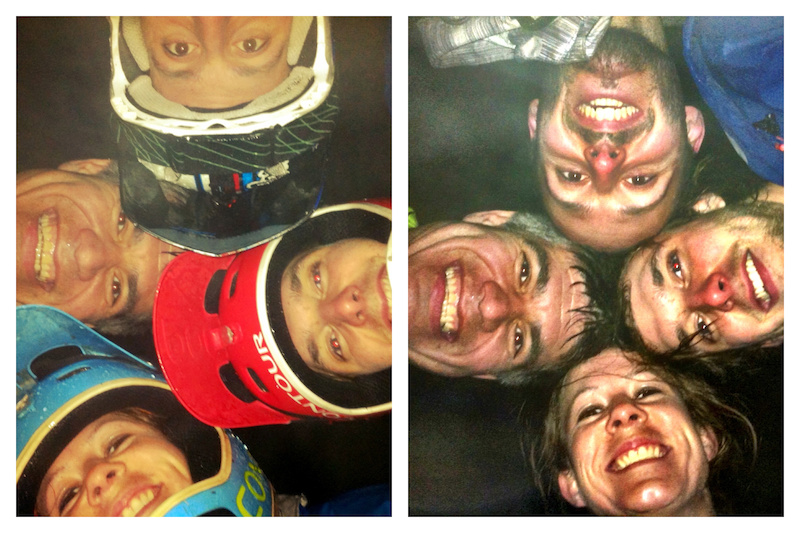 Family portrait mid-ride.
The great news was that the trails had so many awesome opportunities for photos because the terrain and surrounding backdrops were beautiful. The bad news was the rain kept falling harder as the time elapsed which meant we had to be smart about our shots. We found a zone that had a creek overflowing with some cool rock formations and wooden bridges. James used his photographer mojo and nailed an incredible shot of the three of us riding this zone together. Hours of set up, Gangnam style dancing to stay warm, and soaked flashes added up to getting the shot that I had hoped for all along. While we wanted to move on to other zones to shoot different features, James' concern for his gear took precedence. This could only mean one thing: it was time to rip all the way down to the bottom. Booyah.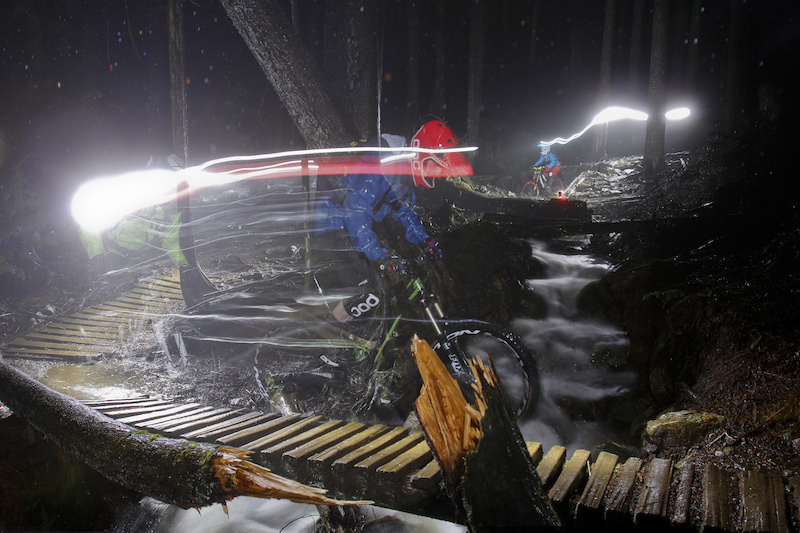 The shot we'd been hoping for.
Down and down we went. Water flew at us from every direction. I loved every second of the ride. The trails were technical, but manageable. That is, until I caught up to the boys and Tippie said, "Now it's going to get gnarly." A little part of me died inside. If he thinks it's gnarly, then I'm pretty sure it's death. Sure enough we were faced with a massive rock roll that looked like a jagged tooth jutting about 20 feet in the air. I snuck my way around it via a sissy singletrack and looked up at the three headlamps staring down the various faces looking for the best line. Turns out James had been eager to ride while he was shooting his photos. With his massive camera bag on his back, he rolled right up to the edge and just sent it. The three of us watched, totally freaked out that his tripod was going to snag on something, but he made it clean. No, he made it look easy. Impressive.
The rest of the ride was a rush of fast moving streams, a few steep chutes, and rocks everywhere. In other words, perfection. At the bottom, we all exchanged high fives. We laughed and shared war stories for the next few hours. While we would have loved to for more photo opps, the conditions weren't cooperating. But, that was ok because that meant we all got to ride together, longer. That's what mountain biking is all about. That ride symbolized everything I love about my bike: the adrenaline, the friendships, and the feeling of conquering something challenging.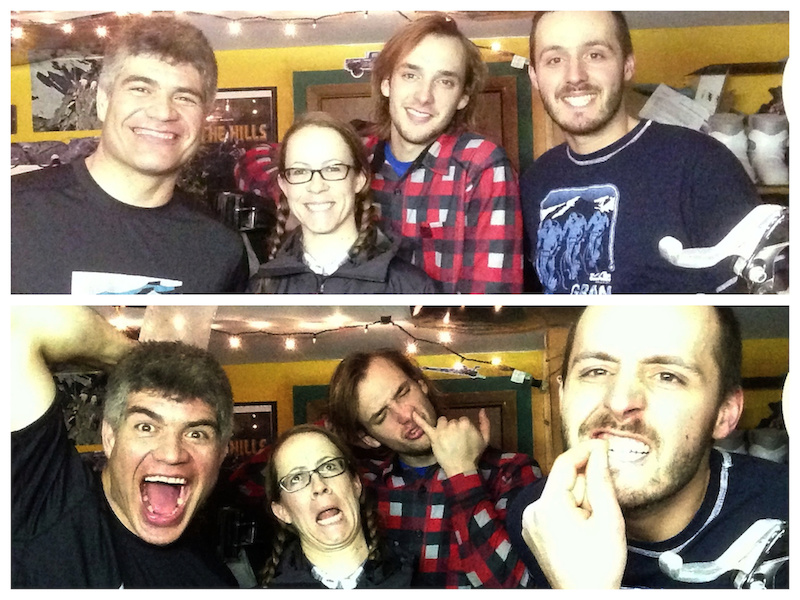 Family portrait post-ride.
For me, night riding has come full circle. From fear of the unknown, to a love of the darkness, I crave the silence, calm, and uncertainty that comes with the night. This time of year everyone is excited for spring and summer and the longer days. Me? I'm busy planning more midnight expeditions. These lights aren't going out any time soon.