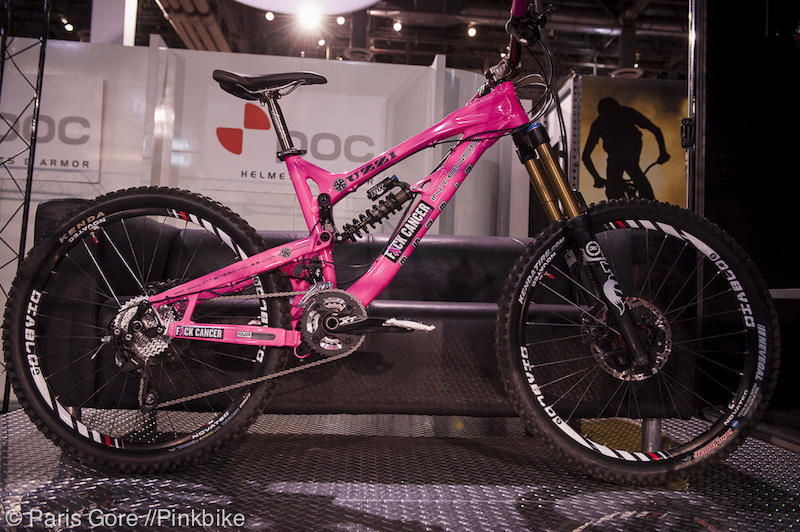 To thank all those that contributed in the battle, a grand prize was drawn at random. The winner of the Custom Pink Intense UZZI is Brent Ratelle and this was his reaction when asked about why he supported and his cycling background:
Ok..again..WOW! Awesome!

The fundraiser is a good cause, I have donted to them before. I am a thyroid cancer survivor. Mine was caught very early and there was minimal damage, so I was blessed there. I live in the Denver area, originally from Atlanta. I started racing BMX at 10 years of age and still race cruiser. I traveled and raced the NORBA circuit in the 90's semi pro DH and Slalom. I am now 38 and am still downhill riding/racing (just had my first trip to Whislter this summer), 4X/Slalom, XC. I am looking at getting into Enduro/Super D. This bike is pretty much set for that! Thanks again for this fundraiser and opportunity.

-Brent
Your contributions have gone to
:
-Fund support and education programs for young women affected by breast cancer.
-Help support YSC's mission to ensure no young woman faces breast cancer alone.
-Raise awareness that young women can and do get breast cancer.
-Finally, If you want free stickers like on the chainstay,
visit this link
.
Go to the following link (
www.ysctourdepink.org
) to check out the website and have a little read, it is a great organization, doing super human things for people that need our help.
Thanks to Intense Cycles, Shimano, Loaded Components, Fox, HT and ODI for putting this amazing bike together.