Pinkbike's exclusive on
Team Monster Energy - Specialized's prototype 1 x 6 gearing
introduced readers to their trick 9 tooth small cog that allows the team to run a smaller chain ring and guard for improved ground clearance. The only remaining question was how the 9 tooth cog was fitted to the freehub body, given that an 11 tooth cog is as small as a standard freehub body's diameter will allow. It doesn't take a rocket scientist to deduce that the freehub body must use a smaller diameter, at least on its outer section, but it was still a bit of a mystery. That is, until we were eating burritos for lunch with Specialized's Czar of FSR, Jason Chamberlain, and he pulled one of the custom made DT Swiss hubs out of his pocket.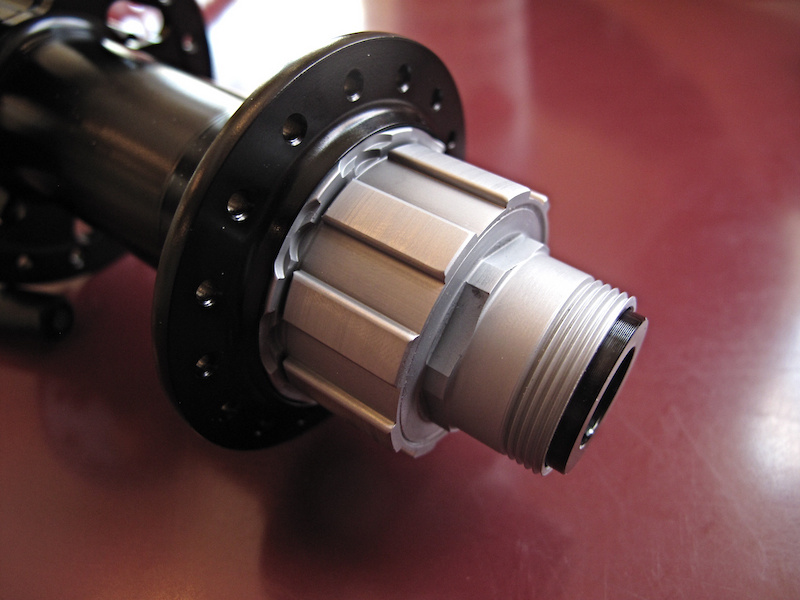 This is DT Swiss' custom made DH hub for Team Monster Energy - Specialized that allows the use of a small 9 tooth cog. The 12 x 135mm hub uses a very DT Swiss 240-esque body that is much slimmer than found on their downhill specific 440 hubs.
Much as many of us expected, the splined section of the freehub body is about half the length as what you would find on a standard hub, followed by a short tapered section that includes the male threads for the custom cassette's lock ring. Contrary to what most of us had assumed, the cassettes used on the Team Monster Energy - Specialized bikes do not feature a one piece carrier that the smaller cogs (
the cogs that don't ride on the splined section of the freehub body
) are attached to. Instead, each small cog is attached to its neighbor by sturdy splines.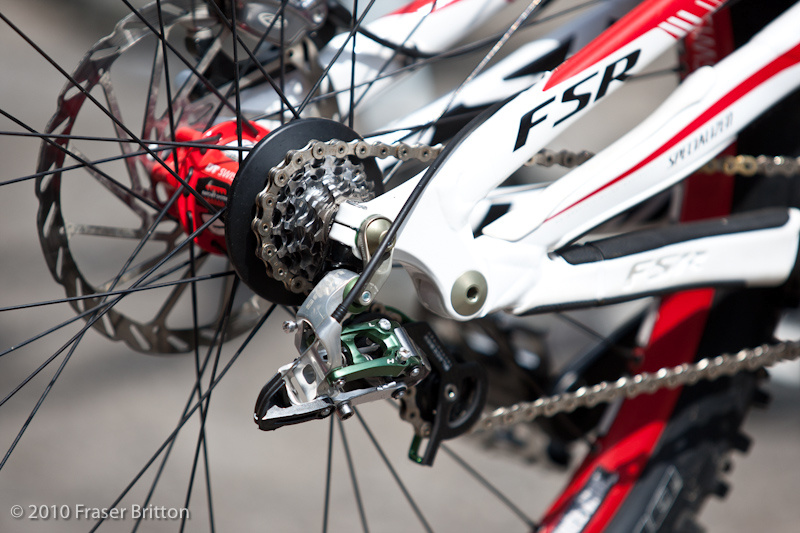 1 x 6 gearing as found on a Team Monster Energy - Specialized bike. Using a smaller chainring combined with a 9 tooth cog keeps the high and low ratios similar to a standard cassette, but with more clearance, better chainline, and the possibility of less weight. Is it a win - win?
The custom DT Swiss hub shown above is one of only ten in the world at the moment, and has been made exclusively for Team Monster Energy - Specialized and for development purposes - don't expect to see any of these for sale anytime soon. It measures out at 12 x 135mm because Sam, Brendan and Troy were looking for a slimmer back end compared to the full sized 150mm standard. Interestingly, the spoke flanges are actually wider than what you would find on a common 150mm hub, due to the shorter length of the freehub. You'll find DT Swiss' proven Star Ratchet engagement system inside.
Gear development comparison*



• 30 tooth ring x 9 tooth cog = 7.183m
• 30 tooth ring x 17 tooth cog = 3.803m

• 36 tooth ring x 11 tooth cog = 7.053m
• 36 tooth ring x 21 tooth cog = 3.694m


*Gear development (also known as rollout) is the distance traveled by the bicycle per one revolution of the crank


Team riders always race with the 21 tooth cog locked out.

You're looking at a SRAM PowerDome cassette with a 9 tooth small cog. This is an early prototype that has been machined as a 9 speed unit, but will we see 6 and 7 speed versions in the near future?
So what does all this mean and why should it matter to us non-pro riders? SRAM, DT Swiss and Specialized are all working towards a new gearing arrangement that makes more sense for downhillers, something that they wouldn't be doing if they didn't see any commercial promise in the idea. How long will it be until we see a dedicated DH group? I'm going to go ahead and say that it will be sooner rather than later, and it will have more ground clearance because the smaller 9 tooth cogs allows riders to use smaller rings and chain guides, it will have a gearing range that makes more sense for the task at hand, and the system could possibly even be lighter than what is being used now. Possible drawbacks include wear issues with the smaller cog, and more drivetrain friction when in the 9 tooth cog, although the bike should already be going quite fast by the time you drop it into the hardest gear.
Is this the beginnings of a new full-on DH group? Will trail riders be able to run a 9-36 tooth cassette out back? Let's hear what you think about it - put those thoughts down below
www.dtswiss.com
www.Specialized.com
www.sram.com