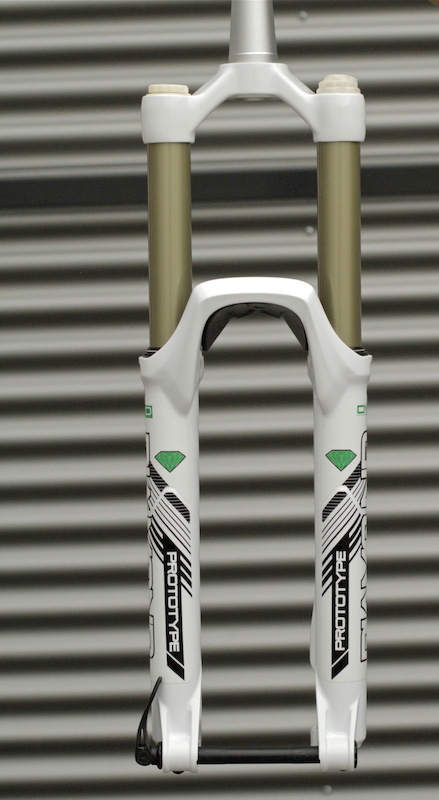 DVO shook up the suspension world with the announcement earlier this year of their inverted Emerald DH fork and its Carbon Torsion Arch that is said to drastically improve torsional rigidity, but the fledgling suspension brand certainly isn't planning on stopping at having just one fork in their lineup, with plans for two different mid-travel forks targeted at the all-mountain/enduro world. The first of those to be released is the Diamond, pictured here in prototype form, that will offer either 140 or 160mm of internally adjustable travel. The right side up fork (
the second model will be an inverted single crown
) utilizes 35mm stanchion tubes and stout looking magnesium lowers that give it a brawny appearance, and all signs point to the Diamond being far from a spindly trail fork. Despite its solid appearance, DVO's Bryson Martin told us that they have a target weight of 4.18LB for the production version, which is a very competitive figure.
DVO Diamond Details
• Intended use: all-mountain/enduro
• Travel: 140 or 160mm (
internally adjustable
)
• Air sprung
• 'Quick Range' low-speed compression adjuster
• Separate high-speed compression adjuster
• Low-speed rebound adjuster
• 35mm stanchion tubes
• 26'' and 650B models
• 15mm thru-axle
• Target weight: 1900g/4.18LB
• Available: April, 2014
• MSRP: TBA
Internally, the Diamond will employ the same technology used within DVO's Emerald DH fork, and Martin explained that damper is basically a shrunk down version of the 8''
travel fork's twin-tube open bath design. And much like what took place during the Emerald's development, the Diamond's damper was put through some real world testing by retrofitting it into an existing fork chassis, a strategy that allowed DVO to test the damper without attracting any attention. Adjustments include the fork's 'Quick Range' climbing aid, which is basically a low-speed compression dial that goes through its entire range with only a 180° turn, thereby making it easy for the rider to operate on the fly. Underneath the Quick Range knob is a more traditional high-speed compression dial, although all the dials on the prototype fork shown here were rapid prototypes, not the finished aluminum versions, that let DVO test tolerances and tactile feel. Much like the Emerald, the Diamond's compression assembly can be removed from the fork without losing any damping oil or requiring a complete rebuild, a layout that should let tuners tinker until the cows come home. Rebound duties are adjusted via a single adjuster at the bottom of the same leg. Further tuning is possible thanks to the fork's 'Off The Top' adjuster that changes the volume of the negative air spring in order to tweak how active it is at the top of its travel. This should be a useful feature for larger riders who require higher air pressure by allowing them to increase sensitivity despite the high pressure, or even for improving pedalling performance on smooth trails.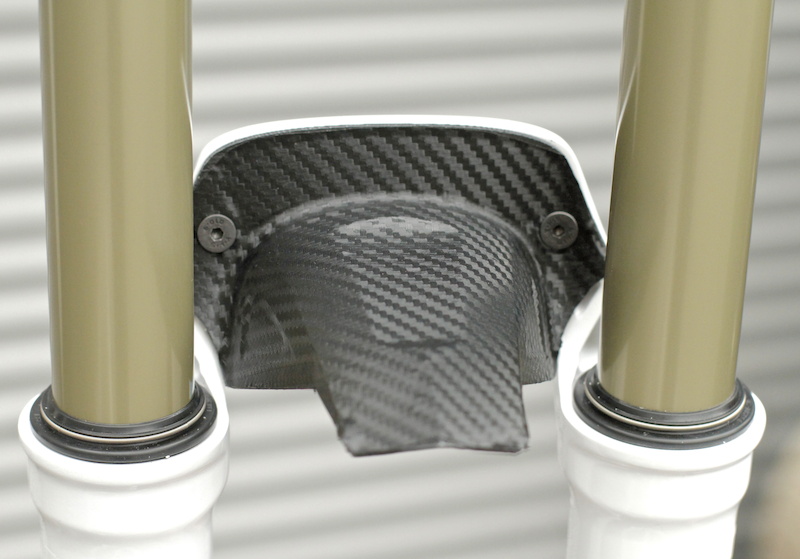 While the fork is still very clearly in prototype form, it was fitted with a trick looking carbon fiber fender that bolts to the back face of its arch. This is far from being just a novelty item, with it doing double duty by covering off the hollow area in the rear of the arch that might otherwise fill with mud, as well as obviously acting as a fender. Expect the production unit to look far more dialled and attach to the arch in a cleaner fashion.
www.dvosuspension.com