Whistler, B.C., not only plays host to the annual Crankworx festivities, but it is also the location that some brands choose to debut new products, including Devinci. The Canadian brand gave us an exclusive early look at their new 650B-wheeled Troy, a 140mm travel machine that has been designed as a trail bike that can handle it all, with recent World Cup winner Stevie Smith proving that point by choosing to race his personal Troy in the upcoming Air DH race at Crankworx. With just 5mm less travel than the 26''- wheeled Dixon, the two bikes appear to be quite similar in their intentions, so what sets them apart? The answer lies in the geometry, with the 2014 Dixon sporting a slacker head angle and a 160mm travel fork spec'd as stock equipment through the entire line, while the Troy handles a touch quicker and sports either a 140mm or 150mm travel fork depending on the model. This puts the Dixon in a more aggressive category - think Enduro racing on a rough course - and situates the Troy as more of a trail bike for the everyday mountain biker who's rides are both long and technically challenging.

Devinci Troy Carbon Details

• Intended use: trail/all-mountain
• Rear wheel travel: 140mm/5.5''
• Wheel size: 650B
• Carbon fiber front triangle, seat stays
• Aluminum chain stays
• ISCG 05 chain guide tabs
• 12 x 142mm Maxle
• Internally routed cables
• Frame weight: 6.07lb (claimed, w/ shock,)
• Carbon frame only MSRP: $2399 USD
• Aluminum frame only MSRP: $1899 USD
• Troy SL (pictured) MSRP: $6499 USD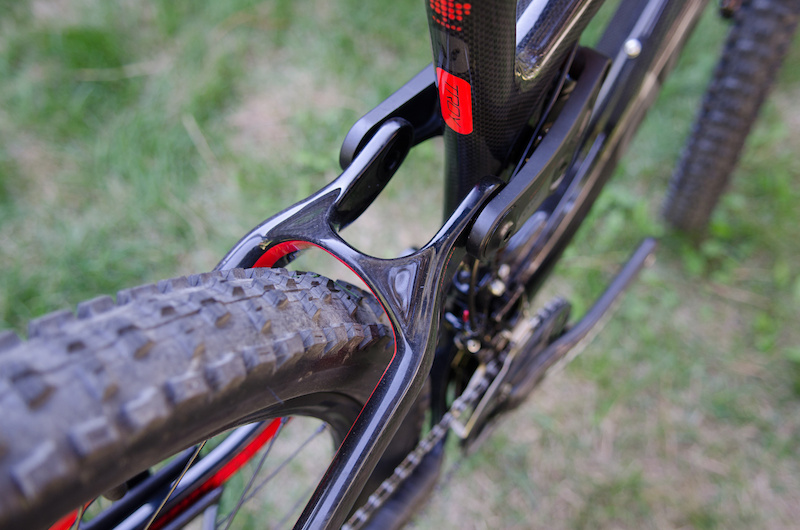 Frame Details
The aluminum and carbon fiber Troy frames may share similar lines to the more aggressive Dixon platform, but the Troy is a completely new design from the ground up. The similarities in their appearance shouldn't come as a surprise, though, as the Troy employs the same Split Pivot suspension layout that is used on the rest of Devinic's performance full-suspension lineup, although the pivot locations have been altered to better suit the bike's slightly shorter 140mm of travel. This is also the first carbon mountain bike frame from Devinci that makes use of internal cable routing, with the lines entering via ports located just behind the head tube and exiting the down tube near the BB92 bottom, and internal sleeves that make changing a cable a cinch. There is also built-in routing for an internally routed dropper post line, with the the top three carbon models coming complete from Devinci with a Reverb Stealth. A set of ISCG 05 chain guide tabs allows riders to mount a single or dual-ring guide if required.
Just like the carbon Dixon, Atlas, and Wilson, the Troy's front triangle is molded as a single monocoque piece, meaning that there is no tube bonding required during the manufacturing process. The Troy also employs a carbon fiber seat stay assembly and an aluminum rocker link, complete with angle adjusting chips that can be flipped to tweak the head angle by half of a degree (
67.6 to 68.1
) and the bottom bracket by six millimeters (
333 to 339mm
). The finished product weighs in at 6.07lb (
claimed
) with a FOX Float CTD shock.
Split Pivot Suspension
Having been in use for a few years now, the Split Pivot suspension design used on the Troy has proven to be both reliable and offer active suspension that can still be pedalled well. The key to the system is its concentric pivot that rotates directly in line with the rear axle, allowing the bike to remain relatively active under braking while also allowing the main pivot to be positioned with acceleration in mind instead of also having an effect on braking forces.
Pricing
Devinci will offer four complete bikes, with the Troy Carbon SL shown here going for $6499 USD. The $6599 USD Carbon RR sports a 150mm travel fork (
the SL uses a 140mm FOX Float 34
) and both a shorter stem and wide bar, while the lowest priced Troy Carbon, the RC, carries an MSRP of $4799 USD. All three of those carbon models are certainly not inexpensive machines, but the aluminum Troy XP goes for a very reasonable $2999 USD. Want to build up your own Troy? You can start with either the $2399 USD Troy Carbon frame or the $1899 USD aluminum Troy frame. Expect all of the Troy models to be available by this coming September.
www.devinci.com
Must Read This Week