What is it:
The
Easton Haven Carbons
are a no holds barred attempt to create the ultimate all-mountain wheelset. They are built using a 375 gram, tubeless carbon fiber rim, 24 Sapim spokes per wheel and eye catching hubs that spin on ceramic, sealed bearings. Total weight for both front and rear wheels adds up to an impressive 1450 grams - lighter than many pure cross-country racing wheelsets. With an eye popping suggested retail price of $2300 USD, Easton knows that these premium wheels will not be for everyone, but those who do decide to spend the money will have piece of mind knowing that they come with a
2 year, no questions asked warranty
. You'll be looked after if the worst does happen, no matter if that's a jump gone horribly wrong or backing over your wheels with your car.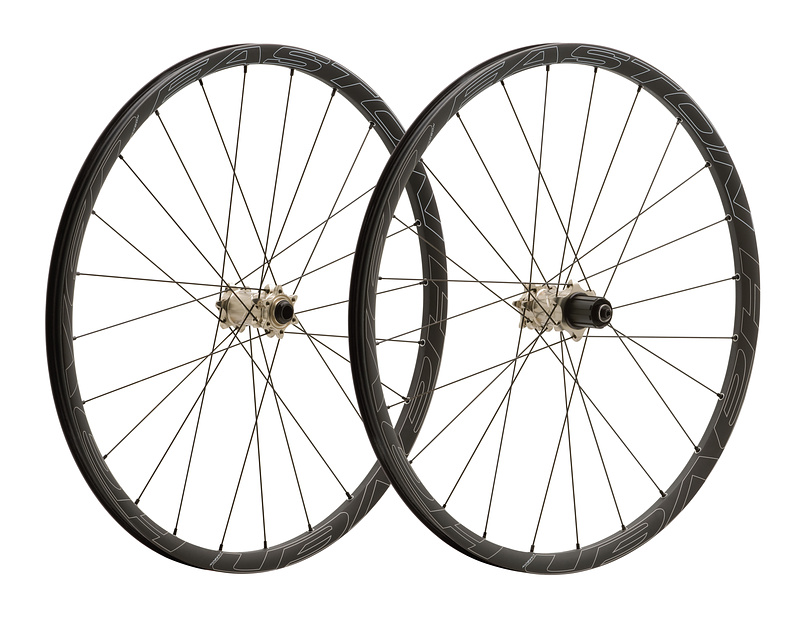 Easton's 1450 gram Haven Carbon wheelset has been designed to be put through the ringer on all-mountain and trail bikes by aggressive riders.
Easton Haven Carbon details:
- Intended use: All-mountain/trail
- Uses 375 gram, fully sealed, UST, carbon rims
- 24 Sapim straight pull, double butted spokes, 3x front/rear (
all the same length
)
- Axle options to fit QR, 15mm and 20mm forks, QR and either 135 or 142mm thru-axles in the rear
- 21mm internal rim width, 26mm external width
- 36 point gear ring/3 pawl hub for 12 degrees of freehub engagement
- 1450 gram wheelset weight
- No questions asked 2 year warranty that covers everything, including rider error
- Haven Carbon 29'er wheelset available as well
- MSRP $2300 USD
The details:
While the exquisitely machined hubs are certainly striking, the main talking point with these wheels is undoubtedly the 375 gram carbon fiber rims. In order to create a carbon rim capable of meeting their ambitious impact strength tests Easton brought Sayeed Syed on board, an engineer with extensive experience working with composites for military applications. The outcome is a high modulus polyethelyne (
HMPE
) composite material, held together by an exclusive resin, that Easton says is far better suited to the abuse rims go through than a more standard carbon layup. The rims also have a matte gray finish to them, forgoing the use of a purely cosmetic carbon weave finish that would only add weight. Just like the aluminum Haven's, the carbon version has a fully sealed rim bed that doesn't require a rim strip when used with standard tubes or tubeless setups. Easton accomplishes this by using inserts at the rim that the nipples thread to. The aluminum nipples have threads on the outside that thread into the insert at the rim, and on the inside that the spokes thread into. The threads on the outside of the nipple are left hand thread, while the spoke threads are right hand thread, allowing the carbon Havens to be trued using standard tools and techniques. The rim is also UST compatible for quick and secure bead seating, even at low pressures, and they come complete with UST valve stems to make setup easy.
At the center of the 24 straight pull Sapim spokes you'll find a set of impressive looking hubs, complete with ceramic, sealed bearings as stock from Easton. The drive side hub uses a three pawl aluminum freehub body that, while not quite having the near instant engagement of some of the competition, seems to freewheel smoother - a selling point for many riders. The front hub can be had in two flavors: one that fits both 9mm QR and 15mm thru-axles, and another designed specifically for 20mm axles, while the rear can be converted to fit standard 135 mm QR, as well as 135 mm and 142 mm thru-axles. You should have no worries when upgrading your frame or fork down the road because the Carbon Havens will bolt right up. The hubs fit standard 6 bolt discs - there is no Center Lock option.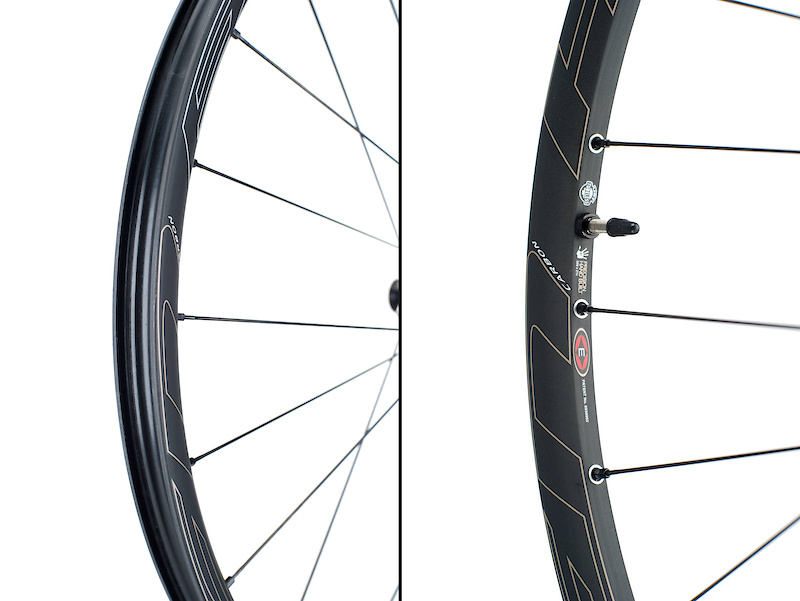 The fully sealed, UST rim is manufactured using an exclusive carbon and resin mix that Easton says has incredible impact strength.
Performance:
What would you expect from a $2300 USD wheelset? Nothing but the best as far as performance and reliability are concerned, naturally. And the Haven Carbons come close to that in both categories. The wheels are staggeringly light out of the box and in your hands, almost unbelievably so (
the front wheel alone weighs less than many all-mountain tires
), but it's on the trail that that lack of rotating heft really comes into play. Having spent plenty of time on many all-mountain wheelsets in the 1600 gram range I wasn't expecting to be blown away by the roughly half pound weight difference between those and my new carbon rimed wonder wheels, but the contrast between them was immediately noticeable. The result of the wheel's light weight is a bike that not only accelerates fast, but one that is also a lot more lively on the trail. This was especially evident at slow speeds where you can't use the bike's momentum to help you, whether it was getting through a tricky, technical section of trail or just playing on some rollers, the Haven Carbons actually made the bike easier to ride.
Sure, the Haven Carbons are staggering light given their all-mountain intentions, but building up a lightweight wheelset isn't actually that hard - the trick is to add stiffness and reliability into the equation as well. The 24 spoke per wheel Haven Carbons are not just stiff, but actually manage to make my heavier, aluminum rimmed wheelset feel as if they were quite low on spoke tension. I tend to ride my 6" travel bike as if it had much slacker angles and more suspension, pushing it harder than it was really intended for on many occasions, but the Havens were more than up to the task. Despite plenty of sideways action and probably more abuse than Easton intended them to be put through, the Haven Carbons are still as perfectly true as the day that I took them out of their box. I tested a number of different tires during my time on the Carbon Havens, using some with low enough air pressure that hard rim strikes were routine, and the carbon rims proved to be far more rugged than any other aluminum option that I've put time on. I am confident in saying that any aluminum rim that I would have had mounted during this time would now be sporting multiple dents and dings, but the carbon rims used on the Haven wheelset have come through unscathed. The wheels have also held their spoke tension throughout it all. While I knew that the Haven's carbon rims were robust - this was evident by Easton's confidence in them - I am still very impressed with how they have shrugged off any and all abuse.

The stunning hubs rotate on ceramic bearings and can be converted to fit virtually every axle standard out there.
Unfortunately, I did run into a reliability issue with the Haven Carbons far earlier than I had expected. After just a dozen rides on them I discovered that the rear wheel's bearings had become slightly loose and required a small amount of tension to be added via the threaded preload collar - not ideal, but at least it is an easy fix. Or so I thought. After adding only the slightest amount of preload, just enough to remove the play and no more, the ceramic bearings quickly became notchy, slow rolling and needed to be replaced. Easton suggested that there is a good chance that I unknowingly rode the rear wheel with the bearings slightly loose, fatally damaging them in short order, after which removing the bearing play only made them feel terrible. Fair enough, but I would hope that the wheels would have gone much, much longer before needing any sort of bearing adjustments. To make matters worse, my near new bearings that Easton replaced for me have just now needed to nipped up again, even though it's only been about two months. Our aluminum Haven wheels, which use the same rear hub, but with non-ceramic bearings, have also required bearing preload adjustment far too soon. I would be disappointed even if these were a $500 wheelset, but with an MSRP of $2300 USD, I, along with most consumers, would surely expect to have zero issues.
Pinkbike's take:
When talking about all-out performance the Haven Carbons have no peers. Not only are they lighter than many cross-country racing wheelsets, they are also stiffer than other wheels that weigh a full pound more. While I was let down by bearing issues in the rear hub, there is no denying that the Haven Carbons brought an element of performance to my bike that wouldn't be possible with a more standard aluminum wheelset. The bike simply rode better: it climbed and accelerated faster, was more playful on the trail and also felt quite a bit more rigid thanks to the wheel's impressive stiffness. Are they worth the $2300 USD asking cost? That's a big price to swallow, especially considering that that amount of money can buy a very decent bike these days, but next to upgrading to quality suspension on the front and rear of your bike, these wheels are possibly the biggest game changer that you can purchase. Keep in mind that price is relative - anyone unfamiliar with mountain biking would gasp at the thought of spending even a few hundred dollars on a set of wheels. No, you don't
need
the Haven Carbons to go fast on the trail, but they sure do make it more fun.
Check out the
Easton website
to see their entire lineup.
What do you make of Easton's carbon rimmed wonder wheels? Let's hear what you think - put those thoughts down below!