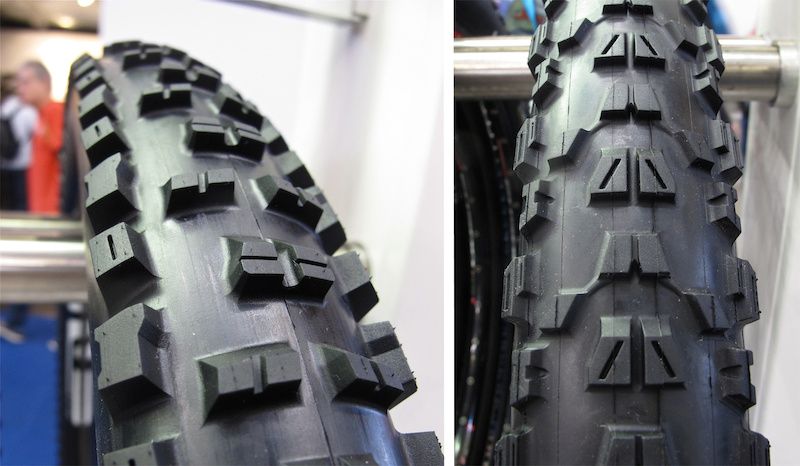 Maxxis goes 27.5
The excuse many people keep citing about there being a not enough 27.5" tires to choose from is quickly losing credit. Maxxis is the latest tire giant to join the 27.5" club, with their well-liked Highroller II and Ardent models bridging the gap between 26'' and 29'' sizes. Aggressive riders will be stoked to see that the Highroller II comes in a high volume 2.4" width, complete with Maxxis' ST (
Super Tacky
) rubber compound. The faster rolling Ardent will be available in a slightly smaller 27.5'' x 2.25'' size, but uses Maxxis' EXO Protection sidewall to greatly limit the chance of cutting the tire's casing on sharp edges.
---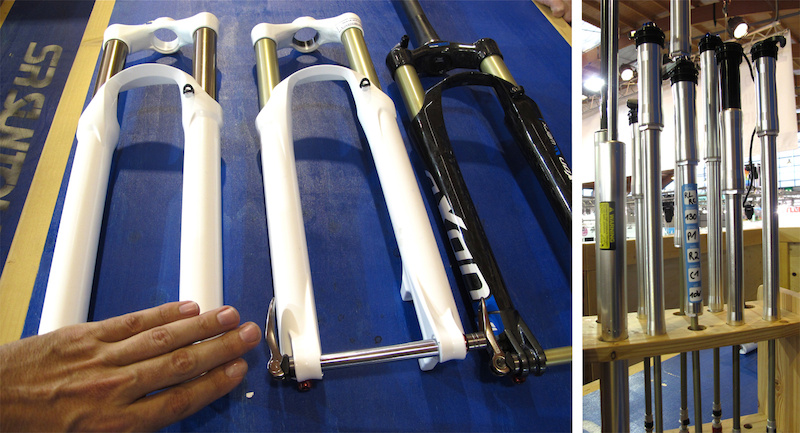 So does Suntour
More proof that 27.5'' is coming can be found in the Suntour camp, with an entire range of forks planned for the 'tweener wheel size. The 27.5'' compatible, high-end Axon Werx RL RC, with its carbon/magnesium lowers and Q-Loc 15mm thru-axle, sits on the far right in the photo above, but the two SLA mockups to its left hint at whats to come. Who noticed the hidden thru-axle portion of the fork on the far left? Expect a 160mm travel, 27.5" specific Durolux fork from Suntour in the near future, with it employing the same aluminum damping cartridge that can be easily serviced or swapped out by any home mechanic. In a time when many fork manufacturers seem to be forgetting that consumers are looking for more than just the fork with the most complicated internals, Suntour is pumping out suspension that works well while still being able to be serviced by nearly anyone.
---
Carbon DH bike
Astro had this interesting looking, 8.3'' travel downhill bike hanging up on a wall of their booth, complete with both a carbon fiber front and rear triangle. The dual-link design uses a floating shock that is attached to the upper and lower links as opposed to being rigidly mounted to the front triangle - far from a new approach, but it does look well executed on the clean looking carbon frame. The lower link pivots concentrically around the bottom bracket shell, and the shock is nearly completely hidden within the frame. It looks great, but we'd love to spend a few days aboard one and report back.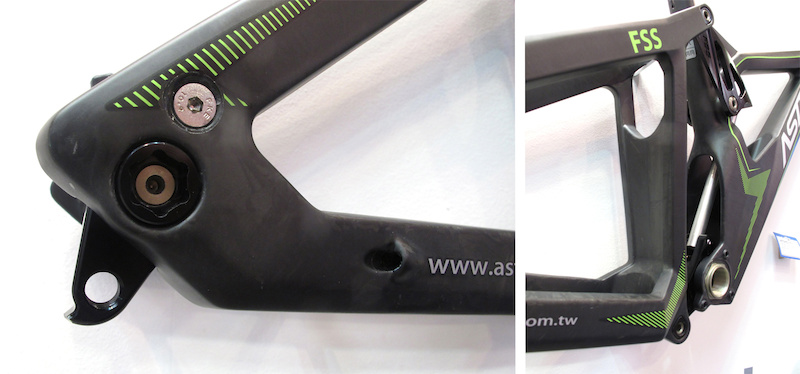 ---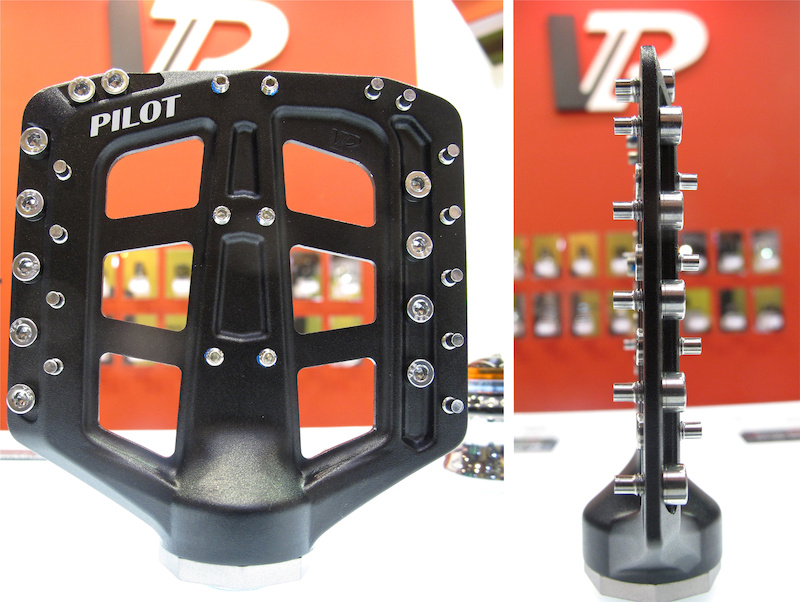 VP pedals
There are plenty of interesting pedals to see at this year's show, including these new Pilot pedals from VP. While not exactly heavy at 400 grams, VP has clearly put an emphasis on strength, ground clearance, and traction instead of battling for gram counter honours. The forged and CNC'd pedal body spins on sealed bearings, including a massive inboard bearing up against the crank arm, and sports seventeen sturdy pins per side.
---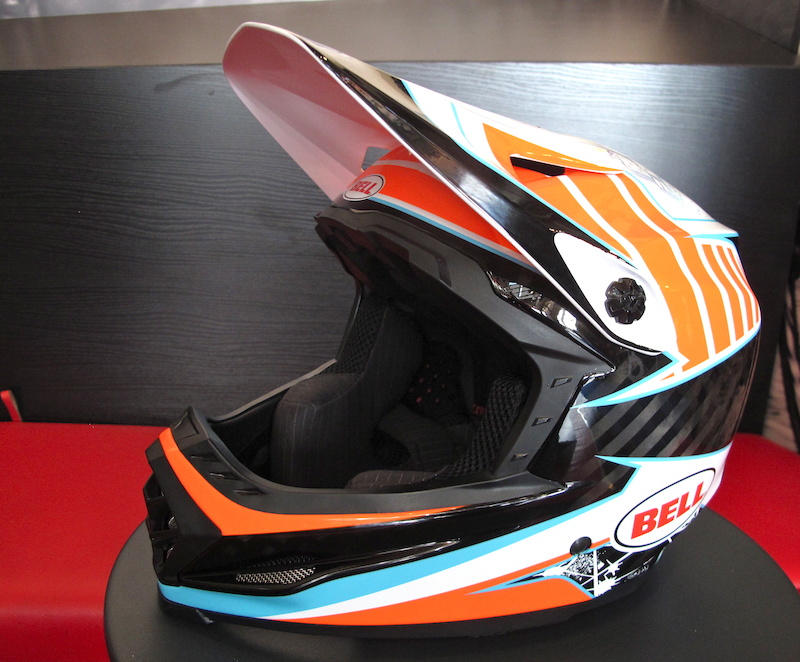 Bell Full-9 full face
Bell's new Full-9 downhill helmet has the DNA of their popular moto lid, the Moto-9, but in a lighter and slimmed down package that won't have riders looking like a bobble head doll as the come down the trail. While Eurobike is the first official showing of the new helmet, Aaron Gwin has actually been wearing it during recent World Cup rounds, as well as an early prototype dubbed the 'Proto-9' internally, providing feedback as to what he wanted in a helmet. The result is a 1050 gram, carbon shelled full face with a number of interesting features. Retail price is set at $400 USD, and there are six sizes available that are built around three different shell sizes.

You'll count ten proper vents on the helmet's shell, as well as an overbrow system with three channels (opened up compared to the Moto-9) that sits just above the rider's goggles, but the real trickery is hidden inside. The helmet's cheek pads are held in place via three strong magnets per pad, allowing them to be easily pulled out for washing or to let the sweat dry out before the next run, but not fall out when pulling the helmet off. The removable cheek pads also let first responders slip the pads down and out, making it easy for them to remove the helmet without causing more damage if the worst does happen. With that in mind, Bell has also built-in a shallow depression into the inside of the shell that is designed to be fitted with the Eject Helmet Removal System (sold separately) that allows medics to pump air into a small bladder, lifting the helmet off of the rider's head without risking more damage to the neck or spine.

The Full-9 is CPSC, CE, and ASTM Downhill certified, but it also incorporates some neat features that have nothing to do with safety. Bell has included an integrated helmet camera mount that clicks into the lid's top vent, putting it in just the right spot for a proper perspective; no more Velcro straps or zip-ties required. We tinkered with it at the show and it is a clever unit, being both quickly removable when you don't want to film, as well as employing a breakaway element that will limit the chance of smashing your expensive camera when you do the scorpion into the ground. The Full-9 ships with removable mounts for both GoPro and Contour cameras. Inside you'll find built-in speaker pockets for headphones - perfect for those days when you'd rather listen to tunes than your buddies. A cable routing channel keeps everything tidy.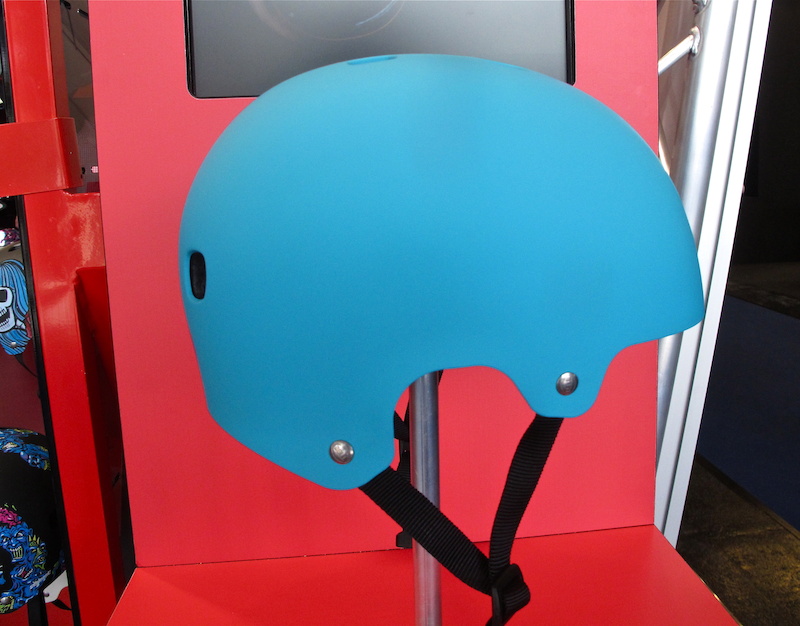 Bell Segment
Skate-style helmets are usually a simple affair that use a thick plastic shell around a foam interior; there isn't a ton going on with most. But Bell's new Segment is quite different from the status quo. The helmet takes its name from the segmented EPS foam construction, with multiple sections being allowed to move independently from one another as opposed to the usual one-piece construction. The segmented foam interior is combined with a slightly thinner than usual shell that flexes enough to allow the helmet to actually conform to the rider's head. Holding the Segment in your hands and squeezing the sides together reveals quite a bit of flex, especially when we did the same test back-to-back with their traditional Faction model.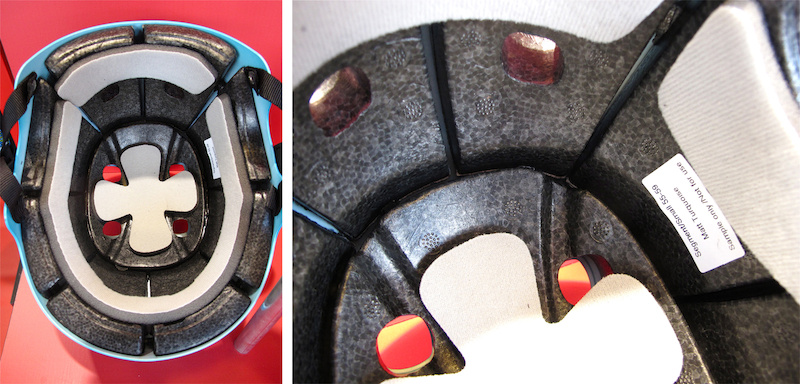 We gave the Segment a quick test fit and have to admit that, at least on our head, it has a great fit. Pressure feels more even around the head when compared to a standard helmet, proving to us that the design certainly has something going for it. Bell's goal is to greatly improve the fit and comfort over the standard offerings while still keeping the traditional skate-style appearance on the outside, as well as meet the required safety standards (
the Segment carries an ASTM F2031 BMX enhanced rating
). Expect the 410 gram Segment to be available this coming February, with a retail price between $55 and 65$ depending on the model.

Bell Super
The third new helmet in Bell's 2013 lineup is the Super, a model aimed squarely at the enduro/super-d crowd, or any rider who is looking for a bit more protection than what a pure cross-country helmet offers. This isn't just a beefed-up XC lid, though, with it sporting a number of novel features that set it apart from the crowd. The most interesting of these is the clever goggle compatibility that uses an extension on the visor to keep the goggle's strap in check. The helmet's visor also pushes up on-the-go to allow the goggles to be placed on the front of the helmet when they aren't needed, on a long climb for example, to keep them from fogging up. Don't want to use the visor? No problem. Clips are included that attach at the visor mounting points, keeping the strap in place even if you aren't rocking a visor. The Super also employs a helmet camera mount (
it isn't quite as dialled as the one used on the Full-9, though
), as well as a vented overbrow section that compliments the helmet's twenty five other openings. The Super will be available in May for $125 USD.
---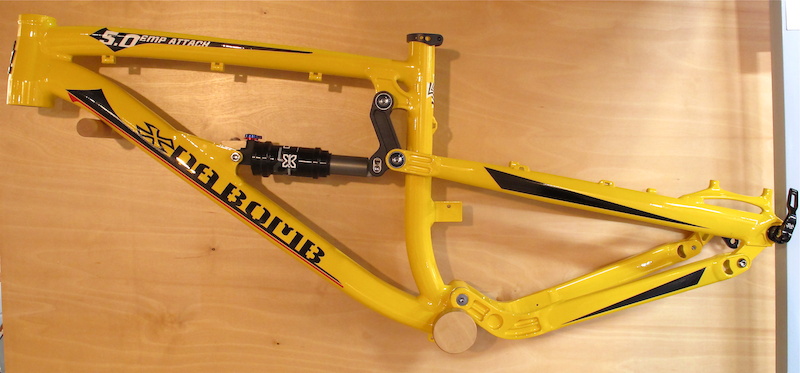 Mid-travel Da Bomb
Da Bomb's EMP Attack employs a rocker link with two shock mounting positions for its X-Fusion damper, allowing the rider to pick from 4.7" or 5.4" of rear wheel travel. The rear end uses a conventional four-bar layout and a low main pivot, as well as a 12 x 142mm thru-axle dropout. The requisite tapered head tube and ISCG-05 chain guide tabs are also present, and the claimed weight for the frame is 3535 grams/7.8lbs - don't expect to be building up a sub-30lb bike based around the EMP Attack, but it should offer a solid ride. Da Bomb also offers a similar platform with 29" wheels, although it uses a non-adjustable shock mount that gives it 4.2" of travel, and standard, 135mm QR dropouts.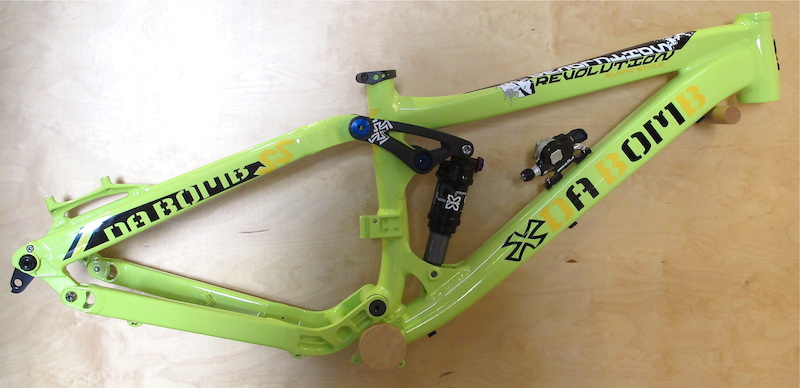 Slope style
With a drastically sloping top tube, short rear end, and burly-looking construction, the 100mm/4" Travel Revolution has been designed with slope style and dirt jump use in mind, although it still sports a direct mount front derailleur attachment point that would allow a rider to build it up as a solid trail bike. Da Bomb includes a clever shifter mount (
that is also available separately
) that bolts to the frame using bottle cage mounts, eliminating the shift cable from the equation when doing bar spins or tail whips.
---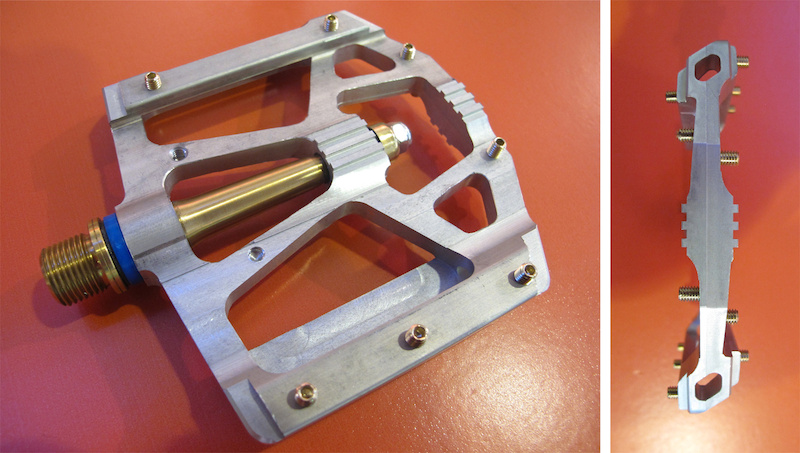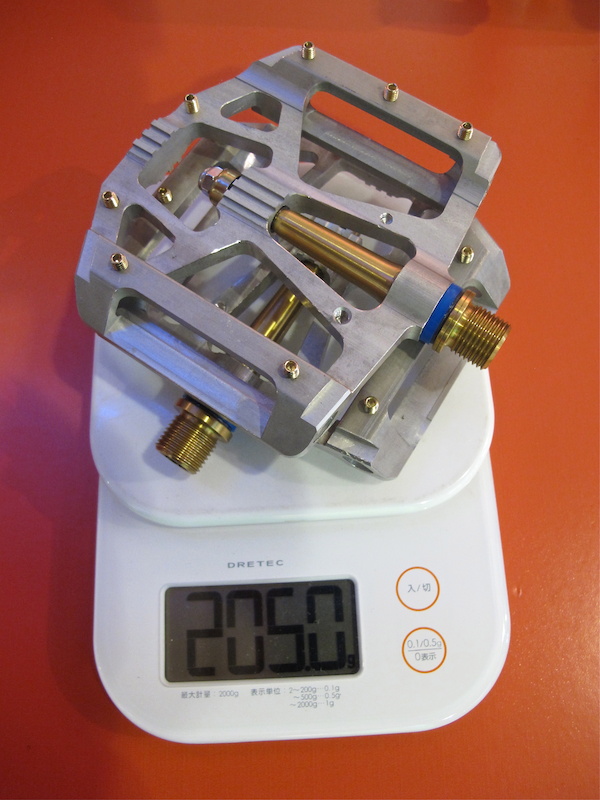 HT Super Light Pedals
HT offers a massive range of pedals, with everything from nylon bodied jobs, to proper, DH-worthy models, and even some ridiculously light options. Weighing in at just 205 grams for the set, the pedals shown above certainly fit into that last category - 205 grams is less than half of what many other options on the market weigh. Will they last? Are they safe? We have no idea; these are only prototypes at this point, but given HT's lineup of seriously lightweight pedals, we wouldn't be surprised in the slightest if they not only make production, but also function just fine on the trail.
The prototype pedals, which have been given the typically HT-esque name 'ME-02T', feature a magnesium body that has been pared down to the minimum, including hollow sections milled through the leading and trailing edges of the body. Not surprisingly, a titanium axle has been utilized, along with HT's arrangement of a bushing at the inboard end and a small sealed bearing sitting outboard of the body at the opposite end.
Ultra-thin and still light
The 308 gram AE03T pedals shown above may not be quite as light as the ME-02T prototypes, but they still weigh less than nearly anything else on the market. There's more to them than just their low weight, though, with a body height of only 11mm. Internally, HT uses dual bushings combined with a small external sealed bearing at the end of the titanium axle. There is also a chromoly axle option that puts the AE03T pedals at a still svelte 352 grams for the set.