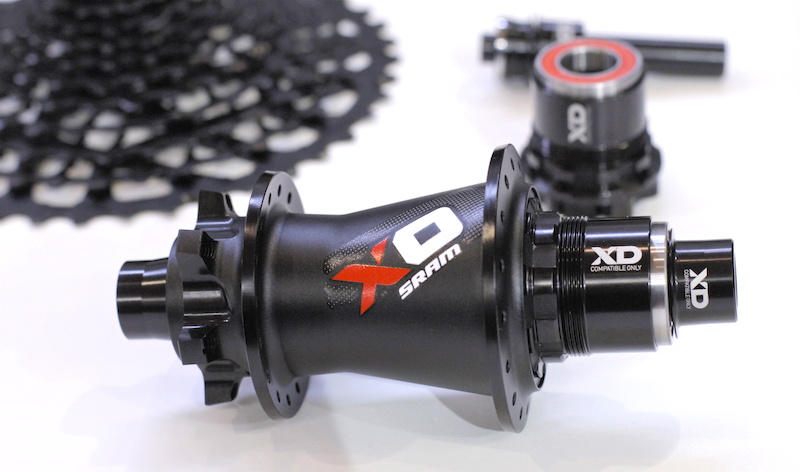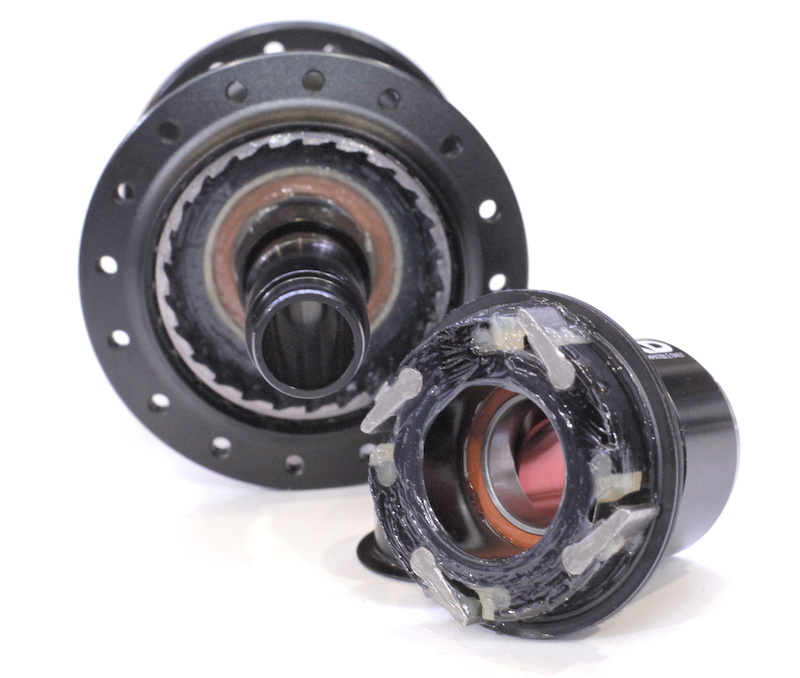 SRAM X0 Hubs
SRAM has offered wheelsets for a few seasons now, but Eurobike saw them introduce a brand new X0-level hubset that, surprisingly, differs from what their wheels are assembled around. Both the $197 USD front hub and $364 USD rear hub utilize traditional spoke flanges that accept standard J-bend spokes, which is very different than the flanges on the hubs at the center of their Roam and Rail wheelsets that feature stacked spoke holes that hold straight pull spokes. Why the change, especially when the stacked arrangement allows for just one spoke length used throughout the entire wheelset? SRAM says that the answer lies in compatibility, with the idea being to allow the consumer a greater chance of finding replacement spokes if they happen to break one or more, a sometimes
tricky proposition if you require a straight pull spoke. Standard flanges were also a smart choice given that the X0 hubs could be at the center of nearly any mountain bike rim, negating SRAM's 'Solo Spoke' concept anyways. Thankfully, the new X0 hubs do feature tool-free axle conversion, dubbed 'Side Swap' by SRAM, that allows the front to fit quick-release and 15mm thru-axles, and the rear to either 135mm quick-release or 12 x 142mm thru-axle. No, there is no 20mm front or 150/157mm rear setup.
Internally, the rear hub has gone away from the DT Star Ratchet driver that is found on the Roam and Rail wheels, with a four pawl system and a fifty-two tooth driver ring that gives 6.9° of engagement (
11spd XD and standard drivers will be available
). While the move away from DT's driver mechanism may confuse some, especially given that it has proven to be reliable and easy to work on, the new setup trumps its 10° of engagement. Internals aside, SRAM isn't shy about the new X0 hubs' premium price, telling us confidently that they rival any other high-end option currently on the market when talking about quality, finish, and reliability, but they did also admit that they are aiming for the hubs to be used at the center of pre-built wheelsets that many distributors offer.
www.sram.com
---

POC's Ultra Light Lid
Lets get one thing out of the way right off the bat: the Octal has been designed with road riding in mind. Having said that, the interesting looking lid is insanely light at just 195 grams (
claimed, medium size
), yet it has passed all of the applicable standardization tests required of the major markets in Europe, North America, and Australia. And while the Octal shown here clearly has a roadie look to it, POC does have plans in the future to offer a visor'd version that would look more at home on the dirt. The trick to the helmet's lack of heft lies in POC's choice of EPS foam - slightly less dense than usual but with a partially thicker make up. This design also allows them to forgo the internal skeleton that most performance helmets depend on for strength and support, with a unibody shell that POC says "
enhances the safety properties and construction integrity of the helmet
" Either way, we are looking forward to seeing a version with a visor up front in the future.
www.pocsports.com
---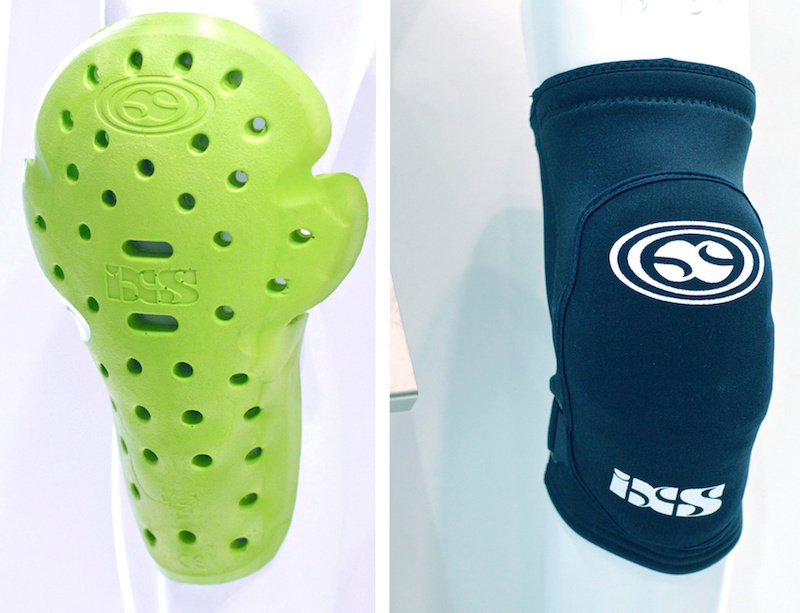 Pads for Pedalling
iXS's Flow knee pads (
above, right
) are a lightweight, flexible alternative to the usual bulky and restricting options on the market, with iXS saying that they are ideal for a rider who is looking for protection that they can wear over the long haul. Their secret lies in the pads' 'X-Matter' material (
above, left
) that is essentially open-cell, slow rebounding foam that we're told does a great job of absorbing impacts. The section of X-Matter padding on display in the iXS booth revealed that it is impressively pliable, with us easily bending it around a single finger without difficulty. The Flow pads may not be the best choice for lift-assisted downhilling, but we'll be testing a set soon with pedalling and all-mountain riding in mind.
---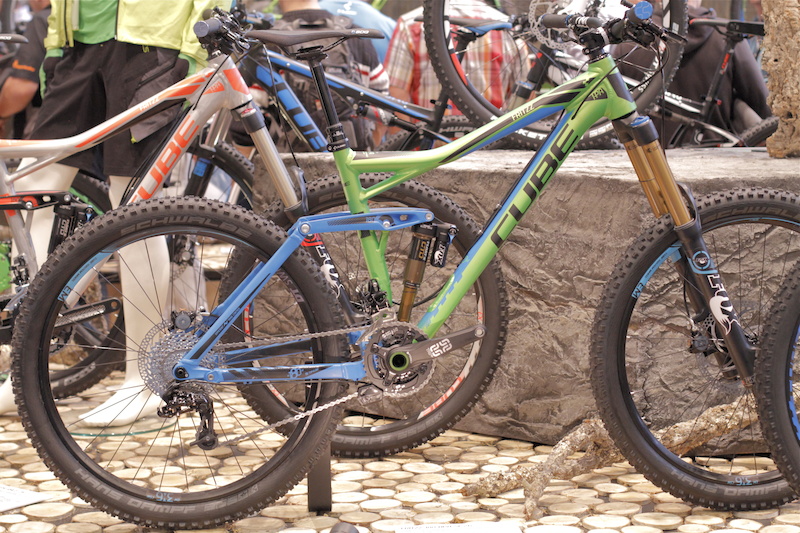 180mm Travel Cube Fritzz 180 HPA SL 26
It seems as if longer travel bikes designed for pedalling may be making a comeback, due in large part to the rise of Enduro racing, with European brand Cube being among the companies offering such machines for 2014. Their new Fritzz will come in two versions, one with 160mm of travel, and one with 180mm (
pictured here
), both using aluminum tubing and the same four-bar suspension design. As the name suggests, the bike uses 26'' wheels, with both ends shod in the always impressive Schwalbe Hans Dampf tires. Suspension is all FOX, including their new Float X shock that seems like an ideal match for the bike's intentions, with a 140 - 180mm travel 36 Talas RC2 FIT fork up front. It does look like quite the bike for racing down some serious terrain, doesn't it?

www.cube.eu