British Downhill Series
head honch Si Paton recently sat down with
Trek World Racing
owner Martin Whiteley (
pictured at right
). Originally hailing from down under, the Australian is the founder of
23 Degree Sports Management
and currently resides in Spain.
Five years prior to forming the 23 Degrees, Martin was responsible for all offroad cycling disciplines at the UCI in Switzerland. 23 Degrees has managed Greg Minnaar for over a dozen years, as well as Sam Blenkinsop, Brook MacDonald, Justin Leov, and Neko Mulally to name a few. 23 Degrees has also manufactured three successful World Cup teams, starting with the Global Racing Team, Team G Cross Honda and now currently Trek World Racing. Martin is also chairman of
IMTTO
which is an international non-profit organization that contributes to the continued development of mountain bike racing.

  With Aaron Gwin's very public departure from TWR to Specialized the MTB world has gone wild speculating about what really happened behind closed doors. Can we start with a better understanding of the roles and responsibilities of Aaron Gwin, Rich Houseman, 23 Degrees, TWR and Trek?
MW:
My company, 23 Degrees, owns Trek World Racing. Trek is the title sponsor but they do more than just write checks and send product. They are very involved in the program and that is very reassuring. Rich Houseman has been Aaron's agent since I started working with Aaron.

What is your response to the recent statement from Aaron Gwin: "Reports that I broke my contract with 23 Degrees/Trek World Racing are false. My contract expired. The one-page letter of intent I signed said there would be a 'full length contract' with 'precise terms' coming in the future. The 16-page contract that showed up in late November was not signed by me because it was not the deal we had made. I have moved on to a team that gave me the contract I wanted, and these are the facts."
MW:
On the first point Aaron is absolutely correct. He did not break his 2011-2012 Agreement with us and I have never said he did. There are reports out there from people who've misinterpreted these things and I'm glad Aaron has come forward to put forward his side, as I will try to do now. Our relatively small MTB community loves a bit of drama in the offseason and I'm afraid we've given them this one on a silver platter.
Let me just be quite clear on a key point. From the 9th of August when Aaron signed the 3 year Letter Of Intent with 23 Degrees and up until the 15th of December, I worked tirelessly in putting together a team and infrastructure around Aaron that would allow him to continue with the amazing record of results he'd been accruing. That involves putting together the team sponsors, hiring athletes and staff, all of whom believed as I did that Aaron would be racing for us as we'd not heard anything different until December 15.
| | |
| --- | --- |
| | To learn this so late, just a week away from the holiday season and with the UCI registration dates looming, was to say the least, shocking. It's hard not to react emotionally to such news and I concede that this is a big part of the issue here: that people have reacted emotionally, including me. |
My main objective with releasing our company Statement after Aaron's announcement of his move to Specialized, was in part to answer the flood of enquiries I'd received overnight (including ones like, '
What are you doing about this?!
'), but also to show our sponsors, investors, staff, riders and fans that we had been totally surprised by his decision to leave TWR, and that we would investigate our options. After all, on one hand I have a star rider who has decided for whatever reasons that he will not ride for us, and on the other hand, I have the interests of those who are engaged by us for 2013 to protect, to ensure their jobs are safe, and that the sponsors have continued faith in my company to deliver a quality race team. That's my primary obligation, and I realize that the headline for many was the words 'legal action', but for me that was only part of what needed to be considered.

What was missing from the deal that was on the letter of intent but not on the contract?
MW:
Neither Aaron nor I are in the position to release these documents publically or discuss their exact terms as they are bound by confidentiality, but the Letter Of Intent included the salary amounts, the bonus program, the events for 2013, and our obligations with respect to costs (travel, lodging, food etc). What it didn't include at that time are some finer details on individual sponsors for the rider and our team co-sponsors, as they need to be re-engaged. It's with the strength of Aaron's commitment to the team that we're going out to find and engage them. Fortunately we were able to engage all the sponsors we wanted. Naturally this now gets complicated because most of those contracts have been signed and include the name Aaron Gwin as a team rider, so now they have to be all re-done. I'm very happy to report though that we have not lost a single sponsor through all this and so I can stand by my commitments to the people I've promised a great ride to in 2013.
The only thing I feel was ever a point of contention between us and Aaron and his manager, was to do with clothing. One month after the LOI was signed, Aaron wanted certain things related to a clothing deal, and I thought we were on the right track. I won't go into details, Aaron may want to, but for me there was a misunderstanding on which aspects he wanted; a separate clothing deal to the team, a signature line with royalties to him, and an increase in salary. After speaking to his agent in November I felt we had agreed there'd been a misunderstanding, so I sent the team agreement, a Draft document for their input and change. This is normal practice, and usually a rider, or his agent, comes back with any points they want changed. I never heard anything until the December 15 departure email, and this is why I was so shocked.
Martin watches as his team riders cross the finish line at the 2011 Fort William, Scotland, World Cup race.

   

There is a video currently airing from Rich Houseman's kitchen dated 9th August 2012 where we see Aaron clearly sign a letter on 23 Degrees Sport Management company paper thats described as a letter of intent. The following dialogue is then clearly heard:



Cameraman: "Is it a good deal?"
Rich Houseman: "Yes it's a great deal, stay where you belong".



What is your response to that video? What really happened between August and December that made that proposed deal go sour?
MW:
Firstly it's truly regrettable for me that this video was released as it was, and I publicly apologize to Aaron and Rich for that. We have been working on an Aaron Gwin documentary video that we were going to release next month, which we obviously have to shelve now. It featured a lot of amazing riding footage that no-one has seen yet, and some cool behind the scenes stuff at his home in California. This clip was from that project. Our YouTube account is a shared account meaning other people outside of my company have access to it. As soon as I was made aware at 1am in the morning that this was on-line, I ordered that it be taken down. It was, but not before some copies got made. We're currently pursuing those people with copyright reminders.
But as you say, the dialogue between Aaron and Rich shows how excited they were, as was I, that we had reached such a great deal. This to me was the mood all through those 3 months up to mid-December. My time in Las Vegas at Interbike with Aaron was also like this, and so this is why there is so much emotion out there as the 'break-up' was clearly not expected by us.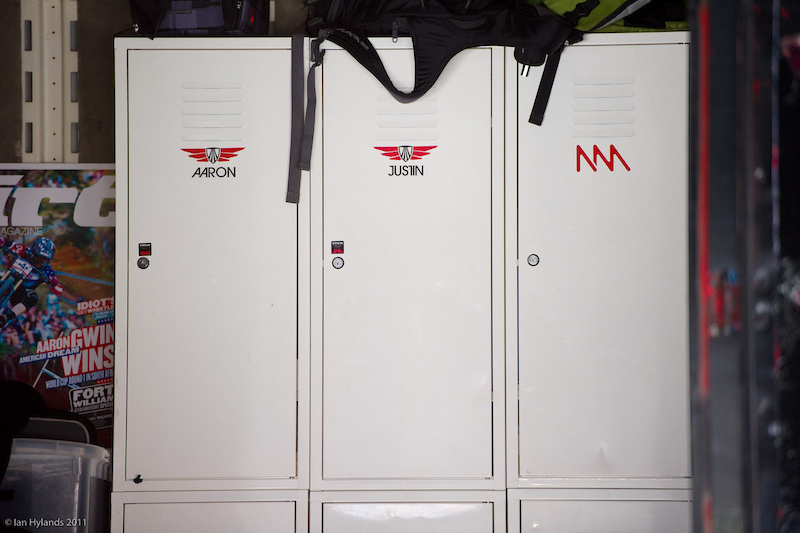 A move so unexpected that we wonder if Gwin had a chance to clean out his locker?

What aspects of the TWR program do you think Aaron will most miss now he has departed?
MW:
Without knowing the program he is building for himself I can't answer that. What I do know is that we have been really fortunate since we started this program in 2009 to have the complete support of all departments at Trek that work this team, as well as amazing support from key sponsors like Shimano and Fox Racing Shox who have always placed our team as a top priority regardless of who is signed to ride with us. We have the best product on our bikes, talented mechanics and a great set up in Europe and North America that allows the riders just to focus on their goals. Each team is different, but I have learned a lot over the past 12 years with respect to running a race team and I'm focused on delivering that again in 2013. We'll be announcing our full roster for 2013 next week, 5 gravity riders who all fit the TWR philosophy.

When the big teams such as Specialized, CRC/Nukeproof, and TWR are pitched up next to each other at a World Cup or BDS race, will we be seeing pistols at dawn? If so what would your weapon of choice be and who will you have act as your "Second"?
MW:
Look, I've been in that paddock for years, both as the UCI Technical Delegate and as a team owner, and I've always appreciated how social it is. I don't want to see us like other sports where the team rivalry creates a frosty team area. The fans can sense it and for me that's not cool. So I don't want to be fuelling any of this. As I said, we had to consider all of our options, as that's what a business owner needs to do when you have investors, but I strongly feel that any legal process would be protracted, ugly and have no positive outcome for the sport. So I've told my top sponsors and my lawyers that we will not be proceeding with anything. My issue is not with Aaron personally. I have immense respect for his riding and record to date. He is easily one of the best 5 athletes that our DH sport has ever seen and we were privileged to have been on that ride with him over the past 2 years. Would I have wanted to be part of it for the next 3? Hell yes! But he has decided to go this route and I know he will continue to be a formidable competitor.

When contracts are being drawn up there will always be some negotiations to be held where one party plays hardball to get the best deal for themselves, that's business. We understand Aaron and Houseman were not even open for negotiation, why would they do that when you could have had an awesome offer to hit them back with?
MW:
This is the question I've had trouble trying to answer, and why my concerns have been more about the advice and representation Aaron has had. In my career of representing riders, once we sign a Letter Of Intent that covers all the big points, we're in for the long haul. Your word and the LOI count for a lot. I would then sit down and sort out all the finer details and sign the main contract. That is how it has always been for me. So if I was in this situation with one of my clients, I would have gone back to the team after getting the full form contract and said 'hey, there are some things here that we cannot agree to, let's solve them'. That never happened in this case. It makes me wonder how long ago the discussions started between Aaron's agent and Specialized. So for me, it's not the break up that hurts, it's how and when it happened. I just feel this could have been handled better. And yes, I could have handled my reaction to this better.

The sponsorship program for TWR consists primarily of Trek and several major companies, were you limited to negotiate with Aaron due to timescales and having to approach your sponsors, perhaps cap in hand to secure your star rider?
MW:
There was plenty of time in December for us to remedy any issues Aaron's agent could have had with our draft agreement. All of our main sponsors were signed up and committed prior to him getting our agreement. They have to be. I'm a small company and I can't have large salaried riders signed without securing financing for them first. And yes, I signed an LOI with Trek prior to the LOI with Aaron, that's normal.
Gwin's win at the Windham, New York, World Cup race (his fourth race win of the season in a row ) was a major victory for the American rider on a US-made bike.

Many of your successful World Cup team members were riders you represented through 23 Degree Sports Management. Did you approach Aaron with the offer of managing him. How much easier is it to deal with a rider directly rather than constantly having to go through their manager/agent?
MW:
No, that was never a discussion point. A long time ago, when he first joined Yeti, I was made aware of him but at that point I was already maxed out with the number of riders I was representing and couldn't take anyone else on. In most cases it is much easier for me to deal with an agent because they are one step removed and financial discussions and negotiations can sometimes be sensitive and you want your potential rider or team rider to be focused on training and racing. In fact, I've often recommended that riders on our team that don't have an agent seriously consider getting one. In the case of TWR, we've had 11 different riders race for us from 2009 to 2012 and only 4 have been managed by 23 Degrees.

As the Chairman of IMTTO you were instrumental in bringing in the UCI Super Team status which for a financial sum allows the top 15 teams to register (If any of the top 15 don't register then any team in the top 20 can). There are several major benefits for all UCI registered events from free pit space, free entries, parking passes, rainbow passes etc. You require a minimum of two riders (maximum 10). You must enter your team by January 15th, 2013 with the UCI and list your riders, all their personal info and a copy of the rider's contract. Do you feel you have the opportunity for TWR to rank top 15 in 2013 now that Aaron has left?
MW:
Well I've been working non-stop since December 27 when we got the legal letter from Aaron's lawyer saying he would not be coming back, to build TWR2013. I'm excited that last night I locked in my last rider, just in time, so we can announce next week a roster of 5 gravity riders that will guarantee us one of the Elite spots.

The loss of Aaron Gwin as your star rider will not necessarily free up any spare cash to support another rider as we guess some sponsors may now reduce their investment into the TWR Team, can you expand on this and how it will affect the team and it's immediate future and long term?
MW:
Yes, that can be a very real outcome of such a departure and as I've mentioned before I've had to revisit my relationships with all of my sponsors, review their contract period, financial support and so on, but as I said in my statement, no one rider (or team director for that matter) is bigger than the team. If that were true, Aaron's departure would have meant the collapse of TWR. I'm happy to report that TWR is financially strong. We will continue with all of our sponsors, the vast majority of whom have not adjusted their financial commitment and this has allowed me to give some new riders an exciting opportunity.

With the so called transfer window now almost closed, the top riders have all been signed up, therefore this late decision by Aaron Gwin has really left you up the creek without a paddle. At which point in time were you first told and by who? When were you aware that Sam Hill was leaving Monster Energy Specialized, and did that ring any alarm bells for you knowing they would obviously want to replace him?
MW:
I'm very happy with the line-up I have for 2013 and while the loss of a talent like Aaron cannot be ignored, I was not interested in signing riders that already have a full CV of Championship titles. As I said in my company statement, we found out from Aaron's agent mid-December, the 15th, and with everyone going on Christmas/New Year break, well I wish they'd told us earlier, that would have made it a little easier. But the riders I've signed were always on our team radar, so we just had to move things up ahead of schedule and bring them all in now, and not wait until 2014.
Will we be seeing Monkey working on a Specialized Demo 8 Carbon in 2013?

Team Rumours has been busy this winter with his pencil and paper and was spot on with his prediction, is he physic? How was he on inside track before anyone else? Did you contact him to see what he knew?
MW:
I would like to talk to the persons actually doing it and not some anonymous sketch artist. You see, this is fun for the fans and media in the off-season, and I was like them at the beginning, I enjoyed trying to figure out the cartoons. But when you are running your own company and have some sensitive negotiations in play and someone is airing that on-line and creating speculation, it's pretty disruptive. I know we have to live with it for now and I have a pretty good idea who one of them is, but regardless of where they get the info or how, I just need to focus on what we have to do in 2013 and so far some of it hasn't been predicted by Team Rumors, not yet anyway.

Will Monkey still be the main wrench at Trek World Racing?
MW:
Monkey has been working with me in one way or another since 2001 and he is an amazing talent with a bike. He was completely shocked by Aaron's announcement and has taken this quite personally. I'm sure Aaron has reached out to Monk. My goal is to keep Monk in the family, but ultimately that's his call.

As one of the most consistent rider's agent in the history of downhill mountain biking, we have rarely if ever seen you put a foot wrong. You must now be questioning and analysing how this has all gone so wrong, which elements of his departure were down to you.
MW:
I really don't know. I've never heard that Aaron had any issue with me, and my most recent experience with him of having a nice sushi dinner in Vegas and then heading to a show after that, all seemed great to me. I'm a pretty good reader of people so there were no red flags for me, but maybe I was naïve. I have no personal issue with the man at all, he is a great person, very humble and terrific with the younger riders like Neko. Again, I was shocked by this and sincerely felt it must have been others influencing or advising him. I guess I won't know unless he chooses to reach out to me. I know he called the Vice President of Trek recently and apologized for how it had all gone down, and I respect that. This is the Aaron I know. From my side I feel that no matter what, pitched against one of the world's greatest riders in a PR, forum war, I'm always going to be painted as the bad guy. In releasing my Statement I realized that this was a risk I had to take, but I put the welfare of the TWR 2013 riders, staff and sponsors ahead of my own reputation. Those that work with me, are represented by me, or know me personally as a friend, have all rallied behind me after the forum onslaught, and that's what matters.
For me, this issue is over. Aaron is racing for Specialized, there will be no legal barriers to that, and I will focus on getting my team ready so hopefully we can all be trackside in less than five months in Fort William, enjoying what we all love, clearly with emotion, and that's DH racing.

Over the last few weeks we can only imagine the pressures you have been put under. What have you learned most from this experience from a personal level?
MW:
Not to read the forums after the first dozen hateful comments. It only gets you down, especially when MTB racing has been my life since 1983 and one incident taints the rest of the work done. So I've spent my energy over the last 5 days putting together a team I can register with pride with the UCI and that our fans can follow with the same level of enthusiasm they've shown us since 2009. Racing is in my blood and that's all I want to do. Some of the advice I got in the last 2 weeks was great, but some lead me astray. I want to forget all that and move on. There will always be those that will find something to criticize me for, and I just have to accept that and try to remain focused on what I believe to be right for those that depend on me.
---
| | |
| --- | --- |
| | We're really disappointed about all of this nonsense. We take our commitments seriously, and expect the same of the athletes and teams we sponsor. We race for two reasons - to help develop better products and to live the racing heritage of the Trek Brand. The current Trek Session was developed with the help of the Trek World Racing Team and as a result is the most successful DH bike today. We're damn excited to keep racing with 23 Degrees and Trek World Racing. The team has been more successful than any other program and we expect that to continue. - Eric Bjorling, Trek Bicycles |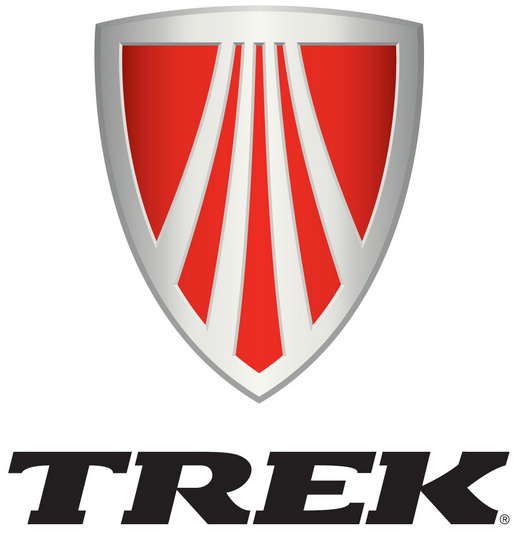 Can you clarify the roles of Martin Whiteley, 23 Degrees, TWR and Trek Bicycles in all of this?
EB:
Sure. Trek World Racing is a team that competes in World Cup racing that is owned by 23 Degrees. Trek Bicycle is the title sponsor of that team. Aaron's contract has been held by 23 Degrees since he joined the team 2 years ago.

Martin Whiteley said that he was under the impression that Gwin would be racing for TWR in 2013. Was Trek of the same mind?
EB:
That was entirely our impression as well. Enough so that we made the announcement to our global retailers and to the media along with 23 Degrees back in August.

If it is the case that Trek only supplied bicycles and a set amount of financial support for the TWR program, was Whiteley limited in terms of his ability to negotiate and/or match competing offers for Gwin's services?
EB:
Re-signing Gwin was a big priority for both Trek and 23 Degrees. We feel that the negotiations were fair and handled in a professional manner from our side.

On whose behalf is Whiteley threatening legal action against Gwin? As one of the leading brands in the bike world, will Trek assume more control of how they are represented in the future?
EB:
I can't speak for 23 degrees. Aaron's contract was not with us. As far as assuming more control, I can't really speculate right now on what's down the road but we're always looking for a better way to do everything. Right now, we're supporting the further development of Trek World Racing.

Was there any conflict within TWR because Gwin wasn't a 23 Degree represented rider? Is there a disadvantage to one person having the dual role of a team director and athlete representative, or is it an efficient way to do things?
EB:
There hasn't been an issue to date. There was no advantage or disadvantage. It was in everyone's best interest if Aaron won and from our side the relationship seemed fine. We didn't feel that we were losing anything in the way of efficiency.
Gwin with Neko Mulally (left ), Monkey, and Justin Leov.   

It isn't often that we see a rider in his prime leave such a successful program. Did TWR have a Plan B formulated, in anticipation of potential problems signing Gwin?

EB:

We had announced that we were bringing another top tier rider to Trek World Racing prior to all of this. It was only to make the team stronger as a whole. There was no Plan B as we didn't have any reason to believe we needed one.

   

The TWR cross-country program has been cancelled and now Gwin is gone – is there a bigger picture that we are missing? Is it Trek's intention to scale down its presence in World Cup racing this season?

EB:

Not at all. The plan for TWR to focus on DH was a strategic decision, not a reactionary one. We had a number of high profile riders on the XC side that received significant interest from other brands and teams and we've had to do some roster management. We'll be ready to announce our XC plans in the very near future.

Sean Heimdal has run the Team Monster Energy-Specialized program as the team manager since its inception, as well as the Iron Horse/Mad Catz outfit prior to that, adding up to a decade of as Sam Hill's team manager. While the official word hasn't been released yet, there is a good chance that he will now be managing Gwin's race team. We checked in with Heimdal to get his take on things.

The signing of Aaron to ride for Specialized made some huge waves, with many people being taken by surprise.

I have to agree that this was some pretty heavy news, and I can't remember anything having such a big impact within the "downhill" community... It'll be nice when all the facts come out!

Team Monster Energy - Specialized is run by you, but Aaron is a Red Bull athlete. Does this mean he might be on a 'satellite' team of sorts? Will Aaron be pitting out of the same tent?

Final plans are still being discussed and things should fall into place very soon.

Will you be running Specialized's own World Cup team?

I'd love to be involved on some level, but you'll have to wait a bit longer to find out.

Can you tell us if Gwin has had a chance to ride a Demo 8 Carbon yet? If so, were you present?

He's definitely had a chance to throw a leg over a Demo 8 Carbon - I was present at the time. His initial comments were very positive, and Jacy had to pry him off the bike because he didn't want to give it back... It felt good knowing that everything was nearly spot-on straight away and Gwin's grin spoke volumes for how he felt about it.

It has been said by a few people that the storyline of an American rider dominating the DH World Cup on an American made bike hasn't been taken advantage of enough in a marketing sense. Care to comment on this?
EB:
We spent a significant amount of time and resources marketing Aaron and our relationship with him and feel that it was successful. The brand is bigger than just one athlete and that may lead people to believe we fell short but in the end that's their opinion.

Historically it seems Trek's MO has been to come in at the height of the sport and back one high-profile heros such as McCaul, Armstrong and Gwin to dominate. Would Trek now consider investing in a development-type program with a mix of both established and up and coming athletes, similar to the successful Santa Cruz Syndicate?
EB:
I would disagree with that. If you look at our history with athletes, the focus has always been on development and long-term relationships. Cam McCaul has been with us for nine years, Brandon Semenuk was 16 when we began supporting him, and Gwin was on his way when he joined but then took off under the Trek World Racing Team. Emily Batty began with us on the Trek Canada Regional Team and is now one of the top females in the world. Katie Compton is crushing the cyclocross scene and raced with us on our US East Coast Regional Mountain Bike Team years ago. We have a great track record of developing riders and I don't see that changing in the future.
Gwin's friend and ex-team mate, Justin Leov, warming up in the TWR pits. He will be focusing on the new Enduro series for 2013.

Rumours has it that Trek has been testing 650B for DH. With the recent changes, would it be advantageous for Trek to concentrate its resources on technical developments and race testing to gain a future advantage?
EB:
Technical development is something that never stops at Trek. Our professional athletes are a significant part of that process. The great thing about competition that it breeds better bikes and that's something that's good for all riders.

Moving forward, what steps are being taken to ensure there is never a repeat performance? How, if at all, will the structure of TWR change?
EB:
This is really a unique occurrence and not something that we believe at this time requires any structural changes. I'm sure everybody has learned something from this.

Gwin has stated that he gave 100% and full commitment while on the TWR team. Any final words from you guys for him?
EB:
We have no doubt that Aaron gave us 100% as a member of the team. It was a fun ride with an ugly ending. We're excited about the future of Trek World Racing and are looking forward to racing in 2013.
Interview questions by Mike Levy, Si Paton, Julian Coffey
Photos by Colin Meagher, Ian Hylands, Keith Valentine, Gary Perkin