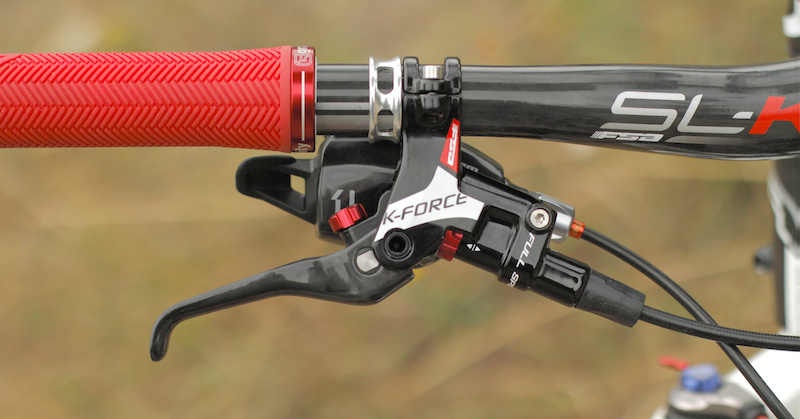 FSA K-Force Brake



While it may seem surprising that FSA would enter the brake game given that Avid and Shimano have quite a strong hold on the marketplace, as well as there being options from Magura, Formula, and Hayes to choose from, they say they see it as a natural extension of their already expansive component lineup. The K-Force moniker signifies the $369 USD brake's place at the top of FSA's component lineup (they also plan to offer the carbon-free Afterburner for $289 USD), and FSA is clear that they intend the 300 gram setup to be used for cross-country riding and racing. In the works for a full year, the version shown here is the eighth iteration since the design process began, with FSA planning an official launch of the brake at next week's Eurobike tradeshow.


• XC race brakes
• Carbon lever, magnesium body
• Titanium hardware
• Separate reach and stroke adjust
• Mineral oil
• Stiffer hose used for rear brake
• Weight: 300g (claimed, front w/ 6'' rotor)
• MSRP: $369 USD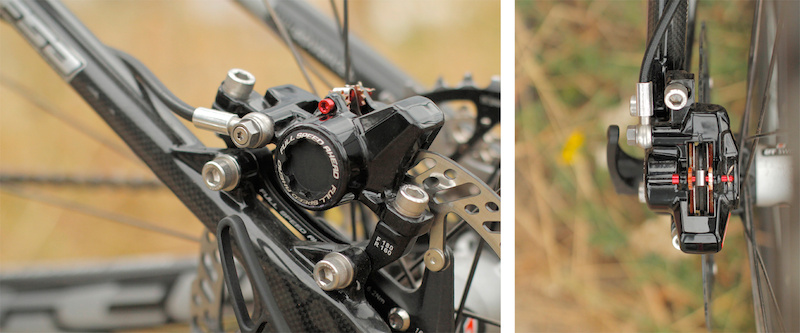 Two anodized red aluminum dials allow the user to adjust the brake's lever reach and stroke adjust, with both being located in protected locations on the lever perch that should keep them from being damaged in a crash, and they feature a flip-flop design that allows them to be used on either side of the bar. FSA also plans to sell the brakes with different hoses front and rear, with a thicker and stiffer hose employed on the rear brake that should combat the slightly softer feel that can come from the longer line compared to the front, and they make use of mineral oil instead of more corrosive DOT fluid. FSA specific pads will be available in both sintered and organic, with them biting down on a two-piece floating rotor and slotting into a one-piece caliper.
FSA Megatooth Chain Ring



While it isn't quite clear who holds the rights to the thick/thin alternating chain ring tooth shaping, other brands have been quick to offer their own rings using the same approach. This may or may not come to an end at some point soon, though, given the rumors of legal action regarding this design, but it turns out that there might be more than one method to reach the same end. FSA took a different approach to the same task, with their Megatooth chain ring's extra tall and slightly hooked teeth that likely skirt any of the legal issues that surrounds the thick/thin concept. FSA claims that the design offers the same sort of chain retention, with no troubles being reported during testing without any sort of chain guide mounted.


• Extra tall tooth profile for chain security
• 9, 10, 11 speed compatible
• Odd tooth sizes (despite 30t even pictured)
• 86 and 104 BCD
• MSRP: TBA
• Availability: TBA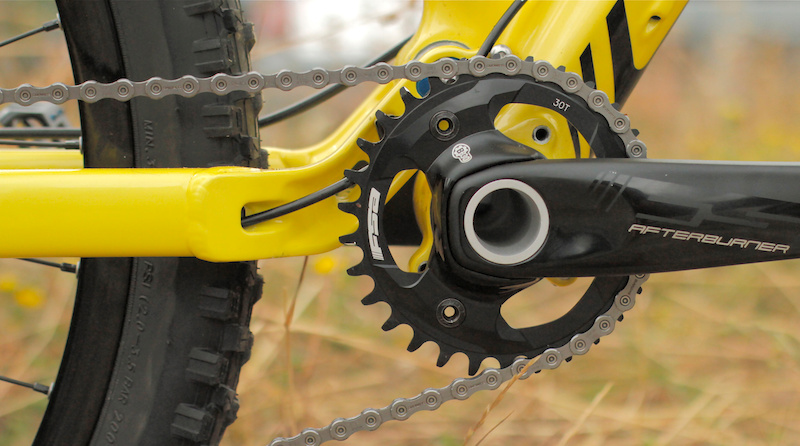 The design is straightforward enough that we wonder why we never thought of it: the chain ring's teeth are quite a bit taller, therefore providing more engagement between the teeth and the chain. Of course, this wouldn't be possible if there were multiple rings because the teeth are too tall for the chain to be shifted on and off of the ring. FSA told us that they've been using the Megatooth chain ring on their technical local trails in the Pacific Northwest without a guide and have had zero issues so far. They plan to offer the ring in odd tooth count sizes (
although a 30 tooth is pictured here
), as well as both 86mm and 104mm BCD versions. It will be interesting to see what tooth sizes they offer in their 86mm BCD, as it does allow for a very small ring to be used - they currently do a 27 tooth ring in 86 BCD, but could easily go smaller if they employed an offset design that stood the ring slightly off of the crank spider. Price and availability have yet to be decided.
www.fullspeedahead.com