First Look:
Knolly Warden
Warden Details


• 150mm travel
• 27.5" wheels
• Replaceable ISCG mount
• 66 or 67 degree head angle
• Frame weight (claimed): 6.75lb w/ Fox CTD shock



• Four by 4 Linkage
• 12x142mm thru-axle
• Titanium pivot hardware
• 16.9" chainstay length
• Available: Winter (February) 2014


There was no missing Knolly's new Warden, with its look-at-me paint job that immediately attracted the eye from across the exibition hall at this year's Eurobike show. With 150mm of rear wheel travel and 27.5" wheels, the Warden's amount of travel sits in between the Canadian company's 160mm Chilcotin and their 140mm Endorphin, although both of those bikes use 26" wheels. This new bike was designed to meet the demands of enduro racers and all-mountain riders who are looking for a bike that can be built up at a reasonable weight and still handle aggressive riding. Noel Buckley, the owner of Knolly, stressed that traction was the number one priority when configuring the bike's suspension layout, along with the ability for it to handle well no matter how rough the terrain.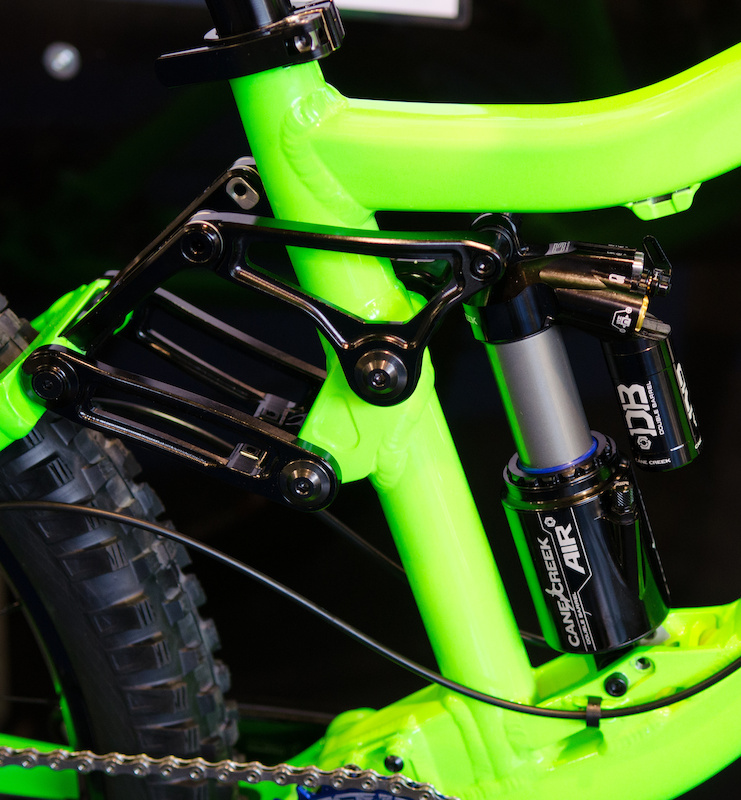 The Warden's aluminum frame is constructed using aluminum tubing that has a similar wall thickness to the Endorphin, but the downtube diameter is larger, creating more surface area for welds in the headtube area, where the Warden uses a 44/56mm headtube order to keep the front end as low as possible. The bike's rear suspension uses Knolly's Four by 4 linkage, a four bar design with an additional link connected to the seat stays to drive the rear shock. The Warden's geometry can be adjusted by changing the lower mounting point of the rear shock, allowing riders to choose between a 66 or 67 degree head angle (when a 150mm fork is used) and a 347 or 335mm bottom bracket height. One feature that isn't immediately apparent is the titanium pivot hardware fount on the seat tube pivots. This new hardware will also be specc'd on the Podium, Knolly's DH race bike.
Several parts packages will be offered, giving riders the option of choosing from SRAM's XX1, XO1 or a Shimano XT drivetrain, with Fox's CTD Adjust or Cane Creek's DBAir shock in the rear. RockShox's Pike or Fox's 34 are both ideally suited for this bike, offering a balance of strength and weight that falls in line with the bike's intentions. As for frame color, the traditional black and raw colors will be available, along with green (
pictured
) and orange. Final pricing has yet to be determined, but it should fall in line with Knolly's other offerings.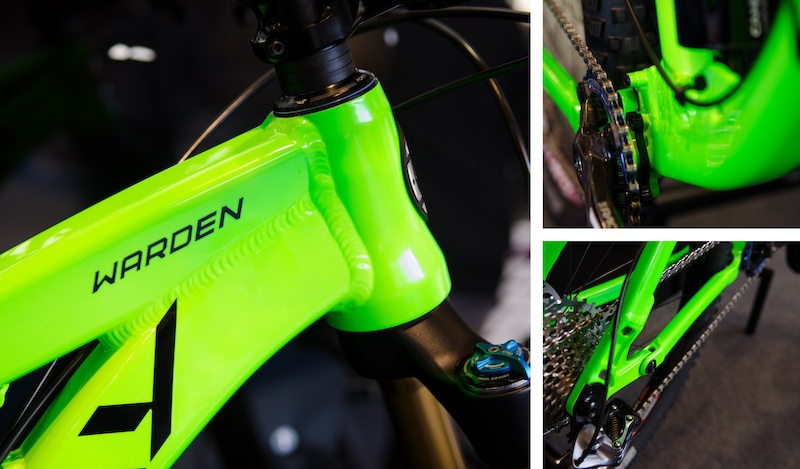 The larger diameter downtube tubing gives Knolly plenty of room to lay out clean welds to join the tapered headtube to the rest of the frame. A 12x142 rear through axle and removable ISCG mounts ensure the Warden meets with the current must-have design standards.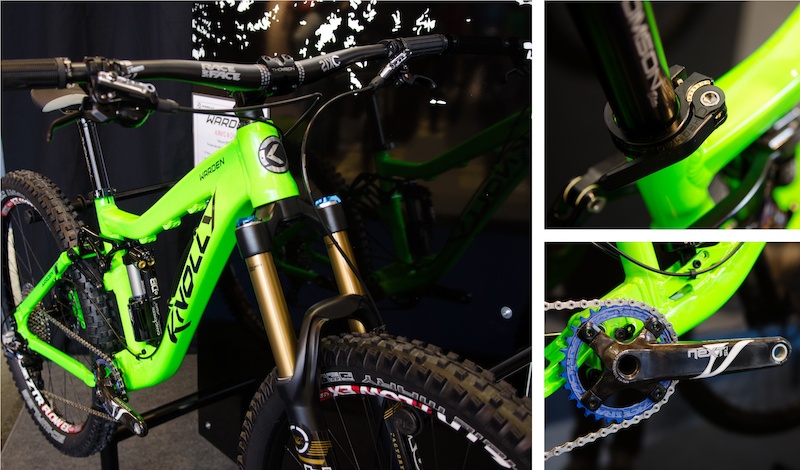 Knolly's BC roots showed through in the Warden's build kit, with a healthy selection of Race Face components and a Chromag seatpost collar.
www.knollybikes.com