Five Ten's Impact shoe was in dire need of a makeover, as new sleeker offerings from other manufacturers were making the classic flat pedal shoe look a little dated. For 2014, Five Ten has done just that, putting the shoe on a diet and coming back with a revised design that is lighter, offers more toe protection, and is much quicker drying. The updated line of shoes will be called the Impact VXi – shoes with the VXi (
shorthand for Five Ten Innovations
) designation are the company's most full-featured offerings, with no corners cut to offer the highest performance possible. In addition to the flat pedal specific Impact VXi, Five Ten also revealed a version for clipless pedals, as well as a Freerider Kids shoe for all the hard-charging groms out there. All of the shoes are expected to be available by March 2014.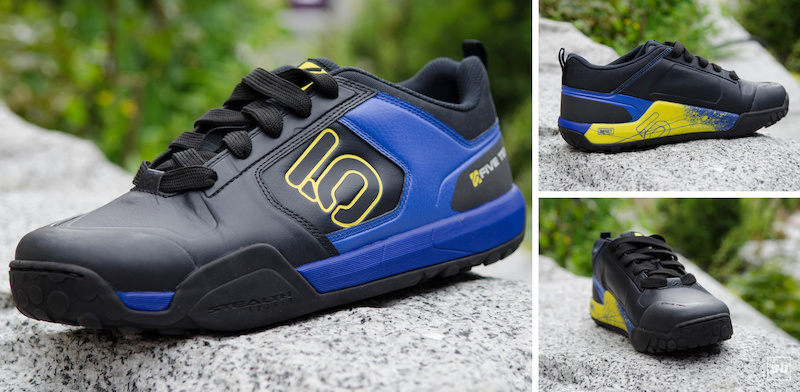 Impact VXi
The flat pedal specific Impact VXi will be available in the blue Sam Hill edition shown above, as well as in a black and red colorway. The shoe uses Five Ten's Stealth Mi6 rubber, a compound that was originally developed to help Tom Cruise run on glass in the Mission Impossible 4 movie. In addition to offering excellent grip on smooth surfaces, the Mi6 compound also has better cushioning than previous versions, helping to absorb impacts and filter out vibrations from the trail. Hydrophobic foam is used throughout the shoe to improve drying properties, another welcome improvement for riders who ride in wet weather. MSRP: $140 USD.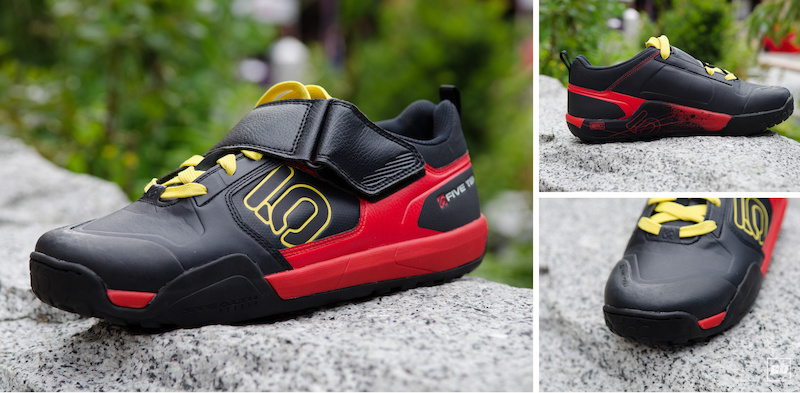 Impact VXi Clipless
Like the flat pedal Impact VXi, the Impact Clipless is lighter than ever before, weighing 30% less than Five Ten's Hellcat shoe. It shares many of the design features with the flat pedal version, including the use of Mi6 rubber, an EVA midsole, and hydrophobic foam. A strap over the top of the shoe protects the laces along with offering further adjustability. The cleat mount on the bottom of the shoe has been extended 20mm further back, which lets riders who are accustomed to riding flat pedals have a similar foot position when running clipless pedals. The Greg Minnaar pro model is shown above, and there will be two additional color offerings, black/red and a black/grey/red version. MSRP: $180 USD.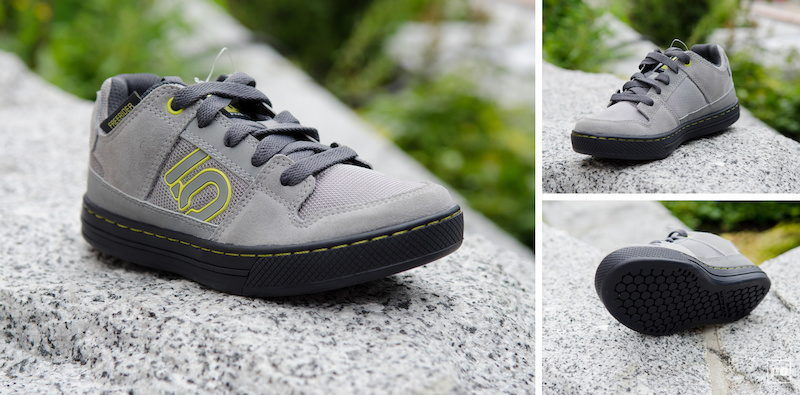 Freerider Kids
Today's little rippers are riding harder than ever - just witness the incredible skills of Whistler's
Jackson Goldsone
and
Finn Finestone
who helped inspire this shoe. The Freerider Kids uses the same Stealth rubber compound found on the adult-sized Freerider, and will be available in three colors in kids' sizes 10-3. MSRP: $70 USD.
www.fiveten.com