The 2009 Fluidride Cup is returning with a 7 event series including Kellog, Idaho's Silver Mountain resort making it a true 3 state NW gravity series. Attendance is expected to shatter last year's records as many new comers can find tracks suitable for all skill levels. You'll ride up with Maxxis' Luke Strobel, Transition's Lars Sternberg and last year's Pro Mens Champion Bart McDaniels but I doubt you'll be going down the course with them.

Will dissolving the 'semi-pro' class change things? You bet! Welcome to another season of gravity racing!


2009 Race Schedule
*this schedule is subject to change due to weather and other considerations.
Race#
Location Date
FR Cup 1 Port Angeles, WA. April 3rd - 5th
FR Cup 2 Port Angeles, WA. May 1st - 3rd
FR Cup 3 Silver Mt, Kellogg, Idaho June 12th - 14th
FR Cup 4 Mt Hood, OR. June 26th - 28th
FR Cup 5 Mt Hood, OR. July 10th - 12th
FR Cup 6 Port Angeles, WA. August 21st - 23rd
FR Cup 7 Mt Hood, OR. September 25th - 27th
Just like last year, nDub Productions and Petr Kakes of Hurricane Racing will be handling the race timing and course. You have to get your new USA Cycling License and permits to enter. There's been a long list of added sponsors to the ones that supported it last year. I haven't got the finalized listing to show yet. But stay tuned for many more updates here on Pinkbike.
For a review of last years races check out the following videos
:
Fluidride Cup #1

-

Fluidride
#6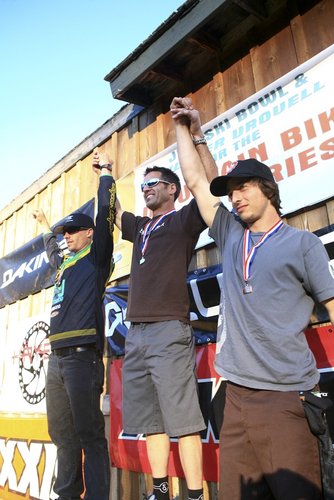 2008 FR Cup Pro Mens Podium
For registration and details-
go here
. (note: As of this writing- it was still 2008 information- don't fear- that page will be updated very soon!)
To get your USA Cycling license and permits,
go here.
To closely follow the FR Cup's details and news- the Fluidride Cup website is
right here.
I just started the 2009 Fluidride Cup thread
right here for discussion.
Did I cover it all? Will Luke Strobel beat 40+ year old Bart McDaniels? Will the former 'semi-pro's' make things interesting in the pro class or will they 'sand-bag' the Expert class? Let's chat about racing.
-
northwestdhdad.pinkbike.com/