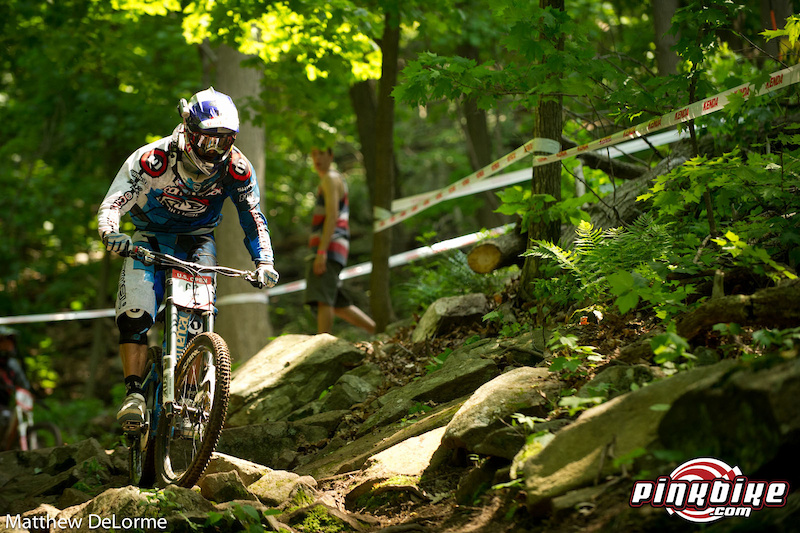 Gee Atherton did an early morning practice run at the US Open with this prototype inverted Fox fork bolted to the front of his Commencal. While Fox was tight lipped about the fork, being sure to emphasize that it is still quite a ways from being a production unit (if ever), they were kind enough to share some interesting information with us.

- While the fork is currently without a name, it is part of Fox's Racing Application Development (RAD) program that, as the name suggests, consists of products developed specifically for competition. There are about 15 different projects that currently fall under the RAD program umbrella .

- Fox is keeping mum on whether or not they plan to produce an inverted fork for the public, but Pinkbike is willing to say that that must surely be the goal down the road.

- Fox has actually been testing an inverted chassis for well over a year now, possibly much longer than that even.

- Word from Fox is that there are perhaps a dozen examples of this prototype inverted fork currently in different stages of testing

- Fox is evaluating many different spring combinations, including both air and coil, as well as a coil sprung and air assisted unit.

- They were not willing to comment on the damping internals being used, which most likely means that you won't find a standard FIT RC2 cartridge inside of Gee's fork.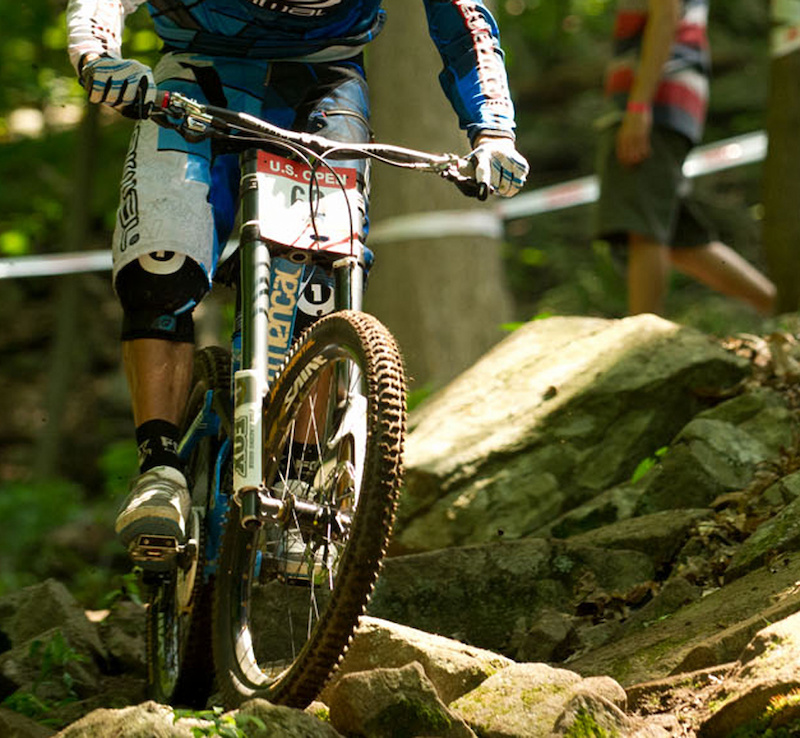 While much is still unknown about the prototype fork, looking at this photo does tell us a few details. It seems to use a standard sized 20mm thru-axle, as well as Kashima coated tubes to help it slide smoothly. An adjuster, one that looks nothing like what is used on standard 40's, can clearly be seen at the bottom of the drive side fork leg, and the upper tubes seem to have an external taper to them, increasing in size as they reach the fork clamps.
Massive news from Fox. While the inverted slider is still obviously very much in the prototype stage, they were confident enough in it to let Gee put in a practice run at the US Open for all to see - that speaks volumes. There are many advantages to an inverted chassis, including less unsprung weight that allows the wheel to track the ground better, as well as far more fore/aft rigidity. The old argument of inverted forks having less torsional flex needs to be thrown out the window as it is far less relevant than most believe. Keeping in mind that the fork is well into its travel when being ridden, which stiffens the inverted chassis up greatly, the cliche test of pinching the front wheel between your legs and twisting really has no bearing in real world applications. It is also interesting to note that many forms of motorized sport actually build in a degree of lateral flex to allow the wheel to follow the smoothest line through a section - especially when leaned over in a corner - which allows it to track better in the rough. While the upside down versus right side up argument could go on forever, we're wondering just what special internals are inside of Gee's prototype fork. Is it filled with an evolution of the FIT RC2 damper, or something completely new and unexpected. Is his fork air sprung? Regardless, it is great to see Fox working hard to develop and push the equipment that some of the best riders in the world use, because it means more advanced suspension for consumers down the road.