The raw truth - why most of us are reluctant to flesh our ideas into tangible things - is that in the end, the knowledge gained through the creative process teaches us that we could have done it better. It is a bitter pill that must be swallowed in secret, because advertising the faults of our newborn accomplishments would surely damn them to failure. It is for this reason that the truly creative push forward and rarely peer over their shoulders to admire their handiwork.
- Anonymous
Wednesday, April, 17, 2013
is a special one for Bob Fox. The founder of the company, best known to the mountain bike community as Fox Racing Shox, is shaking hands with some of the greatest names in cycling and motorsports. We have assembled to celebrate the grand opening of the Fox Museum, located in the foyer of the company's Scotts Valley headquarters. Outside, the parking lot is adorned with off-road race cars and Trophy Trucks and inside, a parade of suspension components, mountain bikes, motorcycles and snowmobiles trace the timeline of off-road racing history from its seminal roots in the 1970s. Over thirty years of suspension innovation in one place – the museum is a compelling visual journey of success and of failure, and of the courage to create.
Bob Fox talks about 'we' and begins the stories of each fork and shock with the names of their inventors as familiar as family. He quotes key contributions by competitors as easily as he describes the inventions he attributes to his team at Fox. Bob's technical understanding of suspension and of the way mechanical things work lies far beyond the reach of most, but his brilliance is masked by a childlike curiosity for that which lies beyond the scope of his knowledge. It becomes clear that, while the man is visibly proud to see his legacy compiled into one display, the soul of Bob Fox is off working on a future project. It always will be.
---

Bob studied engineering and physics in college (top). Bob checking
the rear-set center of gravity of his and brother Geoff's record-
setting C-class dragster. Preparing to race his Maico motocross
bike during the pre-Fox Suspension era. Fox photos

What are the proper names for Fox suspension? As we understand it, Fox Factory is the parent, and Fox Racing Shox is the bicycle brand under Fox Factory.
The company was registered and incorporated in California in 1978 as Fox Factory, Inc. We started using the words 'Fox Racing Shox' in the early '80s. Depending on the context, we've used this either as a DBA name for the company, or as a description or brand for our products. It is not in any way specific to only our bicycle products. We've used it extensively in all our markets. We began using 'Fox Racing Shox' several years before we got into mountain bike suspension - in fact before the market existed.




Fox began, as we understand it, as a vanguard motocross suspension company when the technical development of the bikes seemed to be all over the place. Paint us a picture of Fox in the early days.
My brother Geoff (founder of Moto-X Fox, Inc. in 1975 - now Fox Head, Inc.) introduced me to motorcycles in the early '70s. I started racing amateur motocross. In 1973 the Long-Travel Suspension Revolution for motocross bikes began...

The advantages of longer travel were soon obvious to all. But the best designs for achieving it - shock absorbers, suspension linkages, etc - were not. A lot of different ideas were tried over the next several years. There was a steep learning curve to climb. It was a time of great flux in motocross suspension, and it turned out to be a golden opportunity for me. As an amateur motocross racer, I had an up-close and personal familiarity with the long-travel problems. As a mechanical engineer, I was excited at the challenge of trying to design a better shock. I was fascinated with the idea of using an air-spring shock design to help prevent bottoming out and to make adjusting spring rates as easy as changing the pressure in a tire.

I got the basic air-spring idea from seeing prototype air-pressurized shocks on a few Honda factory bikes, as well as on CZ brand motorcycles circa-1974. I did my first shock designs in 1974. I machined parts on a manual lathe in a friend's garage and tested the shocks myself, along with the help of professional riders, including Brad Lackey. After about a year of development and some very encouraging rider comments, I decided to go into production of the first Fox Airshox. I joined my brother's company in Campbell, California. We sold 200 pair in 1975. However, by mid-year 1975, I realized the design needed to be further improved. A new dual-pressure design was developed and went into production in 1976. Ken Howerton won the AMA 500cc National Motocross Championship in 1976 using Fox Airshox on his Husqvarna. Marty Smith did the same in 1977 on his factory Honda using Fox Airshox. Sales exploded to over 10,000 pairs the year after that. Those back-to-back Championships truly launched my suspension career and the company. Fox Factory, Inc. (AKA 'Fox Racing Shox') was incorporated in 1978 in California.

You, and your brother Geoff, both own corporations that share the Fox name. How does that work?



It has caused a degree of confusion out in the market and among customers. More than we (I think I can speak for both companies here) would like. Both companies are always happy to support the media in any way needed to help minimize the confusion - by, for example, clearly identifying and describing the relevant company in any articles. The confusion is caused, not only by the fact that both companies include 'Fox' in the name, but also because we literally worked out of the same building - and after we had incorporated separately, all of 'my' shocks still continued to be marketed and sold through Geoff's company (Moto-X Fox) for a few years.
We would like to think that the distinction between the two companies should be fairly clear nowadays. 'My' company is primarily in the suspension business, and Brother Geoff's company is primarily in the action-sports clothing and protective equipment business (helmets, boots, etc). However, there is still more confusion than desired.

Fox diversified into other forms of off-road motorsport before the mountain bike came under your scrutiny. The physical differences between suspending a 4,000-pound Trophy Truck and a 19-pound XC bicycle seem irreconcilable. What motivates Fox to enter a particular market and how does it stay on top of such a wide landscape of suspension products?
When I started the company, our business was 100-percent motocross suspension. However, within five years, we found ourselves 'forced' to diversify into other markets in order to survive. We got into off-road trucks, road-racing cars and motorcycles, then into the snowmobile and mountain bike markets, among others. The cool thing is; although the weights and dimensions of the vehicles in the markets we serve vary greatly, the same laws of physics apply to all. For example: the classic F = ma (force equals mass times acceleration) is always valid. And good suspension is mostly about properly controlling motion. I suppose that's a bit of an over-simplification, but there's also a lot of truth there.


Fox Factory successfully diversified into a wide range of motorsport racing venues, including snowmobiles, Trophy Trucks and ATVs. Mountain bike suspension turned out to be one of its most challenging products due to the cyclist's low power output and the demand for extremely light weight components. Colin Meagher photo


Although we were originally 'forced' to diversify into other markets besides motocross, we are now actively on the lookout for new markets where our racing heritage may offer an advantage. We find that involvement in many different markets broadens and strengthens us technically. We sometimes learn something new in one market that has application in a different market. We call this 'cross-pollination' - which we consider a major advantage of working in diverse high-performance markets. Notice the qualifier 'high-performance.' That's important. We don't want to waste our time making 'commodity products' for markets where a 'commodity product' is good enough - and all that matters is the lowest possible cost. That's not what we're interested in, that's not what we're good at, and that's not what we want to do.

Although there are many 'common denominators' regarding good suspension design and performance in various markets, there also are unique differences sometimes. A perfect example is the mountain bike. The mountain bike is the only vehicle we deal with that uses human power for locomotion. That, as we all know now, makes a huge difference for suspension design. Shocks and forks with various lockout features, inertia valves, etc were the result. Also, designing for very light weight took on a priority beyond anything else we had done.




Fox's first production shock was the air-sprung 'Airshox' (left). Their first production motocross racing fork (center) was a great performer, but did not fare so well in the Japanese-dominated market of the time. Fox developed the tiny ALPS-1 air-sprung damper for Cannondale - its first OEM mountain bike customer. Colin Meagher photo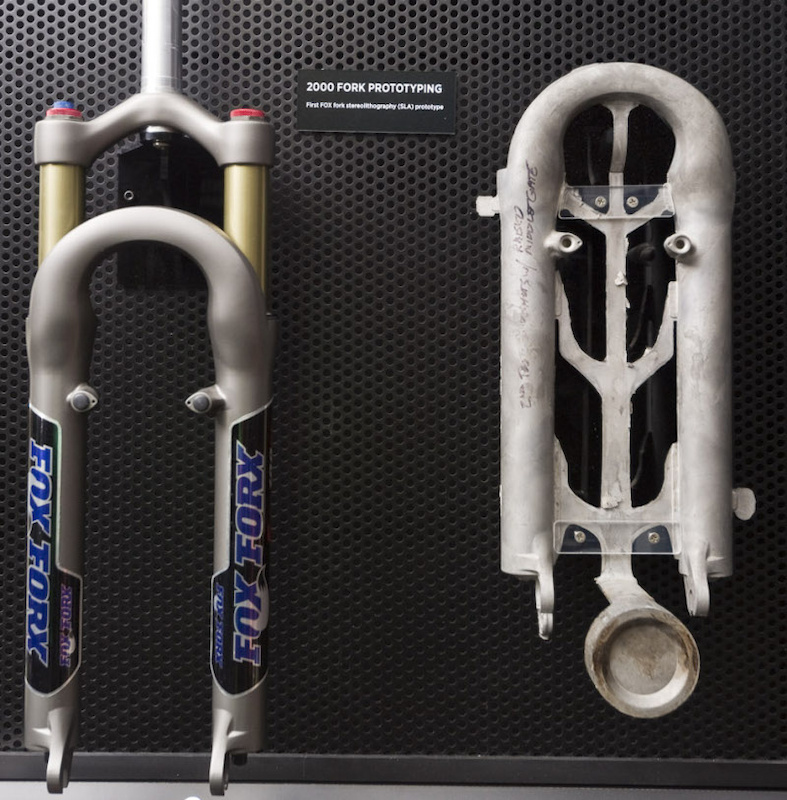 Fox had to develop larger standards for stanchion tubes, new
crown construction and to perfect methods for casting one-piece
magnesium sliders before it could put its first mountain bike fork
into production. - Colin Meagher photo

Like motocross in the '80's, the mountain bike was also in a period of rapid and erratic development when Fox Factory entered the fray with an air-sprung shock. Candidly, what was the status of mountain bike suspension at the time?
As you know, we got into mountain bike rear shocks early on. But we didn't get into mountain bike forks until 2001. We were what business-school guys would call a 'late entrant' by at least ten years. I would say a lot of interesting and innovative development had occurred in forks prior to Fox's entry in 2001. I personally followed it closely and with much interest. I admired some interesting fork concepts that were developed in the 1990's. In many ways, I would say that bicycle suspension design in the 1990's was similar to the Long-Travel Revolution in motocross from 1973 to the early '80s. A lot of different ideas were tried. Everybody was sure that mountain bike suspension was the future, but nobody could be sure of the best designs to achieve it. It wasn't until 2001 that we felt we had the resources and engineering talent we needed to produce a leading-edge new fork. Our philosophy is to not introduce a new product unless we believe it can be the best in its category

At the time Fox developed its first suspension fork for production, top suspension brands were focused almost exclusively upon racing development. Fox, however, entered the market with a sturdy, longer-travel fork, aimed exclusively at the trail rider. Later, Fox repeated that scenario with the 36-series fork when there seemed to be no call for a long-travel, downhill-capable, single-crown fork from major bike makers, and no forum of competition for it existed. Give us some history on those two successful chapters in the story of Fox.
Hmmm, let's see... When we first made motocross shocks, the only thought was to produce them for sale in the aftermarket. I never thought about OEM sales. The aftermarket looked plenty big to me and besides, most of the OEM's were in Japan. But, for mountain bikes, we immediately got involved with OEM's. Cannondale was our first major OEM; they ordered a large quantity of rear shocks in, as I recall, 1992. Specialized and Trek weren't far behind. So, when the time came to develop a fork we never considered developing one for sale just in the aftermarket. It was clear that the OEM's were always on the lookout for an improved fork to spec on their new models - so there was a ready and waiting market.
One of the things we did was a very detailed mathematical analysis of strength, rigidity, and weight for different fork tube diameters. Other forks at the time had tubes no larger than 30 millimeters, but we determined that a new 32-millimeter fork design could give a significantly better combination of high rigidity and low weight. That's what we came out with, and it was an immediate success. We of course worked with professional mountain bike riders to help with the development and marketing of the new fork. I believe Brian Lopes was one of the first top pros that we worked with.
Regarding the 36 mm fork; I would say mountain bike fork development was still in the "Long-Travel Suspension Revolution" mode like we'd seen in motocross before. Still, a lot of evolution and development [taking place and] not stagnant. So - we'd rather lead a revolution than be a follower. So, as mountain bike racing evolved and developed we felt this was a logical next step in fork evolution - so that's what we did.

Looking from the outside in, Fox established itself firmly in the trailbike and OEM markets well before setting its sights into racing with the development of the 40 downhill fork, DHX shocks and XC-competitive Float forks and shocks. This seemed like a reverse strategy for Fox, which had always been a racing-driven company. How did those decisions come forth?
I'd say this goes back to the previous comments about our basic decision to go straight for the mountain bike OEM market - the largest was the trailbike. We felt the fork industry was somewhat in flux at that time. We wanted to seize the opportunity and gain market share quickly.
| | |
| --- | --- |
| | I'm semi-retired now and only go in when I want to. At age 73, that's the way I want it. I still enjoy going in and working with the engineers on new projects. My favorite things are trying to solve tough engineering problems, and trying to come up with really creative solutions. |

Those inside and outside Fox consider you to be a remarkable innovator and engineer. What was your involvement in the design of Fox suspension throughout the history of Fox Factory?
For the first few years I did all the design engineering. Motocrosser and production engineer Mark Jones joined in 1976 and took responsibility for much of our production for several years. Another motocross enthusiast and really good design engineer by the name of Bob McBroom joined around 1977 or 1978 and did most of the design work on the 44 mm Fox Forx we came out with then. For most of the '80s, business was down and I did most of the engineering again, including design of the Twin-Clicker shock.
Since the late '80s, we have been growing and adding engineers. Especially since the year 2000, we have steadily added engineers. I consider myself semi-retired now, but design engineering is still my favorite activity when I do go into work. We have dozens of talented engineers doing our designs now, but I still enjoy reviewing some of the new designs, offering ideas, and trying to solve problems.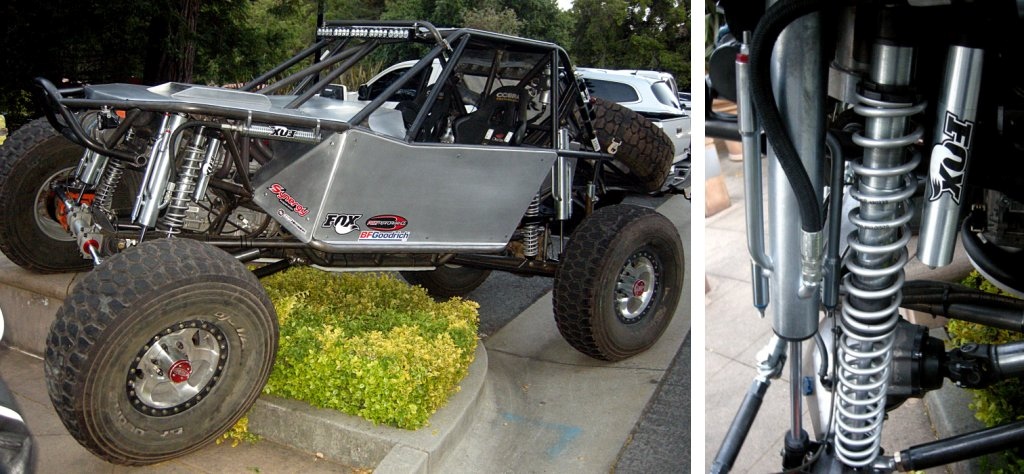 Radically different from anything we'll see in the mountain bike world, Fox's long-stroke off-road racing shocks displace a huge volume of suspension fluid, so they utilize a number of bypass tubes welded to the outside of the damper tube. The bypass circuits are placed at different levels in order to make the damper position-sensitive. Each tube has its own adjustable valving. The two-stage spring is mounted to the suspension separately from the damper assembly. RC photo

You were among the first suspension designers to invent a successful air-sprung shock for motocross. You launched air-sprung suspension for the mountain bike and then returned to develop coil-sprung forks and shocks for DH and freeride. Can you comment on the trend towards air-sprung suspension for downhill and long-travel applications?
We continue to evolve our air-spring designs. I haven't personally ridden our newest air forks. However, I'm told that the improvements we've made in the spring curve are very noticeable - and are being enthusiastically received by top riders.

Recent Pinkbike polls have established Fox suspension as the favorite among mountain bike enthusiasts. What do you feel is the most important aspect of Fox that contributes to its dominant position? What does Fox bring to the customer that may explain its popularity?
I think customers who buy Fox want to buy and own the best, and feel confident that that's what they are getting. We take pride in producing the highest-performance, highest-quality suspension available. That's what our customers want. That's what we give them. We have a plaque in our lobby just outside the new museum, titled, 'Who We Are...' I think it captures why customers buy our products.

Mike Schultz talks to guests at the Fox Museum opening night beside his moto. Schultz lost most of his leg to a sledding accident and, after designing a Fox -suspended prostheses, returned to action sports. The leg is aluminum and carbon fiber, with a number of air-sprung articulating joints that recreate the feedback and feel of the lost appendage. Colin Meagher photo
...Many of us at Fox have a racing background.
We race motorcycles, mountain bikes, or other vehicles.
And when we race, we want to win.

Those same instincts motivate us in business.
We want to make the best products.
We want to be successful.
We want to win.

That's who we are.

- Excerpt from Who We Are

January, 2008, Fox announced that it had partnered with Compass Diversified Holdings, presumably to expand and to strengthen Fox's presence in the mountain bike market. How did that transaction work out for Fox so far, and how did it affect your role at Fox Factory?
In one word, 'terrific!' The company is stronger and better, and has more than doubled in size since Compass took over in 2008. New product development has never been greater. Our presence and popularity in the mountain bike market continues to grow. My role? I'm semi-retired now and only go in when I want to. At age 73, that's the way I want it. I still enjoy going in and working with the engineers on new projects. My favorite things are trying to solve tough engineering problems, and trying to come up with really creative solutions. I'm also on the Board of Directors and attend all meetings.

Fox seems to have struggled a bit with industry partnerships. The Specialized Brain shock was a revolutionary concept that you personally worked quite hard on, and it was a success. The Brain-equipped Specialized Enduro fork, however, was a disaster. Trek's hybrid-spring 40 fork and its DRCV shock were both winners. The Fox collaboration with Shimano to launch the 15QR through axle standard proved to be well timed despite some push-back from the industry. Now, Fox is again collaborating with Shimano with electronically controlled suspension. In a perfect world, would you rather go it alone? How beneficial are technical partnerships?
In a perfect world, you bet - I wish Fox could come up with all the great ideas and the great designs alone. But - good as I believe we are - that's not likely to happen anytime soon. So, technical partnerships have an important role in furthering innovation and technical development that, ultimately, benefits the consumer and the sport. I think the trick is doing it well - finding and working with a trustworthy partner who adds value, and developing a technical partnership that is balanced and fair.

Electronically controlled suspension is used throughout motorsport racing and in many applications on production vehicles. How do you perceive its potential use in the mountain bike's future?
I can't imagine it NOT being part of the mountain bike future. The smarter the suspension, the better job it can do - at least in theory. The main downsides are cost, complexity and resistance to change - 'tradition.' I think those barriers will diminish as time goes on.

It would appear that mountain bike suspension has evolved to a high level of both performance and reliability, what is the possibility of a game-changing breakthrough in suspension technology happening in the near future?
I don't think there will be any 'game-changer.' I think there will be evolution. I could be wrong, but I can't imagine what it might be. Of course, if I could imagine what it might be - I wouldn't be willing to talk about it!

Looking back, and perhaps into the future, what is the contribution to the sport that you are most proud of?
The inertia valve shock and fork designs. Next, probably the DHX shock design and the TALAS shock design. Then, the Twin-Clicker design back in the early '80s.
---
Must Read This Week