From the Top:


CARTER HOLLAND
For this edition of Pinkbike's 'From the Top' we interviewed Carter Holland, the owner of Black Market Bikes. Carter has been a fixture in the bike industry since the late nineties, and over the last nine years has helped evolve Black Market into the brand it has become today. He's no slouch on a bike either, equally at home at the dirt jumps, the skate park or the trails. We spoke with Carter to find out more about the path he took to go from being a police officer to bike company owner, as well as what the future holds for Black Market Bikes.

What was your childhood like? Have you always ridden bikes?
I grew up in a Volkswagon van – my dad was a hippie. I had kind of a crazy childhood – I didn't meet my mom till I was 11. I've been riding bikes basically since I was four years old. My dad taught me how to ride on a little 10 inch, hard wheeled bicycle; it looked like a little motcross bike. I've been riding pretty much my whole life, but I've had times when I didn't ride – military, or skateboarding, those kind of things.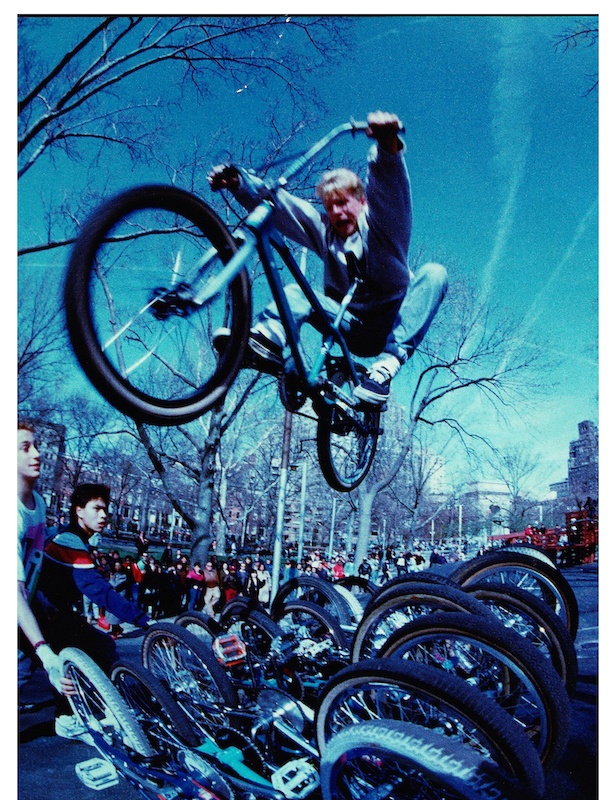 Carter getting rad in New York City.
My first mountain bike was a GT Karakorom, all steel, and I rode it one day in the mountains and then went home and bought a Univega something-or-other with an AMP fork that used to rip the knobs off my tires. I rode that bike for a long time, and then I raced downhill, all through the Big Bear days. I had a Foes Weasel, I raced Hannebrink forks. I have a lot of history mountain biking, but BMX was my love. When I moved farther away from the mountains I just rode Sheep Hills, and it was easier to do that. At that time most bikes sucked – it didn't make sense to go out and spend money on anything except an Intense, which I couldn't afford. Later on, mountain bikes started coming my way through Tara Llanes - Giant used to hook me up with bikes because I would do her component switch overs so they wouldn't have to send her bike to Colorado, and in change I would get frames, which let me go mountain biking. That opened my eyes to places like Whistler, and learning how to turn. I had a cutty track, me and Jared Rando built one, and I discovered that flat turns were one of my favorite things to do.

What were you doing before you were a bike company owner? How did you end up owning Black Market Bikes?
I went into the military when I was 20, actually I was 19 when I signed up, but started right when I turned 20. I did five years in the Marines - I was an airframes mechanic and door gunner on CH53E helicopters during Desert Storm and Operation "Restore Hope" in Somalia. After that, I was a police officer for Chino PD for two years, and then went into the concrete business. I owned a concrete pumping business and lugged around 100 pound concrete hoses when they were empty...that's why my hands are so messed up.
I've always been a bike rider, and in my late twenties I was riding a lot, getting some support from S&M for racing and stuff. I had ridden a mountain bike brand called Storm, and really liked how those bikes rode. BMX bikes were getting steeper and harder to ride, so we redesigned the S&M cruiser, and that was the first bike I ever had a hand in designing. It was really well received, and I ended up doing a drawing for Tara Llanes for her personal frame. She really liked the bike, but by that time she'd starting riding for Yeti, so I ended up riding on the bike I'd designed. That gave me a really good idea of what my geometry felt like.
I started trying to find a bike to buy, and went through about two years of buying frames that sucked, and the final straw was when Avent sent me a Jibster. I built it, stood back and looked at it and just started laughing. I called Moeller (
S&M CEO – Ed.
) up and said, "Dude, you need to make a 26" dual slalom bike," (back then dual slalom was big). I convinced him to at least come to a race with me, and when he showed up it was a lot different than he thought it was going to be. He said, "I'm not going to make a bike, but if you want to do a brand I'll build your bikes and sell them to you." So basically, that's start of Black Market.
For the first five years S&M funded everything. At the end of those five years I had the choice of taking over the brand or losing it to S&M as others had been lost...but that couldn't happen - it just wasn't going to work. I had to go from being a concrete guy to being a bike brand owner. Kind of a forced option. I love Black Market, I love bicycles and the bike industry, and I'm not lugging around 100 pound concrete hoses.

How many people work for Black Market?
Two (including me). It's just me and Jess Sims, my sales and warehouse guy.

Who comes up with the frame designs, particularly the suspension designs of the Killswitch and the Roam?
The suspension designs are a collaboration between my parameters and Pablo Tafoya doing the design work. Pablo does all the suspension work, and I do all the other stuff. Pablo is the guy that designed the Corsair line, and now the bike that Cam Zink is riding on, the Hyper, which is actually a design Pablo came up with for Corsair.

Where are the frames made?
The Mob and the Edit 1 are made in the US, and the other frames and bars are made in Taiwan, and we make our 31.8 Underboss stems in America, here in California. I cut all the tubing for the Edit 1 personally, and Ryan Robinson, who was S&M's top welder, is doing our frame manufacturing.
Foot out, flat out - Carter Holland berm blasting aboard the Black Market Roam.

Black Market is known as a rider owned company - do you think that riders respect a brand more if they know the owner is passionate about the sport?
I think it helps. I'm still a relevant rider – I haven't gone to that old school thing where I just do one handers.
I'm a bike rider, and it's just that simple. I'm a bike fan. I build things that I like, and that I think we can do justice to. Even the NSF single speed road bike we make – it's a 5.5 pound road bike frame that can take an eight foot drop and you can manual. It's fun as hell – way more fun than any road bike you've ever ridden. I just like making riding bikes fun, to put my twist on it. I'm small, and it really helps for someone small to design bikes because they design "smaller." A lot of other brands just go to a factory in Taiwan and they're buying off the shelf stuff, they're buying off the shelf geometry, and they take whatever design is given to them that somebody who doesn't ride a bike thought was a good idea. I've been to Taiwan – I know what kind of bike riding is done over there, and it's not good. Just go to the skatepark there and take a look.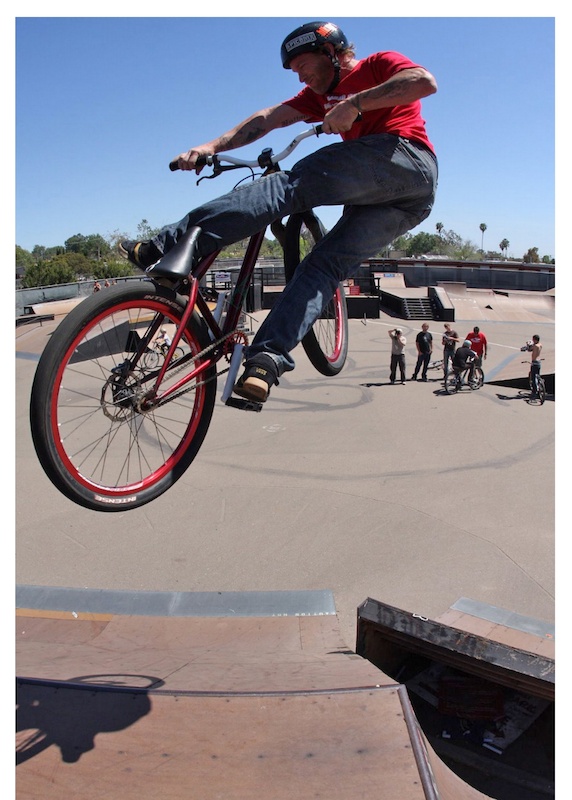 Lookback at the Montclair skate park.

Do still feel like you're progressing?
Every day. The all-mountain riding is so exciting to me because it reminds me of when I first started riding mountain bikes... Every day I go out and ride - I love pushing myself. I'm on Strava, but not to compete with anyone but myself. That stuff cracks me up.

Riding seems to have come full circle – people seem to be rediscovering how much fun it is to go out and actually pedal their bikes.
Yeah, it's cross country riding, but now we have fun bikes. Now the only thing is to convince these guys who are 5'9" and think they need to be riding on a size large that they need to be riding on a small. That way their bike will look the way Steve Peat's bike looks under him, instead of being lost in the frame. I think most people ride bikes that are too big for them. You want to have control over your bike. The trend for longer top tubes seem backwards. I'm 5'6" and I'm racing an extra small Roam with 650B wheels as my downhill bike. With a 50mm stem and 6 inches of travel I'm doing great against dudes on their big-ass downhill bikes, and I'm having fun. Trail riding I ride a size small, but if I really want to jump and have fun in the turns I ride the extra small. If I ride the medium I feel lost in the bike. You have guys that are 5'9" riding a 23.25 inch top tube.

Where do most of Black Market's sales take place? Online, or through dealers?
Through dealers, and BTI. Right now we don't really have a Canadian distributor, we need to find one. For now we'll be selling direct. Our website runs directly through Shopatron, which lets us connect riders with their local shops. We'd much rather have the shops sell to the rider rather that have it come directly from us.

Is the Roam available now? Tell us more about it.
Yes, BTI should be getting them any day now if they haven't already received them. They have about 15 bikes coming or something like that. Ours will start arriving in March or April and they'll be arriving monthly after that. It's really rider friendly. It lets the rider play with their bike in ways that have never been possible before. There's never been a 6" travel bike that someone under 5 feet tall could comfortably ride, let alone set up with 650B or 29" wheels.
Black Market's Roam frame features 6.3" of travel and can be set up with 26", 650B, or 29" wheels.

What does the future hold for Black Market? Any big plans?
Right now the plan is to get the Roam off the ground, and develop a base that will support the brand. When you're selling mainly to dirt jumpers you're selling mainly to kids, you're trying to be the flavor of the week. Right now we're not the flavor of the week. It's hard – for the old school guys and the ones that want a bike that will last forever, we are the choice. For someone looking for a bike just to get them through the season we're not the bike right now. We don't sell a lot of completes, but we do a really cool build kit setup speccing all Profile USA products. We use as many US based brands as we can. We're going to start making some handlebars in the States as well. A lot of brands that have a US made "feel" have never made a single thing in the US. Kids don't realize that, but when they get older they realize the value, and it pays off in the long run.
Ultimately, I want to have my own frame shop. I'm a hands on guy – I've done construction my whole life, I'm not happy unless I'm building something. It's way more fun for me to build it instead of going to Taiwan and watching someone else build it.

Looking back, what advice would you give your teenage self?
I'm really pretty happy with the mistakes I've made. My choices, both good and bad, have led me to where I am right now and I don't think I would change it. I'm struggling, but I own my brand and no one has their hooks in me, which is hard for anyone to say.
Black Market Bikes
Interview by Mike Kazimer