| | |
| --- | --- |
| | Loyalty is everything for me. People I work with understand that and respect it. It's a big part of success - without it, you have nothing. |
Rob Roskopp

is the founder and president of Santa Cruz Bicycles and a damn good bike rider. The man doesn't mince words, especially when the subject is about his bikes. Roskopp has never dealt me a sales pitch in the two decades I've known him and he expects the same in return. The same can be said of the entire crew, from the factory in its namesake city, to the Syndicate pits at the World Cups. Half man, half beast, Roskopp is the best of both - devoted to family, fiercely competitive, loyal to those who earn his trust, calculating when it comes to risk, and courageous when called to decision. While there is no question who is boss, the respect is mutual. The vibe from top to bottom at Santa Cruz is all about making great bikes. It must be, for there is no other way to explain how, against formidable odds, the brand grew from a one-room bike building operation to become a World Cup dominating global business in less than two decades. - RC
- Santa Cruz photo

You were a pro skateboarder with Santa Cruz when it was the most wanted skateboard brand on the planet. What motivated you to jump from the gravy train into a risky proposition like making mountain bikes?
Towards the end of my skating career I found the bicycle again. I bought my first mountain bike in 1987 and starting riding with friends. By the end of the 'eighties, I started riding much more and then entered my first race in 1990. I really caught the mountain biking bug and began competing more and more. At that time in my life, I had to figure out what I was going to do. I went back to school at night and worked at Santa Cruz Skateboards during the day. My partner Rich Novak had become my mentor over the years, so I had learned almost every aspect of the business. I got Rich into mountain biking too, and he asked me one day if I thought making Santa Cruz Bicycles would be of any interest for me. It seemed like a good idea, so I did a bunch of research. Full suspension bikes were in the beginning stages at that time, so it seemed like the best way to enter the market. From there, I brought Mike Marquez into the project and we found a local bike designer by the name of Tom Morris
(creator of the Tazmon, our first model).
We had Control Tech make the first 100 bikes and we were off. Right as we received the first bikes, Hans Heim came on board
(Keith Bontrager's former partner)
and as they say, "The rest is history."

Your first design, the Tazmon, was a three-inch-travel dual-suspension trailbike at a time when the hardtail was king and the emergence of rear suspension was spawning cycling's first generation of haters. If we were a fly on the wall, how would the discussion go when you decided to go with a dual-suspension bike?
To be honest it seemed like the most logical move. Most of us came from some sort of motorcycle background. Mike was a former pro motocross racer, Tom had a lot of motocross experience, as did I. We all agreed it was going in the full-suspension direction. At that time, a lot of bike companies were experimenting with different suspension designs - some worked, most didn't. We went after and developed something straight forward, easy to understand, and something that worked very efficiently. The single-pivot design is still on a number of our bikes today. Pivot placement is key and we found that from the beginning, where others didn't, and that was one of our advantages - the bike worked extremely well for the time and still does today.
| | |
| --- | --- |
| | I remember taking the first production bikes into local shops and seeing the look on some of the dealers' faces when they saw the name 'Santa Cruz' on the down tube. They would comment, "Don't you guys make skateboards?" |

Beginning with a name like 'Santa Cruz Bikes' was probably helpful, but anyone who has tried to break into the bike biz with a new design will bear witness that it is a wickedly hard stunt to manage. When was your first break that put Santa Cruz on the map? Tell us about the moment when you could look back and say: "OK, we are a real bike company now."
Yes, and no. At that time, people knew of Santa Cruz from skateboards. I remember taking the first production bikes into local shops and seeing the look on some of the dealers' faces when they saw the name 'Santa Cruz' on the down tube. They would comment, "Don't you guys make skateboards?" And we would reply, "Yes, we do, but that is our sister company." They doubted us from the beginning, thinking that we made toys and had no clue of how to make a bicycle, let alone a full suspension one. But once they rode the bike, their minds changed quickly. We started sending out demo bikes to the key dealers that we wanted to be with. And that's how it all started - one at a time - word would spread. Then we received some really good magazine reviews and we were off.
I don't think I can honestly look back and say we were a bike company until this past April, when we moved into our new location. When that happened, then it seemed real - almost 20 years later. The whole journey was based on our passion to build the best product we could and live the lifestyle we wanted, not for any other reason. We have an incredible team at Santa Cruz now. Yes, it's a business, but most of all, it is our passion. We love to make incredible bikes.

Which model was the breakthrough bike for Santa Cruz?
I would have to say almost all of them have been in one way or another. We've never made a model that we ourselves wouldn't ride, except one, the Roadster…..I personally will never ride road bikes again. For me they're just no fun, dangerous due to cars, but most of all boring. I need challenging terrain, rock strewn singletrack to get off on.
Some of my personal favorites and milestones for SCB were the Tazmon, Heckler, Superlight, Bullit, Chameleon, Super 8, Blur, V-10, VP-Free, Blur XC carbon, Nomad carbon, Bronson and I'm excited about the Juliana line of bikes.


Santa Cruz milestones: The Bullit (top)
was one of the first long-travel trailbikes -
later to become 'all-mountain.' The original
Blur LTc used carbon for superior strength
rather than solely for its weight advantage -
the V10 would mirror that philosophy. The
carbon Tallboy was SC's first 29er, followed
by the longer travel LTc - both were
successes from the get-go. The Bronson was
the brand's first 27.5" wheel bike. The all
carbon V10c was long-awaited by DH racers.

Santa Cruz has become famous for only producing certain bike models and ignoring huge segments of the market that it could easily exploit for profit. How do you explain this?
It always comes down to what we personally want to ride, period. We have our niche and we don't stray from it.

I remember you telling me emphatically that you were not going to make 29ers. Later that year, when your workers started showing up on big-wheel bikes, you reluctantly changed your story.
Yes, at that time I did say that. Problem was, at that time any of the 29'ers I had ridden were terrible - so much so, that after we had ridden a big variety of what was considered good at the time, that in my opinion, were not, I almost cancelled the entire project. We spent a long time developing the Tallboy to make sure it was a great bike. The suspension kinematics are very different on a 29'er compared to a 26-inch bike. But we did figure it out and I think the rest of the story speaks for itself. Again, it comes down to making a great product, regardless of wheel size. Wheel size doesn't matter. Now there is a choice for the customers to ride what suits them best. It's all about the performance of the product.

When Santa Cruz first developed into a business, you and the employees seemed very much like an extended family. Later, as Santa Cruz grew into a global corporation, you had to make the inevitable transition from leader of the pack to CEO. Can you tell us about some of the challenges you and SC faced during that transition?
This is true, it was inevitable …has to be, but I think we still have a family style feeling at SCB. We tend to do things a bit differently, which is good. There have been many challenges along the way……managing growth is a big one, don't want to grow too fast, or too slow, need to find balance. I think that finding balance is the hardest thing, along with managing people. The key is having a solid management group, and we have that in place, we have for some time. The other biggest challenge is delivery, probably the hardest thing in our industry to be good at. Over the last three years we've gotten much better at it, but this year it's slipped away somewhat due to the demand on new product that we didn't expect. But we are getting a handle on it, we have to.
I think our biggest challenges are yet to come.

Santa Cruz decided to maintain its local assembly and shipping system for its complete bikes at its new factory headquarters. Why did you decide to keep the final frame checks and assembly in house, instead of moving those steps off-shore like almost every other bike brand?
We have done this for a number of reasons, flexibility, quality control and customization. Most bikes we ship out are custom due to all the various options we have, so it made sense to keep everything in house. We make the highest end product and at that level the customer needs choices, they want options, more customization.

Santa Cruz purchased the rights to the VPP patent in September of 2000, during mountain biking's dark period, when every bike maker was mired in some form of patent litigation related to suspension design. Care to make a comment about those issues?
We had been in business for six years at the time. I felt we needed something better. I've always wanted to make the best product, so I began testing various suspension designs. I asked Neal Saiki, our engineer at the time what he thought was the best design in his opinion, he mentioned the Outland VPP design. So not really knowing what had happened with the company I began searching them out. I finally made contact with them and got a few bikes to try out. At that time I had narrowed it down to two systems, the other was Maverick. Obviously, we bought the VPP patents in the end, but the decision came down to overall performance and scale. We could design a whole range of bikes with VPP, but the Maverick was limited in that way, with the shock-strut design. It was going to be very hard to make a DH bike with it. I think the Maverick rode incredibly well, but the VPP was a better performing system/application overall.

Unlike most suspension patent holders, Santa Cruz chose Intense Cycles - a competitor - as a partner to share the VPP patent and to co-develop the technology. Why would SC do that?
We chose Intense because of their reputation. VPP needed to make an impact when we brought it back. Our engineers plot out the pivot points, then we give those to Intense and Jeff does his artistic touch, that's how it works. We've always been in the background, but our guys design the brain of the bike. The system had so much potential, but Outland fell short in that department with poorly designed pivot systems. We spent years developing this system now, it works incredibly well. Our pivot system today is the best in the industry, bar none, ask any shop mechanic.

Your sponsorship programs have been 'creative' enterprises so put it lightly. Blind Bobby, Cedric Gracia, the original All Ride clinic – just to name a few. The Santa Cruz Syndicate began as a sort of developmental and demonstration team – and now it is one of the most formidable monsters on the World Cup DH circuit. It seems to work, but do you have a plan, or is Santa Cruz a sort of pirate ship, seeking sponsorships of opportunity?
I have never liked putting all my eggs in one basket. I like to work with personalities, Bobby is an incredible person - to go through what he has in life is simply incredible. Bobby always has a smile on his face, despite going through extreme medical conditions. I've never met someone so positive in my whole life. I can't say how incredible a person he is.
Then there's CG - pure Rock Star. Pure adrenalin. Incredible rider - on every discipline. Crazy, but at the end of the day, a very humble person. His fans love him!
I started the Syndicate because racing is my passion. I've competed throughout my life, be it hockey, BMX, skateboarding, snowboarding or mountain biking. I've always disliked calling an individual sport, a team sport, it isn't. Originally we started out with riders from different disciplines, downhill, freeride, marathon. But the Syndicate has evolved and I've focused primarily on my passion, downhill. Today we are evolving again, and taking on enduro. I've been fortunate to work with some of the greatest riders of all time, Nathan Rennie, Kirt Voreis, Cameron Zink, Jaime Goldman. And today our roster includes the greatest riders of all time: Steve Peat and Greg Minnaar. Then there's Ratboy, Josh Bryceland, incredible talent with great things to come.
The Syndicate is a family. I always treated it that way - it works. I take my family to many of the races. We are a close-knit group. We enjoy each others' company on and off the race circuit. I have to thank a few people for making this possible: my wife Lepa, Kathy, Doug, Jason, Ricky Bobby, Tom and the whole crew at Santa Cruz, thanks for sharing - one life!

Loyalty seems to be a theme throughout Santa Cruz. Many employees have been there since day one and SC seems to keep both its workers and its athletes for life. How did that philosophy take root?
Loyalty is everything for me. People I work with understand that and respect it. It's a big part of success - without it, you have nothing.

You are a pretty good bike-handler. What is it like to ride with the likes of Peaty, Greg and Rat Boy? Do they push you hard or do they cut you some slack?
Ha! I'm an old man now, so I have to watch it. It's taken me a while, but when riding with the boys, I don't let them get the best of me. I've had enough injuries in the past. I've learned my lesson.
| | |
| --- | --- |
| | The Syndicate is a family. I always treated it that way - it works. |

How does your family fit into the bike adventure called Santa Cruz? Do they share your passion?
They have from day one. Lepa and I ride often. Mountain biking is her release, her passion too. My kids ride once in a while, but they love traveling with all the racers. It's always entertaining for them. Like they say: "Behind every good man, there is a great woman"

Tell us about the nearly overnight redesign of your 26-inch models to 27.5. What motivated SC to make the switch in such a convincing manner?
It really comes down to building the best product. 27.5-inch wheels are slightly better than 26-inch wheels, so it allowed us to design a better product. It's really that simple. Whatever it takes to make the product better. It's another tool in the toolbox - use it.

Santa Cruz was heavily invested in cutting-edge aluminum designs since day one, yet SC has been pushing carbon fiber as the material of choice since its Blur XC. What did you learn from the Blur XC that caused your focus to switch from aluminum to carbon?
Like I said: "Use the best tools to make the best product." It's all about performance, and building the highest quality bike possible! Carbon is the best material now, that can make the lightest and strongest bike.

Santa Cruz has been known for testing left-of-center ideas in secret to gain a future performance advantage. The carbon DH wheel program with Enve was one. Tell us a few stories, if possible, about pre-production moments that have gone good and bad.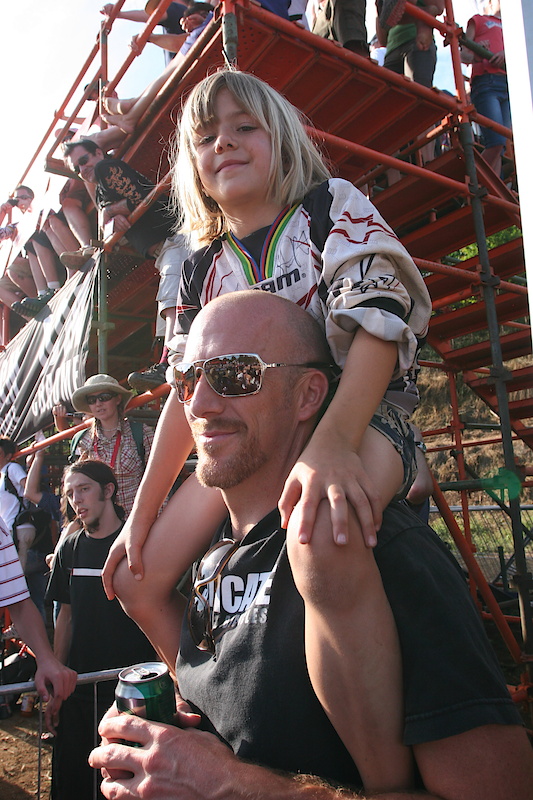 You can't move forward without making mistakes, that's how you learn. You have to take risk. Enve was risk that worked out well, for everyone. It's one of the biggest performance gains you can add to your bike. Never show your hand
(as they say).
Ha!

Looking back at Santa Cruz's past, do you have any misgivings about throwing into the bike biz? Were there any turning points where you wish you had struck another course?
Not at all. It's been an incredible journey. I feel I've been very fortunate throughout my entire life - great family, friends, and businesses. Never look back at what could have, would have, or should have been - it isn't healthy. No regrets!

Looking forward, what are the greatest challenges that Santa Cruz may face?
Growth is always the hardest to manage. Everything comes down to execution - period!

What accomplishments are you most proud of?
My family, marriage, children - and the little side project; Santa Cruz Bicycles.
---