The first FrostBIKE DH snow race at Silver Star Bike Park is in the books and it was an amazingly good time. 103 brave souls took up the challenge of racing our DH course on snow from all across BC and Alberta. As can be expected there were some good spills, some close calls and crashes, however, everyone had such a good time. For us here at Silver Star it was especially awesome because it brought the summer vibe back to the village. The 100+ bikers got some funny looks from the skiers when they started arriving in the village. but it was really cool to start recognizing all the usual suspects of the bike park and seeing people connect with racers they haven't seen since last season. The overall vibe for the whole weekend was just so positive and fun to be around all the racers joking, having fun and just riding. The weekend was relaxed and fun and more about having a good time and laughing at your friends than hardcore racing.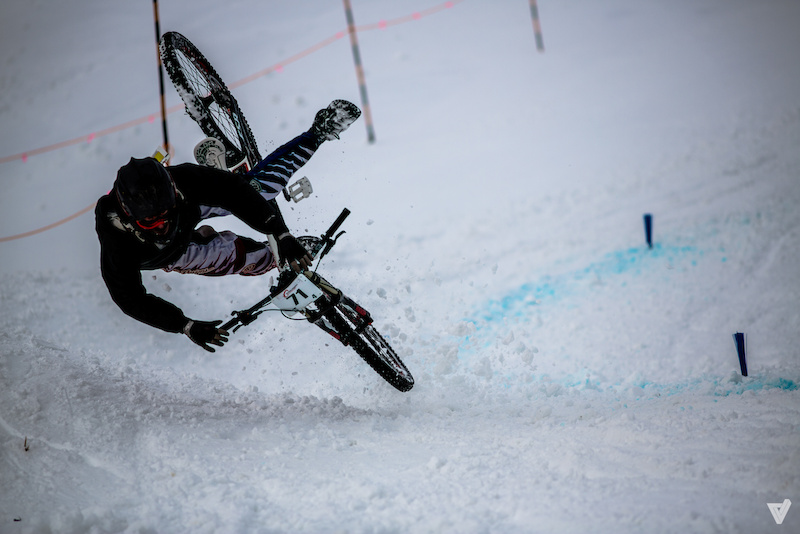 Saturday's temperature for training day turned out to be a balmy (and highly unusual) +7 degrees and the course was soft! But that also meant sunshine and warm trips up the lift. Some competitors went for more than 12+ runs throughout the day and were pumped to be getting laps in on their DH in March. Sunday evening the temperatures cooled off and an extreme cold front moved into the region. Sunday morning temperatures hung around -7 and you couldn't have a more different race course and weather than the day before. The course was fast though and the competitors adapted to the new fast and hard track. A few of the racers actually tracked their run on their smart phones and clocked themselves getting up to 75Km an hour at one of the fastest sections on the course! Brett Tippie was on hand all day Sunday to keep the large crowd of biker friends, parents, skiers and even a spectator in high heels entertained. In the end the racers dialed in their race runs with some blistering times. The fastest time went to Yann Gauvin from Quebec, with a rediculous 51.37 seconds! Yann took home first place in the Elite Men's category with style sporting his attractive Mullet on the podium and winning $250 cash. Honourable mention goes to Lee Jackson from Squamish, winner of the Junior sport/Expert Men who threw down a 55.54 second race run.
Full results can be found here
.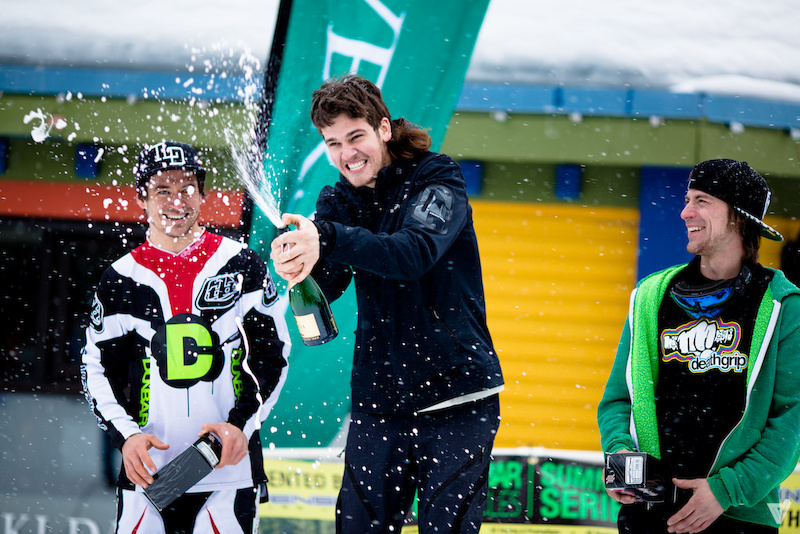 Overall the weekend was a ton of fun and had a great vibe. Everyone is stoked for the coming race season and it was awesome to have support of the racers and fans for the event. It's fun to do something different some times and we're glad everyone had a good time. We'd like to thank everyone who came out for the event and really look forward to hosting this race again next year. Special thanks to Stephen Exley at SE Racing for his help getting this event going. Also to our the sponsors that showered the podium with great prizing: Fox, Skyride Cycle, Intense, Smith Optics, Rock Star and Norco. Congratulations to Yann Gauvin, and we hope to see you all back here for the BC Cup & Championships July 27 & 28.
Special thanks to our Ski Patrol for helping setup the course, take care of crashes and be on hand for safety. And huge thanks Tim McCoy and the grooming crew who not only ran the bad ass 24 bike shuttle behind the Cat, but also for being able to transform the course from biking into night skiing and back into biking on Saturday.
Silver Star Bike Park is open for the first bonus weekend June 22 &23 and then opens for full season June 27. Season's passes go on sale April 1st online and start at $309 for adult pass. We hope to see you this summer!
-
All photo and video credits Virtu Media
Enjoy the ride,
Silver Star Bike Park