GT released

its long-awaited replacement for the Carbon Fury DH racer at the Fort William World Cup DH . The new Fury World cup has a sharp looking aluminum chassis that shares little of its predecessor's profile. Designer Etienne Warnery says that the new chassis is 26-percent more rigid at the head tube and almost 50-percent stiffer at the bottom bracket compared to the Carbon Fury that it will replace. Reportedly, the new frame is 300 grams lighter weight than its predecessor too - which makes us drool at the prospects of the future carbon version that the GT promo video hints at. GT could start shipping the Fury World Cup as early as this Summer. MSRP is yet to be officially announced, but at Fort Bill, GT officials estimated £2500 to £3000 for the frame and £5500 and £6000 for the complete, top-spec bike.


Fans of the GT brand have been hoping for a Fury with updated geometry and the new chassis should not disappoint them - with a head angle kicked out from 65 to 63 degrees, chainstays shortened ten millimeters, a lower bottom bracket and a slightly longer cockpit. Racers should be happy to hear that the new bike's Independent Drive suspension is reconfigured for more efficient pedaling too. Four sizes are offered, from X-small to large.




Speaking of suspension, the new chassis has 220-millimeters of rear-wheel travel, with re-curved linkage rates to eliminate harsh bottoming. An upper suspension link stabilizes the rear suspension and below, the Independent Drive linkage is a more compact version that we have seen in the past. The ID linkage is widened and offset to the left to add lateral rigidity, as is the World Cup chassis' oversized swingarm pivot. The overall design looks well thought out, and this is probably due to the fact that Mark Beaumont and the Athertons were happy to use the original Fury platform all last year - a fortuitous accident that bought GT's design team a full season to get the new bike right.




GT did not stray far from accepted norms, sticking with 26-inch wheels, contemporary geometry and Fox suspension, which is a good thing, as that is what is bringing racers to the podium. The Athertons probably had some input into this, as both Gee and Rachael are entering 2013 from banner seasons and would understandably want to avoid any big changes. If Beaumont and the Atherton duo are correct with the results of early season testing, however, GT's new DH bike should bring home the groceries. The team was unanimous with praise - with the new bike lopping off a significant chunk of time from their results.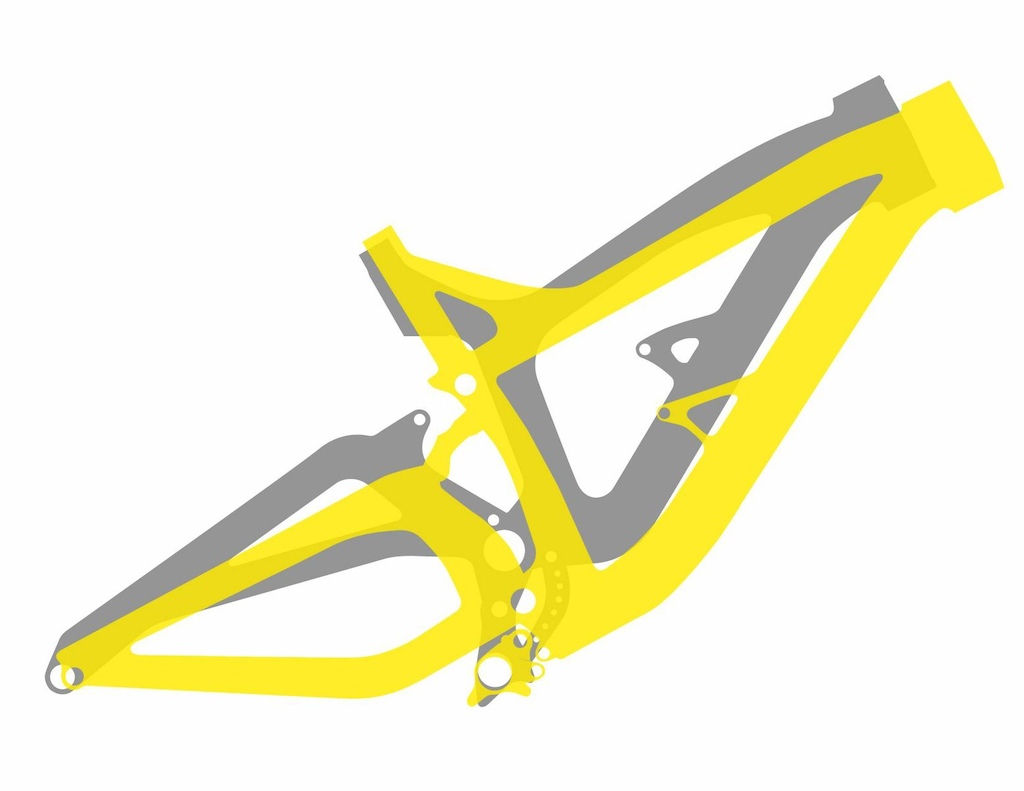 Overlaying the new Fury World Cup frame over the earlier Carbon Fury shows how much different the new chassis is. The seat angle is effectively steeper, the chainstays are ten millimeters shorter, the bottom bracket is a few millimeters lower, the top tube is lengthened and the top tube clearance is improved. GT graphic
Pinkbike's First Impression:
GT has put in the effort necessary to deliver a DH bike that should be able to stand shoulder to shoulder with the likes of Santa Cruz, Trek, Devinci Giant and Specialized. Downhill bike development is in flux, however, and the question must be asked: Is the new Fury advanced enough? We expect to see a wave of new-school DH designs, including a handful of 650B entrants, from some major players emerge soon, so GT's new fury will surely be tested by fire. So far, GT's future looks very bright.

- RC
Must Read This Week