When SRAM launched their XX1 groupset last year it introduced a range of innovations. Ideas like a new style rear mech and chain retention on the chainring were interesting, but there was one feature of the groupset that really caught people's attention: the wide-range cassette. The idea of a cassette that went up to a dinner plate-sized 42 teeth appealed to many people who liked the idea of running a single chainring up front, but weren't confident they had a small enough gear to get up the climbs with a traditional cassette. To do this, XX1 pioneered a whole new freehub system that meant the range could also go down as far a a tiny, ten-tooth sprocket at the other end. Yet many people who looked at the groupset weren't fussed about that small end and asked the question "couldn't we just have a bigger cassette?"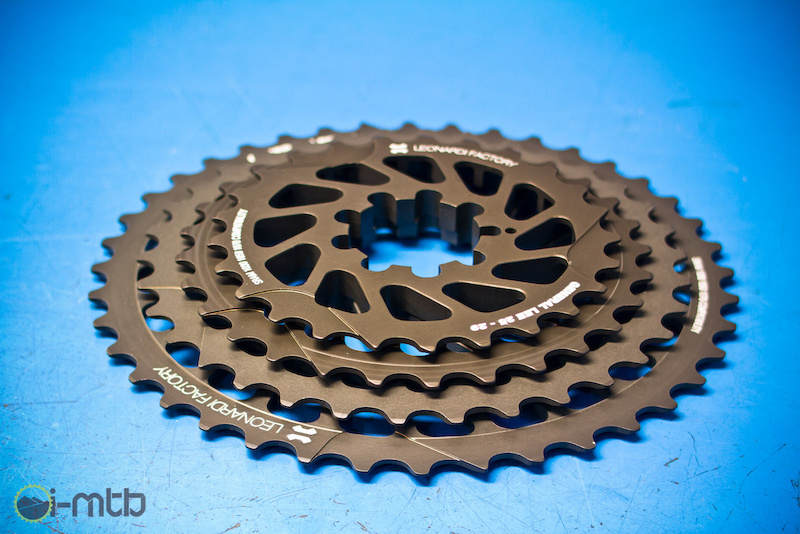 The Leonardi Factory General Lee cassette adapter
The folk at Leonardi Factory in Italy were some of the people thinking that too, so they cranked up the CNC machine and had a look at what was possible. The advisory information with most mechs places the upper capacity of a standard derailleur at around 36-38 teeth, but who's ever listened to the user manual? From this experimentation the General Lee cassette adapter was born.
Details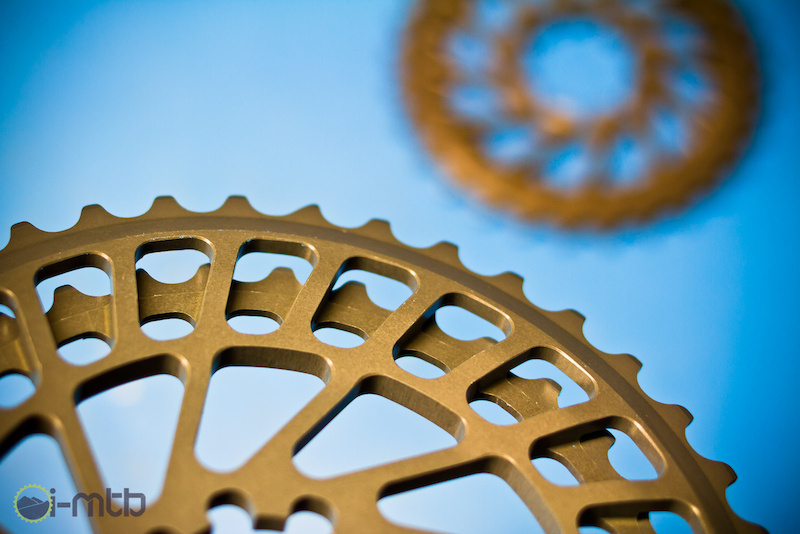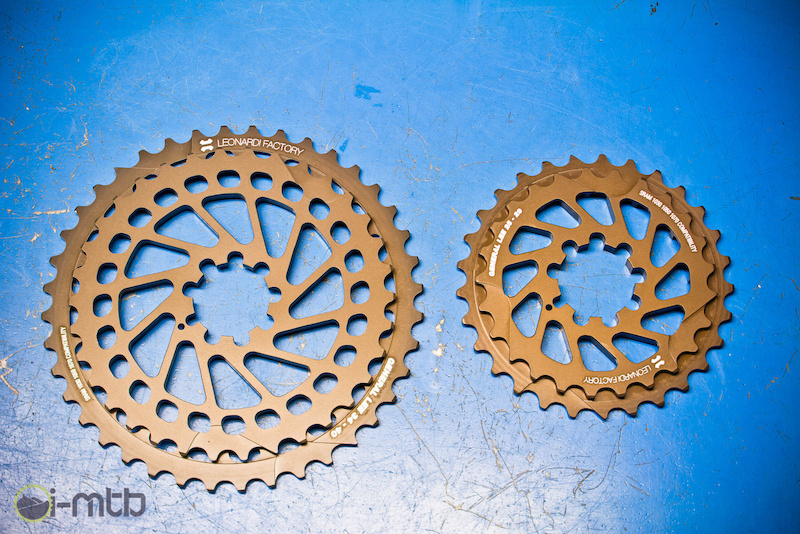 General Lee cassette adapter details:
- Range: 25-29-34- 40t
- Compatible with: SRAM 1030, 1050 and 1070 cassettes
- Weight: 190 grams
- Material: Alloy
MSRP: 123.00 Euros
CNC'd from a closely-guarded alloy formula, it is a machining work of art. Replacing the top four sprockets on a SRAM 1030, 1050 or 1070 cassette, it offers a 25t-40t range. To give you a better idea of what it means for your gearing, here are the comparative cassette spreads of SRAM XX, XX1 and a 1070 cassette with the General Lee adapter.
- SRAM XX: 11-12-14-16-18-21-24-28-32-36
- SRAM XX1: 10-12-14-16-18-21-24-28-32-36-42
- SRAM 1070 with General Lee adapter: 11-12-14-16-18-21-25-29-34-40
Obviously to go larger means the spread of the gears will be further apart than on the sprockets it is replacing. It is only compatible with those specific SRAM cassettes because Shimano cassettes are attached in blocks of three sprockets, which left the system with a gear spread Leonardi were unhappy with.
It isn't cheap - the four sprockets cost €123.00. However, when you look at the MSRP of an XX1 derailleur, shifter and cassette, then factor in the fact that you will need to buy at least a new freehub, if not a rear wheel, to fit it, it offers a much cheaper way to extend the range of your rear cassette. Leonardi only sell their products in Italy, so if you are looking to buy one, you need to find a shop like Bagnoli Bike in Castiglione della Pescaia who are willing to ship internationally.
Out On The Trail
To start with we need to point out that SRAM and Shimano are very clear that this isn't supposed to work and if you approach them for advice on this system, don't be surprised if they, very politely, tell you where to go. You will also void any warranty on your drivetrain parts. Ignoring that advice, the guys at Bagnoli Bike mounted the General Lee to a couple of test bikes this winter. Both ran SRAM cassettes and one was mounted with a SRAM X9 setup, the other a Shimano Zee/SLX combination and spent a few months riding with them in the abrasive Tuscany mud. Both derailleurs were rated to take up to a 36-tooth cassette.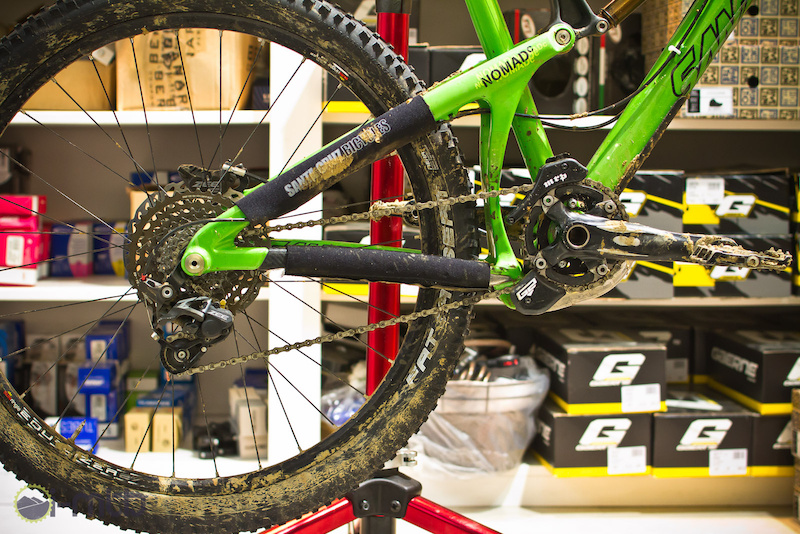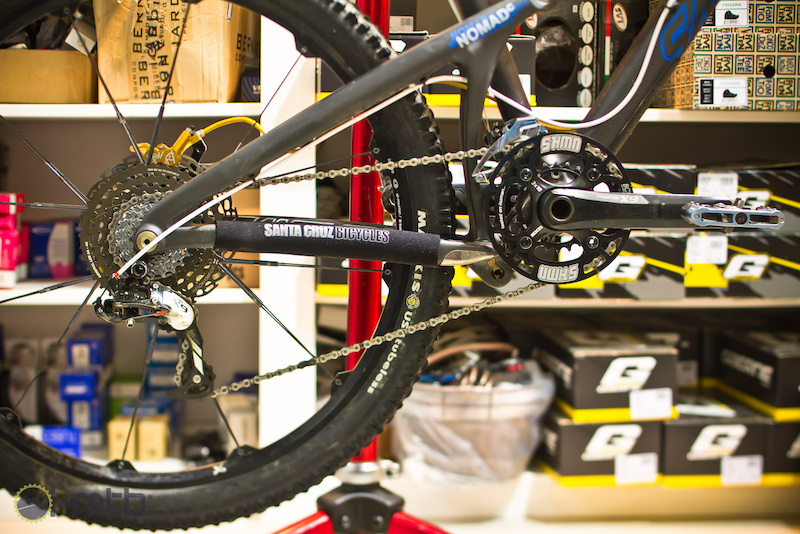 The two test setups - one with SRAM X9 and the other with Shimano Zee/SLX
The short verdict is that they both worked. You could go out and ride on both setups and it would change gear when you pressed the shifter. There was a loss in shifting performance, it's not as silky-smooth as it would be were you using a normal cassette, but nobody should be surprised by that. Consensus was the medium-cage X9 mech worked much better than the short-cage Zee one, the shifter was sharper and indexing crisper. In fact, after a couple of months testing, the Zee setup was changed to X9 too.
Pinkbike's take:
| | |
| --- | --- |
| | When XX1 came out there were many comments asking whether people could just buy the wide-range cassette. If you are one of those people, this might be the answer to your problems. If you want to run a wider-range cassette and are happy to take a slight hit on outright shifting performance to do that, then there are no questions as to whether this system works. Feedback from the test riders is that a medium-cage SRAM mech is the preferred option to run with it, although the short-cage Zee mech did still work well enough over the test period. Just don't go crying to SRAM or Shimano if something later goes wrong with your drivetrain. - Matt Wragg |
Leonardi Factory
Bagnoli Bike