With so many big-bike riders sporting all-mountain bikes, it's safe to say trail-riding is cool again. Call it what you like, all I know is that you leave the shuttle behind, earn your turns, and have a wicked time. Giant's 29-pound Reign 0 fits neatly into the trailbike end of the all-mountain spectrum. With a three-chainring crankset and a lighter-weight component spec, the Reign 0 is designed to be a more versatile version of
its burlier, gravity oriented Reign X brother.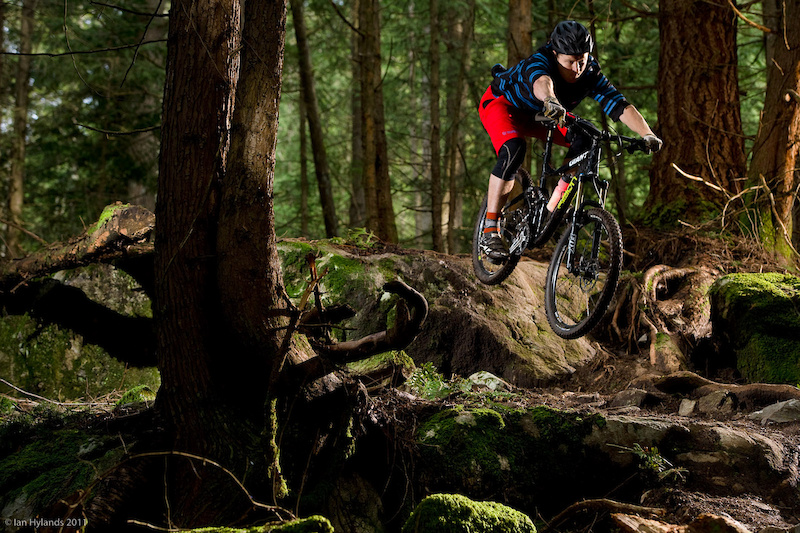 Giant's Reign 0 is intended to serve up trailbike climbing and pedaling performance to all-mountain riders. Pinkbike wrung it out on the North Shore where, aside from some chain issues, it proved very capable.
Pinkbike
was excited about the 2011 Reign 0 when we previewed it,
and looked forward really pushing the its limits on the North Shore. While the Shore boasts some bona fide all-mountain trails, we also wanted to see how the Reign 0 would fare on the area's more technical terrain - both climbing up it and coming back down. The Reign 0's wide-range, 30-speed Shimano DynaSys gearing combined with six-inch suspension and capable frame geometry promised to be a recipe for all-day shred perfection
Component Selection:
The Reign 0 is Giant's flagship model, and it boasts a great parts kit. Fox Suspension front and rear makes for a balanced and easily tuned ride. The Fox 32 Talas FIT RL (
w/ 15QR thru-axle and tapered steerer
) continues to amaze me, with 150 millimeters of travel, tons of adjustability and it weighs less than four pounds. Previous Reigns sported the Fox DHX Air shocks, while the 2011 version uses a lighter-weight RP23 with a lightly larger-than-stock air cannister. Arguably, Shimano's 30-speed DynaSys XT drivetrain provides a mega-wide gearing range, which makes for easy climbing gears, and more top speed than a typical gravity-oriented bike has. The lack of a roller-guide or a bash-ring, however, takes away from the Reign 0's ability to thrive over super rough terrain, although those who ride on smoother ground may not require the added weight and complexity of a guide.
The Reign 0 rolls on
DT Swiss Tricon M1700 wheels
which look great and ride even better. The 1600 gram wheelset is tubeless and sports bladed spokes (for aerodynamics, of course). Tires are always a personal preference so I'll just give it to you straight: Kenda's are great value, and this is a high-end bike. At least you are getting the best Kenda's - 2.35" dual compound Kevlar Nevegal's. I've always found the Nevegal's to have a very blocky tread with questionable wet-condition traction - so they really don't shine on the North Shore. Also, I was disappointed to find that the Nevegal's were not tubeless ready like the DT Swiss wheelset. I would suggest that next year Giant should spec their premium models with tubeless ready all-condition tires.
Giant understands that every all-mountain and trailbike should be equipped with an adjustable seatpost. The Reign 0 uses the Crankbrothers Joplin, and when it works (as it did on our test bike), it adds a lot to the capability of the bike. While the Joplin can be troublesome, if you keep the cable and housing free moving, and the post clean and lubed, it should be reliable.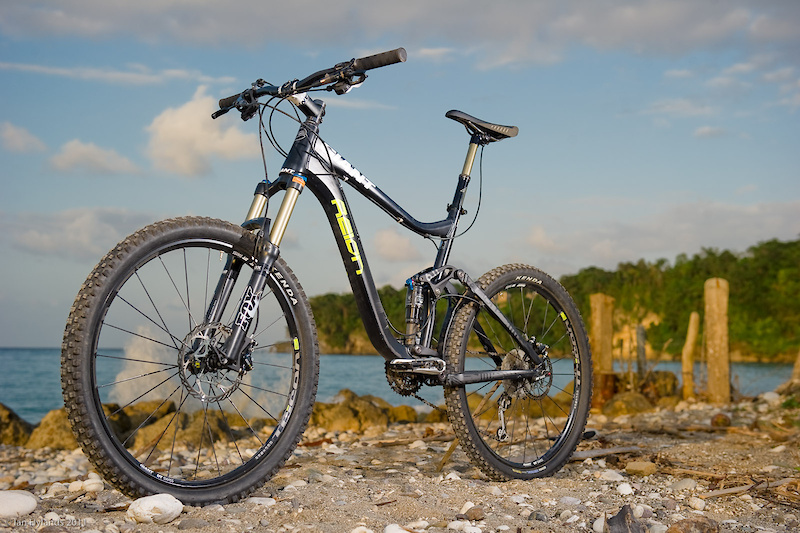 At well under 29 pounds, the 2011 Giant Reign 0 is one of the lightest six-inch travel aluminum all-mountain bikes on the market.
Giant Reign 0 details:
- Intended for trail and all-mountain riding
- Six inches of rear-wheel travel
- Fox 32 Talas FIT RL fork and Float RP23 rear shock
- Shimano XT 3 x 10 drivetrain
- DT Swiss Tricon wheelset
- Weight 28 pounds, 5 ounces(
size large w/o pedals
)
- MSRP $4,850 USD
Reign 0 frame notes:
Giant has completely revamped their Reign platform for 2011, which was first introduced in 2005. Its eye catching hydroformed frame tubes give the bike more stand-over clearance and lateral rigidity, while keeping its weight in check. Better still, Giant kicked out the Reign's head angle to 67.5 degrees - slack enough to take on steeps and drops without eroding the bike's trail worthiness for climbing thanks to the travel adjustable Fox fork.
Suspension is Giant's well proven dual-link Maestro design
, which also strikes a great compromise between pedaling firmness and smooth response over rough terrain. Maestro suspension keeps the shock and linkage low in the frame, which makes room for one water bottle (or battery mount) and keeps the bike's center of gravity low. In case you were curious, Frame numbers for the medium-sized Reign 0 are: 73.5-degree seat angle, 23.2-inch top tube, 17.2-inch chainstays, 31.9-inch stand-over, 44.5-inch wheelbase and depending upon the fork-travel setting, either a 67.5 or 68.5-degree head angle. Frame sizes available are small, medium, large (tested) and extra-large.
Giant Reign frame details: (clockwise) Giant's Overdrive tapered head tube uses an internal FSA sealed headset. Dual-link Maestro suspension takes a lot of abuse, but the lower link caught and damaged the chain during testing. Giant's "Contact" house-brand stem and handlebar performed well, but the grips lacked a locking feature.
Specifications
Release Date
2011
Price
$4850
Travel
152
Rear Shock
Fox Float RP23 Boostvalve w/ XV Sleeve
Fork
Fox 32 Talas FIT RL w/ 15QR Thru Axle and Tapered Steerer, 120-150mm Travel
Cassette
Shimano Deore XT 11x36, 10-Speed
Crankarms
Shimano Deore XT, 24/32/42
Bottom Bracket
Shimano Press Fit
Rear Derailleur
Shimano Deore XT Shadow,10-Speed
Chain
Shimano HG-74
Front Derailleur
Shimano Deore XT M770, Direct Mount
Shifter Pods
Shimano Deore XT
Handlebar
Giant Contact, Low Rise 31.8
Stem
Giant Contact
Brakes
Avid Elixir CR (Giant LTD Edition), [F] 185mm [R] 160mm
Hubs
DT Swiss Tricon (Giant LTD Edition) w/ 15mm Front Axle
Spokes
DT Swiss Tricon
Rim
DT Swiss Tricon M1700, Giant LTD Edition
Tires
Kenda Nevegal, 120 tpi, 26x 2.35 Folding
Seat
Fi'zi:k Gobi XM (Giant LTD Edition) w/ K:ium Rails
Seatpost
Crank Brothers Joplin-4 Remote, 30.9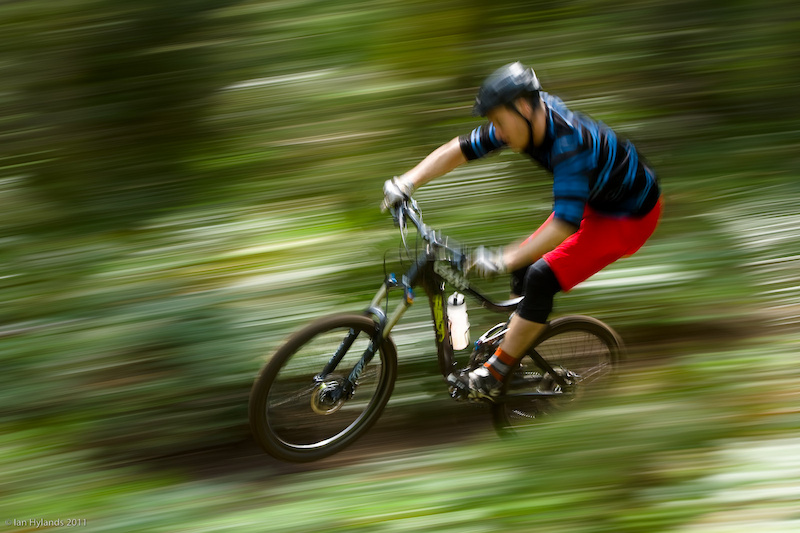 The Reign 0 is well suited for trail riders who are ready to turn up their game.
Riding the Giant Reign 0:
The Reign was tested predominantly on the B.C.'s North Shore, and riding "all-mountain" on the North Shore is considered "freeride" by most other places in the world. The Reign 0 is not the perfect choice for aggressive all-mountain riders, but testing any bike in the North Shore environment is like truth serum for its technical handling skills. Weighing in at less than 29 pounds with a 30-speed drivetrain, you have a gear for every pound of bike, which makes for one hell of a climber. Add four inches of remote-controlled seat-post adjustment to get your height perfect, a Pro Pedal Shock and a travel-adjustable Talas Fox fork to tune up the head angle to the terrain, and the Giant will climb anything - and you'll have fun in the process. Its pedaling/climbing geometry is spot on. With the fork dropped to 120-millimeters the head angle sits at 68.5 degrees which helps to keep the bike comfortably on line while climbing steep pitches, even when tired and pushing hard to crest a difficult section of trail.
Suspension Setup:
I used about 25 psi more pressure in the Fox fork that is recommended, but 110 psi kept the TALAS high enough in its travel to handle the many drops and steps typical of North Shore downhills. When I was setting the rear suspension, I was concerned with the amount of air pressure the Fox RP23 required to achieve the correct sag setting. I weigh 190 pounds, and needed 275 psi in the shock to sag about 20%. Generally most suspension requires pressure settings which are close to the rider's body weight. That noted; Fox incorporates a negative spring that resets to the pressure of the main spring chamber when the shock compresses, which may have given me a false sag reading. The Maestro suspension seemed to have a falling rate that started with a firm feel and then became softer as it compressed past the first 25-percent of its travel. I was happy with the Maestro Suspension, which felt bottomless off drops and jumps, however, when I hit choppy terrain aggressively, I found that the rear suspension lacked the suppleness that I expect from a six inch travel all-mountain chassis.
Cornering and steering:
The Reign 0 has a relatively low bottom bracket and a decently slack head angle, which make for solid cornering and a good steering feel at speed or in diffucult terrain. Kenda's Nevegal 2.35-inch tires are better dry-condition options, but the Giant managed to claw its way around the damp soil and wet roots well enough to translate the Giant's secure feeling front end. A plus for the Maestro suspension is that its one-piece, triangulated rear triangle and stiff suspension linkage feels rigid when pressed hard around a turn. The low bottom bracket and very balanced feeling chassis made intentional and unintentional slides non-issues. Considering the lightweight nature of the bike, this came as a pleasant surprise and added a very pleasing element to the ride.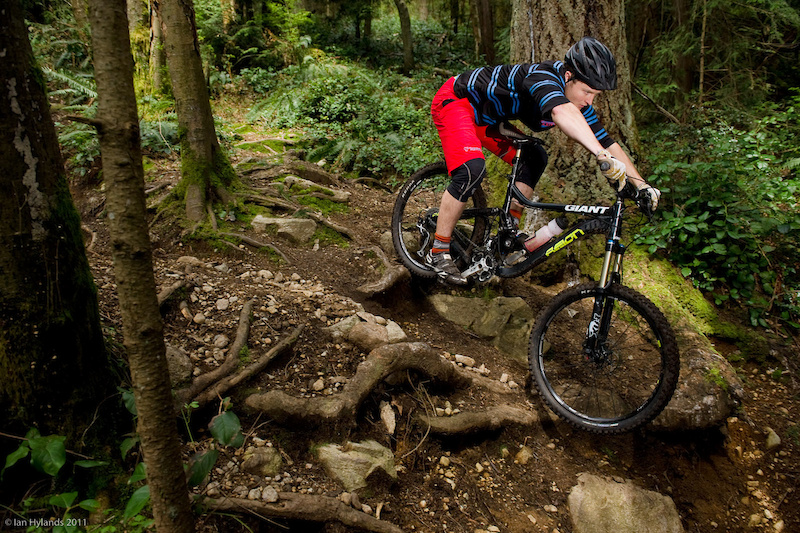 Giant's Reign 0 felt at home in tough conditions, but its suspension came up a bit short when faced with bigger North Shore gnar.
Technical performance

:
Those unsure of the industry's "shift" to ten-speed drivetrains can be rest-assured that it works. The Reign 0 uses a Shimano Deore XT DynaSys 3x10 setup, which is decidedly cross-country. For those who ride aggressively, a 2x10 is better suited for true AM performance because you need the extra ground clearance and a bash guard. That noted, Shimano's ten-speed XT ensemble shifts crisply and cleanly - wet or dry - and the low-profile Shadow rear derailleur does a great job avoiding trouble in the form of snagging brush and bashing rocks. Braking is controlled and consistent over all types of terrain. The custom colored Avid Elixir calipers clamp lightweight Clean Sweep X rotors and deliver plenty of power and modulation. I would swap out the rear 160-millimeter rotor for a larger one if you spend most of your time riding steep and technical terrain.
| | |
| --- | --- |
| | Despite my dislike for in-house components, I was impressed with Giants carbon Contact bar and stem combo. The bar measured 27.5 inches, and it has a nice sweep and a low rise. - Connor Macleod |
Giant's Contact carbon handlebar and stem combo were impressive, which is rare for house-brand components. The handlebar measured 27.5 inches, and it has a nice sweep and a low rise. The stem is a lightweight 90-millimeter model with an 8-degree rise. I ended up swapping the stem out for a shorter 60-millimeter item, which made a big difference in handling over the hyper-technical North Shore terrain. The Giant grips felt cheap and lacked a lock-on feature. The rider is connected to the bike via the handlebar, so I would expect better grips on a bike that is specifically intended for aggressive riding.
Unexpected chain problem:
Some six-inch-travel bikes can be ridden hard without a chain guide and never toss a chain, but the Reign 0 is not one of them. The lower Maestro link rotates close to the bottom bracket and when the chain falls off between the inside chainring and the bottom bracket cups, the lower link often pinches the chain - sometimes damaging it beyond repair. The fact that it costs about $65 for a new XT chain is reason enough to lament this unusual defect. The logical fix would be to install a chain guide. The lack of a dedicated ISCG chain-guide mount on the Reign 0 is a deterrent to this fix, and although MRP and e-thirteen make guides designed to retrofit to a thread-in-type bottom bracket cup, Giant spec'ed a press-in style Shimano bottom bracket that will not accept those types either. The sole option is to mount op one of MRP's clean looking 1x guides to the direct mount front derailleur bracket.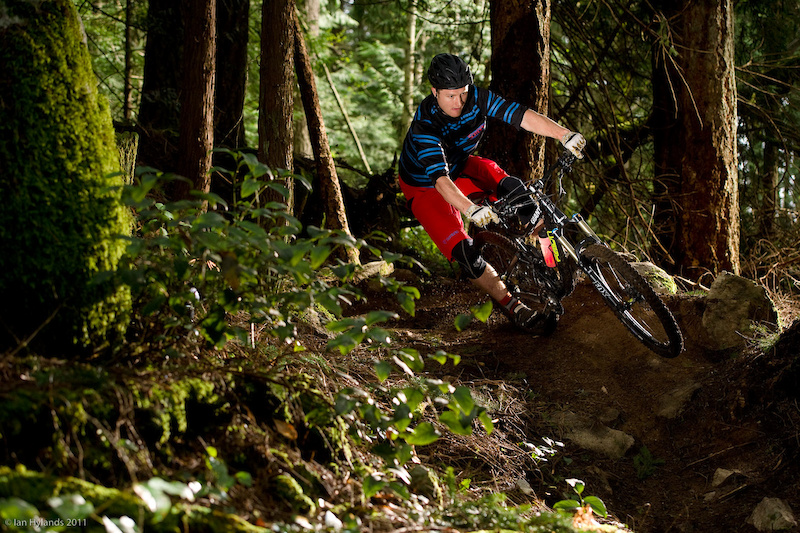 The Reign felt great in the corners thanks to its modern steering geometry, low bottom bracket and Maestro suspension.
Pinkbike's take:
Trail riders looking to tackle more aggressive terrain on a sub-30-pound long-travel bike with a great parts spec will find happiness with the 2011 Reign 0. Top marks for Giant's contemporary steering angles, adjustable Fox TALAS fork and versatile XT drivetrain. The Reign 0 may fall short of a full-blown gravity-oriented all-mountain machine, but that is not its intended purpose. This is a well-balanced and technically capable machine designed to be a huge confidence booster for trail riders who may have come from an XC background. Riders who don't want to give up climbing performance, but want to pin it on the descents. Giant has always offered great value and the Reign 0 is no exception, it's decked out with all of the best parts and put together in a wicked package If you buy the Reign 0 to ride park and freeride-type trails you will be a bit disappointed with its lack of a chain-guide provision and firm-riding rear suspension - but there is an onslaught of gravity specific all-mountain bikes to serve that genre. Giant makes those too.
Check out the Giant website to see more of the Reign 0 and the rest of their long-travel lineup, and give Pinkbike your take on what a perfect lightweight all-mountain bike would be.