Lenz PBJ DH bike



Yesterday we showed you a glimpse of the Lenz 29'er DH bike that stirred up quite a bit of interest. Reading the photo comments it is pretty easy to see who has an open mind and who's is closed tight. Regardless of how you feel about it, 29" wheels are no longer a fad and they are here to stay, it was only a matter of time until a DH bike was put together. And if anyone was going to do it, it had to be Lenz. The bike continues with the "lunch theme" of lenz's bike names, being called the PBJ, which stands for Park Bike Jam.



Lenz PBJ DH bike





Despite the tall wheels, the PBJ has a lot of crotch clearance



• 29" wheeled DH bike
• 7" of rear wheel travel
• 12 x 150 mm rear axle
• Full DH bike geometry - 64 degree head angle, 14" BB height, 17 3/8" chainstay length




The seatstays can be swapped out for length that works with 26" rear wheels, giving more tire clearance for the rider



Despite the hate that the PBJ will obviously generate on the forums, I think it's great to see companies thinking outside the box. There are places in the world that 29" wheels have not yet caught on, yet there are proven benefits to the larger wheel in the right conditions. Component manufacturers have just now started to step up and provide dual ply tires which are a necessity in most places, and Manitou provided a modified 29" compatible Dorado for the Lenz project which is great to see. It sounds like the PBJ will see production, how long will it be before we see a whole new category of DH bikes?

Head over to Lenzsport.com to see more big wheeled bikes.


---



KS 27.2 telescoping seatpost and I-Beam model



No product has made such an impact on my riding in the last few years like a telescoping seatpost has. I was a doubter, I will admit, but now that I've had one on my bike I don't know if I could do without it! I love dropping the seat just an 1" on technical climbs or while bombing some mellow trails as it adds loads of confidence. Here is a closer look at KS Suspension's new 27.2 mm telescoping post and an I-Beam compatible version of their original model.



Because of the smaller volume of the 27.2 post KS had to build a remote reservoir to handle the oil displacement.





Zero offset head on the new 27.2 mm version





I-Beam head on KS's telescoping post





One of the nicer remote units of any available. Have a closer look at this Lock-On grip compatible version





Anodized aluminum foot nut at the bottom of the KS telescoping post





This KS shock an air assist that enables them to use a light ALUMINUM shock spring.



Looking for info on KS products? Check out their website.


---



Foes Racing Predator hardtail



Better known for their long travel bikes, the Predator is the least known bike in their lineup. Made in the same U.S. located Foes factory as the rest of their line up, the Predator has a monocoque front section just like it's bigger brothers. Massive aluminum tubes and stout construction should equate to a very stiff ride, great for a lot of gated racers.



Foes Predator




• Entirely handmade in the U.S.A.
• Monocoque front section
• 68.5 headtube angle
• 16.2" chainstays


Foesracing.com for more info on the Predator and other bikes


---



Commencal Absolut SX



Yesterday we had a look at Commencal's Meta 6 VIP, a 6" travel all-mountain slayer, and today we have the almost as bright Absolut SX. Built to be a slopestyle machine or short travel beat-around bike, the SX has a short seat tube and compact design to be easier to trow around. The SX has similar lines to some other short travel FS machines out there, but adds a new element to the mix with a concentric bottom bracket pivot making it super simple to run it gear or single speed.



2010 Commencal Absolut SX





A concentric BB pivot simplifies setting the SX as a singlespeed bike



• 5.5" of rear wheel travel
• Tapered headtube
• Two sizes, 20.9" TT and 21.7" TT toptube lengths
• 68 degree head angle




Tapered headtube on '10 Commencal Absolut SX



Commencal.com has even more info so head over and check out the goods!





---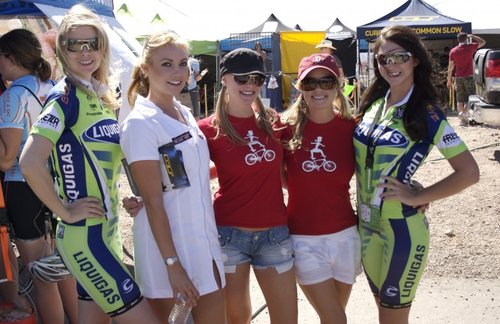 View the entire Interbike 2009 gallery
Mike "Kakah" Levy