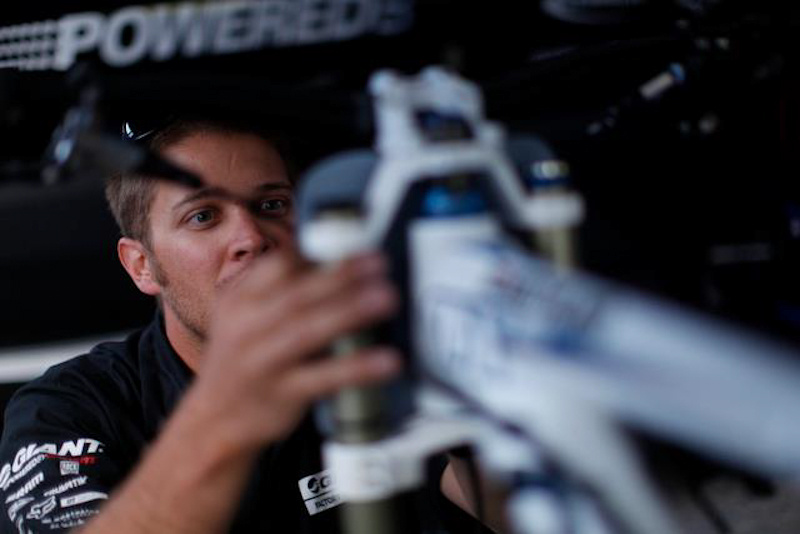 Joe Staub has become a familiar face on the World Cup circuit over the last few years, working his way up from team mechanic to his current role as the manager of the Giant Factory Off-Road Team. Although the first World Cup is still a few months away, the riders are hard at work doing their pre-season training. We checked in with Joe to find out how he got to where he is today, as well as what's in store for the team this season.

What's your role with Giant?
My title right now is Team Manager for the Factory Off-Road Team. That evolved over time; initially I came on board with Giant in 2008 primarily as the downhill mechanic. I had two riders who I looked after, Jared Rando and Amiel Cavalier. From 2008 on, I migrated back and forth between standard roles on teams – I was downhill mechanic, then cross country mechanic, then team mechanic. It went back and forth quite a bit. I gradually took on more responsibility over the years, eventually becoming the road manager, the go-to person at all the events the team was attending. More recently I've become the team manager, and the former team manager has moved up to, for lack of a better term, team director. He oversees our team, as well as other Giant sponsored teams, along with working on North America based marketing initiatives.

What has your career path been like? What did you do before working for Giant?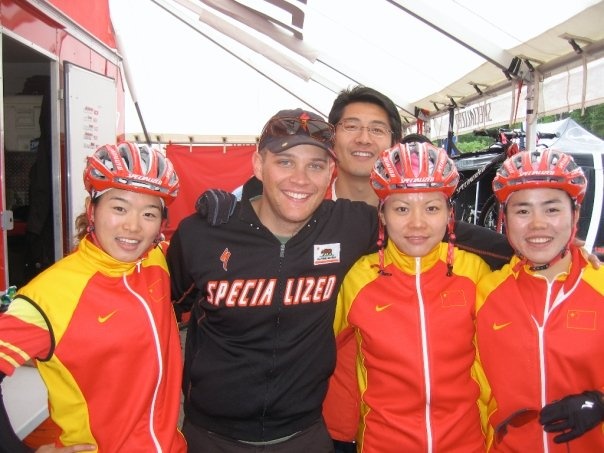 Staub during his time as a mechanic with Specialized.
I went to Western State College in Gunnison, Colorado, and graduated with a degree in environmental studies with a social sciences emphasis. When I was in Gunnison I started working at the Tune Up bike shop. It's sad that shop isn't around anymore – they went out of business a few years ago. For such a small shop it's astonishing how many World Cup level mechanics came from there.
I eventually moved to Portland, Oregon and worked at a bike shop up there, the Bike Gallery, which has one of the best service centers I've seen. After that, I worked for Specialized at the Tour of California, doing some marketing work, which led to a stint as a demo tour driver for Specialized. That was an amazing opportunity because I got to work for everyone across the board in the company. I worked with bike shops, sales guys, marketing people, engineers, and that transitioned into doing larger events in Europe, and then a position working as a mechanic for the Specialized Factory Team. These three girls from China were building up for the Beijing games, and I was able to travel all over the world as their mechanic. Communication was difficult with them since they barely spoke English. I had a little diagram of a bicycle with English words and Chinese words translated taped to my tool box. After that time working for Specialized I made the move to Giant in 2008.

Are there any secret tricks or signature moves you gained from your time as a World Cup mechanic?
I wouldn't say I had any signature moves, and I think it's the same for most of the other mechanics, there's just a whole other level of small, fine details that a top level mechanic takes care of that your standard bike shop mechanic may not think of in the same way. And a lot of it is getting super particular about things like the length of the cable and housing, putting caps on in a certain way, making sure everything is absolutely perfect. It's a pride in your work mentality, not necessarily to have the rider see anything differently on the bike. I feel like the riders I've worked with, they put their trust in me and I make sure I do the best job I can possibly do. We're out there as a team trying to win races, and I think it goes a long way if a rider sees their bike is perfectly taken care of. It gives them more motivation, and they know everyone in the chain leading up to the start line has done 100 percent of what they can do.

What's this season's race schedule look like for the Giant Factory Off-Road Team?
I'm pretty excited about it. Enduro has been a big development over the last couple of seasons, and we've had our riders in North America focus on the bigger events, like Downieville, the Ashland 12 Mile, those types of races. But for the 2013 season we'll actually be fielding a serious international Enduro team, as well as our World Cup downhill team. That's new and exciting for us because we're getting back into the old days of Giant having a bigger presence at that world stage for off-road racing.
Giant still maintains a good presence in World Cup cross country, although that's not done through the Factory Off-Road Team. The Factory Off-Road Team will be doing the Enduro World Series and quite a bit of Enduro racing in North America, as well as the full World Cup downhill series, and kind of backfill the downtime between events on the downhill side with a couple of small events; UK nationals, IXS Cups if we can fit them in, and a lot of new stuff for us team wide - we'll be doing some testing and training outside of the race arena. We'll be going to some select locations and doing some targeted testing with our riders and our sponsors to focus on the World Cup more than anything.

Are we going to see a carbon Glory this year?
(Laughs)
I have no idea. We put a lot of investment into getting the model year '13 bike dialed in, and Giant launched the new geometry at the end of last season. For us, it's what we wanted, that's what we thought was the best race platform. For now, we're pretty set. In terms of developing things for the future, I think the industry as a whole is going to be focusing on platforms other than downhill. I'm satisfied with where we're at now – it's not like I'm aggressively pushing Giant to build something new and fancy and different.

What are your Enduro riders going to be riding on?
It'll be a mix. Some of the races in North America you can get away with running a four or five-inch 29er, and some of the races like the Crankworx BC Enduro, or MegaAvalanche in Europe, those are definitely races where you're going to want a six-inch bike, and probably 26" wheels (since we don't have a six-inch 29er). I'd suspect at most of the European events you'll see a lot of the guys on a longer travel bike that's not a 29er. At most of the domestic events in North America it'll be the riders' preference, whether it's a four or five-inch travel 29er or a five or six-inch 26" wheeled bike. I leave it up to the riders, because we have riders from gravity, moto, and XC backgrounds, and we just want them to go fast and win.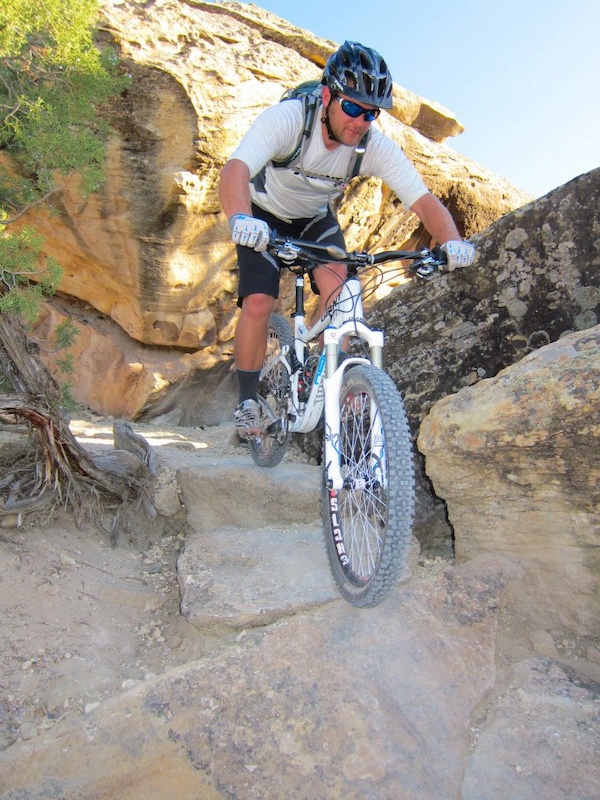 Joe Staub sneaking in an off-season trail ride.

Has there been any push from the riders for a 650B wheeled bike?
No one's directly asked for it. I think it's obvious moving forward that 650B is going to be a big platform for a lot of brands, and I'm sure Giant at some point is going to get aggressive with it. I can't really tell one way or another what the plans are with that.

What bikes do you personally ride?
It's between two bikes. I ride a Trance X Advanced SL, which is a five inch 26" bike, or I ride a Reign, which is a six inch travel 26" bike. It's basically because more than half my riding is in Europe, and the Reign is perfect for that area, and then the rest of the time I'm riding in Gunnison and Crested Butte, Colorado, where you don't need a six inch bike.

Where's your favorite place to ride?
Before, I would have said home is the best place to ride. I love riding in Gunnison – it's where I started mountain biking seriously, where I got the passion to take my personal efforts towards a career in cycling. I'll always love Gunnison / Crested Butte in its own way. The trails feel like home - I know them like the back of my hand, and that's kind of a priceless perspective to have on trails. But more recently, in the last year, I discovered a lot of riding around Innsbruck, Austria. My girlfriend lives there, and I'll be making that my home base most of the season, and the trails there are amazing. It's like riding the most epic trails in Colorado, but with a city right there and a bus shuttle halfway up the hill.

Let's talk a little about one of the new members of the team this year. How did you find Marcelo Gutierrez Villegas?
Well, Marcelo used to ride for the Giant distributor out of Columbia, and this is a couple years back, before he was on the Cedric Gracia Brigade, so he was a familiar face at the World Cups – he'd come by if he needed anything we could help him specifically with. He's a great guy – I developed a good friendship with him over the last few seasons. It was pretty easy to make the transition from knowing him as a friend on the circuit and finding that place on the team for him. There was a good push from our Latin American distributors to Giant Taiwan to say, "Look, downhill is huge in Latin America, and Marcelo is by far the best rider out of that region, and has some great results on the World Cup and at Crankworx." We listen to our distributors about what they want to see on the team, so we made it happen. He got a 10th at Leogang, which is a technical track that tests a huge variety of skills and fitness, and I was impressed by that result. I'm really excited to have him on the team, and to see what he can do this season.

Have you talked with Danny Hart lately? How's his off-season progressing?
Danny's definitely been hitting it hard. We speak occasionally during the off-season. I try to keep my distance a little bit early on, because the riders definitely need their time to recharge, and not really think about team stuff, not think about racing and take a break. As the season approaches we stay in touch and talk a couple times a week. Right now, Danny is training in Spain – he has a pretty aggressive pre-season training program with a new strength and conditioning coach. His shoulder is by all accounts 100% now – he says he doesn't feel it at all. He had pretty extensive surgery, I think he was going stir crazy there for a little bit because he wasn't able to do much, but he went through a good rehab period, and now he's back getting after it on the moto and the bike.

Does Giant assign their riders a coach/trainer, or are they on their own to find a regimen that works for them?
That's a good question. We have what I think is a serious competitive advantage because we have a coach on staff. While we don't have a strength and conditioning coach on staff (the riders go and get that on their own) we do have a technique coach, former World Cup rider and Giant rider Oscar Saiz. He advises everyone on a program if they don't have one, and gets everyone going in a patterned way. This way, when we're at the races we know everyone's been doing their homework. He doesn't necessarily monitor them all off-season, but we meet with rider's when they're new to the team and add structure to their off-season and the day to day activities, showing each rider our format so we can tease out their best.

So, Adam Craig will be moving from Giant Rabobank to the Giant Factory Off-Road Team?
Yeah, previously he dabbled in a few Enduro races, but primarily focused on the cross-country World Cup races. This year he's coming back to the Giant Factory Off-Road Team, and the primary focus will be the Enduro World Series. He and Josh Carlson will be focused on those events, with some additional domestic races. Adam has always been the kind of guy that likes the style of riding I like, the long climb up to the top of a mountain and then a shred down on amazing singletrack. I think the reason Enduro is so popular and building so quickly is that it reflects what everybody does as their most pleasurable ride.

All right, one last question. Word on the street is you've become a bit of a coffee connoisseur. What's the story behind that?
I do have a coffee addiction. A little while ago, I realized that during the off-season I'd go to the coffee shop with my computer and set up the de facto office and plug away there, but it was becoming costly and unproductive. I bought this little hand press espresso machine, a La Povoni, and it makes amazing espresso, and now I'm hooked. I can't get out the door without having a coffee. It's a fun thing to do – I geek out about the little science things.
---
Giant Factory Off-Road Team
Interview by Mike Kazimer