Jared Graves' Yeti SB66C - Interbike 2013
Jared Graves' Yeti SB66C, the same bike he piloted to a third place finish earlier this month at the 2013 World Championships in Pietermaritzburg, South Africa, was on display outside of the Yeti tent at the Interbike Outdoor Demo. We took a closer look to see what it takes to get an all-mountain bike onto the podium of a downhill race.
---
Although debate typically swirls around bike selection for the Pietermaritzburg downhill course, this year most racers ended up running their downhill bikes, since the track did have large, high speed jumps and tricky rock garden sections worthy of a full-on DH rigs. Graves went the other direction, and chose to run his size medium SB66C since this season the majority of his riding time has been spent racing this bike in the Enduro World Series. Graves also knew there were pedalling sections on the course where he could make up time on less pedal-friendly downhill bikes. What's especially impressive about his bike choice is that he ran it with very close to a stock setup; on the whole the bike is remarkably similar to what could be purchased from any Yeti dealer. Sure, there have been suspension tweaks and a few special touches that a World Cup racer of Jared Graves' caliber deserves, but the frame itself is exactly the same as any other SB66C, a full carbon affair that uses Yeti's Switch Technology suspension design. This design uses an eccentric to alter the position of the bike's lower pivot, creating a bike that's designed to be an efficient pedaler, but with a more linear end stoke for supple absorption of large impacts. With a DH race ready build Graves' World Champs SB66C weighs in the neighborhood of 33 pounds.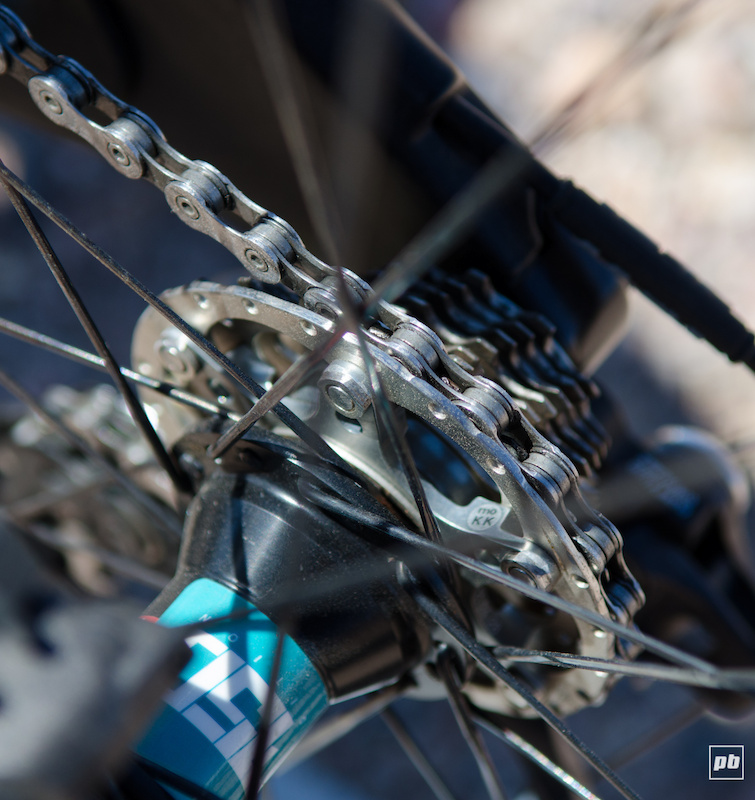 Drivetrain
At Enduro World Series races Jared Graves typically runs a 38 tooth front chainring and an 11-36 rear cassette (
although he was running what looked like a 11-40 cassette at the Whistler event, likely by using a General Lee wide-range cassette adaptor
). For Pietermaritzburg he switched to a setup more conducive to downhill racing, with a 40 tooth Shimano Saint chainring up front and the lower eight cogs of an Ultegra ten speed cassette in the rear. The biggest cog has been removed, and the teeth of the second largest cog have been ground down, creating a guard to prevent the chain from coming off into the spokes. This is a simple, yet effective way of saving weight and only running the gears that will be necessary on a high speed course such as Pietermaritzburg. Chain retention duties are handled by e*thirteen's LG1 chain guide, a simple, race tested guide that's proven its reliability at numerous World Cup races.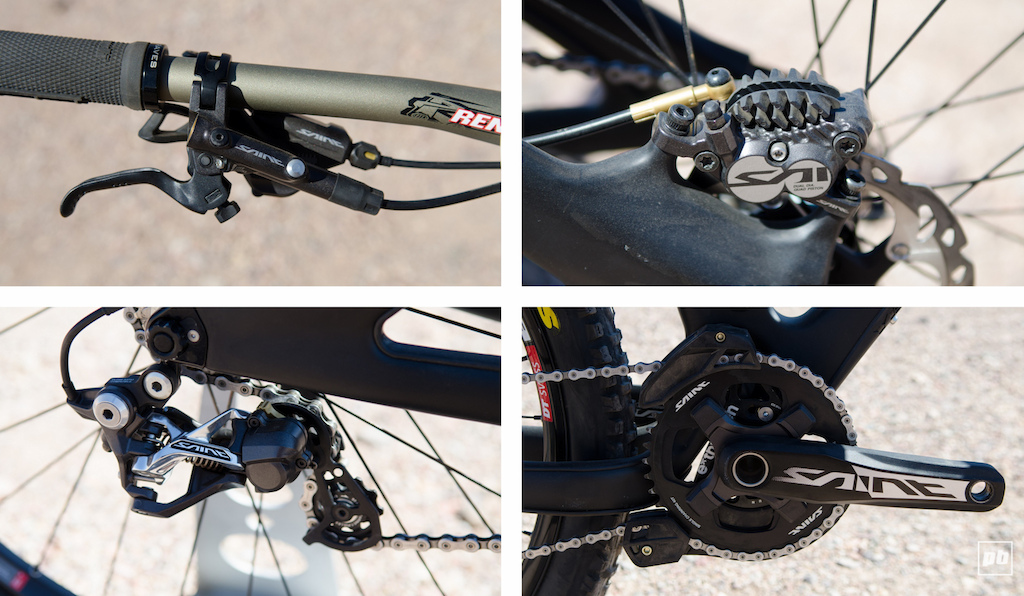 Jared Grave's SB66C has a full Shimano Saint gruppo, with e*thirteen taking care of things in the chain retention department. Shimano does have a chainguide system in the works, but we've only seen it on a handful of bikes so far. For enduro racing Graves' usually runs XTR cranks, often times with a Stages power meter, but for World Champs he ran 170mm Saint cranks, with no power meter in sight. As far as braking goes, with a 203mm front and a 160mm rear rotor paired to Shimano's powerful, four piston Saint stoppers, this SB66C has enough stopping power for the fastest and steepest courses around.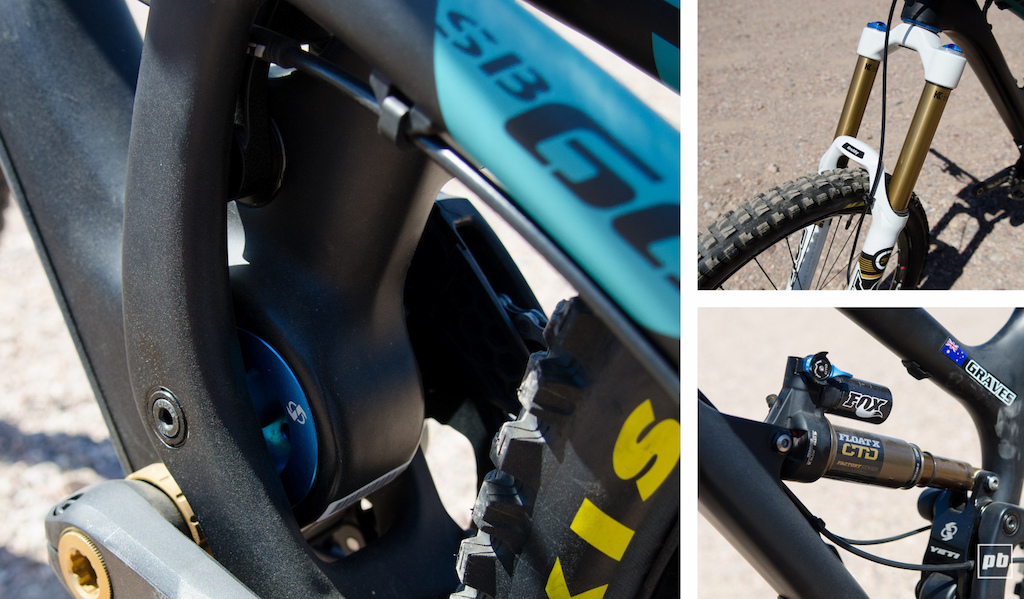 A Fox 36 Float with 180mm of travel replaced Grave's usual Fox 34. The longer travel fork further slackens the bike's head angle, likely putting it in the range of 65 degrees. While most of the setup of the bike is stock, you can be sure that there has been custom suspension tuning done to both the front fork and the Float X rear shock. In a post-race blog update Graves mentioned that Fox had altered his fork to increase its small bump sensitivity, as well as increase its end stroke ramp up. This custom tuning is what separates a pro from the average Joe - every detail is looked after to ensure that a racer's setup is capable of propelling them to a podium-worthy finish.
Must Read This Week