Name and age?


Jay Hoots, 43.



Where ya from?


North Vancouver, BC.



Come from a big family? What did you grow up doing?


-Older brother and younger sister 5 years either side of me.
-Rode BMX and mini bikes lots, played some basketball and shot BB guns. Dug jumps and made plywood jumps with my friends and bro.



How long have you been riding for Norco?


13 years including my time as a GrassRoots rider for them .



What got you into mountain bike riding?


When I came to BC to work on a snowboarding career a friend of mine introduced me to the mountain bike and told me that it would probably work best out west.



Where did you first ride? Shore local always or somewhere else?


I rode in Mount Tremblant, around local dirt bike trails in my home town in Ontario and then got my RIDE ON when I moved to the Shore around 20 years ago.



What other jobs have you done in the past? What do you do now?


I am a licensed auto mechanic and worked at a Mazda dealership and a three bay Chevron. I worked for a couple of car racing teams travelling Canada and parts of the US for a few years doing set up and wrenching. I also worked for five years for my sister's company installing fibre optic networks for companies like Bell, Rogers, Telus, 360 Networks. As a teenager I tried to work at a record shop, but ended up working on farms.



Tell me about some of your most exciting bike parks / trail builds:


Hinton Alberta has one of the coolest bike parks and trails I have been involved with. The town gave me support and the riders and club got together to ask for experiences with no pressure to 'have to have'. It is 4.5 acres with nine trails, skills area, jump zone, drop zone and a mini slopestyle area I had the Coastal Crew come up and help me with it all. Instead of complaining when the park is getting worn the club gets funding together and the town has a maintenance budget so we always get to keep the place butter! It is rad. From there the town had us build a mini bike park on the other side of town for the local youth and revamp a 6km classic trail that was falling away and only half rideable into a super flowy fun sustainable trail that got everyone from the community out on it including the women's club rides. YES!



Who is your main riding buddy?


With 10 months on the road it is hard to have riding buddies stay in touch regularly as most of them have riding schedules as well. When I am in town I can hit it with just about anyone I call, but it's mainly Darren Butler who heads out. For everyday riding from DH to XC my closest riding buddy is my girlfriend Ashley who just keeps getting better and better. It is so fun to shred with her, she is so stoked on riding and we always end up having stellar rides…



Married? Kids? Dogs?


My Girlfriend Ashley is on the road with me building and riding. Kids are not in the immediate future, but I think it would be rad to look into. I have a couple dogs, but had to give them up to a good friend who gives them attention and love and most importantly a regular schedule without trains, planes, and automobiles.



Favorite food... beer?


Bar Grub and Indian for sure! Micro brewery is my favourite way to enjoy beer, however that can be sometimes few and far between so make it dark and I am happy.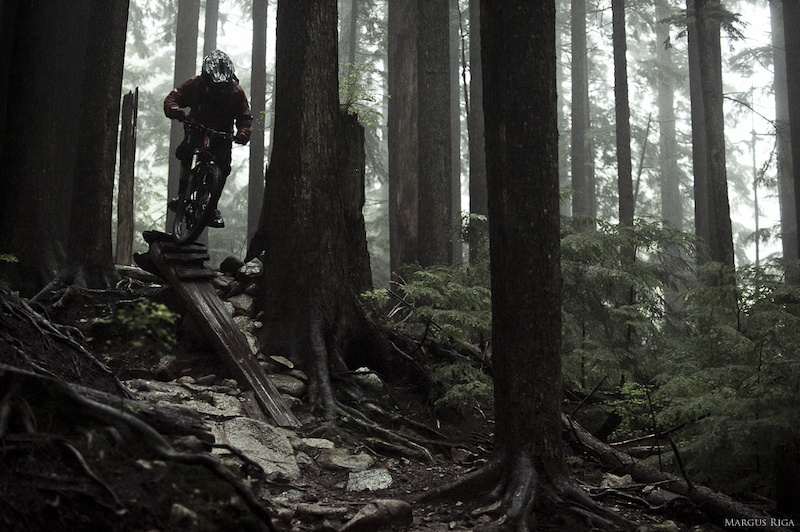 You have been a great mentor to many. I remember Geofff Gulevich following you around Whistler and you giving him all these used tires from the Norco truck. How did you meet Gully and what kind of things did you do to mentor him?


Ha ha ha, how funny! Geoff was so motivated and driven, he is awesome! I love that he still has that exact same fire and passion today. Geoff told me he wanted to be a pro rider when he was 22, or 12, maybe 13 while we were hanging out in a bike shop - he was quiet and liked to laugh and would ride ANYTHING in his path. From the day I met him he was respectful and loved riding for riding and I knew he had talent. It wasn't hard to hang out with him or mentor because he was so easy and appreciative of his situation, it was easy for me to be open about my success and failures and injuries and challenges. Helping Geoff out with product and opportunity was an absolute pleasure because he worked hard for it and appreciated it, especially the small stuff. I do have to say that Norco has been so rad as well because they have always helped me to have extra gear and consumables to get to deserving riders with never asking for anything in return and I know that they believed in Geoff's potential as much as I did. Geoff and I rode everything from sk8 park to street, trails, the works, always changing it up and sessioning. When at events (my traveling jump demo), Joyride, World Cup, indoor shows, Gully always helped out with stuff and just hung out and rode. Even when I was coaching other kids, Gully would come and ride and just be a super stoked rider guy that hung out and shredded and learned… awesome…



Has mountain biking changed a lot since you started? What are some of the changes you've seen?


Yes it's a very cyclical sport, the gear, trails, cool factor, what's in and what's not. Neon colours were big when I had my first mountain bike in the late 80's and it's all over the place at resorts and slopestyle now. Racing was huge when I was first riding for grassroots Norco in the 90's and then died out almost completely, but now has emerged stronger than ever on the world stage. DH and freeride riders are gravitating toward smooth flowy tracks and jumps while the XC riders are demanding steep, harrowing rock with rooty, gnar, tech lines. More women than ever are in the sport and finally guys are accepting it and realizing that the girls are fricking killing it…not so many chick jokes any more, yes!

Finally riders are understanding that less is more, in that you can have a smaller travel bike that will allow you to ride more things and expand your experience and your skill instead of crashing head first through things with nine inches pointed down. Riders 'over all' have the same level of entitlement for trail and park access and I don't think that has changed. Clearly we as a sport are missing the news that trails and bike parks don't build themselves and that a bad trail or crap jump is actually a great trail that never gets maintained.



What are some of the most exciting technology changes you've seen? 


Oh man, awesome question… my Reverb seatpost is undoubtedly one of the best innovations ever! My Shimano disc brakes freaking allow me to ride the fastest, steepest, burliest stuff EVER and require no maintenance except a pad change after a season, wow. Suspension forks and shocks have come soo far that they can compliment any frame geometry while making the good frame systems amazing. Hydroforming of frame tubing from carbon to aluminum has made bikes into something completely out of this world!



What are your plans for the future?


Work toward hitting my 50th bike park build, hopefully this season or next. Travel more for riding outside my industry requirements and try to get some more hang out time with friends. I miss my friends a lot.



I believe you've been involved with the Capilano Bike Program? What's that all about and what do you do there?


Capilano University has a campus on the Sunshine Coast that is the home for the Mountain Bike Operations Course. The course is a certificate course that covers everything from coaching and guiding to events to trail building. This is the 7th year now for the program and many trail related businesses (about 15 per year) hire directly from this talent pool before going to public for resumes. I have hired nine students for past projects and have a couple on staff right now. Check out the Facebook Page or the Capilano MBO program for more technical info. Oh yeah, I am the lead instructor for the trail building courses, intro to trail building, and advanced park and trail building. I have been with the program as a field assistant until a couple years ago where I took over the lead position. I wrote the current curriculum to reflect the real world of trail building so that students would understand how incredibly difficult of a trade it is and to give them critical experience to make them valuable assets in the job market.



Favorite trails? Main riding zones?


The Shore, Sunshine Coast, Hinton, BC Bike Parks, Squamish, Crows Nest, and Canmore.



Where would you love to travel to for riding? What is your favorite destination you've visited in the past?


Some of the best times I have had on bicycles were in Jamaica, Sweden, Moab, Black Rock, Wales, Scotland, New Zealand, Australia, the Yukon, and of course BC, I would go back to any of them in a hot second given the chance!



What is your primary Norco bike and why?


Norco Truax is my main steed, the bike does everything. It is the best bike I have ever ridden and takes punishment. The suspension is plush, but firm and pedaling is awesome! Balance on the bike is banger and it feels nice between my legs.




Any secrets you can leak from the Norco factory vault?


Nope, I just emailed Norco to ask if I could share and they gave me two months salary to keep my mouth shut…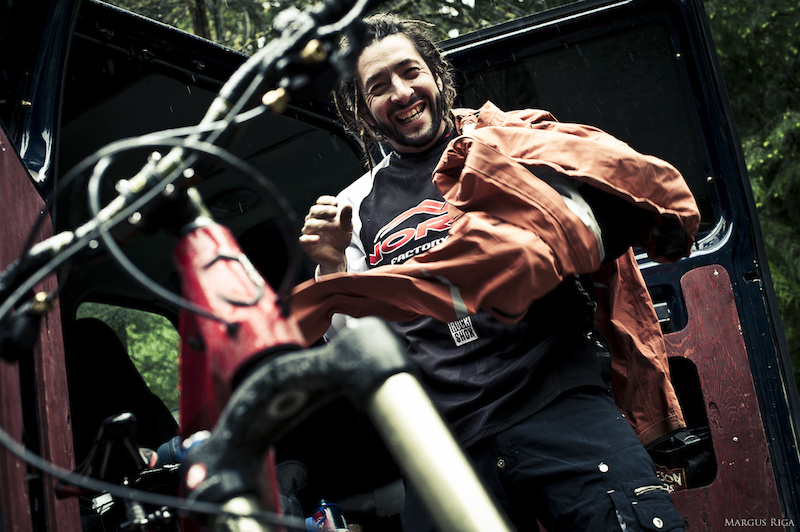 Describe your dream trail?


Shale rock chute (approx 3000', dirt flow (25 mid size rollers), low and long jumps (20'-35'), steep rock faces that connect on terraced edges (maybe 11 of them), flow dirt, berm flow dirt, big hip jump transfers (solid 20-30's), flow dirt rollers, flow dirt berms, MEGA elevated skinny line! 12'-15' Drop into rock gnar death cookies, to sand funnel out.



Where you gonna be in 2012?


Chilliwack, Tofino, Hinton, Crankworxs, Norco Media Launch, and Moab are confirmed. We have several more projects waiting; I am hoping to ride Whistler, Pemberton, and Squamish more this year.



You own an excavator. What does this machine bring to the mountain bike trail building table?


Having my own shaping specific equipment speeds up the build process and allows me to build flow and cycling specific features the way I see them in my head or have designed them without having to explain it to someone who is doing it as their next job and has limited or no experience. I have spent so much time in my career having to train contractors (lots who don't know bikes) to do the job because of insurance or risk limitations or contracts and it's brutal. Having my own equipment allows me to offer specialized services few other builders can do. I specialize in the whole enchilada from raw land through to detailed finish, so having access to my own gear insures I can control the outcomes of projects. It also doesn't hurt that if I am in a pinch for some rollers or a jump set I can have it in short notice.



Who are some up and coming riders who are blowing your mind?


I am out of the loop these days on what's up, with my focus on building, riding and school it's hard to follow the new school. What I can tell you is that the base level of young riders out there now is so awesome and dudes are shredding DH as well as towel snapping large on jumps, it's rad! The Fernie Crew kills it, Vancouver Island kids are always shred gnar and there is even a contingent of Ontario riders smashing it out… the world is a very tubular kinda place these days.



Describe the perfect ride, who, where, when, why, etc


It may sound cliché but every ride is perfect. From uphill xc climbs that hurt me, to beach cruising, dirt jumping to riding the Shore, my bike, my ride is always amazing. Each ride has so many solid moments that it is just fricking rad! Even the rides with flat tires, broken spokes, and busted chains are all funtastik and I would not trade anything for it.



You had a clothing brand in the past. What happened to it?


We grew the Hoots product line to include a full line of armour, clothing, ride gear, helmets, gloves and was working on some other cool stuff. We got going really good and had some super wicked awesome distributors and dealers around the world that were great business partners. I think that Hoots Gear's time just came to pass, my ideas and innovations ended up taking a back seat to the policies of business. When I looked at the riders I sponsored most of them were builders and most of the other support went to non-profits to advocate and build trails. My passion became building and at that time legalizing DIRT jumps (which no one had done to that point) became my calling, my destiny. Creating a way for bike parks to be legal and accepted the same as a ball diamonds or swimming pools consumed me, so I switched gears and here I am today.



What riders have influenced you and why?




Evil Kneivel

- Proved with no doubt that you can dream anything and do it! He also proved that failure is just as easy as success, but learning from it and moving on is possible and necessary


Matt Hoffman

- The Condor - Matt proved to me straight up balls out kinda guts! The dude can ride and does everything huge!


Nate Wessel

- The General - Nate rides HUGE, tricks little but 3's left and right and has one of the most out of the box visions for ride lines ever. Not to mention he designs and builds freeking awesome ramps!


The Atherton Family

- They hold it together tight and all of them ride the heck out of their bikes in their respective fields. Their dedication to the sport and huge success is inspiring and motivating.


Catharine Pendrel

- Former Norco teammate worked her butt off and made it to represent Canada at the Olympics with a 4th place! YES! Catharine is one of the most versatile riders out there and incredible at riding the technical stuff. Stoked to see your success!



What is your favorite thing about mountain biking?


Trees, mountains, dirt, and rock - Hooty heaven.


---

Interview by: Riley Mcintosh
Images by: Margus Riga



Ridden a Hoots' Park? Does he have the best hair in MTB?