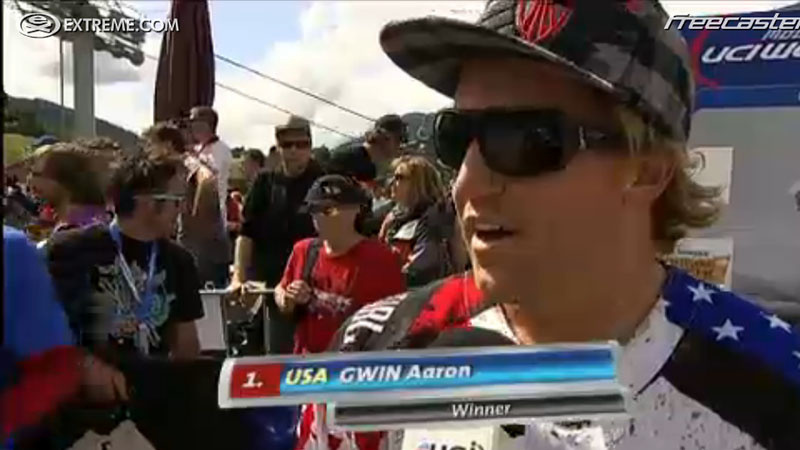 Gwin for the win!
Mens top 5
1. Aaron Gwin
2. Gee Atherton
3. Greg Minnaar
4. Steve Smith
5. Sam Hill
Womens top 5
1. Floriane Pugin
2. Rachel Atherton
3. Tracy Moseley
4. Myriam Nicole
5. Sabrina Jonnier
It was a beautiful day at Leogang today, course conditions were a little dryer than they were in qualifying, and the times show it. Highlights from the day include Brook Macdonald once again holding the hot seat for a while, until Sam Hill took it away from him with 15 riders left to go. One of the more exciting moments was seeing Cedric Gracia ahead of Sam Hill at the split, but he couldn't hold it and finished 0.1 behind Hill for 7th place. Still amazing to see CG coming back and almost making the Podium, stoked for him! Danny Hart was a little slower up top, almost a second back at the second split, but he pulled back hard in the bottom half finishing 0.02 back on Hill for 6th place, amazing riding from the young Giant rider, it will be interesting to see what the future holds for him. With 7 riders left Greg Minnaar threw down a blazing fast run, knocking Hill out of the hotseat with a time that was 3.5 seconds faster, unbelievable, and for a while it seemed like he might have the winning time. Stevie Smith had an sick bottom half but he couldn't make up for a slow start, 22nd at the first split, moving into 4th at the second split and ending up only 2 seconds back on Minnaar for a 4th place finish. Gee Atherton started second to last and had the fastest time at the first split, fastest at the second split, and a full 3.6 seconds ahead of Minnaar at the finish, knocking him out of the hot seat. If anyone could beat Gee it would be Aaron Gwin, last rider left to go, and he started his run 5 seconds ahead at the first split. Dropped off a bit but still almost 3 seconds ahead at the second split, and even though he blew his feet off the pedals in a stressful moment at the bottom, he still held on and finished 2.11 seconds up on Gee for the win!
Once again as in qualifying there was a huge gap between first and second and then third, and more than 9 seconds separating the 5 riders on the podium. That's an insane amount of time at this level of racing, count it out for yourself and think about how far you could ride in 9 seconds...
In the womens race Micayla Gatto was North America's fastest competitor finishing 8th. Jill Kintner looked to be having an amazing raced with the fastest first split, but our hopes for a good result from her were dashed when she crashed and ended up 18th. Sabrina Jonnier looks like shes coming back from her injury all right with a 5th place finish, however she was still 10 seconds back from Floriane. Rachel Atherton had some issues in the bottom section, second at the first split, fastest at the second split, but couldn't keep it together and ended up 2.5 seconds back of Floriane.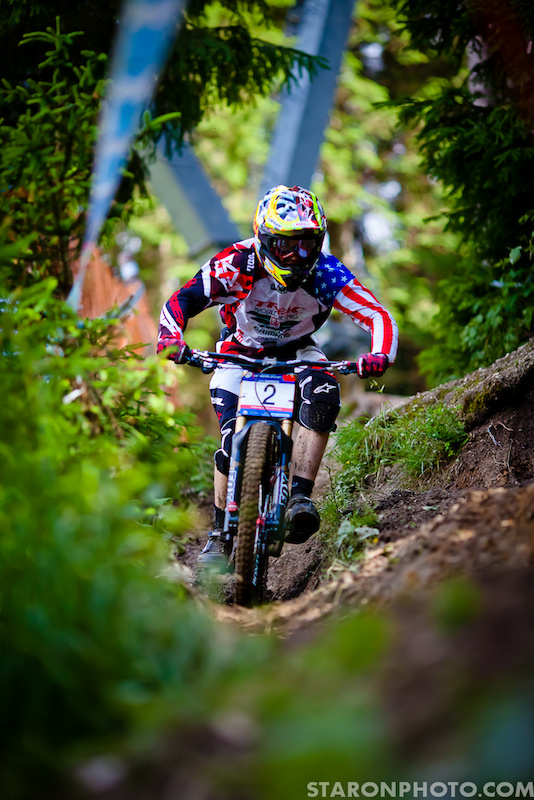 Aaron Gwin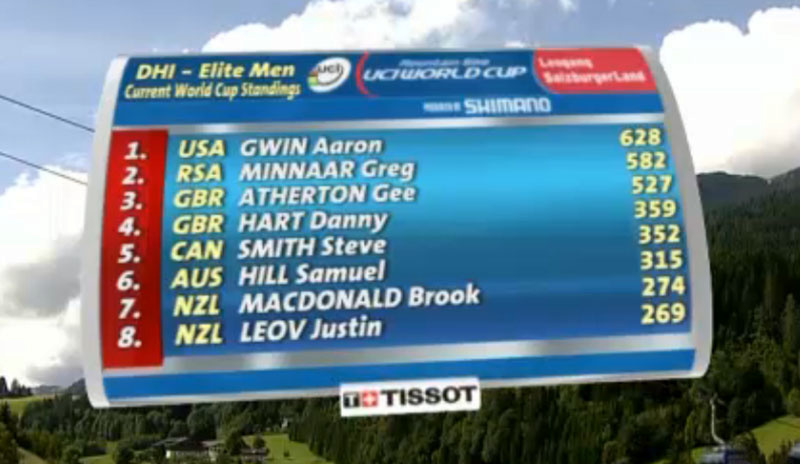 Aaron Gwin's win moves him back into first for the overall ahead of Minnaar, with Gee in 3rd and Danny Hart in 4th place overall.
38849 DHI ME Results
38849 DHI WE Results
Standings after Leogang, 3 races into the season
38849 DHI ME Standings
38849 DHI WE Standings