Just several days ago the small, alpine district town of Daolasa, Val Di Sole, knew little of poverty and oppression. It was an area where the whir of turbo-trainers was drowned out only by the deafening rub of lycra on leather and the fluttering of banknotes in the wallets of bicycle industry fat-cats as they queued for afternoon ice-cream. Fast forward to June 12, 2013. Traveler types from a foreign land are spotted attempting to converse with an innocent rider on a top flight international team program. The intruders were scared off using classic Italian arm flailing techniques, only to see them return in the early hours, scavenging for spare spoke nipples and axle grease.

From that point onward, things would never be the same again in Val di Sole. Basic lean-to shelters in the forest became significant areas of underprivileged temporary housing, before reaching their current status as a fully flourished bicycle rider ghetto. In this exclusive report, Pinkbike got the scoop on this notorious shanty town, known to some locally as 'Guerrilla camp'.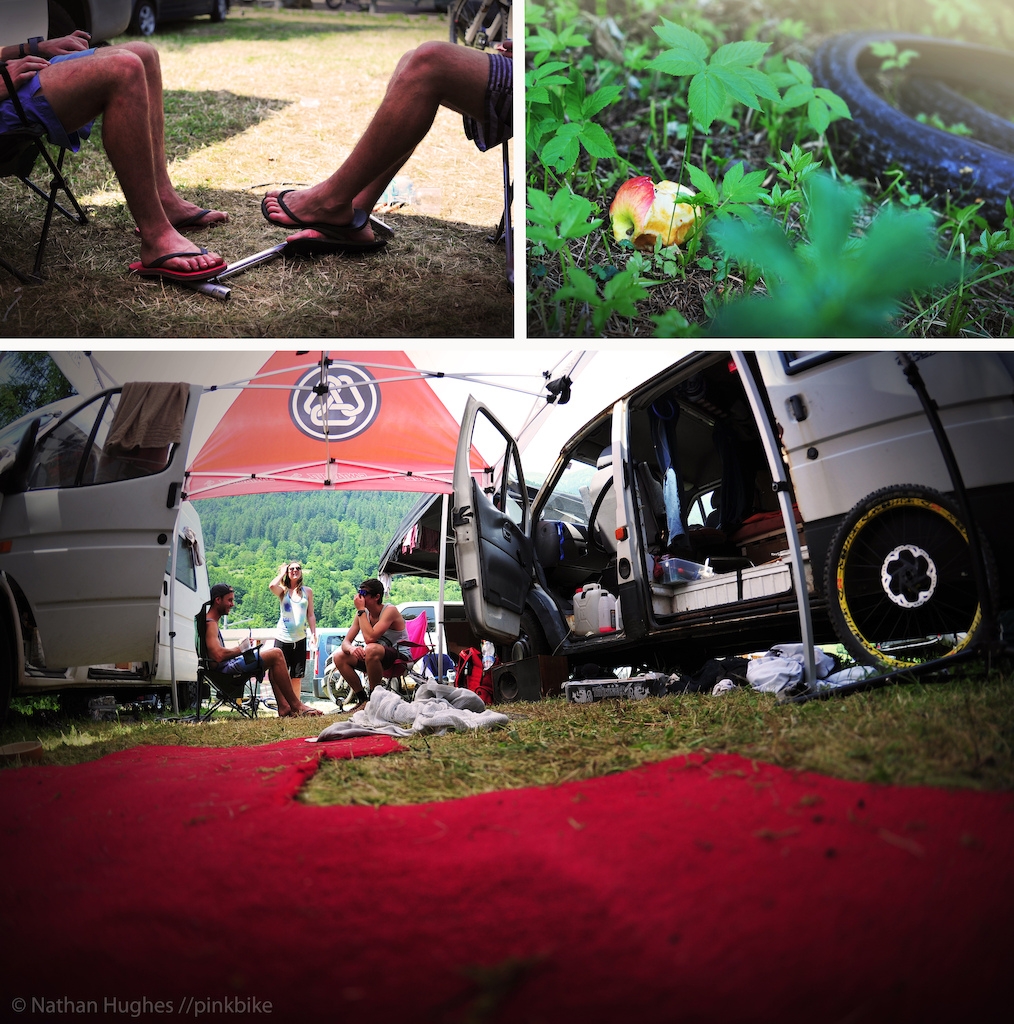 Here we explore a classic pitch in this poorly understood and much feared residency. Things don't seem to be as bad as those in the industry big-rig area feared. What is surprising also, is how much rolling out a red carpet can provide a sense of regal majesty even within the confines of an Alpine pasture.

The sharp-eyed amongst us may have noticed the Syndicate logo of the easy-up shelter, acquired not through crime, but purely mistake as a both kind and wealthy person was supposed to donate a Transition tent, but sent them off with the wrong one. Also notable is the fact that as far as the eye can see there seems to be no issue with the reported 'unroadworthy vehicles' described during all the irrational panic in the 'vans with graphics' car park.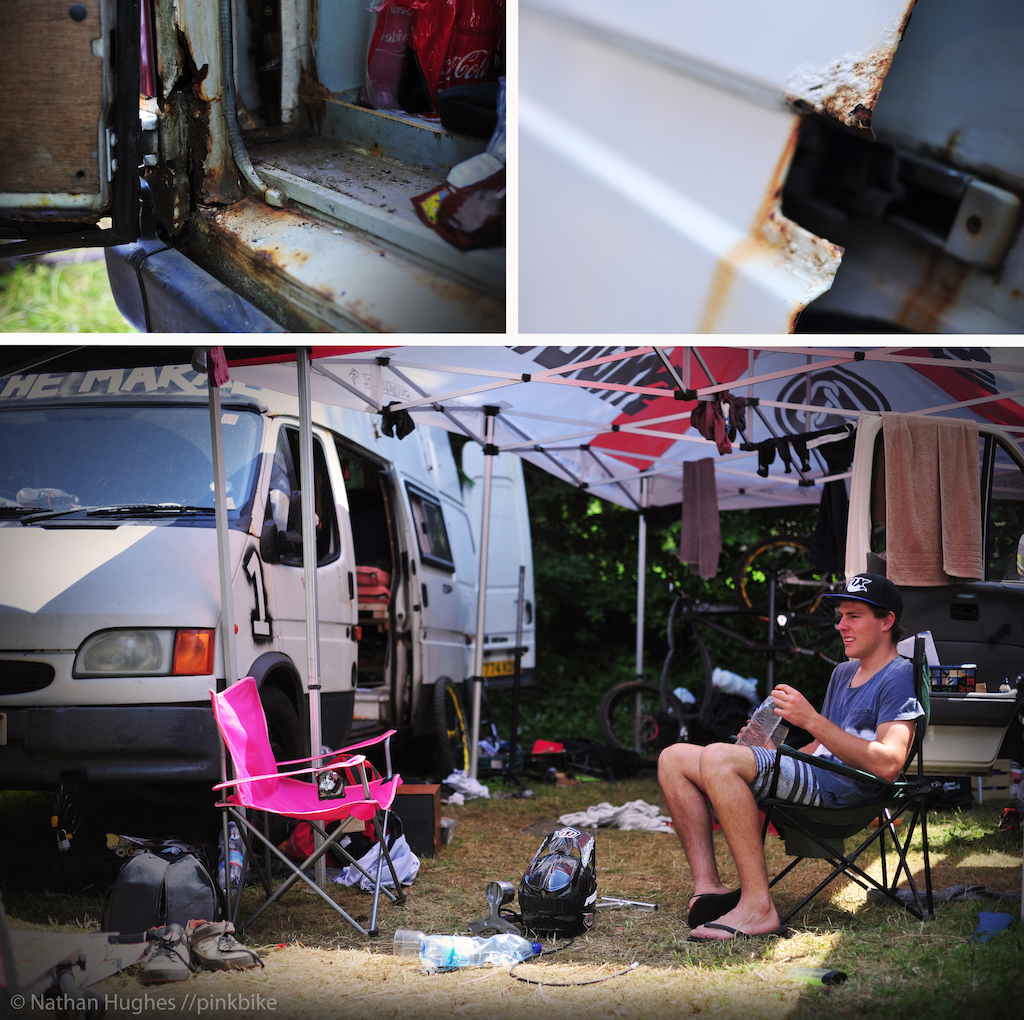 On the contrary- introducing one of the most formidable RV set-ups currently on the World Cup circuit.... Meet 'The Marae', the marauding vehicle of these Kiwi privateers. Purchased for just 999.99 pounds (including MOT) from a little known London backwater. The van is named after the word for a 'sacred place' in Maori tradition. PB has every confidence in the sanctity and peace afforded by this means of transport, even at 120kph. Interestingly there is a small Adam Brayton sticker acting as both a figurehead for this vessel and team mascot.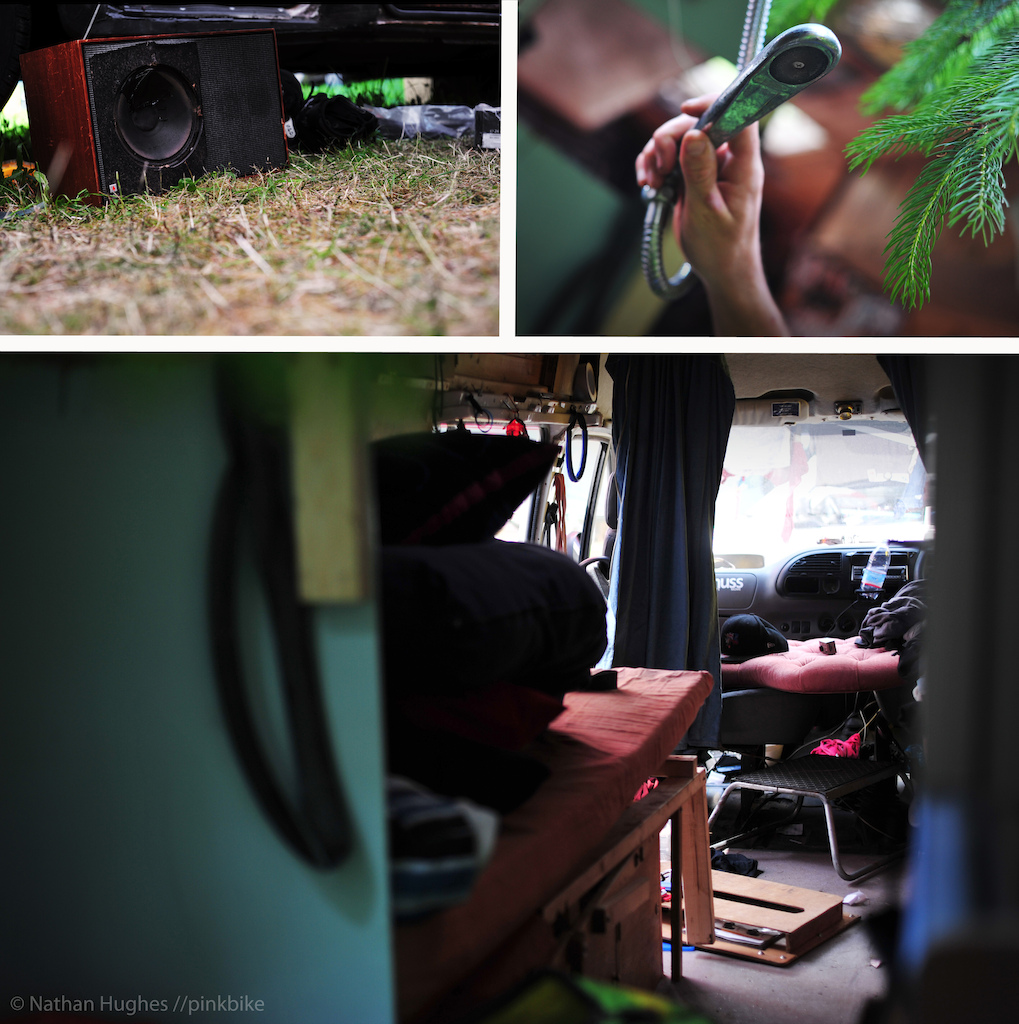 Despite this reporters best efforts to push for a potential sale price estimate, the owners were reluctant to place any figure on such well appointed living quarters. Yes, kids, before you ask that is an i-pod and pad compatible entertainment station, and mums you are correct in thinking that is a luxurious fold out bed for all the family, currently accommodating 3 sharers. And the shower? Well it runs almost as thick and fast as oil drips from the undercarriage. I'm underselling it now. There are in fact dual showers.

A UCI official at Fort William suggested that Eddy 'go home and have a think about the image he is portraying', due to it being highly 'unprofessional'. To which his response was obviously, 'I'm not a professional.' Everybody should know by now there's no fresher way to travel than in a Hawaiian.

Eddy and Reece were working as trail builders in Australia before hitting the road to make Innerleithen National in May. There's no mechanic for their self-bought Zerode G1s, but Eddy assures us 'pull it out n go' approach is ever the best method. Eddy came in 43rd last weekend and both the guys are going for top 50s tomorrow, but agree that to 'get out alive' is the real priority.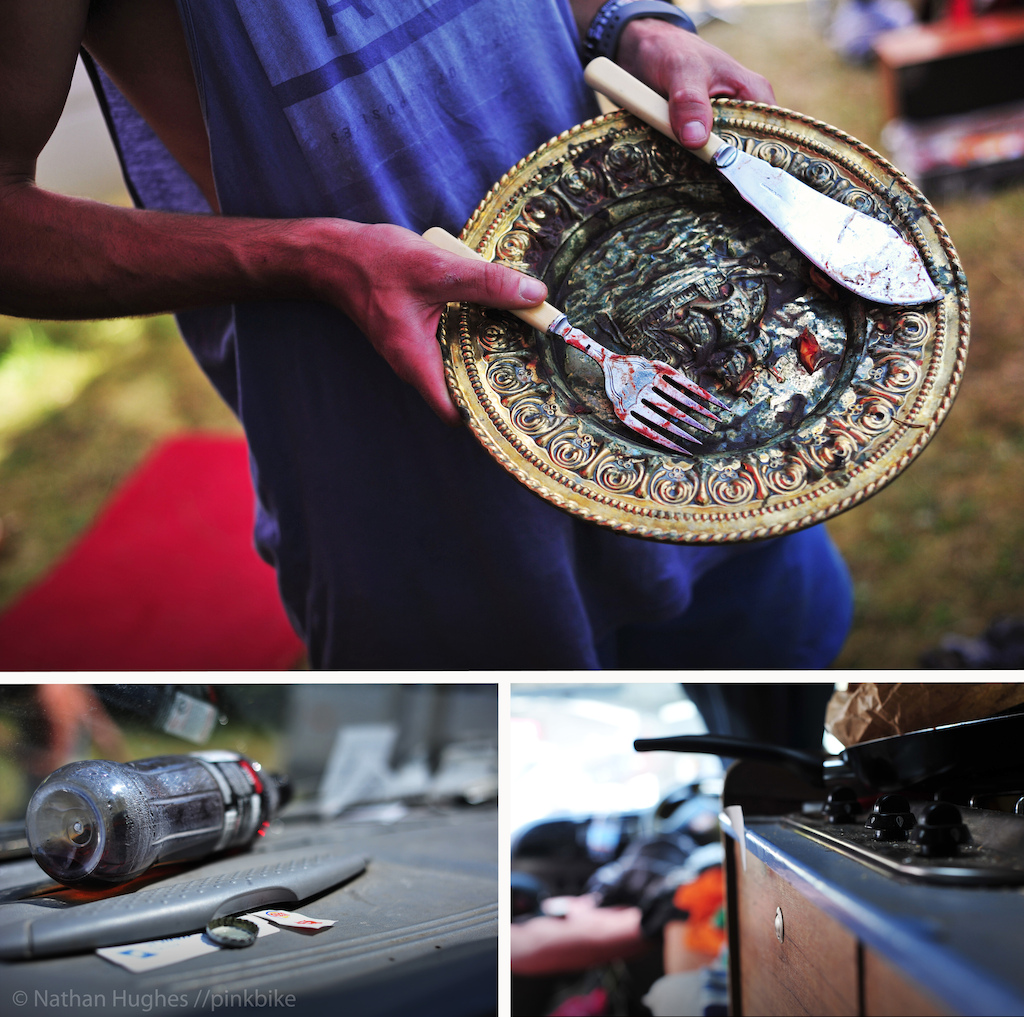 The 'Victory Plate' in all its golden glory, equipped with delicate slicing machete and blood smeared (?) five-prong fork. To dine from this receptacle is considered the ultimate honor in this ghetto race community. Only he with the fastest split shall lay his meat upon its embossed surface. Seriously, it's a tradition.

What did Pinkbike learn during their short-lived adventure to 'the other side'? Guerrilla camp is in fact quite a marvelous place, full of individuals living and racing on a shoestring. If you have the means, please donate some form of sponsorship to these underprivileged young riders who go out for the race of their lives tomorrow afternoon. Beers and river-friendly shampoo are their currency.
Must Read This Week