After lots of planning and trail building, we are exited to be opening our Bike Park and welcome all riders of all skill levels!
We will be putting on a MTB forum at the Ski Park to introduce our new trails off the marmot lift and the rest of the bike park (opening July 3rd through Labor Day)
The date is June 27th on Thursday starting at 10am; we have several speakers lined up, Noon catered lunch and after lunch free ride the park and give evaluations. We are inviting all of the regional bike shops and clubs to be a part of this and to put their input in to the future success of the MTB Park here at the Ski Park.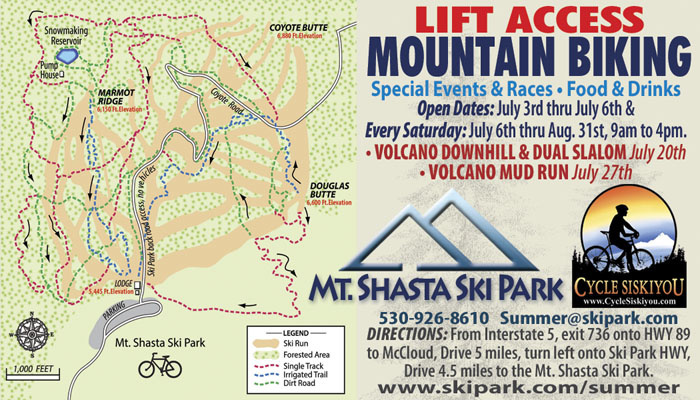 We have incorporated the plan done by the IMBA on our flow trails with armoring and irrigation as our major asset on the marmot ridge side of the park. We will be having 2 lifts running for mountain biking Douglas for the downhill with over 1400 vertical descent and our marmot trails with 650 vertical feet descent. Our plan this year is to be open for MTB from July 3rd through 6th and every Saturday through Labor Day weekend. We will be featuring our Volcano Downhill and Dual Slalom race on July 20th (the bike park will be open during event) and a fall cyclocross race on October 5th.

We hope you can join us here at the Ski Park for this kickoff event. Free ride, Free lunch, Lots of fun so come on out on June 27th for a preview of the MTB park at the Mt Shasta Ski Park
RSVP: bigjim@skipark.com with how many you will be bringing with you as we will be providing lunch for all that attend.
Thanks and I hope to see you here
Jim Mullins
Marketing Director
Mt Shasta Ski Park
104 Siskiyou Ave
Mt Shasta CA 96067
bigjim@skipark.com.
530-926-8604