TESTED
Marin Mount Vision
XM8

Marin has been in the mountain biking world since the early days of the sport, beginning in Marin County, California, in the mid-80s, and launching their first full suspension bike in 1992. The Mount Vision XM8 is the company's 140mm, aluminum-framed trail bike, and uses the latest version of their Quad-Link suspension design. Featuring a full Shimano XT drivetrain and FOX suspension front and rear, the XM8 retails for $3799.99 USD. Our size medium test bike weighed in at 29 pounds without pedals.

Marin Mount Vision XM8 Details
• Intended use: trail/cross-country
• 26" wheels
• Rear wheel travel: 140mm
• Quad-Link suspension
• 12 x 142mm rear axle
• 160mm post mount rear disc
• Size: XS, S, M (tested), L, XL
• Weight: 29lbs without pedals
• MSRP: $3799.99 USD
Frame Design and Quad-Link Suspension
The XM8 is constructed from 6061 aluminum, and has the trifecta of must-have frame features for modern trail and all-mountain bikes (
tapered headtube, 142x12 rear thru axle and a direct mount front derailleur
), although there are no ISCG tabs for mounting a chainguide. The rear swingarm has a unique, angular shape to it on the non-drive side, a shape that allows post mounts for the rear brake caliper to be located on the chainstay. Although internal cable routing is becoming increasingly common, the XM8 sticks with external cable routing, running the dropper post and front derailleur housing run along the underside of the top tube, and the rear brake and derailleur housing underneath the downtube.
The Mount Vision XM8 features the third generation of Marin's Quad-Link suspension system. The previous two versions looked drastically different from the layout found on the XM8 – the chain and seat stays used to extend into the middle of the frame where two short links activated the shock. Now, the links have been move towards the rear of the bike, with one short link found just above the bottom bracket and a rocker link found below the top tube and seat tube junction. This new configuration allowed Marin to rework the design's leverage ratio curve to give the bike a more progressive end stroke along with reducing the initial leverage ratio, which should make for a more active suspension feel.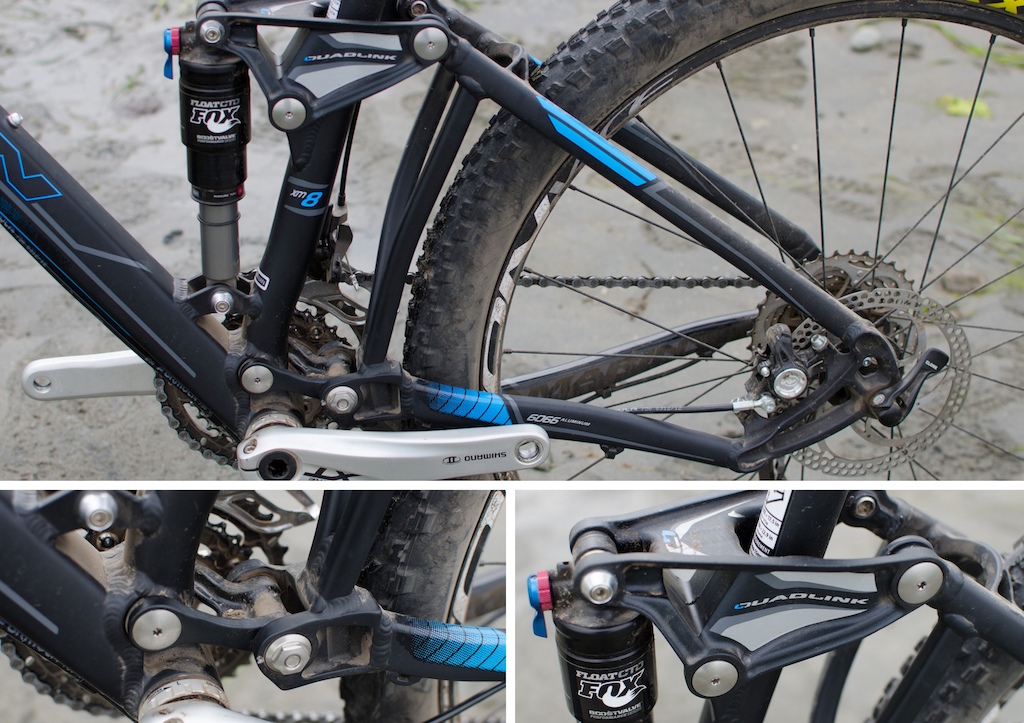 Marin's Quad-Link 3 is a much trimmer looking suspension design when compared to the previous two versions, using an upper rocker link along with a short link just above the bottom bracket. While the XM8 is a 26" wheeled bike, the new layout of Quad-Link 3.0 has also opened the door for Marin to use this design on 29ers.

Component Check
The XM8 has a full Shimano XT drivetrain, with a 42/32/24 triple crankset in the front and a 11-36 ten speed cassette in the rear providing plenty of gearing options. Formula's R1 brakes help slow things down, with a 7" rotor in front and a 6" rotor in the rear. A FOX Float 32 CTD front fork and a FOX Float CTD rear shock take care of the suspension duties. An X-Fusion HiLo dropper post is included, and an Easton Vice wheelset is shod with Maxxis' Ardent tires.


Specifications
Price
$3799.99
Travel
140mm
Rear Shock
Fox Float Performance CTD BV
Fork
Fox 32 Float Performance CTD, 140mm Travel
Cassette
Shimano XT, Direct Mount, 3x10-Speed
Crankarms
Shimano XT, 42/32/24T
Bottom Bracket
Shimano XT Big Pipe Billet Integrated with Crankset
Rear Derailleur
Shimano XT Shadow Plus
Chain
Shimano XT, 10-Speed
Front Derailleur
Shimano XT, Direct Mount, 3x10-Speed
Shifter Pods
Shimano XT, 2 Way and Instant Release, 3x10 Speed
Handlebar
Marin 7050 Alloy, OS-31.8mm, 710mm Wide, 25mm Rise
Stem
Marin OS Alloy Threadless, 31.8mm Bar Clamp
Grips
Ergon GA1 EVO
Brakes
Formula R1, Hydraulic
Wheelset
Easton Vice
Tires
Maxxis Ardent, 26" x 2.25", Folding
Seat
WTB VOLT Comp
Seatpost
X-Fusion HILO 125mm with remote
---
| | |
| --- | --- |
| | Even with the rear FOX CTD shock fully open in Descend mode there was minimal pedal induced suspension movement, making it possible to power the bike over rocks and roots without feeling like our energy was being wasted. |
Climbing and Handling
Stand up out of the saddle to power up a climb and the XM8 quickly responds, scurrying uphill with an impressive lack of unnecessary suspension movement – this bike has one of the firmest pedaling platforms we've encountered. Even with the rear FOX CTD shock fully open in Descend mode there was minimal pedal induced suspension movement, making it possible to power the bike over rocks and roots without feeling like our energy was being wasted. On extended logging road sections we never felt the need to use the Climb position – the Trail position provided plenty of low speed compression damping for those long uphill slogs, and in reality it would have been fine to leave the shock fully open. The climbing position felt balanced, making it easy to perform weight shifts to get traction where it was needed. We didn't weigh the XM8 until after our time on it, and were surprised to see it coming in near the 30 pound mark. This isn't an unreasonable weight, but we would have pegged the bike as being in a lighter weight category given its climbing prowess and nimble feel on the trail.

Descending
The XM8's 67.5 degree head tube falls in line with its intended use as a trail bike, an angle that isn't XC race steep, but also not as slack as bikes meant for more all-mountain duties. On the trail this translated into a bike that felt competent in most situations, as long as the trails didn't get too steep or chopped up. At slower speeds we had no trouble picking our way through technical mazes of rocks and roots, but at higher speeds on the same type of trails the XM8 lost a bit of its luster. While some bikes feel like they have more travel than they actually possess, encouraging riders to push harder and faster on technical terrain, the XM8 feels like it has exactly 140mm of travel and not a millimeter more. There's a definite downhill speed limit on this bike – if we opened it up too far the rear end would get bounced off line, forcing us to put on the brakes to get things back under control. The rear FOX shock did its best to keep up, and we certainly used all the travel, but the XM8 lacks that plush, bottomless feel that encourages riders to let it all hang out in the rough stuff.


Component Report
• Formula R1 Brakes:
Good – the tool free reach adjust is quick and easy to use, with a nice positive click at each position. Bad – The lever shape of the R1's leaves a lot to be desired, and feels blockier and less ergonomic than the current offerings from Shimano and Avid. In wet conditions or on steeper trails there was a definite lack of power. When the brakes were applied there wasn't that deep stroke modulation other brakes on the market possess, and no matter how hard we squeezed there wasn't any way to eke out more braking force. Pad life was sub-par as well – we burned through a set of pads in only a few weeks, much, much quicker than we're used to.
• Ergon GA1 Evo:
Good – The single bolt design makes these easy to remove. Bad – The composite locking clamp on these grips extends outward, which made it uncomfortable to ride with our hands all the way at the end of the handlebar
• Maxxis Ardent tires:
Good – Fast rolling and predictable in most conditions, the Ardent fits well with the XM8's trail bike intentions. Bad – The Ardent can get a little drifty in the wet – corner too hard and things may start going sideways.
• Frame finish:
The shape of the top of the upper rocker link could use a little refining, as there's a sharp edge that's positioned perfectly to hit the side of a rider's knee. On the climbs this wasn't an issue, but we hit it a few times on downhill sections required more body English. If the edge was rounded off, contacting it would be less likely to cause pain.
• Shimano XT drivetrain:
While we would have preferred a 2x10 setup instead of three chainrings, we had no shifting issues, and the Shadow Plus derailleur kept chain noise to a minimum.
• X-Fusion HiLo dropper post:
Good – We were skeptical at first of the seatpost's joystick style actuation lever, which looks a bit flimsy, but it survived unscathed, and we didn't run into any issues with the post itself either. The ability to use any position in the post's range of motion was also appreciated. Bad – The seatpost does extend when you lift the bike by the saddle, which isn't really an issue for us, but there are riders who prefer seatposts where this doesn't happen.
Pinkbike's take:
| | |
| --- | --- |
| | It's easy to take for granted the features that many trail bikes now come equipped with: front and rear thru axles, clutch type derailleurs, and dropper posts were almost non-existent a few years ago, but now come as standard equipment on most higher end trail and all-mountain bikes. The XM8 is no exception, featuring all of these amenities and is a good representation of a modern trail bike, with excellent pedaling characteristics and good manners as long as it isn't pushed too hard. At times, we did wish that the XM8 had a little more depth to its trail character. We've ridden a number of bikes recently that blur the lines between categories, possessing the ability to hold their own even when drafted for duty on trails more rugged than what they were designed for. The XM8 didn't seem to exhibit this versatility, and never revealed any hidden rock star characteristics that would take it to the next level. Still, the XM8 does fulfill its intended purpose quite well - Marin has created a efficient pedaling bike with a little more suspension and more relaxed geometry than an XC race bike would have, one that would suit riders who focus more on covering long distances and less on seeking out the most technical trails around. - Mike Kazimer |
www.marinbikes.com
Must Read This Week