We had a great ski season. 94 days, half of them touring, 90% in pow. On April 14th ski season ended when it got warm and wet. The forecast wasn't promising; it was too wet to even do trail work! What to do? Wallow in self pity, ski shitty snow, ride in the mud or... DRIVE 2000km South to Utah and Colorado.
This drive is best done over two days. If we leave early in the morning we can get to Mountain Home, Idaho by evening. This allows us to get to Salt Lake City by lunch the next day or Moab in the evening. It takes 22 hours to drive back from Moab to Vancouver. The full pull is easier to do on the way home. We have learned to eat at IHOP for breakfast. It's fast and predictable. We did find a great Mexican restaurant in Ontario Oregon for dinner,
Tacos Mi Ranchitos
- quick, easy and very good!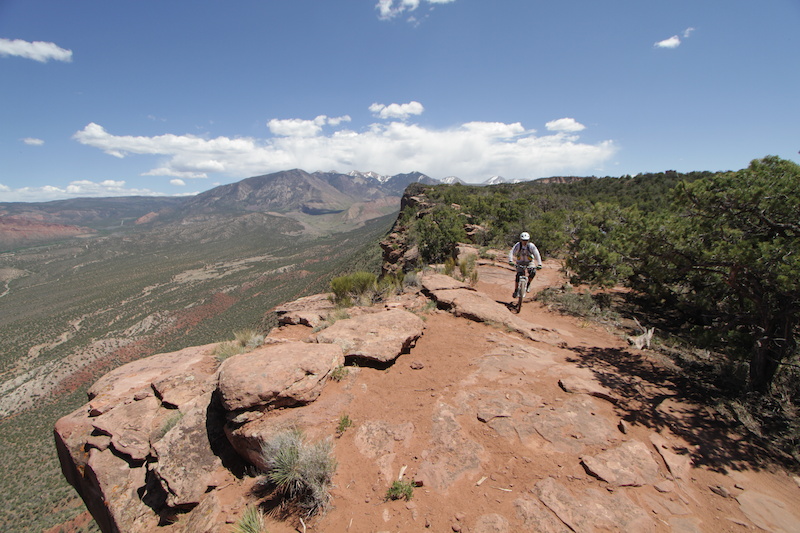 Lower Porcupine Singletrack
Since this was an impromptu trip we decided to camp at a campsite with Internet access as we still had some work stuff to take care of.
Pack Creek Campground
was our home for 5 nights. For cheaper options with few amenities you can camp in one of the
BLM Sites
on any of the major roads out of town. If you are feeling particularly ghetto you can camp anywhere in BLM land where you can find space. Just bring water and pack everything out.
We haven't ridden in Moab since
2007
. According to internet wisdom this part of the American Southwest is overrated (we beg to differ). This area is
HUGE
with much to offer. We decided to stay in Moab because we heard they have new trails and have been upgrading their current network.
We were not disappointed!
Amasa Back
Our first ride in Moab was on the old Classic Amasa Back, Pot Hole Arch, Rock Stacker to Jackson. The last time we were here it was a 'secret'. A pretty well known secret mind you... Since then a new organization was formed -
Moab Trails Alliance
and
Trail Mix
- which seems to be the advocacy group responsible for working with the land owners, building new trails and putting up signage. You can find all the maps on this site, or buy them at any of the Moab Bike shops.
Moab - Amasa Back at EveryTrail
This ride has it all, views, technical ups and very technical descending. Amasa Back to Pothole arch itself is mostly of the AM variety with lots of meandering climbs alternating with short downhills or incredible scenic views on a spine of red and pink sandstone, decomposing rock and slickrock with a smallish arch at the terminus. You go out and back on the Pothole portion then turn back onto one of the Rockstacker/Jackson entries.
Rockstacker (and the later portion of the trail, Jackson) has very technical descents of the steep, loose and sometimes tight variety followed by a surprising amount of climbs - some moderately long, but mostly punchy short climbs. You end with a beautiful (kind of unnecessary to say this really) descent back to the parking lot..
More pictures, video and map info here
.
Klondike Bluffs
Also described in this link above is another area that has been developed -
Klondike Bluffs
- which has less technical but equally fun, fast trails. After our 3 and a half hour ride we were tired, maybe because we rode 27km without even realizing it!
Klondike Bluffs used to be mostly out and back doubletrack with a grand view of Arches National Park at the terminus. Added to this area is now a network of doubletrack linking singletrack. Views here are not quite as spectacular as with Amasa Back, but that's not a fair comparison is it? Anyone who relishes mountain biking with variety will love this trail network
Moab - Klondike bluffs at EveryTrail