Norco will have at least two models in its range for 2013 with 650b (27.5-inch) wheels. The Range 650 was on display at Sea Otter and would have been ridden by Duncan Riffle had he been able to score his favorite tire in the 650b size. Riffle said the bike corners beautifully. Norco got the tire size on the right bike, as the Range is already a capable all-mountain machine with an appetite for park riding in the 26 inch size. With the larger 650b wheels and big 2.35 or 2.4 inch tires, it should have the rough-ground roll-over of a 29er, but with snappier acceleration and better cornering.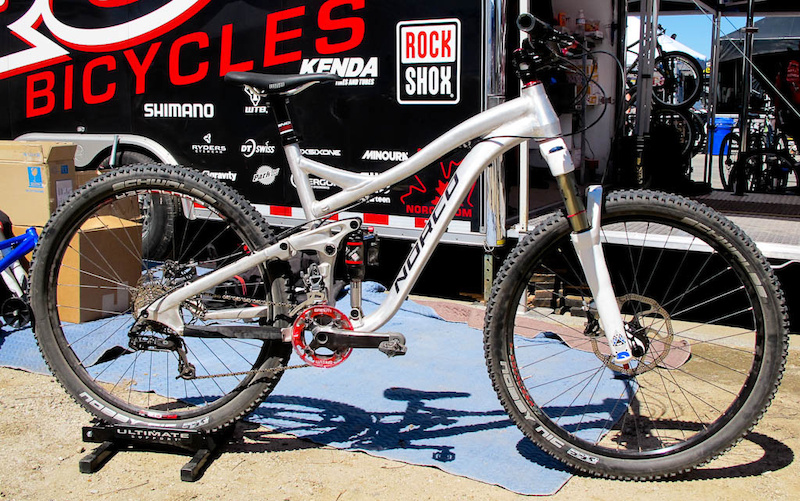 Norco's Range 650 demonstrates that lessons learned from 29ers like offset seat tubes and direct-mount front derailleurs can be put to better use in a mid-sized wheel format. The Range 650 is positioned to use 650b wheels where they can do the most good - deliver maximum suspension travel and improved roll-over to the sport's most aggressive trail riders.
Product manager Dustan Sept said that the Range 650 will be ready for production for 2013, but there is no hard release date, as testing is still underway to fine-tune its geometry. On that note, Dustan was adamant that there is a correct geometry for each wheel diameter and that there is no way one can simply switch to bigger or smaller wheels and make a side-by-side comparison. The range 650 frame uses a 142/12mm through-axle in the rear, with post-mount brakes and it will have a dropper seatpost as standard equipment. ISCG 05 chainguide tabs are standard fare, athough the Range 650 will be shipped with a two-by-ten drivetrain with a bash guard. The pre-production Range 650 has 160 millimeters of wheel travel front and rear thanks to a reduced-travel RockShox Totem fork. The reduction was necessary to bring the bike to its correct bottom bracket height. Dedicated 650b forks, however, will be appearing from every major suspension maker for 2013 and nearly all wheel and tire makers are on board.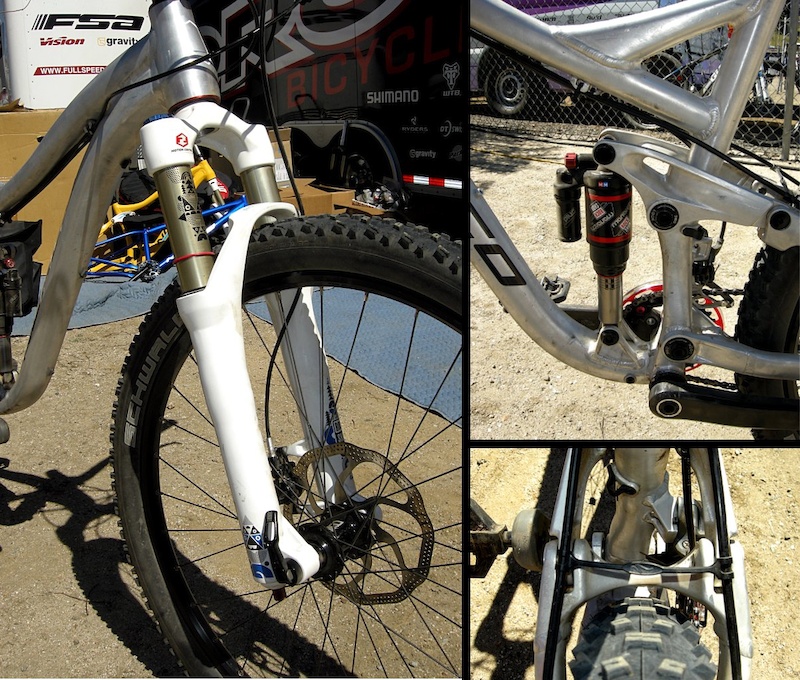 (clockwise) Norco reduced the travel of a 26-inch RockShox Totem fork to get the ride height correct and to balance the Range 650's wheel travel. Norco adapted the same FSR four-bar linkage to maintain smooth suspension action while braking and pedaling. A look down the Schwalbe 2.35 inch tire shows adequate tire clearance, the offset seat tube and direct-mount front derailleur.
Will Norco's 650b Range gain traction among the sport's most capable riders? Only time will tell, but the loudest buzz in the Sea Otter pits was talk about the mid-sized wheel and how nearly everyone was bringing one out for 2013. We've only had good things to say about the 26er Range, so if it is true that the Range 650 is noticeably better, Norco will have one heck of an AM machine next season. Can't wait to throw a leg over one.
- RC