Outdoor Demo Day One Randoms - Interbike 2013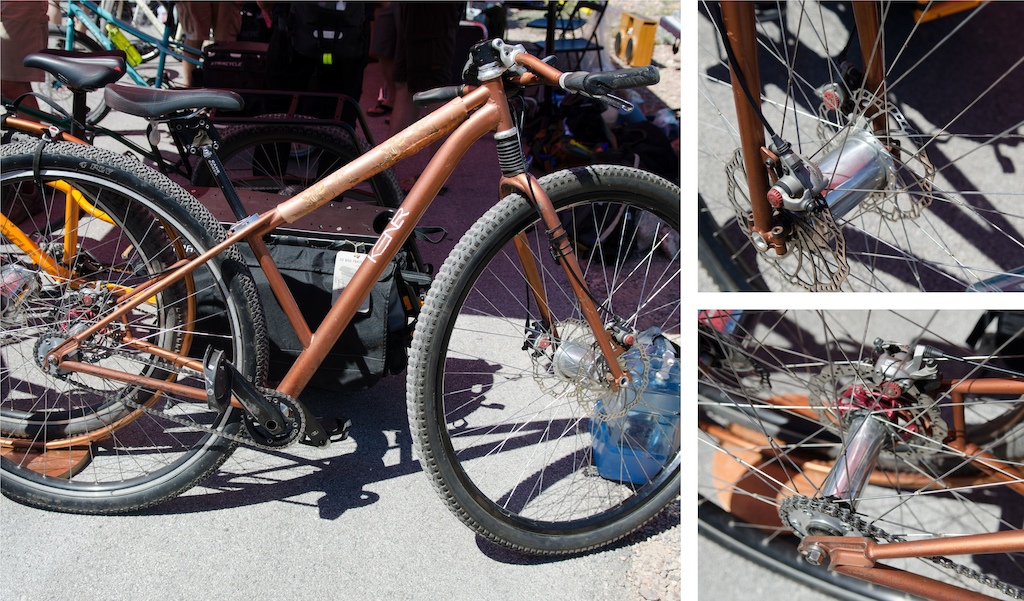 This 36" wheeled bike, built by Bryan Keener of Keener Cycle Works, had dual front mechanical disc brakes, Shimano Saint cranks and an Action-Tec fork. Another version had a modified Cannondale Lefty front fork to get 5" of travel. These are custom, one of a kind rides, with no plans for production.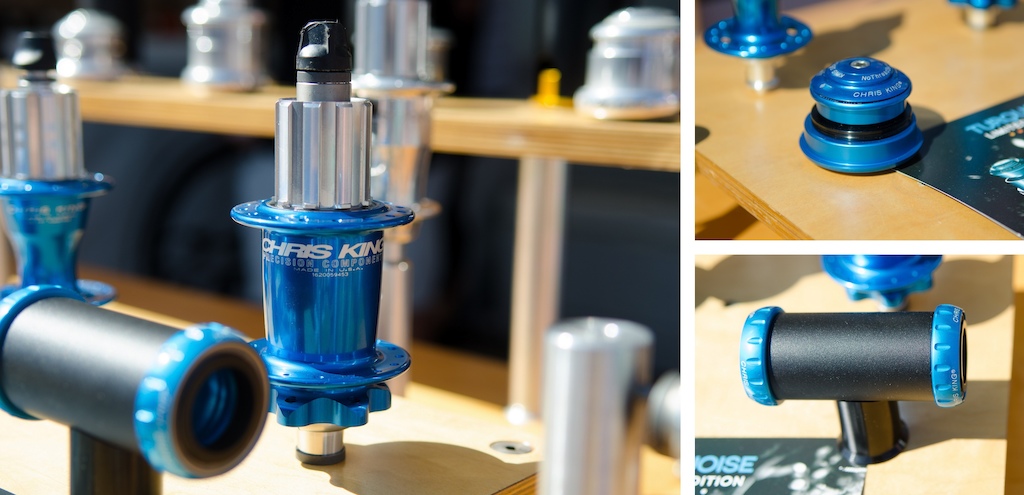 Chris King had new color options on display as well, showing off their line of limited edition turquoise components. Orders will be taken until November 15th, 2013, with delivery expected between mid-January and early March, 2014. The Portland, Oregon, based company is also now offering hand built wheelsets featuring their own hubs laced up to rims from ENVE or Stan's.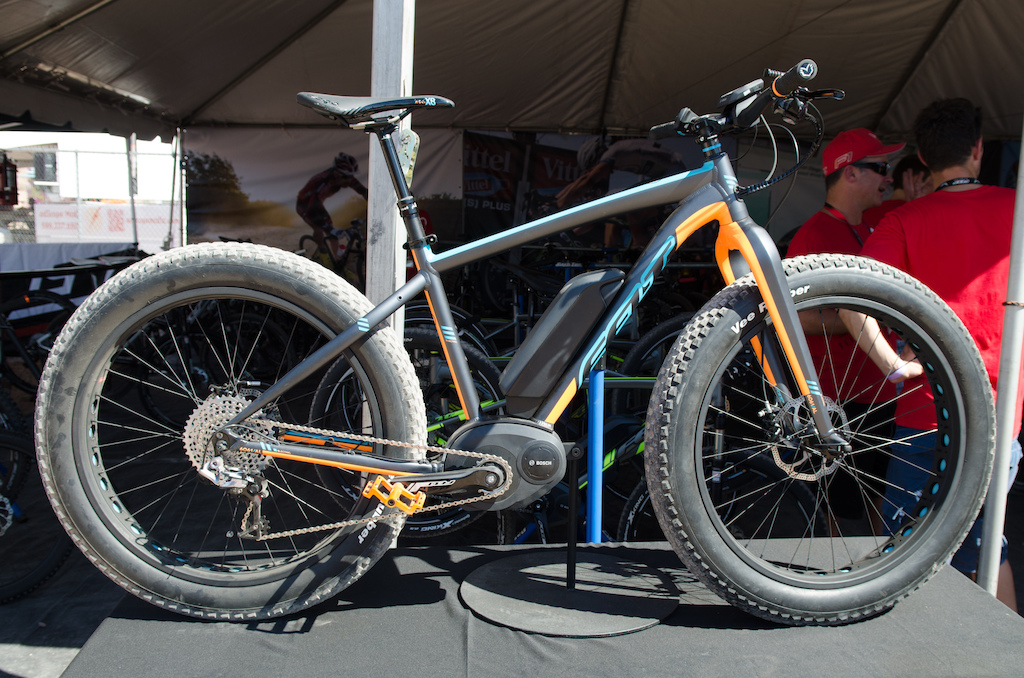 A fat e-bike? Yep, they exist, in the form of this concept bike from Felt Cycles. Felt has had e-bikes available overseas for the last two years, and are now planning to introduce a line of bikes equipped with the Bosch eBike System. Adding the motor, which provides pedalling assistance at speeds of up to 18mph, adds about 13 pounds to the bike's weight. When asked who the target market for a fat e-bike would be, Heiko Bohle, Felt's European Product Manager, responded, "It's for the 50+ crowd. And nerds."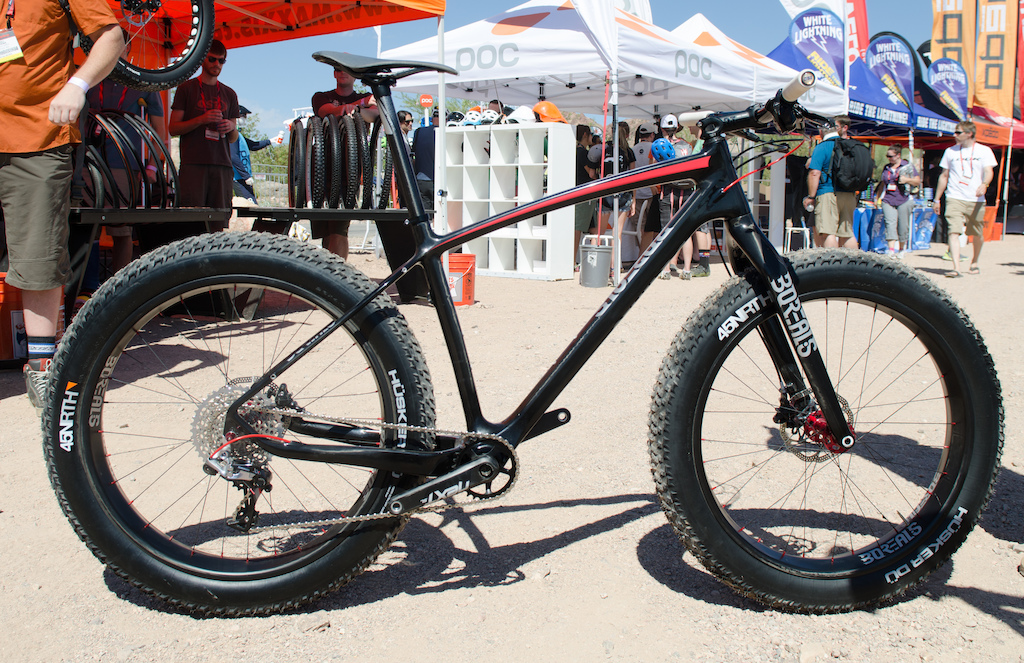 Borealis, a relatively new company based out of Colorado, had their full-carbon Yampa fat bike on display. It's claimed to be the lightest fat bike frameset on the market, with a weight of 1270 grams for the frame and 575 grams for the fork. The Yampa has massive 190mm rear spacing, internal cable routing, along with rack mounts and three bottle cage mounts. MSRP for the frame is $1799 USD, and the fork is $449. The bike pictured was equipped with Borealis' new carbon rims, and weighed 21 pounds.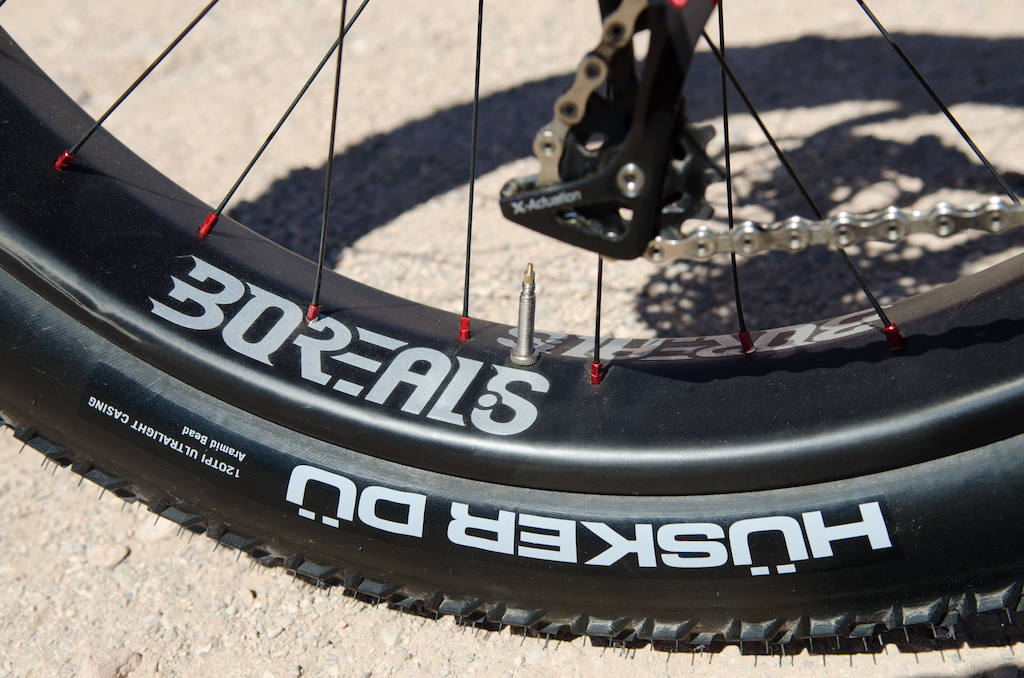 If you need more carbon in your life, Borealis has the answer with these 85mm wide tubeless rims intended for 4 to 5 inch wide tires. The production rims are expected to weigh in around 590 grams, but a fat wallet will be necessary to purchase these carbon behemoths, since a pair will retail for $1599 USD (rims only).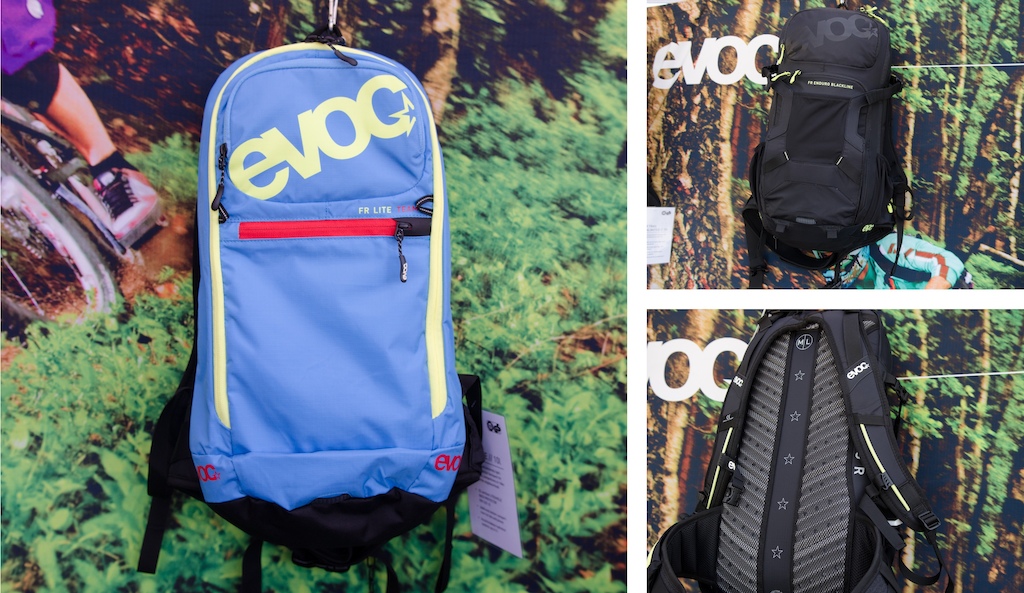 EVOC's line of hydration packs with integrated back protectors has been well received in Europe and Canada, and now the company is expanding their distribution to the United States. The FR Lite (left) has a 10 liter capacity, a detachable helmet carrying system, and is available in two sizes, S or M/L. MSRP: $120 USD. The 16 liter FR Enduro Blackline (right) has been revised for 2014 to increase the breathability of the back panel and waist strap. MSRP: $200 USD.


Bern is better known for their snow sports helmets, but the company has decided to enter the world of mountain biking with the Morrison. The helmet is constructed using zip molded foam, which Bern chose to use due to its high strength to weight ratio, and like many of Bern's snow sports offerings can be used as an all-season helmet, with a liner available to block the 16 vents and make it wearable in cooler temperatures. MSRP: $99, available spring 2014.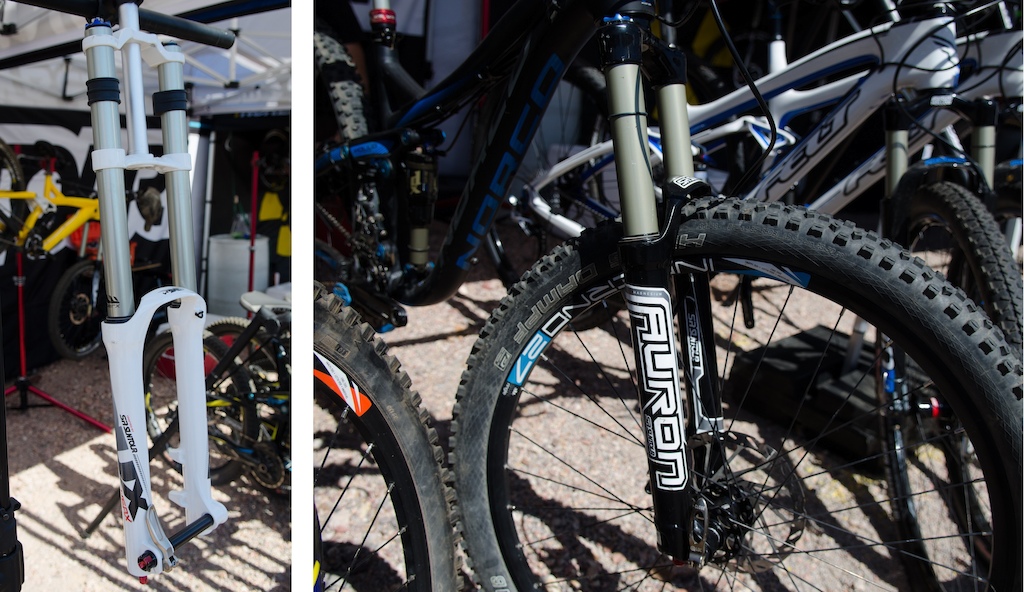 Production on SR Suntour's Rux fork is ramping up, with the final version expected to be available this fall. The air sprung fork has 200mm of travel, adjustable rebound along with high and low speed compression damping, and a claimed weight of 6 pounds. MSRP: $1200. Suntour's Auron, their air sprung 150 or 160mm all-mountain 650B fork, is also in production, and should be available by late October. There will be three different versions, with the RC2 version coming in at 1940 grams with an MSRP of $799.

"No, this is not a good town for psychedelic drugs. Reality itself is too twisted." - Hunter S. Thompson,
Fear and Loathing in Las Vegas.
Stay tuned for more from Interbike 2013.
Must Read This Week