Sea Otter 2011 marked the first public screening of "Pedal Driven" a full-length documentary by
Howell at the Moon Productions
that adresses illegal trailbuilding and presents a series of successful efforts by outlaw builders who worked with land managers and local stakeholders to develop legal trails in the same locations. Pedal Driven played to an enthusiastic full house, stuffed with cycling's luminaries, where the crowd was treated to a S-ton of swag - some beautiful riding action, and a fresh look at an old problem.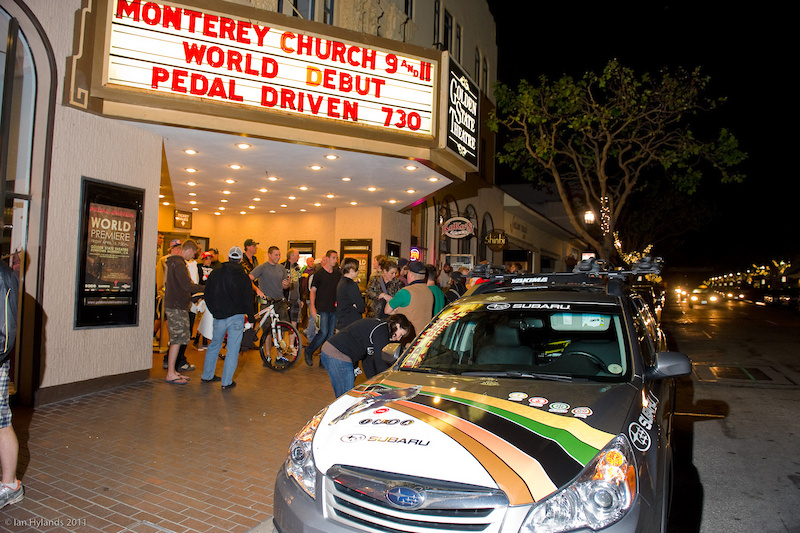 "Pedal Driven" screened to a full house on its world premier in Downtown Monterey, California.
For those who have not seen the preview, it's worth a peep.
Considering the movie's well-worn premise, it would be natual to expect "Pedal Driven" to serve up a preachy storyline that belabors the horrific destruction that maverick diggers and builders inflict upon verdant mountainscapes, while safely siding with bunny-hugging cross-country cyclists who are kissy kissy with uniformed officers and bespeckled, hand-wringing anti-bike land managers who state for the record that, "I am a nice guy, but my hands are tied by the law, so I am forced to send these young men and women to the electric chair to pay for their crimes." Pinkbike is happy to report that such was not the case with "Pedal Driven."
"Pedal Driven" centers primarily around popular riding areas in Washinton and Oregon, and manages to hit all the positive and negative impacts that big-bike and All-mountain riders bring to the back country. The storyline does an excellent job of covering the perspectives of illegal riders and builders, law enforcement, land managers, mountain bike activists, and anti-bike factions without making superficial judgments (the Sierra Club even gets 15 seconds of fame). The resolution: cooperation between user-groups and stakeholders, a clear understanding of what kind of trail is proposed, and the willingness of all parties to hold point through a nearly endless documentation process, is depicted without sugar coating. Writer-producer-director-editor Jamie Howell should be thanked for presenting the rougher side of the sport in such a refreshing and candid manner.
The most important message, however, and the fresh ground "Pedal Driven" unearths, is that recreational mountain bikers are a powerful, low-impact economic engine that has proven to revitalize entire communities where good trail opportunities exist. Freedom of expression, the right to experience the back country in a creative way, and the profound experience that mountain biking provides to its members are all valid reasons for us to demand a share of the recreational pie. That said, the fact that mountain bikers spend millions of dollars where we visit, and leave no trace beyond the borders of the trails when we leave, are the most compelling reasons for federal land managers and surrounding communities to invite us to the table.
"Pedal Driven" will be screening in Prescott, Arizona, April 30, 7:15 PM at The Elks Opera House concurrent with
Epic Ride's Whiskey Off Road.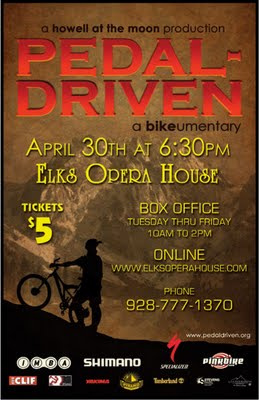 If you're in Prescott over the April 29/May 1 weekend, here's the place.


Prescott is working full speed to become a mountain bike destination city, with a full-time trail planning staff and plans to connect and expand its already massive trail network. Look for an upcoming feature on the recently completed slick-rock trails there.
Watch more previews of "Pedal Driven"
Check out who sponsored "Pedal Driven" and know who your friends are within and outside of the mountain bike industry
.
Here is the list of screenings for Pedal Driven. See it, you'll like it.