Tracey Hannah has won the Women's DH in Pietermaritzburg! Manon Carpenter in second and Emmeline Ragot in third.
Womens Top 5
1. Tracey Hannah
2. Manon Carpenter
3. Emmeline Ragot
5. Jill Kintner
5. Miriam Ruchti
Watch the Red Bull broadcast replay here, full results below.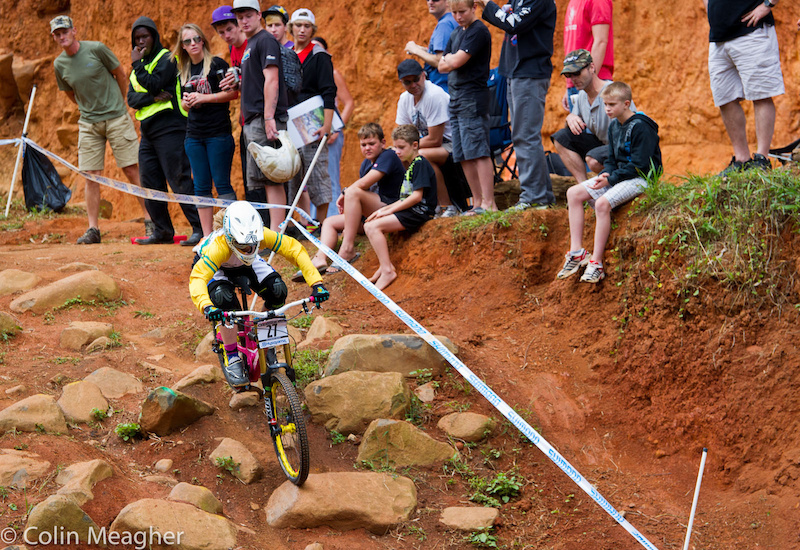 Tracey Hannah on her way to the first World Cup win of the season
The weather held up for today's race in Pietermaritzburg, with yesterday's rain fading out overnight.
It's great to see Anita Molcik making the move from 4X to DH this year, and while she was a ways off the Podium timewise, she took the lead fairly early on and finished seventh. It will be interesting to see how she does in the rest of the season. It was no surprise to see Manon Carpenter take the lead on her run, she was really fast in qualifying on the first part of the course, but then had some problems and ended up a ways back. Today she started 11th and took the hot seat for almost the rest of the race, not giving it up until Tracey Hannah took it away from her at the very end.
Jill Kintner had a great run, congratulations to her for her first ever World Cup DH Podium. Floriane Pugin qualified third but injured her shoulder in training yesterday and wasn't able to compete today. After Jill it was just Emmeline and Tracey left to go, Emmi looked like she might take it with the fastest first split but she couldn't hold on and moved into second behind Manon. Then it was Tracey's turn and she coudn't beat Emmi's time at the first split but she was fastest at the second and that's how it ended up, Tracey in First, Manon in Second, Emmi in Third, Jill in Fourth, and Miriam in 5th.
42232 DHI WE Results
Photos to come...