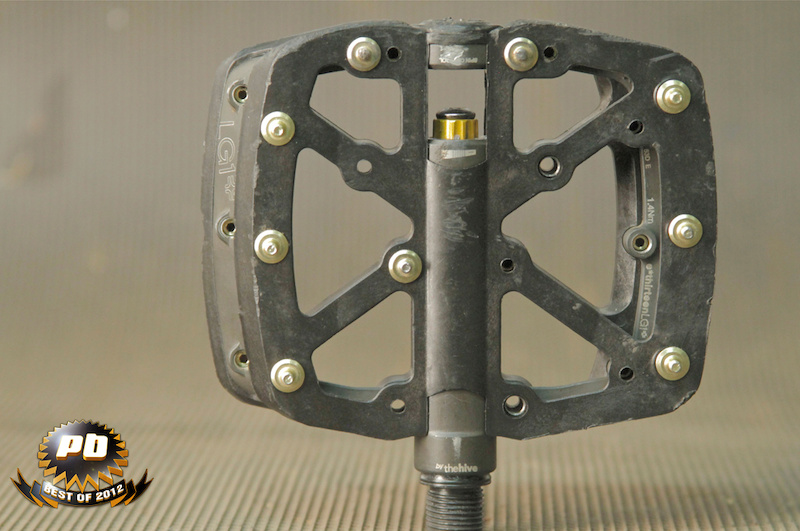 Favorite New Product:
e*13 LG1+ pedal
- Mike Levy

We ride a lot of different types of platform pedals here at Pinkbike and it isn't uncommon for us to argue openly about what each of us thinks works best. Show up at the Pinkbike office and you'll likely find us rattling on ad nauseam about pin layout, platform size, concave, and just how important (or not) a thin body actually is, with the finer points of pedal design never being universally agreed upon by any of us. e*13's LG1+ pedal managed to pretty much shut us all up, though, except for when we were going on and on about how good they are. You want traction? It has the most.
Looking for a massive platform size? Here it is. Want to adjust the amount of bite? Go right ahead. They aren't perfect: I'd like them to spin with less resistance than they do (
an updated seal kit is said to greatly improve this aspect
), and they look downright chubby compared to some of the ultra-thin models on the market, but the LG1+ pedal simply offers so much traction and support - exactly what most platform users are looking for - that it makes the majority of the competition look silly.
e*13 Components

Favorite New Product:
Trail Boss collapsible trail tool
- Brad Walton


This time of year, more of my time goes into building new trail than riding existing trail. I love building remotely, but sometimes it's a real struggle to get way out there and carry all the tools with me. I met a guy last year on a local trail work
day who had a prototype of a tool that he built in his garage. Since then, Bill has turned the Trail Boss into a production unit that's ready to cut, chop, dig, and rake, and it all fits into my hydration backpack. It's a trail builder's dream tool. Made from machined aluminum and fiberglass, the lightweight Trail Boss handle is available in four, 24-inch segments or three, 16-inch segments with a variety of attachments. So far, a Corona razor saw, McLeod head, Mattock/pick, and Mattock/axe are available, with a shovel and rogue hoe attachment in the works. And this isn't just a cute show tool. Aside from prying boulders, the Trail Boss is just as strong, if not stronger than conventional fiberglass handled tools, and features a 3-year warranty. The aluminum couplings are finely machined to provide quick, sturdy assembly/disassembly. Made in USA by an avid mountain biker and passionate trail builder. For an innovative approach for showing love to the trail, I give the Trail Boss the Best New Product award.
Trail Insight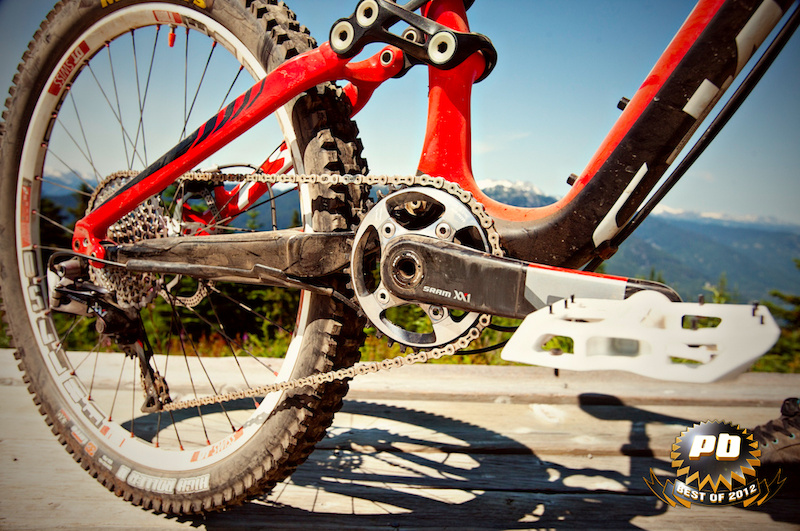 Favorite New Product:
SRAM XXI
- RC


The fact that SRAM's new single-chainring drivetrain has eleven speeds is its least important benefit. What XXI brings to the table are simple solutions to real-life dilemmas that modern bike designers and riders have been wrestling with for years. Eliminating all but one chainring up front makes more room for larger volume tires on all bikes and offers the possibility of perfect chain alignment, but the advantages for 29ers are far more substantial. Ridding the bottom bracket area of two chainrings and the front derailleur clears enough real estate to allow frame designers to dramatically
shorten the chain stays and to use all-mountain width rubber. XX1 moves the largest sprocket to the cassette, where it is well protected, and then shrinks the vulnerable chainring to the point where its size and strength are robust enough to survive all but the harshest conditions without a bash guard. All this would not be possible without introducing a new
(read: incompatible)
freehub design in order to accommodate XXI's small, ten-tooth cog on the outboard and the 42-tooth cog on the inboard end of the cassette. While haters may complain about SRAM's non-standard cassette and freehub body, it is the most essential aspect of XXI. Its gearing spread nearly matches that of today's three-by-ten drivetrains. SRAM's wide-ratio cassette makes the one-by drivetrain a better solution for any mountain bike rider, from top pro to Joe Blow.
Favorite New Product:
SRAM XXI
- Mike Levy

SRAM took a lot of heat for their 11 speed XX1 drivetrain from riders who harken back to the "good 'ol days of seven cogs," but for better or worse, modernization and ingenuity push on regardless of what gets said on the forums and message boards. After riding the system I have to say that SRAM's XX1 is clearly for the better: a large gear range that can be adjusted by swapping out chain rings, clever 'X-Sync' tooth profiles that will allow some riders to run simpler, chain guide-free drivetrains, and bike designers no longer having to compromise frame layout because of those pesky front derailleurs. XX1 doesn't get the nod solely because it functions so well in its current (and admittedly very expensive) form, though, but also because of what the accumulated developments mean for drivetrains down the road. You can pretty much guarantee that the technology used in XX1 will trickle down to far more economical drivetrain components in the near future, not to mention being utilized in other disciplines of our sport such as downhilling. What about the unicorn of drivetrains, the gearbox? Given the performance of XX1, as well as the knock-on effect it will have for less expensive counterparts down the road, I don't see the need for any such thing as 'gears in a can'.
SRAM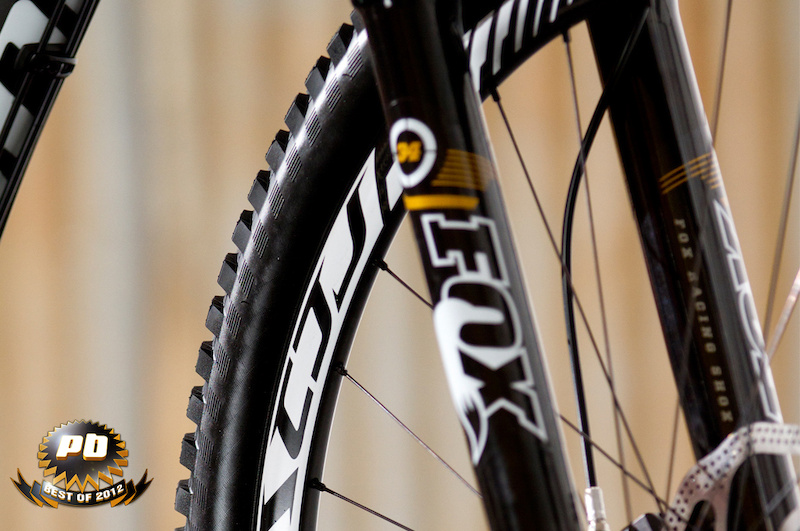 Favorite New Product:
Roval SL 29 Carbon Wheels
- Matt Wragg
Carbon wheels ain't cheap. There is no escaping from that fact, to the point that they are out of reach for most people, and we can't discuss a set of them without putting that up-front. With 26-inch carbon wheels, the bike feels faster and more responsive. With 29-inch wheels, like these Rovals, however, they go further - and may prove to be game-changers. Bigger wheels have always meant more weight and the end result has been trail wheelsets with DH-comparable weights. Nothing kills the feeling of a bike like overly heavy wheels, but with carbon, you can dramatically cut
that weight while retaining strength, and this brings the bike to life - and it opens up a new world of what is possible with big-wheeled bikes. But yes, it is progress with a price tag.
Specialized/Roval
---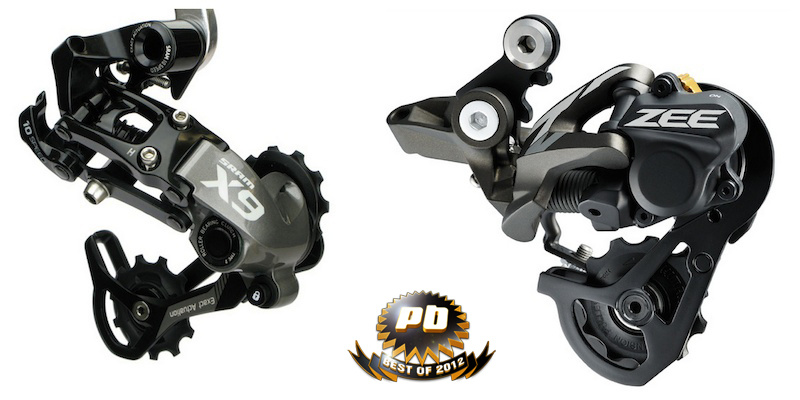 Best Drivetrain Innovation:


Clutch Derailleurs
- Mike Kazimer
The introduction of the clutch derailleur has brought a new level of quiet to the trails. There's no longer any excuse for bombing down your favorite track on a bike that sounds like a string of aluminum cans is dragging behind it. Chain slap, the culprit responsible for sending home mechanics to their garages armed with old tubes and
electrical tape in an attempt to silence the sound of a chain smacking bare aluminum, is minimized with the new style derailleurs. Spend some time on a bike equipped with a clutch derailleur and then ride one without and the noise difference is immediately apparent. And dropped chains? While still possible, they're much less likely, allowing many riders to get away with running a 1x10 setup and a simple chain guide like MRP's 1x or E13's XCX. Shimano has dubbed their clutch technology Shadow Plus, while SRAM calls theirs Type Two, but both have proven to be reliable and worthy upgrades to any drivetrain. A quiet bike is a fast bike, and clutch derailleurs are an easy way to add some speed to your steed.
Shimano,
SRAM
---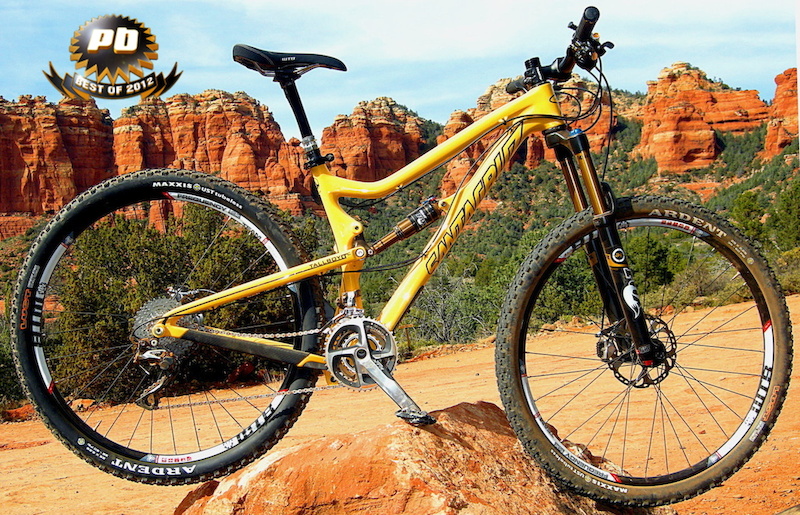 Favorite Trailbike:
Santa Cruz Tallboy LTc
- RC
The 29er had matured into a thriving institution among the trail riding and XC segment of the sport by the time Pinkbike picked it up on the radar screen. The realization, however tardy, couldn't have come at a better time, because at that very moment, wide tires, capable geometry and
(relatively)
longer-travel suspension designs were coming on line for big wheel bikes. The Mucky Mucks at Santa Cruz were equally adamant against big wheels – until internal pressure from 29er employees and financial incentives from
29er-hungry dealers forced them to reconsider. Getting a late start may also have been a good thing for Santa Cruz, because all the pieces they needed to keep their house full of hard-core trail riders happy were readily obtainable. The original Tallboy was born a winner. It was lightweight, it had head-of-class handling, and under power, it steamed down the trail like a runaway locomotive. All it needed was more wheel travel. My first ride on the carbon fiber Tallboy LTc was the clincher. With 135-millimeters in the rear and 140 up front, 29er-adjusted fork geometry, and exquisitely balanced frame metrics, the bike melted away after a few hundred yards and I was flying. The reason the Tallboy LTc is my choice is that it breaks the mythology of the 29er vs the 26er. There is little or no perception of wheel size, no compensation for steering angle, no monkey motion required to properly weight the bike. It's just a great ride. Santa Cruz found the nexus point between big wheels and proper bike handling.
Santa Cruz
---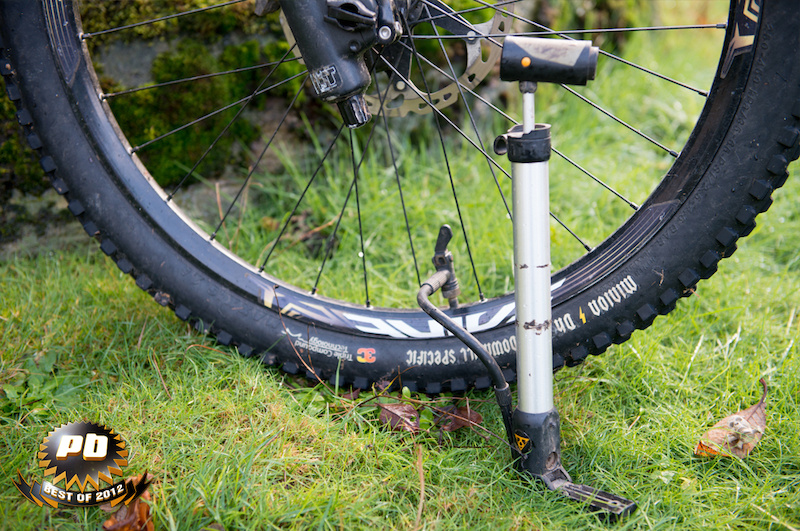 Best Product Under $50:
Topeak Mountain Morph pump
- Brad Walton
There are a few products out there that endure the test of time. The Mountain Morph pump has been a staple of my gear bag for nearly 10 years, but its reliability isn't what sold me on the pump. A flip-out foot pad and T-handle combine with a flexible swivel hose to create a portable floor pump, and with a large-diameter aluminum barrel, filling even DH tires is a super quick process. Whenever someone in my riding group gets a flat, I pull out the Mountain Morph and after they've used it, the response
is almost always, "I gotta get one of these." Sure, Co2's are faster, lighter and smaller, but for longer rides, nothing beats the reliability of a good pump, and it's a one-time cost. The Morph converts for Presta or Schrader use. I never leave home without it. Weight: 250 grams, MSRP: $30 USD.
Topeak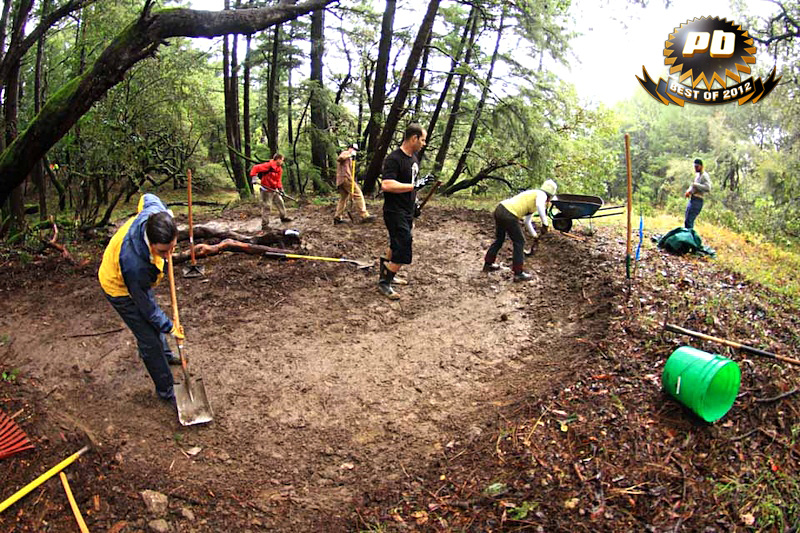 Best Product Under $50:
$49 Donation to Trail Advocacy
- RC
Dirt is cheap - until you have to go to court to buy it. Breakfast at a roadhouse and fuel for a half-day of shuttling costs more than fifty bucks. Not all of us are the skip-a-day-of-riding-and-shovel-dirt-for-somebody-else's-trail type, but most of us can afford to write a check once or twice a year to fund our local trail advocacy organization. If you don't have one, send a check to IMBA and they will see that your money gets to the right place. Bike parks are cool, but there is nothing better than trail riding, and it takes a lot of time and money to keep
trails buffed and bike friendly. Don't like advocacy nerds? Most unauthorized diggers and riders secretly hope that their trails will survive for others to enjoy. Advocacy nerds have legitimized many miles of secret hope. Send 'em fifty bucks.
IMBA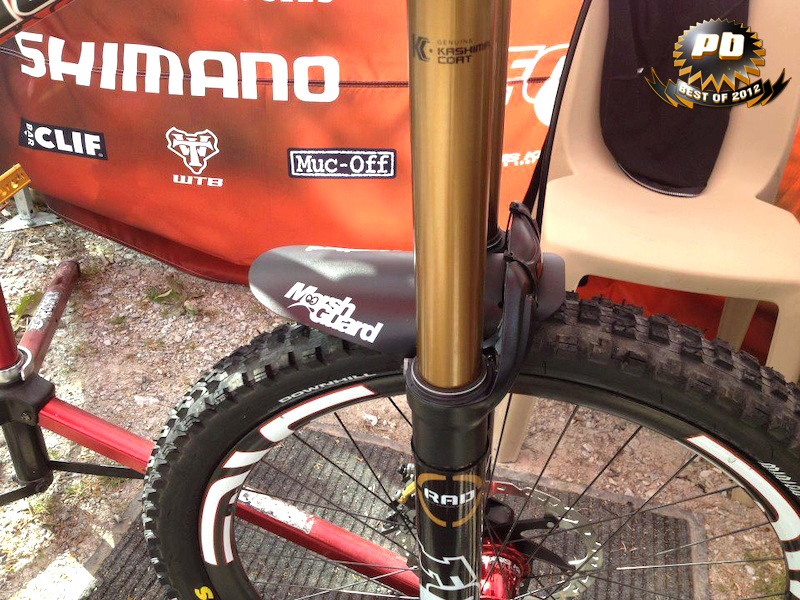 Best Product Under $50:
Marsh Guard
- Alasdair MacLennan
There are several iterations of these fenders out there, but the one I've spent the most time using is the Marsh Guard. Massively effective at preventing spray from reaching your eyes, they're cheap, simple and virtually indestructible - and there aren't many things in the MTB industry you can say that about. Usually, cheaper products are bettered by those costing exponentially more. However, in the case of the Marsh Guard, it works so superbly that there's no need to spend any more. In fact, to do so, you'd lose the inherent simple and indestructible nature that makes it such a winner.
Marsh Guard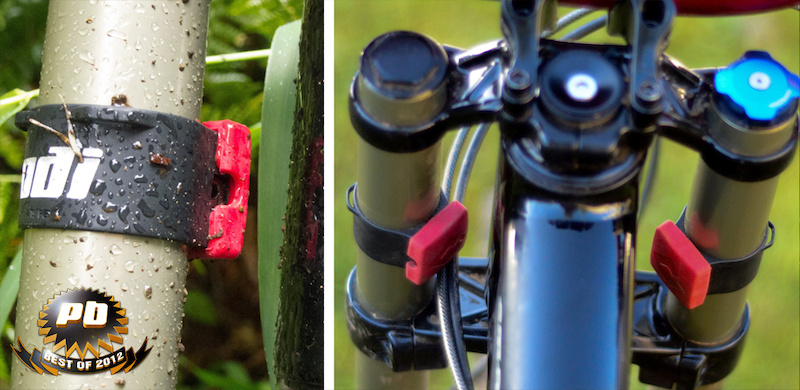 Best Product Under $50:
ODI Lock-On Bumpers
- Mike Kazimer
Mountain biking can be an expensive sport, especially in the world of downhill bikes, where even the smallest accessories seem to empty the wallet. For that reason, ODI's Lock-On fork bumpers earn my vote for the best product under $50. For less than the price of a cheeseburger in Whistler, you get a set of bumpers that can easily be installed in under 5 minutes with only a
3mm Allen key, protecting your frame from potentially costly damage. Designed to fit forks with 40mm (
Fox
) or 35mm stanchions (
RockShox BoXXer
), the bumpers can even be installed without removing the fork crown. Plus, they're made in the USA, available in black, blue, white, and red, and feature eyelets for securing a race number plate.
ODI Grips
---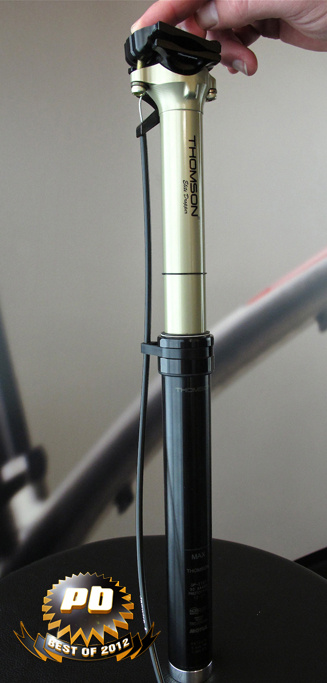 Most Anticipated Product:


Thomson Elite dropper post
- Mike Levy
Dropper posts... a product category that I constantly label as a game changer for anyone who adds one to their bike, while at the same time I often harp on about how unreliable most are. I've had great luck with a few, most notably RockShox's Reverb (
which I labeled Best Product of '11
), but the general consensus among consumers seems to be a widespread lack of faith in the long term reliability of most designs. It's for this reason that many readers sat up and took notice of the yet-to-be released dropper post from Thomson, a name that is synonymous with trustworthy components. Yes, I am fully aware that a dropper post requires more engineering and prudence than a traditional post, but if any company is going to crack the code I expect it to be the crew from Macon, Georgia.
The Elite Dropper offers 5"/127mm of infinitely adjustable travel, meaning that it can be positioned anywhere between full extension and fully lowered. The travel is controlled with a sealed cartridge (it can be worked on by a service center, though) that separates the post's hydraulic oil from the non-adjustable nitrogen return spring that is set at 135psi. Thomson has employed a clever second check valve within the cartridge that keeps the post from pulling up through its travel when lifting the bike by the saddle, thereby remedying a somewhat annoying trait of some other hydraulically controlled posts. An interesting sixteen-point shaft fits inside of a matching sixteen-point profile within the outer tube to keep everything inline and rattle-free.
Will it outlast everything else on the market? I've gone out on a limb here to say that it will, so we sure it hope it does. The Elite Dropper will be available in early April of 2013 in both 30.9 and 31.6mm sizes, with a 27.2mm option ready in the coming summer. MSRP is set at $389.95 USD.
Most Anticipated Product:
Thomson Elite dropper post
- Brad Walton
I'm rarely an early-adopter of new trends, and that certainly was no exception when it came to the dropper post. But, after Mike Levy told me he'd "rather go back to V-brakes than give up my dropper post," I figured I'd better check one out. Is it necessary? No. Just like disc brakes aren't necessary. If you like to rest at the top of a long climb, don't worry about it. But I'll meet you at the bottom, because this modern day Hite-Rite pulls out all the stops. After my adaptation stage, I've decided to put one on all my bikes. I've been through a few from various companies, and the 2012 gold standard has proven to be the Reverb. As reliable as the RockShox dropper is, however, I for one would like to eliminate the fragility of its exposed hydraulic fittings. I've seen them torn clean off and one blowout experience led to spilled Reverb fluid all over a rear brake rotor. The good news is that 2013 promises a mechanical dropper offering from one of the most consistently great component manufacturers of our time - Thomson. Thomson's five-inch-stroke dropper will feature infinitely adjustable travel with lever-adjusted return speed, hydraulic internals with a nitrogen return spring, a weight of very close to one pound, and a projected MSRP of $380. The seatpost's return speed is variable, based on how far the lever is pressed, and the post has an internal mechanism to prevent it from extending when the bike is lifted by its saddle. Thomson's focus is simple, clean, and reliable, so I expect this post to outperform the rest.
Thomson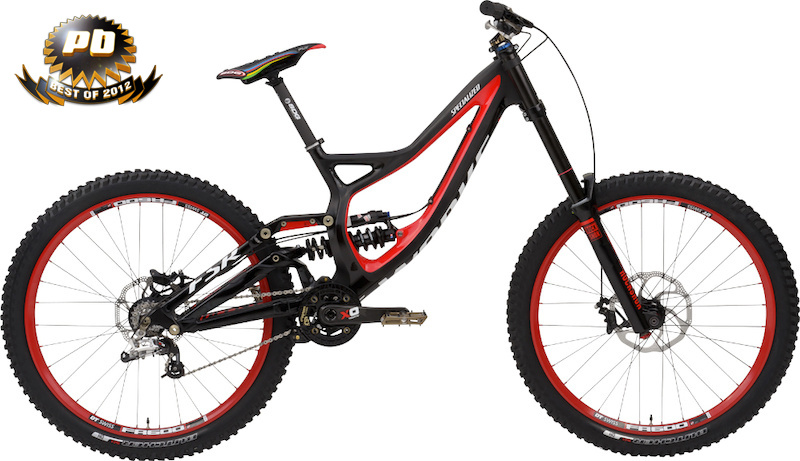 Most Anticipated Product:
Specialized Demo 8 Carbon
- Mike Levy
Thanks to it popping up under Team Monster Energy - Specialized riders throughout the season, as well as making an appearance at Crankworx while it was still in the development phase, Specialized's Demo 8 Carbon had people clamoring for information long before it was ever an official model from the Big Red S. We worked directly with Specialized, as well as Sam Hill himself, to bring you every last bit of information for the Pinkbike exclusive release in early
June, an article that now sits at well over 100,000 reads! With its exclusive 9-26 tooth, 7-speed gear range and BlackGold treated BoXXer World Cup stanchions, the ultra high-end S-Works Demo 8 Team Replica model has raised the bar for other so-called "team replica" bikes, although with just 250 S-Works Demo 8's being produced, the trick might be to actually track one of them down. And if you do, you best be winning some races if you're aboard this super-bike.
Specialized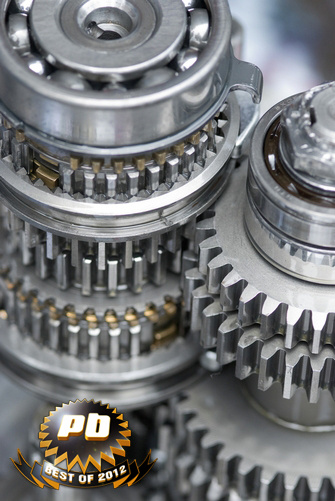 Most Anticipated Product:
Mass-Produced Gearbox
- Brad Walton
Our phones are tiny computers, gateways to infinite knowledge. Cars have buttons on them for automatic parallel parking. And yet we're still refining that age old Achilles heel, the derailleur. It's time already. Time for the gearbox revolution. I for one am sick of derailleurs. They're light, relatively cheap, and... I'm at a loss for what else. They work well until they receive an impact. And this sport is all about impact. Even if you're not crashing on a regular basis, that mechanical complexity we rely on for consistent cadence is just hanging on for dear life by mere threads of alloy, exposed to everything within inches of the trail. Not to mention, exposure to the elements. Rohloff's Speedhub has been around for years and some people love them, but it still requires a chain tensioner of some type. Pinion is on the verge of something with the P1.18, but there is currently only one frame manufacturer embracing the design. These are a start, but instead of 18-speeds, lets get an 8, 9, or 10-speed model with a comparable weight to a derailleur system. And let's get one thing clear- twisting is for throttles. Put a real shifter on it. It won't happen in 2013. Probably not even in '14. But what I'm looking forward to most in the future of mountain biking is not another evolution of the derailleur, it's the revolution of the bike.
Pinion Gearbox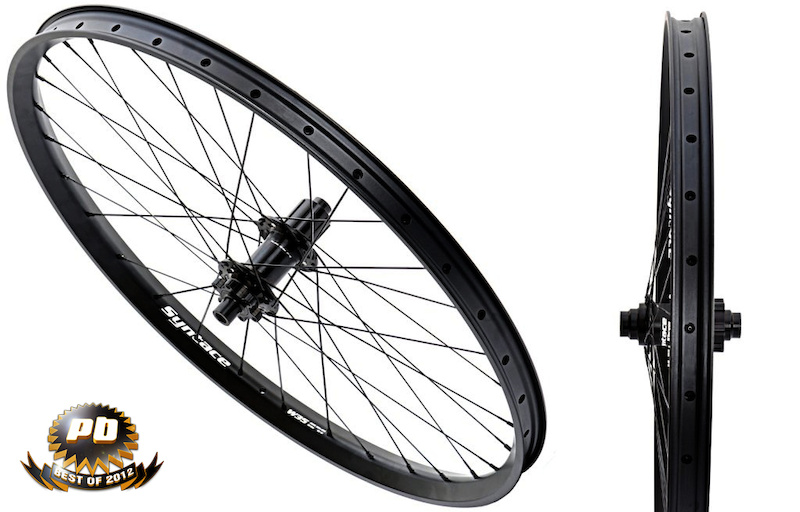 Most Anticipated Product:
Syntace's W35 MX Wheel Set
- RC
Ride a DH bike with 35-millimeter-wide rims and 2.35-inch tires, and it corners with authority. Put those same tires on skinny rims and the bike starts to hunt when you push it hard in a turn. Stronger aluminum alloys and carbon fiber manufacturing have made it possible to produce wider rims for XC, trail and AM use without suffering a substantial weight penalty. Syntace's W35 MX wheel set offers the precise feel and wide footprint of a downhill wheel for trail and all-mountain use. At only 1680 grams a pair, and laced to
welded-aluminum rims that measure a full 28 millimeters, inside to inside, Syntace's W35 MX wheels are game changers. Because the wider rims add significant volume and width, riders can often scale down one tire size without suffering a loss in cornering or climbing traction. The wider stance also helps to laterally stabilize tubeless tires. Syntace offers 40 and 25 millimeter-wide versions as well. I am hoping many more wheel makers will follow suit. I think a wider rim standard will boost the performance of bikes with any wheel diameter, and especially so for 29ers, where the extra tire volume and directional stability would be a welcome benefit.
Syntace
Most Anticipated Product:
Specialized P.Slope
- RC
By a large margin, the bike that pops up the most in my correspondence with PB readers is the P.Slope. Specialized pulled the P.Slope prototype from its bag of tricks at the Whistler Crankworx festival and from that moment, the unanswered question has been, 'When?' The short-travel dual-suspension jumper employs a swingarm pivot that is concentric to the bottom bracket shell to eliminate chain growth in order to facilitate single-speed drivetrains, and its shock runs through a seat tube tunnel to keep the bike slim for stunts. Bottom line is that the P.Slope appears to have all the makings of a next-generation slopestyle winner and it couldn't have come at a better time. The magnitude of the stunts in pro competition, as the 2012 Redbull Joyride
aptly demonstrated, has pushed traditional hardtail slopestyle bikes beyond their physical limits. The stage is set for a slopestyle competition to progress to a new level - for both man and machine. The P.Slope was slated to arrive just in time for Christmas 2012. If it lives up to its looks, the P.Slope could help to write one of the first pages in the new chapter of the sport.
Specialized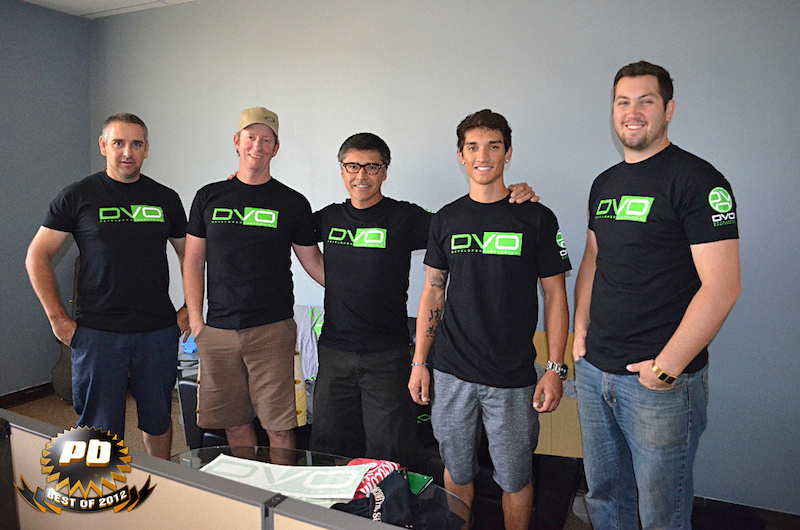 Most Anticipated Product:
DVO Suspension
- Alasdair MacLennan
Staffed and run by the same guys who were behind Marzocchi USA, DVO Suspension is headed up by Bryson Martin. There has been lots of hype, news releases, and teaser images of the prototype gravity racing products - the Emerald fork and Jade shock. Although there are only a handful of people who have ridden them, the ingredients are all there to offer stellar performance to the race and gravity crowd. After that, who knows? The team has plenty of experience in all the key development areas and have spent a lot of time developing the top end Marzocchi products,
so they know how to create a winning product. With several experienced World Cup techs on hand, they should be an easy to tune product too. No mechanic likes to spend more time than is necessary stripping and rebuilding parts. Like others the world over, I'm keen to get my hands on these as soon as possible to see if they can live up to the hype, but for now I'll have to live my life in suspense.
DVO Suspension
---