Acros is an elite German components maker that offers an index-shifting derailleur system actuated by a pair of slim hydraulic lines that reportedly weighs only 426.4 grams ready to rock. Yes; you heard it correctly—front and rear derailleurs, right and left shift levers and all hoses filled with mineral fluid. The Acros A-GE system isn't a prototype pipe dream either. Acros has 250 sets boxed and ready for sale at a surely-not-for-everyone projected retail price of $2306 US dollars.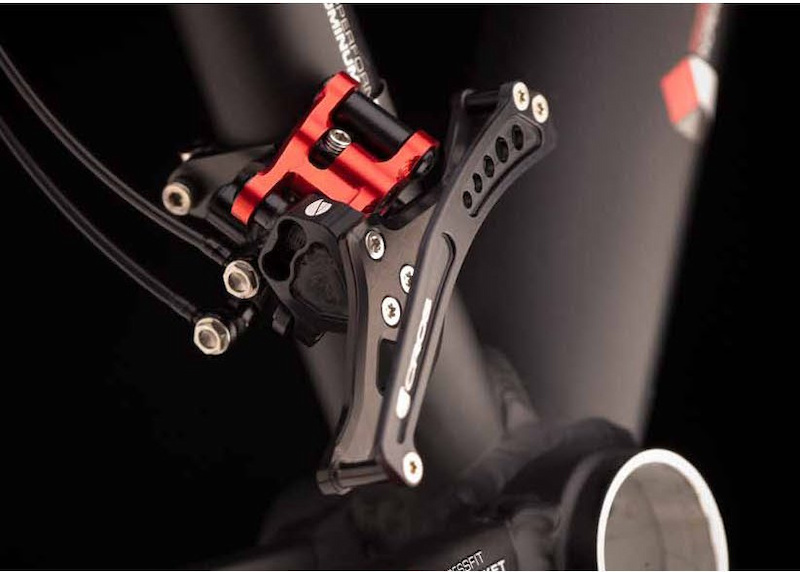 The Acros front derailleur: note how compact the hydraulic mechanism is barely the size of the adjusting screws on a conventional changer
Acros A-GE Hydraulic Shifting Basics
Beautifully machined from aluminum, the Acros A-GE transmission promises to either set a new standard, or hearken to the mid-1990s when a half-dozen North American machine shops took a crack at Shimano with expensive, multi-colored copies of existing gear-changers. Potentially, the Acros A.GE 1.1 hydraulic transmission has some unique features that cannot be attained using cables. Time will tell, but if it operates as advertized, the Acros system may be the first exception to the, nobody-can-beat-Shimano's derailleur technology rule. Pinkbike grilled Acros about the benefits of its hydraulic shifting system and prepared this special report to introduce the concept.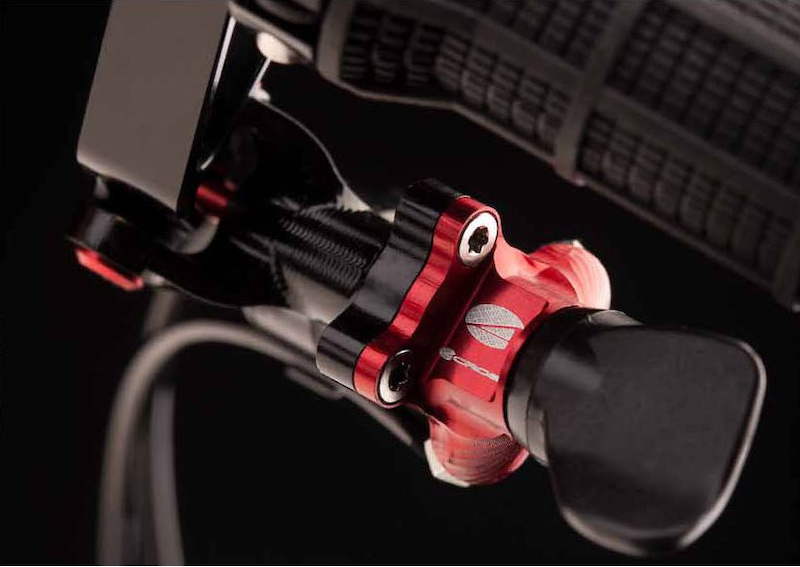 Acros reinvented handlebar shift lever. Pressing the paddle shifter at a slight angle, up or down, determines the direction of the gear change.
What is the major benefit that A-GE brings to the table?
Acros says that the primary reason they produced a hydraulic shifting system was that it offered the least amount of friction. The A-GE shifting lever actuates the derailleur with a "UNI-FORCE" two-line, push-pull design that nearly eliminates the need for stiff return springs. Shifting feels light and consistent across the entire range of gears.
Are the shift levers conventional?
No. A-GE Shifters have a single thumb paddle that shifts up or down the gearing range. Pushing the lever upwards shifts to a taller gear and pushing the lever downwards downshifts. One to three shifts can be managed with a single push. Switching the hydraulic lines allows the user to reverse the shifting from "top-normal" to "low-normal" as wished.
Can the shift levers be used with any brake levers?
Yes. Acros' MY-MOVE lever mounts allow the levers to be positioned in a number of ergonomic locations, and both ahead or behind the brake lever.
How can Acros derailleurs and shifters be lighter than SRAM or Shimano and still be strong?
We will address the durability issue when Pinkbike gives the A-GE a thorough test. Acros states that much of the weight savings are derived from the elimination of steel cables and steel-wrapped cable housing, which add up quickly. In addition, push-pull hydraulics eliminates the need for steel return springs on both derailleurs. Acros makes extensive use of alloy Torx hardware to shave off a few more grams as well.
Will I be stuck buying an Acros-compatible crankset, chain and cassette?
Acros A-GE uses a timing device called a Raster Rod which can be switched out to adapt the derailleur shifting to all conventional eight, nine and ten-speed cassettes and chains.
What happens if I get air in the hydraulic line?
Air must be bled from the system like a hydraulic brake. This is unlikely to happen, however, because Acros hydraulic shifting is a closed system and is not exposed to excessive heat, nor is it required to compensate for pad wear like a hydraulic brake. Should the Acros system be compromised, its front and rear derailleurs can be positioned by hand to adjust for an acceptable gear and will remain there until you get back to the trailhead.
Will it survive a crash?
We have learned that hydraulic brake lines are far tougher than first anticipated—it's rare that anyone damages one in a crash. Acros' shift lines are smaller and we assume, more fragile than a brake hose, but it should be noted that a hydraulic hose will still shift properly when badly kinked, as long as fluid can pass through the damaged area. For a downhiller, being able to shift after a crash mangled the derailleur cable could mean a podium finish.
Can I get a short-cage rear derailleur for my DH ride?
The first 250 systems were made with medium cages, but Acros will make long and short-cage versions as well.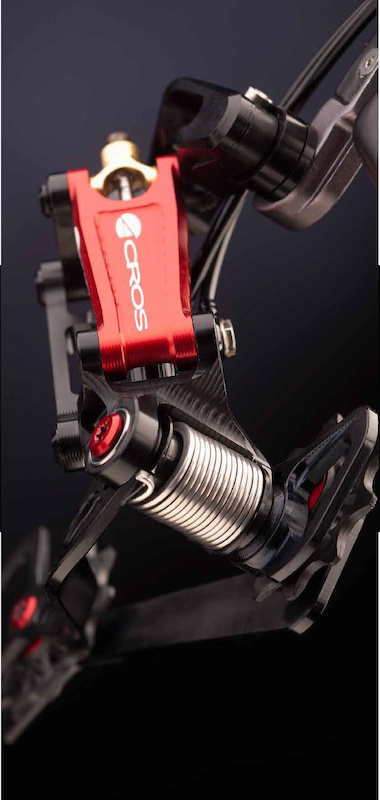 Evidence of intensive machining is obvious on every piece of the Acros rear derailleur this is the medium-cage version
Mechanically, are there any compelling reasons to switch from a perfectly great working SRAM X.0 or Shimano XTR to an Acros hydraulic system?
Riders who live in extreme cold have all suffered failures when water freezes inside the housing and the cables simply won't budge, and a sealed hydraulic system will operate happily in muddy, sloppy conditions that can make shifting cable-actuated systems a wrestling match. The single-paddle shifter could offer an advantage. SRAM experimented with its push-push single-lever road system when it developed XX, but abandoned it because of the excessive lever pressure required to push against the derailleurs return springs. The hydraulic action of Acros A-GE does not require return springs, so it could be an improvement.
Is the Acros A-GE the first hydraulic shifting system?
No, but it may be the first complete hydraulic derailleur transmission. California downhill racer Scott Fyfe designed and marketed a hydraulic shifting system under the S.A.F.E brand in the mid 1990s. The S.A.F.E shifter operated a piston and cylinder that fit into the rear derailleur housing stop and pulled a conventional changer with a short wire link.
Is the Acros the inventor of the system?
NO. We asked Acros' Marius Wrede and he said: "Christoph Muthers invented the system and presented it at the Eurobike 2006. In that moment we saw the potential of the system and that it fits to Acros. We stayed contact ever since and helped in little sourcings. In 2009 Christoph asked us if we are still interested in continuing the project. We did not hesitate and said YES! Christoph is now in our R&D team and we have modified the hydraulic gear to meet industrial standards as well as keeping up with the new "standards" in mountain biking."
What does Pinkbike think about Acros hydraulic shifting?
Anyone who rides hard is going to tear up equipment, and 2300 dollars is a lot of money to spend on shifters and derailleurs that probably will have to be replaced in a few years. That said, racers and anyone who rides in extreme weather or terrain could benefit from a shifting system that has the potential to shrug off nature's fury or survive a serious crash.
Acros A-GE transmission by the numbers:
Shifter (each): 64.85g
Rear derailleur: 159.84g
Front Derailleur: 79.15g
Hydraulic line (R): 24.26g
Hydraulic line (F): 17.16g
Fluid (R): 9.00g
Fluid (F): 7.25g
Price: $2306 USD (est)
Contact Acros about the availability of the A-GE transmission
Give us your opinion about the future of hydraulic shifting.