Looking back at 2013, the mountain bike industry took a steadier path – reaping the benefits and in some instances, patching up the damage incurred in the aftermath of the 12 tumultuous months of innovation, wheel wars and restructuring that were hallmarks of 2012. This year was the season of proof, when the 27.5 inch wheel was pitted against its rivals on the World Cup circuit and in the retailers' showrooms, when enduro went global and when the promises made by breakthrough drivetrain and suspension makers were put to the flame by rank and file riders. This was the year when the possibility that a mortal man could win a Big Mountain Freeride event was buried forever in red soil, and one that will surely affect the future of our sport. We selected the standout individuals, events and innovations from 2013 – the game changers, the comebacks and the innovations that punctuated the season, and nominated the best for Pinkbike's Mountain Bike Industry Awards. We proudly present our nominees for your review:
Categories for our 2013 Pinkbike Industry Awards include Game-Changer of the Year, Comeback of the Year, Innovation of the Year and Most Improved Brand of the Year. Each has three nominees that were chosen by Pinkbike staff with guidance from key industry insiders. Surprisingly, the nominees chosen range from an easily overlooked component to a global business. Give it a read and then post your opinions in the comment section. Winners will be announced in late December.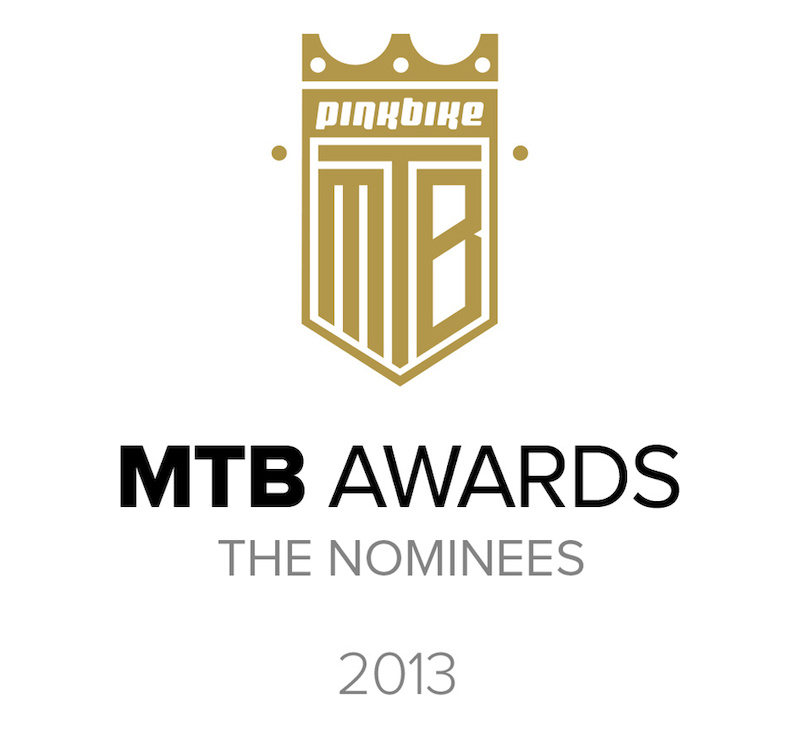 Game-Changer of the Year
Cliché, perhaps, but game-changer is an apt description for all three nominees for this award. The first is a bike brand that challenges the very fabric that built the bike industry with an award winning internet-direct model that may have the best reputation for customer service and support anywhere in the business. Its name is under World Champions and on the tip of every bike maker's tongue. Pinkbike's second nominee is stacking up to be one of the success stories of the decade – a forward thinking ex-UCI official who welded the three major factions of European enduro into one team and then launched a global series. Our third nominee is from a suspension maker, and may have been the best kept secret in 2012. Released for sale this year, it has been the most successful DH fork on the World Cup for two years running. All three candidates left an indelible mark on 2013, and each has permanently altered the sport – but only one will earn the inaugural 'Game-Changer of the Year' award.

Pre web, it was not possible for a large bike maker to deal directly with its customers, so buyers relied on bike retailers to translate for them. Canyon Bicycles has successfully overturned that notion. Canyon came into existence in 1996, like so many funky German bike brands did, when every bike shop owner in that country bought a ticket to Taiwan and founded their own range as a side business. The sparks began to fly in 2001, when Canyon Bicycles Gmbh was launched as a stand-alone bicycle brand based exclusively upon consumer-direct sales. They hired well known design engineers, built a world class testing laboratory, and developed a globally competitive range of road and mountain bikes. They built a web-store that has earned multiple industry awards and overwhelmingly positive feedback from its customers. Selling consumer-direct saved a lot of money and a chunk of that was invested into a strong presence in Pro Tour road and World Cup mountain bike racing. Cadel Evans won the 2009 World Road Championships and more recently, Fabien Barel earned third overall in the Enduro World Series for the brand. Canyon's business model, however, is the real game changer. Bicycles are shipped 99-percent assembled, with a comprehensive kit that even includes a torque wrench. Canyon's sales, engineering, customer service, assembly, shipping and warehouse operations are all housed under the same roof. When a customer needs specific technical information, every person at Canyon who laid a hand on the bike in question is available to help provide the answer. Canyon's enviable connection with its customers makes it a lot easier to buy and sell a bike, and it will no doubt, make life a lot tougher for bike shops. Presently, Canyon sells everywhere except for Oceania and North America – and reportedly, they are set to lock in those markets as early as 2014. Other brands are sure to follow.
.
• Enduro World Series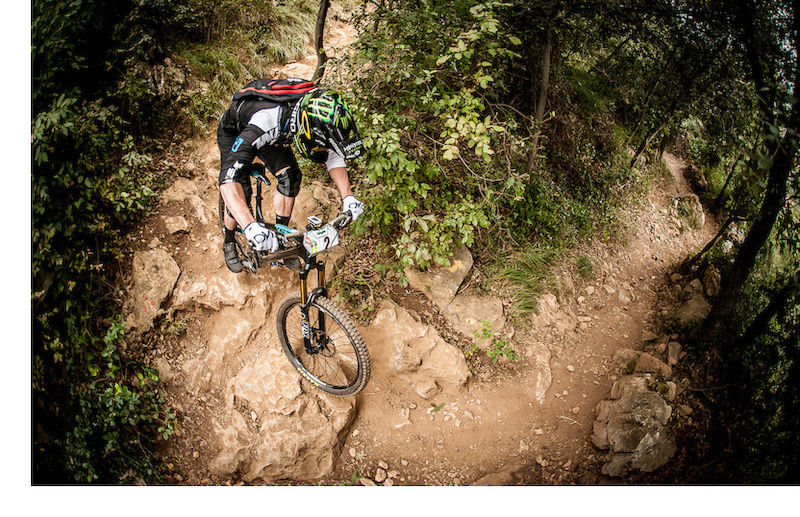 Enduro racing encapsulates the essence of mountain biking infinitely more than any other organized form of competition. Who can argue with an event, staged in a spectacular corner of the world that lets riders cruise the uphills and race the downs. And enduro is a participation sport - the Joes compete on the same trails as the Pros, which is what fosters enduro's powerful sense of community. Like downhill and cross country, enduro was loosely established as a grass-roots venue by like-minded riders. Unlike cross country and downhill, when it became obvious that enduro was reaching international status, it wasn't handed over by corporate interests to the UCI to have amateurs expelled and the enjoyment and camaraderie sucked out of it. Paradoxically, it was a former UCI official who rescued enduro. Chris Ball welded together the founding fathers of European enduro into the Enduro Mountain Bike Association and linked their events into a seven-venue series across Europe and North America. Enduro is now firmly in the hands of those who are best qualified to grow the sport: Chris Ball, ex-UCI technical delegate; Darren Kinnard, Crankworx events manager; Fred Glo, French Enduro Series founder; and Enrico Guala, Super Enduro founder. Every one of them ride. EMBA is a game-changer because it demonstrates that an international series can achieve overwhelming industry support outside the clutches of the UCI, and more importantly, it puts mountain bikers back in charge of mountain bike competition. The body is healthy when the heart is making the decisions. As Fred Glo says, "Enduro is mountain biking."
• Fox 40 Float Fit RC2 Fork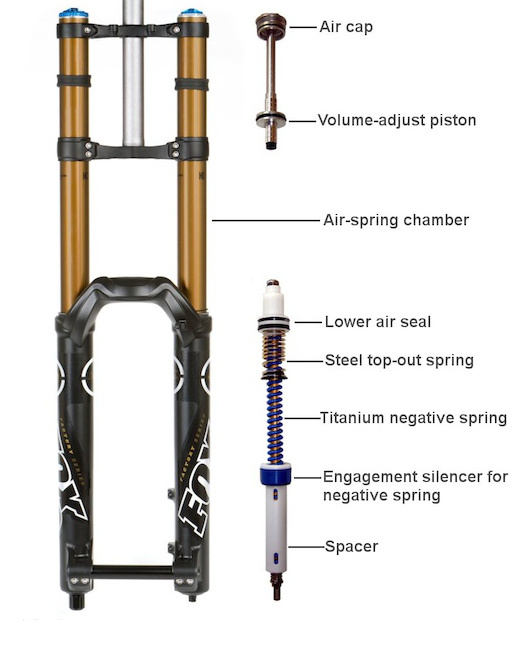 Downhill, freeride and many all-mountain riders prefer coil-sprung suspension, and volumes have been written that support the widespread belief that coils are best, because air-sprung suspension lacks the sensitivity required to survive technical terrain at high speed. Fox Factory rewrote that chapter, however, with its RAD air spring system and the Fox 40 Float RC2 downhill fork. The air 40 was a competition crusher under the likes of Aaron Gwin, the Athertons and Greg Minnaar, and when it was released in 2013, was equally successful in the marketplace. Paradoxically, the success of the 40 Float fork can also be attributed to coil-spring technology – a long one on the negative side of the air spring is hidden in the fork slider. Fox's negative spring design allows the fork to identically mimic the small-bump performance of a coil-sprung type while retaining the lighter weight, the end-stroke rising rate, and the infinite adjustability an of air-sprung suspension system. Air sprung DH forks are not new, but it was Fox that permanently changed their prefix from, 'almost as good as' to, 'better than' coil-sprung forks. The ramifications of the Fox 40 Float reach far beyond World Cup DH, which is why it has been nominated as a game changer. In motorsports, where coil-sprung suspension is absolute, the rider is only a fraction of the mass of the vehicle, so rider weight is a less important factor in setting up the suspension. But the reverse is true for mountain bikes, where rider-weight dramatically exceeds that of the chassis. Fox's air spring allows one fork to be tuned to suit a wide variety of rider weights and track situations. The 40 Float's success paves the way for the acceptance of a competitive air-sprung shock, and that would allow bike makers to offer their downhill and all-mountain bikes with one fork and shock that can be adjusted to deliver uncompromised suspension performance to almost every customer.
---
Comeback of the Year
Few dramas are more compelling than a rousing comeback story, and the cycling industry, with its unpredictable business climates and frenetic innovation, provides a ready source. Pinkbike's first nominee is an all-mountain bicycle that once captured the imaginations of all-mountain and long-travel trail riders with its remote-control, variable-travel rear suspension and innovative-looking chassis. By 2013, however, with its single-pivot rear suspension and 'old-school' 26-inch wheels, it was long overdue for a replacement, when a little guy named Jérôme Clémentz rode it to clinch the overall title in the hotly contested Enduro World Series. Our second choice for Comeback of the Year is one of the most well-liked personalities on the freeride mountain bike circuit who shocked the world with an incredible winning run at the 2004 Red Bull Rampage in Virgin, Utah, and for a number of reasons, faded into the background of the pro ranks. Most passed him off as a one hit wonder until 2013, when he pulled off a Superman performance and became the event's only repeat winner. Our third nominee was on the ground floor when the mountain bike was first invented and was by far, the dominant drivetrain maker for a number of years. Shimano put an end to their run and they fell off the mountain bike radar for nearly two decades. During those dark years, they found a different line of work and in 2013, announced that the brand was one of the industry's largest suppliers. So, there you have it: three very different nominees, each returned to glory.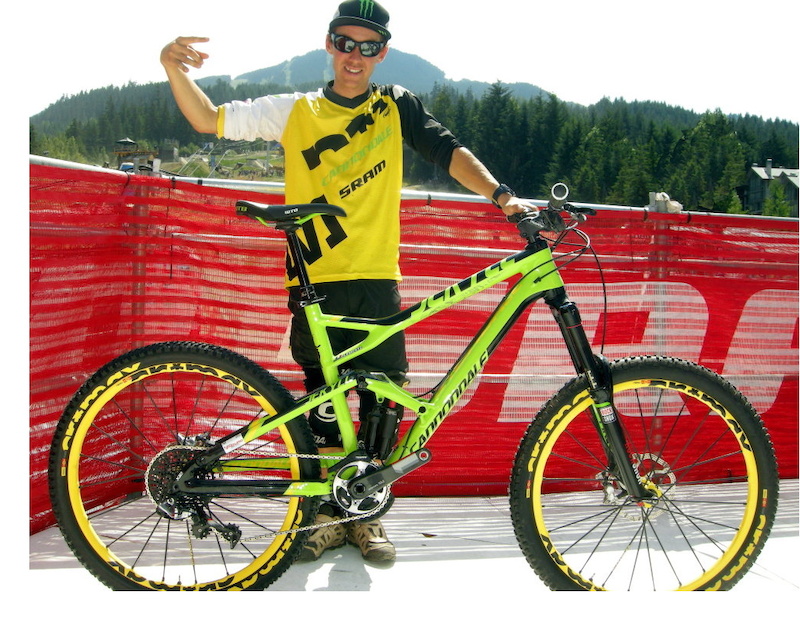 The book of mountain bike is chaptered with stories of forward thinking individuals and companies whose products arrive well before their time. Many accomplish little more than a few raised eyebrows – only to be all but forgotten years later, when the sport catches up and another brand takes the credit for the same idea. Cannondale launched its Jekyll back in 2001 in anticipation that marathon-style gravity races like the Downieville Downhill in California, and mass-start downhill racing in Europe were going to catch the imagination of rank and file riders. By 2001 standards, its 100-millimeters of suspension travel, wide tires, sturdy wheels and adjustable frame geometry were the stuff of a cutting-edge all-mountain/trailbike – if there were such a thing. Its debut was greeted with, "why would anyone want to ride such a heavy bike for cross-country?" Undaunted by its initial failure, and that enduro racing had yet to be embraced as a mainstream sport, Cannondale re-released a stunning redesign of the Jekyll in 2011 with an innovative Dyad pull-shock that could be remotely switched from 90 to 150 millimeters of rear-suspension travel and a then-revolutionary aluminum chassis that was trailbike light and downhill strong. The new Jekyll arrived just as freeriders were switching from DH bikes to heavy-duty single-crown all-mountain designs, however, and the new model was largely dubbed to be too lightweight and nimble to be a realistic option. This time around though, enduro was catching on and so did the Jekyll - enough to inspire Cannondale to launch its "Over Mountain" team and keep the bike in its range. Comeuppance for the Jekyll came in the form of a mild-tempered monster named Jérôme Clémentz. By 2013, when enduro was thrust into global prominence by the consolidation of the seven largest events into an international series, the venue was set to become a battle of technology - fueled by big brands fielding powerful teams, most riding up-to-the-minute designs with fancy suspension technologies. Adding to that drama was the conflict between 29, 27.5 and 26-inch wheels, which had reached a frenzy. Clémentz, trounced all comers, winning the EWC overall title with one race to spare – on 26-inch wheels, with a three-year-old design that was twice given up for dead. It was a comeback story that Cannondale will not likely forget.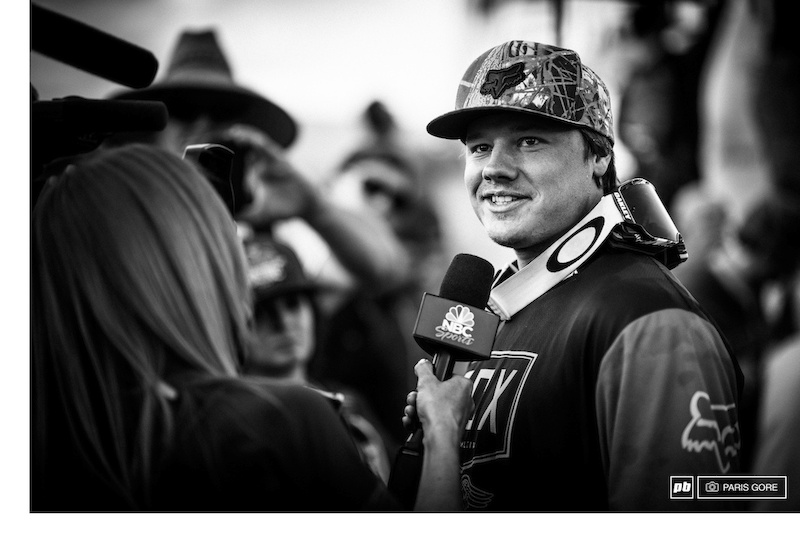 Kyle Strait put himself on the map at the 2004 Red Bull Rampage with a winning run down the red rock cliffs, culminating with a suicide no-hander that, until recently, was judged to be the largest that anyone has landed in competition. Cam Zink said that the jump was estimated to be 20 feet down and 40-feet out. Kyle's win also marked the last year that the competition would be staged completely on natural terrain – a controversy that is still being debated. When the Red Bull Rampage did return by popular demand four years later, artificial features were added to the venue. Strait's wicked combination of World Cup downhill experience and apparent fearless gave him the competitive edge on Utah's precipitous slopes and difficult to read drop-in zones, but when the venue added man-made ramps, like the Oakley Sender, the focus of the Rampage shifted towards canned freestyle trickery and less about big-mountain freeride technique. Strait had moments of brilliance, but faded to the middle of the results in the following competitions, where it appeared that he would remain. All doubters were silenced, however, at the 2013 Red Bull Rampage, an event that was predestined to be huge. Oakley ran a contest to design a new sender and then hired a daredevil team of excavators to carve the cliffs below the wooden edifice into a massive drop zone - 47 feet down and 53 feet out. Rain and new rules cut the building time available for the competitors and their crews to a few days, leaving most with little or no time to pre-ride or practice their lines. Perhaps it was just his day, but more likely, it was a Kyle's skill sets: big-mountain experience that brought him down his line with conviction; and fearlessness, when he duplicated his contest-winning trick in 2004 and launched the Sender with a suicide no-hander. Strait's win made him the Rampage's only duplicate winner and history will probably remember him as the only big-mountain athlete to win it on both natural and artificially enhanced venues.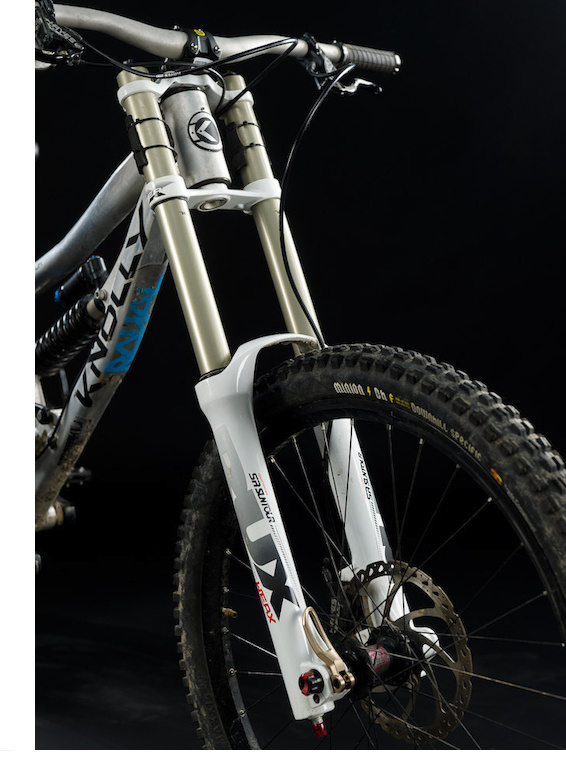 Most will find it hard to imagine, but Suntour was the first name in mountain bike components when the sport was in its infancy in the early 1980's. The Japanese manufacturer soundly dominated the market until Shimano, who initially struggled to capture a piece of the pie, strong-armed its Japanese rival out of the market with its Deore ensemble and SIS index shifting. By 1987, Suntour was struggling and in 1990, the brand was purchased, joined with Sakae Ringyo, another component maker, and renamed SR Suntour. Drivetrain and component production continued in Taiwan, and the brand has since built a strong reputation within the trekking and city-bike markets, but it became clear that there was little chance that the storied brand would return as a factor in the upper echelon of mountain biking. Somewhere along the line, around 1997, SR Suntour decided to throw its hat into the ring as a suspension maker and began developing a line of forks, using cast magnesium to construct a one-piece slider mechanism. At the time, cast magnesium was being used to make fork parts, but many thought the metal was too porous and inconsistent a material to produce complicated high-strength parts. SR Suntour figured it out. Armed with cutting-edge melt-forging equipment, technicians there perfected the technique of forming the two sliders and the reinforcing arch in one piece of magnesium. SR Suntour's suspension business expanded to include full or partial production partnerships with competing fork brands and by 2013, SR Suntour reemerged at the top of the game. Its range of forks and shocks had earned worldwide recognition in media reviews for cross-country, all-mountain and downhill, and SR Suntour had become a regular sight on the podiums of freestyle and World Cup venues. It was the brand's twenty-fifth anniversary and with that announcement came the news that SR Suntour now sold more suspension forks than any other brand worldwide.
---
Innovation of the Year
Innovation, in the strict sense of the word, is only half the reason that our three nominees for Innovation of the Year were selected. Each season, the industry bombards us with new products, not quite ready for production, that promise to revolutionize the sport. But, when those flashy bits finally fall into the hands of customers, they often do not live up to their expectations. Pinkbike's choices were heavily weighted on the positive effects that the winning innovations had upon our sport after they were released for sale and as such, most of our nominees have existed completely or in part, previous to 2013. What earned their place in this competition, was their potential to impart industry wide changes, or more appropriately, 'innovate the mountain bike.' Our first nominee is a suspension product from one of the world's most innovative designers in that field. Its contribution is as inspirational as it is functional, in that it is arguably, the first of its kind to make the leap into the mega-technical arena of downhill racing. Our second nominee is a simple drivetrain component that has been clipped, twisted, colored and drilled in the name of innovation, but only recently, has its most obvious flaw been addressed – a simple improvement that riders will be eternally grateful for. The final nominee for Innovation of the Year is a technical improvement that was passed over as a frivolous trick to save weight when it was invented, but turned out to be a significant improvement in the mountain bike rim – a rare occurrence that showed up everywhere in 2013. Three products, each as innovative as they are influential. Pinkbike's nominations for Innovation of the Year are: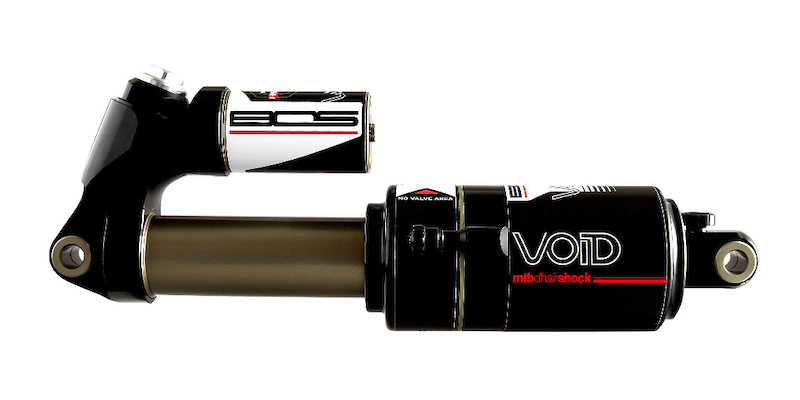 Only one man has won a World Cup downhill in recent history using an air sprung shock. When Remi Thirion saw green at Vallnord aboard his Commencal, he was running the new BOS Void – the first air-sprung DH damper to come from French suspension maker Olivier Bossard. BOS suspension earned its iconic status early on, empowering the Gallic domination of downhill by Francois Gachet, Anne-Caroline Chausson, Nicolas Vouilloz and Cedric Gracia, after which, Bossard took a short vacation from the sport to concentrate upon racking up victories in World Rally, Paris Dakar and motorcycle competition. When BOS refocused on cycling suspension in earnest, the landscape had changed somewhat. DH racing bikes had shed almost ten pounds and finishing times between the top ten racers were only seconds apart. Small advantages earned from weight reduction and improvements in suspension could reshuffle the podium. Perhaps that was Bossard's motivation to abandon his adherence to coil/over DH shocks and explore the possibility of building an air-sprung equivalent. With Thirion's win, the BOS Void has broken the curse and that poses a yet unanswered question: "Why did efforts of RockShox, Fox, Cane Creek and Marzoccchi to build a competitive air-sprung DH shock fall short?" They certainly have had enough time to figure it out. Knowing Bossard's track record, one can rule out luck from the equation, so it must be that BOS was willing to do what it took, regardless of cost or effort, to make a World-Cup-winning air shock. That's how BOS rolls. The other guys need to get serious, or settle for second place. In the meantime, if you are in the market for a competitive air-sprung shock for your DH racer, there is only one proven World Cup winner - it's called the Void, and BOS will custom make one exactly for your make and model.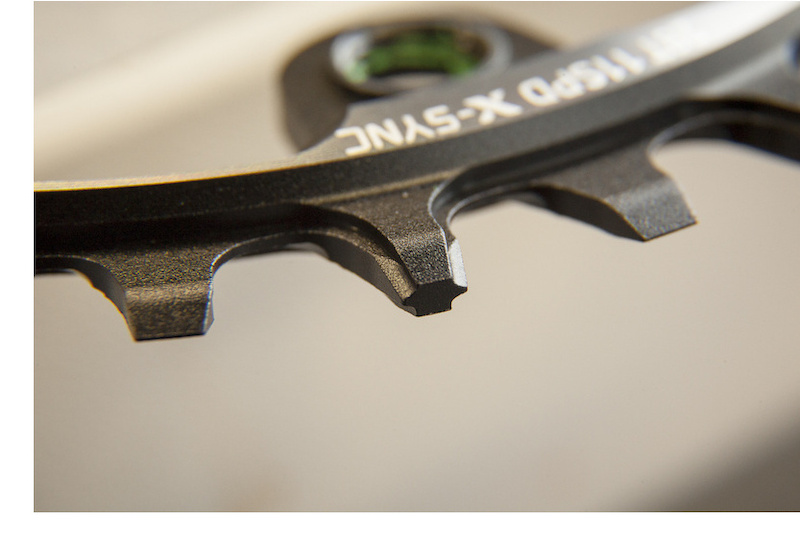 • SRAM X-Sync Narrow-Wide Chainring
SRAM did not actually invent the narrow-wide tooth chainring for its breakthrough XX1 drivetrain. What makes it a pivotal innovation is that SRAM engineered the narrow-wide configuration to make a drive sprocket that could successfully prevent the chain from derailing when the bike was bouncing across rough ground. Pre narrow-wide, single-chainring drivetrains required a chainguide to prevent the recurring disaster of derailment. When XX1 began showing up on bikes in early 2013, there was industry wide speculation that narrow-wide would not live up to expectations. By the end of the year, chainguides had all but disappeared on trail and all-mountain bikes. It became a foregone conclusion that narrow-wide chainrings were a must for one-by transmissions, and competing drivetrain makers immediately began making copies. SRAM's X-sync, narrow-wide sprocket brought the single-chainring cross-country/all-mountain drivetrain to the mass market, and in the future, we may well mark its debut as the silver bullet that killed the front derailleur.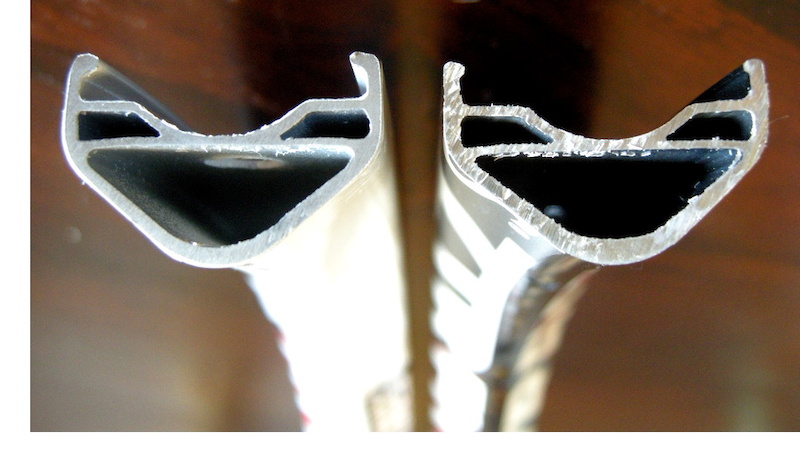 Anyone who has had a lengthy conversation with Stan Koziatek about wheels will leave with the impression that the father of tubeless mountain bike tires is also an expert on the subject of rims. The founder of NoTubes started making his own rim after trying in vain to convince the major players that there was a better way to approach the interface between the tire bead and the rim. Stan's novel design is called BST, for Bead Socket Technology, and it refers to the fact that his rims have almost no rim flanges – just enough material to hold the bead of the tire. When Stan started selling wheel products featuring his new BST concept, his minimized rim was passed over off by most as a cheap way to cut weight off of a racing wheel. Stan had no problem with that, as his new rims were up to 100 grams lighter than his competitors and racking up World Cup podiums – but the performance advantages that BST delivered far exceeded significant weight savings. The nearly nonexistent rim flanges expanded the width of the tire and rounded out its profile, which reduced rolling resistance and helped to stabilize the tire. His tiny flanges were stronger and less invasive to the tire and tube, so they rarely caused a pinch flat. It took a while, but one by one, the sport's big-name wheel-makers realized that a rim revolution had been gathering momentum while they were sleeping and begged, borrowed or stole their way into the game. Early adopters included Ringle' but it was the season of 2013 when Stan's BST overturned conventional rim design. Most every player is touting the innovation, in spite of the fact that Europe's ETRTO standards presently reject the concept. Beyond UST tubeless, Stan's BST represents the only significant improvement to the rim/tire interface – and perhaps, the most significant performance improvement in rim design that we've seen in a long time.
---
Most Improved Brand of the Year
Making it to the top of any category in the mountain bike industry is analogous to riding – it virtually guarantees a downhill run and the climb back to the summit can be brutal. To survive, brands must constantly reinvent themselves and remain connected to be sure that their products will continue to strike a chord within the riders of the moment - the core group who, for the time being, represent the collective soul of the sport. Three nominees were chosen for Pinkbike's Most Improved Brand of the Year award, and each were anointed kings at some period of the sport's brief history. One was the first and most prestigious name in head protection that gradually slipped to mediocrity. One was the most dominant name on the racing circuit during the zenith of the sport, when circumstances and its eventual sale dropped it to its knees. One was a brotherhood of hard core riders in the Pacific Northwest who were among the first brands to understand the significance of gravity sports and the fledgling freeride movement, but hung onto its laurels until the wreath crackled into dust. All three threw down fantastic efforts, however, and successfully rallied to become significant players in 2013, so with this award, we celebrate their return to glory.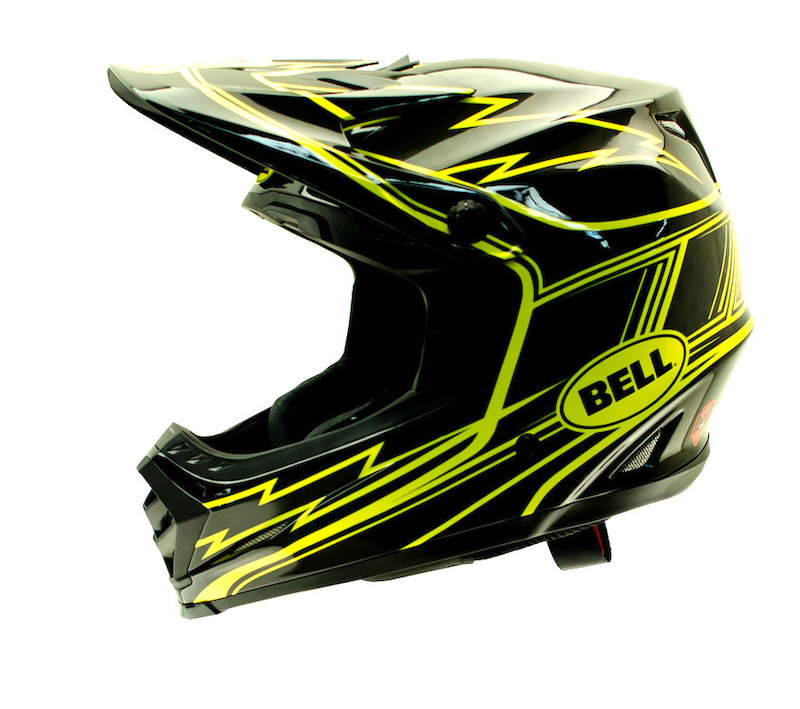 Think 'helmet' and Bell will be one of the first brands to pop up. The official name is Easton-Bell Sports, they sell over four million helmets to cyclists each year, and its research and development team has probably forgotten more about helmet design than its competitors have learned to date. The brand was launched in 1954, and has been at the upper echelon of every extreme sport at one time or another in its storied history. The 1974 Bell Biker was the first helmet to be embraced by mainstream cyclists, followed by the V1 Pro, which gained acceptance by early mountain bikers and catapulted cycling's fledgling helmet industry into the multi-billion-dollar business it has become today. In recent times, however, the focus of the brand shifted from building the ultimate helmet, to using Bell's technological expertise to bring maximum protection to more affordable price points. Bell's image faded, especially in gravity sports, where the styling and graphics of a helmet largely define the rider's persona. Bell's iconic reputation probably buoyed its sales, but inevitably, the brand settled into mediocrity – a darn good helmet for a great price. Two years ago, Bell lit a fire under its ass and, with the injection of new blood, launched a campaign to completely redesign its mountain bike range in conjunction with top athletes like Aaron Gwin – but that was only half of it. Bell also reconnected with the mountain bike community, engaging its staff in trail events, and supporting the growth of enduro in the US. In January 2013, Bell announced its 'Bell Built' trail program, laying down $100,000, in a partnership with the International Mountain Biking Association's Trail Solutions program, to award grants to trail builders who are constructing pump tracks, all-mountain flow trails and downhill courses. Midway through 2013, Bell's name was showing up everywhere in the popular media with the launch of its sharp looking Full 9 downhill helmet. The Full 9 earned great reviews by riders and in the press, and was followed by Bell's Super and Stoker open-face all-mountain/enduro helmets with similar results. By year's end, it was clear that Bell was back in black.
The two most dynamic letters in the mountain bike alphabet are G and T, especially so for the many riders who came into the sport from BMX. GT bicycles was the sport's powerhouse brand with a huge presence in competition when the mountain bike reached its zenith in the early '90s. GT had it all: wildly innovative design, victories in every racing discipline and a near cult following by the sport's core membership. At that very moment in time, however, GT suffered crippling blows when founding partner and CEO Richard Long died in a motorcycle accident and shortly after, the brand changed hands a number of times, nearly ending in shame as a cheap range of Walmart bikes. Fortunately for GT and its loyal supporters, the brand was acquired by Dorel, where it found strong leadership and a chance to return to the mainstream. GT's return was well received, but its bike ranges didn't pop. GT had all the elements – a carbon DH bike and a number of mid-travel trail and all-mountain shredders, but they appeared more like evolutionary improvements of its dated i-Drive and triple-triangle standards. When it became clear that GT would need a major face lift to compete, it was given the financing and the go-ahead to make that happen. GT hired the Athertons, patched up its range to give it some staying power, and then went to work in secret to completely reinvent its gravity and trailbike lineup. Shortly after, with in the launch of its new Fury downhill racer, and the Force and Sensor all-mountain/trailbikes in 2013, GT was slaying it again. Boosted by the Atherton's near-domination of the World Cup DH, and Kyle Strait's Rampage win, GT's new passion again captured the imaginations of its many supporters – something that can't be bought at any price.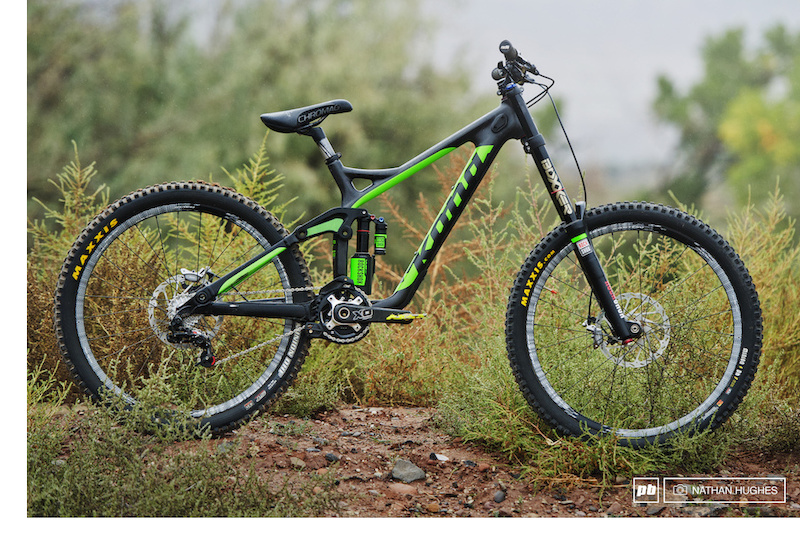 Kona was founded in the Pacific Northwest in 1988, by a brotherhood of hard core riders who simply wanted to make damn good bikes. This chapter begins ten years later, when freeride was in its infancy and Kona released what many herald as the first production, dual-suspension freeride bike – the 1998 Stinky Dee-Lux. Two years later, they released the Stab Primo, a full-fledged DH racer, and its next of kin, the Stab Supreme, won the 2005 DH World Championships under Fabian Barel. While Kona continued to make a wide range of bikes, it was its gravity and long-travel trailbike range that powered the brand into an international player and made it the brand of choice among the sport's most accomplished bike handlers. Stoked on freeride, Kona launched a number of programs focused upon bringing new riders into the sport that included demo and rental bikes at bike parks, grants to trail builders, a lifelong commitment to IMBA's trail programs, and rider education clinics. Kona was crushing it – but its aura would begin to fade as its bike designs rolled out with each successive model year looking almost exactly the same. However well it worked, Kona's single-pivot swingarm, large rocker link and vertical shock suspension configuration was overdue for a makeover. Kona supporters were growing weary of begging the factory for fresh designs and the media had begun to jokingly criticize the brand. The first hint that Kona had awakened from its dream and smelled the coffee was in 2012, when it launched the Operator DH racer. It was a result of the synergy between new designer Chris Mandell and Kona's long time designer Doug Lafavor. The Operator was modern, it used a much improved version of Kona's single-pivot suspension and it backed up its qualifications on the dirt. Mandell and his design team followed that opening act with the Entourage, a freeride and park shredder, intended to be a more lively and better-pedaling alternative to a DH sled. Midway through 2013, when Kona released mid-travel Process trailbike, the media quit joking and started begging for test bikes. When Kona's Carbon Operator hits showroom floors in 2014, it will punctuate a triumphant return.
---
The winner of each category will be announced later this month