Today's bikes are incredible machines that allow us to take advantage of the terrain in ways that wouldn't have been possible just a few years ago, and that impressive capability is due to advancements in everything from wheels and tires, to suspension and geometry. But taking a good look at most modern full-suspension bikes also reveals that they have become relatively complicated when compared to bikes of the ''good old days'', whenever those were. Suspension with near endless adjustments, seat posts that raise and lower at the push of a button, and more cogs than you can count on both hands... have things gone too far? Or is all this complexity justified by not only how well these bikes scale and descend challenging terrain, but also by how reliable many of them are?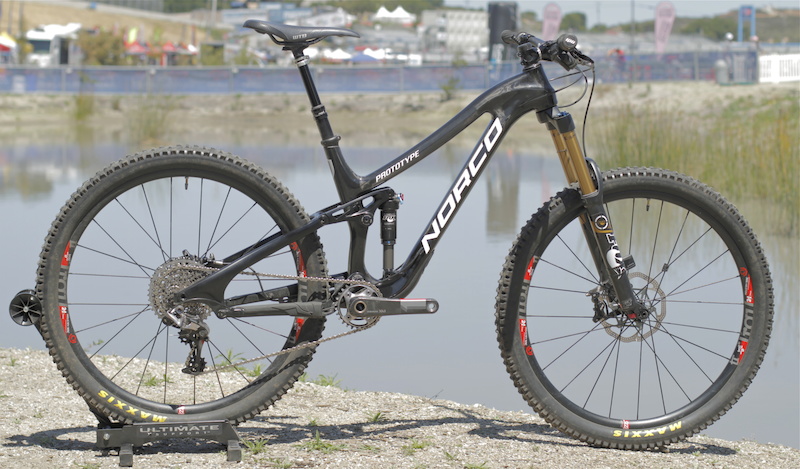 Norco's prototype carbon fiber Sight, a 140mm travel super-bike fitted with SRAM's eleven speed XX1 drivetrain, an internally routed dropper post, and high-end suspension. This bike was the stuff of dreams only a few short years ago.
The Future is Now
Picture this: you're ripping along a rough, rocky downhill. Your bike's tacky, high-volume tubeless tires, inflated somewhere in the low 20psi range, are providing loads of traction and there is no fear of them pulling off the rim thanks to their UST bead. Your electronically controlled rear suspension knows what type of impact is coming up before your rear wheel even makes contact with the bump, and it is adjusting its damping automatically for the best possible result. Your seat, which was lowered with a push of the button at the top of the descent, is poised to extend to full height as you approach a small rise in the trail, thereby allowing you to pedal efficiently and carry good speed up and over it. And your eleven-speed cassette offers such a wide range of gearing that you have no trouble pedalling back up to the top to do it all over again with your single 38 tooth chain ring.
Most of what is written above would have been pure fantasy only seven or eight years ago, yet it is pretty much accepted technology these days.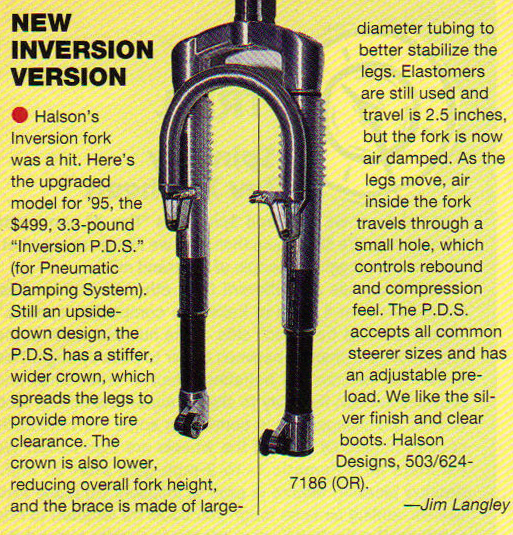 That progress doesn't come for free, though, and I'm not talking about how expensive some of today's high-end gear is. Bikes have simply never been as complicated as they are now, and that fact will continue to be proved true in the future. There was a time when anyone with an adjustable wrench and a hammer could rebuild the best suspension of the day, and all you needed was a tube of grease to refurbish your fork. Things have long since changed, though, with today's best performing dampers, with hundreds of small internal parts, looking like a combination of a priceless Swiss timepiece and the inside of a factory Supercross shock. Yes, it can swallow up the hardest landing with ease while also being able to erase the smallest chatter, but it also has four external dials and a maintenance cycle that makes looking after a newborn baby seem like a piece of cake. So is having that 4lb, six inch travel fork that easily trumps the performance of longer stroke DH forks of only a few years prior worth the added complication? Is the latest and greatest fork any more reliable?
The same question can also be asked of nearly any other component on our bikes. Keeping air in our tires was once a major battle, with pinch flats the bane of many riders' existence, especially those who frequent rocky trails. Today a rider can pick from any number of tubeless tires and easily tubeless compatible wheelsets and, with the help of the proper sealant, there is a good chance that any on-trail flat they might have will be plugged before they even realize that they've lost a few PSI. Dropper seat posts, once a component that many of us thought we would never require, have become near-standard equipment on many of the trail bikes out there. Gearing has gotten simpler in a lot of ways, with many riders turning to a single ring up front, but the number of cogs have increased in order to compensate. In short, vastly improved performance and reliability has ensured that the increase in complexity is entirely worthwhile. We've long left behind the days where rim sidewalls could wear out over a winter's riding season, crank arms and bottom bracket spindles that would wilt if you just talked about leaving the ground, and adjusting your headset required a massive open-ended wrench... I don't think that any of us are willing to go back in time.