Think back to the last few mountain bike rides you went on. Did you have your phone with you? How about an MP3 player? A GPS unit? Or maybe a smartphone that has all of these feature plus the internet? It's easy to stay connected these days, but getting away from it all can be the real challenge. Technology has become such an ubiquitous part of our daily lives that it can be difficult to fully unplug and get off the grid – we often don't even realize how much we are tied to our electronic devices.
Can you be too connected? Do electronics affect how enjoyable a ride is?
Before the advent of cell phones (yes kids, there was such a time, and no, we didn't hunt wooly mammoths or live in caves) heading out on a mountain bike ride felt like more of an adventure, an escape from civilization and into the wilderness, even if the wilderness was nothing more than a tract of abandoned land surrounded on all sides by block after block of suburban sprawl. Now, it's possible to check your email, pay bills, post blurry photos and more from nearly every corner of the globe, even in locations that used to be considered the middle of nowhere, miles from any visible civilization. I'm no Luddite, but part of me is nostalgic for the days before status updates and Instagram posts, before every activity needed to be documented and shared. If you divulge every detail of your latest adventure in real time, what story is there left to tell when you return home?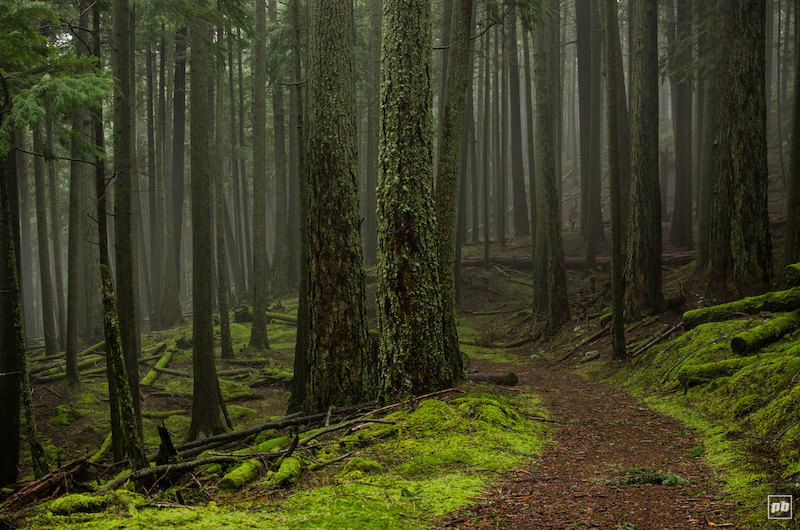 With scenery like this, who cares how fast you're going?
Give it a try – leave all the electronics at home, hop on your bike and go for a ride. Can't function without that heart rate monitor? If you start seeing red and it feels like your head might explode, ease up the pace a little bit. Wondering what time it is? Well, when you can't see the trail in front of your tire, that's a sign it's time to head home. Or start gathering leaves and branches to make a nest to sleep in for the night. And what about those KOMs and personal bests you're missing out on by turning off the GPS? Strava will survive without your presence, and you'll probably end up feeling more relaxed by riding for the pure enjoyment of it instead of trying to beat a ridiculous time some energy gel swigging mutant put up.
Shedding the electronic leash every once in a while helps bring things back to focus, clarifying what really matters – riding your bike.